In my review of Maya Kaimal Indian Simmer Sauces, I admit to how lazy I am about roasting and grinding and mixing and measuring all the myriad spices that add up to the amazing flavors of Indian cuisine. And how I'm so done with simply dumping curry powder into Indian-style dishes now that I've discovered this brand's line of luscious, complex sauces. They make anything taste like it came from the finest Indian restaurant.
If you're craving Indian flavors and want dinner in a hurry (without doing take-out — again!), you're in luck. This entire dinner, built around an effortless Chickpea Masala, takes 15 minutes to make — even if you're moving like a sloth after a long busy day.
Even including the four or five dollars or so spent on a jar of sauce, the groceries add up to a lot less than you'd spend for take-out, per person.
This serves 2 to 4, depending on how hungry you are. If this is a meal for two, you're likely to have some very enjoyable leftovers. If it's a meal for one, you can also cut the amounts given in What to Do in half, or freeze a portion for later use.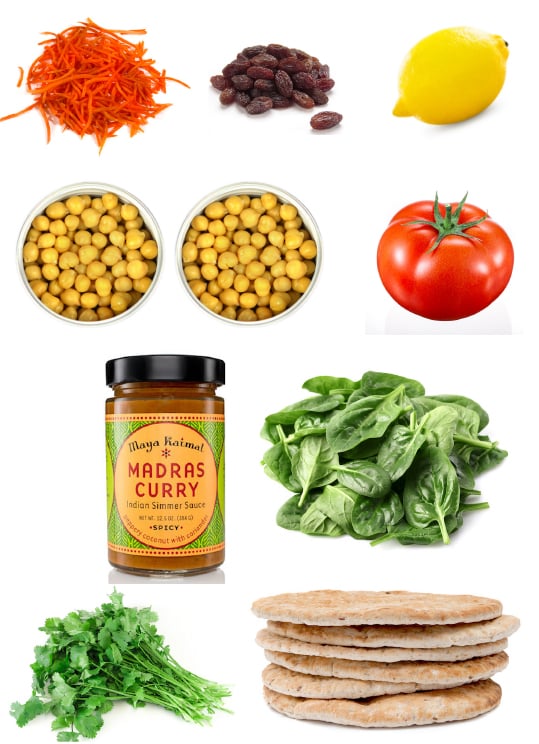 What you need
16-ounce bag of fresh grated carrots (you'll be using half)

A small amount of dark raisins (bought in bulk, about ½ cup)

One lemon (or the equivalent amount of lemon juice)

Two 15-ounce cans chickpeas

One good-size tomato

One jar or container (12 to 16-ounce) Indian simmer sauce (see note below)

Fresh baby spinach (about 5 ounces)

One bunch cilantro (or parsley if you prefer)

Fresh flatbread (pita or other)
Note: For this dinner, we used Maiya Kaimal Madras Curry, which is fairly spicy. You can use any of the other vegan sauces in this line. There are other brands of Indian sauces (like tikka masala), but read labels carefully, many of them contain dairy. You'll find these kinds of sauces in natural food stores or well-stocked supermarkets. If you can't find them, you can always order online.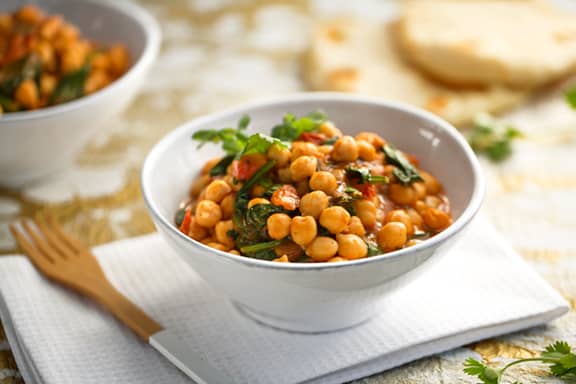 What to do
1  Put about half of the bag of carrots in a bowl with the the raisins. You don't need to obsessively measure either one of them; just use as much as you'd like. Squeeze or pour some lemon juice into the bowl, enough to give the salad a little tang.
2  Combine the chickpeas (drained and rinsed), tomato (diced), and sauce (you'll want to use the whole jar) in a pan and heat to a simmer. Once it's all bubbly hot, add all the spinach, cover, and cook until it wilts down. Then stir it all in. Chop up a little of the cilantro or parsley and stir in.
3  Serve the chickpea masala in bowls with fresh flatbread and the carrot salad on the side. That's it! Eat and enjoy.