Fall pleasures abound in New York's Hudson Valley, where I make my home: Crisp days, cool nights, dazzling foliage, pumpkins on the roadside. I love all these autumn touchstones, but one of my fondest memories is of apple-picking outings with my kids when they were young. We returned home with barrels of apples to cook into big batches of applesauce and bake into pies.
Before getting into apple lore and nutrition, for those of you who just want to know what to do with your autumn bounty of apples, here are VegKitchen's selection of apple recipes, including crumbles, cakes, salads, and pancakes.
In centuries past, when being the "apple of one's eye" was lofty praise, America was so smitten with apples that there were literally hundreds of varieties to choose from. Even the names of nineteenth century varieties evoke a sense of romance: Yellow Bellflower, Cranberry Pippin, Pumpkin Russet, Maiden Blush.
Today, 2,500 varieties are grown in North America, but only eight varieties make up eighty percent of those sold commercially. We might find half a dozen or so predominant varieties at any given fruit market or supermarket—red and golden Delicious, McIntosh,Granny Smith, Cortland,and Jonathan are among the top choices. New Zealand's fragrant, juicy Braeburns have caught on, too, and a wider search can lead you to spicy Winesap, hybrid Jonagold, juicy Fujis from Washington state, and tiny Lady apples.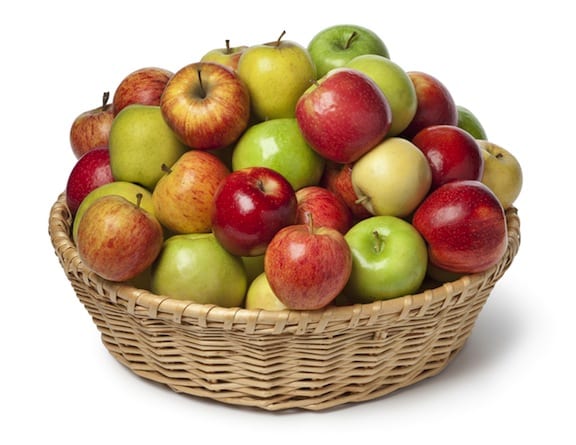 The preferred way of eating apples is out of hand, biting into their crisp, juicy flesh. Yet, they're surprisingly versatile in the kitchen. Some simple ways to enjoy them: diced and tossed into salads, sliced and dipped into peanut butter, and baked whole. Lightly cooked apple dice are delicious in grain pilafs and add a delightful nuance to savory soups and stews. Sliced, sauteed, and sprinkled with cinnamon, apples make a for an uncommon side dish with dinner.
And of course, apples are always welcome in baked goods, lending their wholesome goodness to muffins, pies, cakes, crisps, crumbles, and more.
The number of common varieties may have diminished, but not our enthusiasm—apples are still North America's favorite fruit, a distinction well deserved.
An Apple a Day
Whether eating one a day will keep the doctor away is debatable, but apples do score well nutritionally. The average apple contains a respectable 3 to 5 grams of fiber and moderate amounts of vitamin C and potassium.
Apples are also good teeth cleansers and gum stimulators—good substitutes for a toothbrush when you don't have access to yours.
Apples store well and retain their juiciness and nutrients for a long period when refrigerated. And finally, good news for organic food enthusiasts—organic versions of many apple varieties are becoming increasingly available.