Dianne Wenz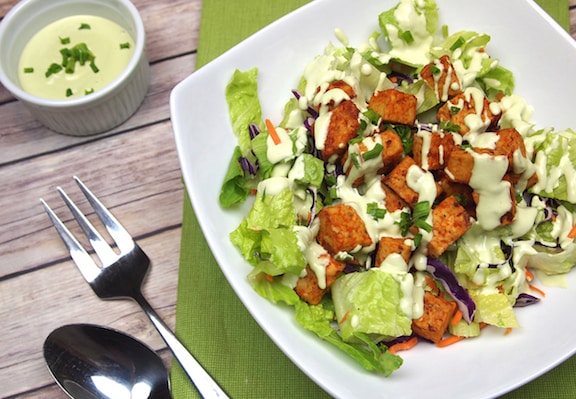 This luscious Buffalo tempeh salad offers up the contrast of spicy tempeh and cool creamy vegan ranch dressing on a crisp salad. If you're sensitive to tempeh's fermented taste, steam the cubes before marinating to tone it down. Steaming will also help the tempeh soak up more of the marinade. Recipe and photos by Dianne Wenz of Dianne's Vegan Kitchen, reprinted by permission. more→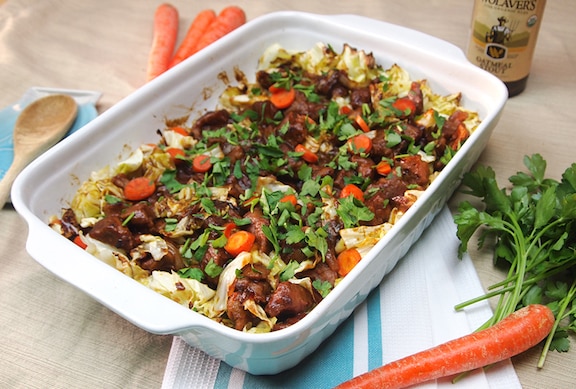 Despite being part Irish, my family never really did anything to celebrate St. Patty's day while growing up. There was no Irish soda bread, no corned beef and cabbage, no colcannon. Since it's turned into a bit of a foodie holiday, I wanted to make something to celebrate my Irish heritage a few years ago, but there were no family recipes to veganize.
I came across an interesting dish in an issue of Better Homes and Gardens, and it seemed perfect for converting. This cabbage casserole has become a St. Patrick's Day favorite in my house, but of course, it's perfect for dinner any day of the year. more→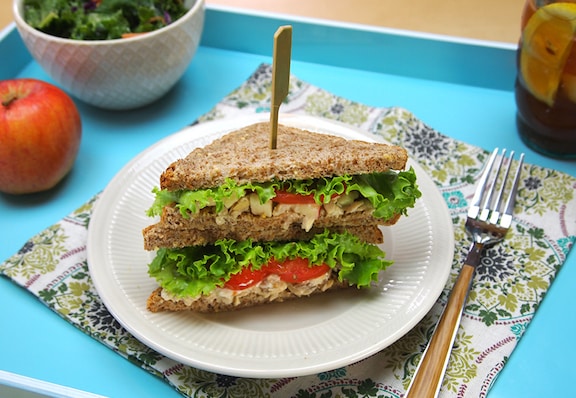 If you're a new vegan (or an aspiring one) you might be missing the heartiness of chicken salad, tuna salad, shrimp salad, and the like. Don't give in to temptation — try this delectable tempeh sandwich spread or salad. Spiked with apples, celery, and pecans, this has all that umami and none of the animal products. This just could be your lunch hour go-to!
Recipe reprinted with permission from  What's for Lunch? Lunchtime Favorites from Dianne's Vegan Kitchen. ©2016 Dianne Wenz. Purchase your copy of the e-book here. more→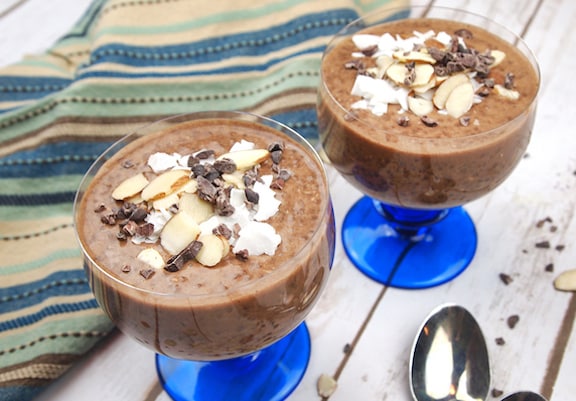 Chocolate chia pudding with almonds and coconut (that tastes like a candy bar!) is a super healthy treat that can be served for either breakfast or dessert. This combination of almonds and shredded coconut had me singing, "sometimes you feel like a nut, sometimes you don't," like in the old candy bar commercials, so I've decided to call it "Almond Joy." I like to make it in the evening right before going to bed so that it's ready in the morning for breakfast. Recipe and photos reprinted with permission from What's for Breakfast? Morning Favorites from Dianne's Vegan Kitchen, © 2017 Dianne Wenz. Purchase your copy of this e-book and Dianne's other e-cookbooks here.
more→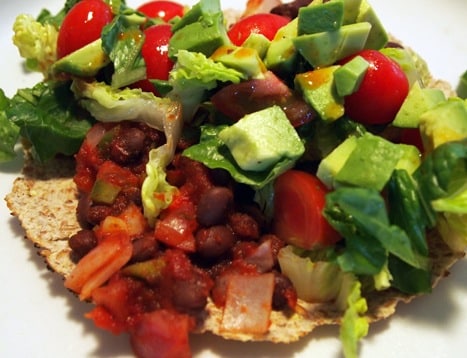 Since tostadas are so simple, you hardly need a recipe. But I wanted to show just how super quick and easy it is to make a weeknight meal. This dish comes together in less time that it would take to drive down to the local fast food place to pick up take-out. It probably works out to be cheaper too! Contributed by Dianne Wenz, from VeggieGirl. more→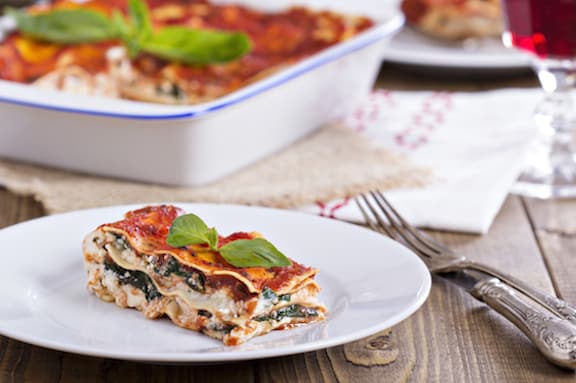 I almost named this "The World's Easiest Lasagna" because this dish is super easy to make. Using no-boil noodles and pre-made sauce cuts prep time down so much that you can throw this together pretty quickly and your dinner guests will think you slaved away in the kitchen for hours. I served this at a party once and it was a huge hit, so I can attest to it's omnivore friendliness. This tastes even better reheated the next day. Contributed by Dianne Wenz, from VeggieGirl.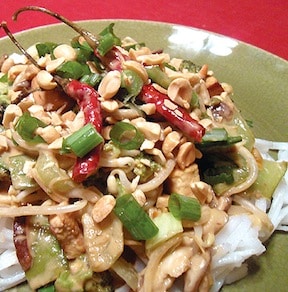 I love all nut butters, but I'll always be hopelessly devoted to my beloved peanut butter. Spicy peanut sauce is my weakness, so any day that this scrumptious, spicy, peanutty Pad Thai is on the table is a day to celebrate. Contributed by Dianne Wenz, from VeggieGirl. more→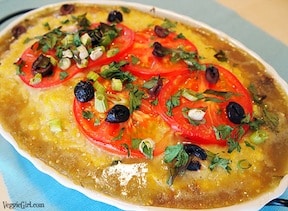 This Tempeh Tamale Pie recipe is a vegan adaptation of the traditional Mexican dish. Serve with warm flour tortillas and a big, colorful salad. Contributed by Dianne Wenz, from VeggieGirl. more→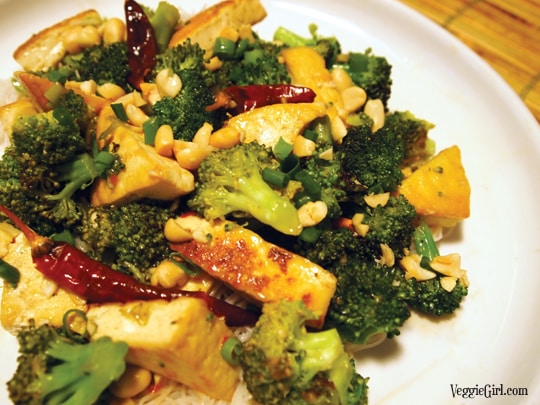 Sometimes I get unexplainable cravings for a spicy stir-fry. The last time the hankering hit, I checked the fridge to find I had a tub of tofu and plethora of broccoli, so Kung Pao Tofu happened. This recipe is based on a Kung Pao Vegetable dish I posted a few years ago. Contributed by Dianne Wenz, from VeggieGirl. more→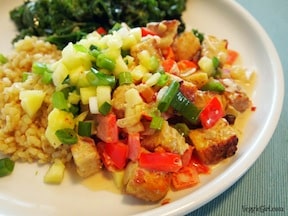 This Thai Coconut Tempeh dish was inspired by a chicken recipe in a recent issue of Martha Stewart Living. I was lured in by the words "coconut" and "pineapple," and the recipe was easily veganized by swapping out chicken for tempeh and fish sauce for tamari. I also added some vegetables to the dish to give it a nutrient boost, and served it with a side of sautéed kale, because every meal should contain some greens. Contributed by Dianne Wenz of VeggieGirl.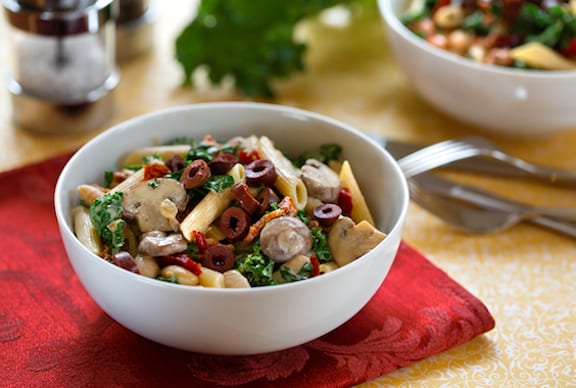 After being asked where I get my protein, I'm usually asked where vegans get their calcium. From beans and greens, of course! This recipe fits my at-least-4-colors at every meal rule (green kale, brown mushrooms, white shallots, red sun-dried tomatoes, and black olives), but it also follows Dr Fuhrman's G-BOMBS  plan (greens, beans, onions mushrooms – berries and seeds will have to wait for another meal). I didn't make it with any plan in mind though – I just knew the combination would taste good! Contributed by Dianne Wenz, from VeggieGirl. Photos by Hannah Kaminsky.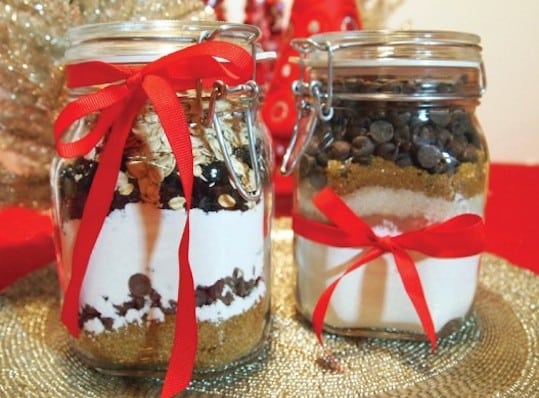 Review and photo at top by Dianne Wenz. I really dislike malls and impersonal gifts, so during the holidays I often make presents for those on my Christmas list. I give cookies and cupcakes to certain people like the girl who cuts my hair and the complex superintendent. I've always wanted to amp my gift giving craftiness up a little though, with fancy wraps and homemade jams.
This just might be the year that I do just that, as I'm now armed with Joni Marie Newman's Vegan Food Gifts: More than 100 Inspired Recipes for Homemade Baked Goods, Preserves, and Other Edible Gifts Everyone Will Love.* more→