Ellen Kanner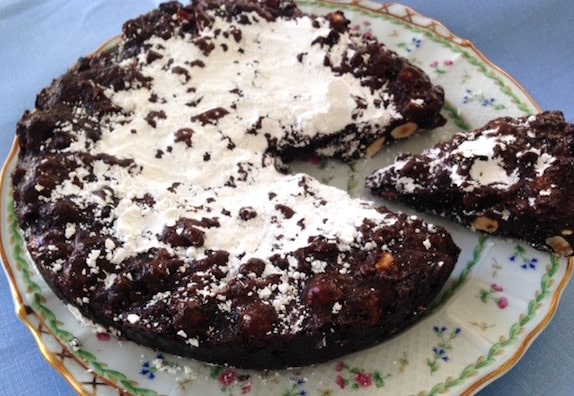 Panforte means strong bread, so be strong. Go lavish with the spices here — they balance the richness of the fruit and nuts — and don't wimp out with the black pepper. Traditionally, panforte is made with honey — it's the goo bonding the dried fruit and nuts. Swap it for vegan honey. The best commercial one I know is BeeFree Honee. I've also had good luck making this recipe with brown rice syrup, which has plenty of goo and adds a caramel-y note. Use a good sharp knife and serve skinny slices with a cup of espresso or a small glass of vin santo or sambucca. Recipe and photo contributed by Ellen Kanner. more→
Kip Andersen, co-producer/director of "Cowspiracy: The Sustainability Secret," considered himself to be an environmentalist. He recycled to reduce waste, took quick showers to save water, supported several environmental organizations. Then "I did some research and discovered all these incredible things — rainforest destruction, species extinction — can all be tied to animal agriculture. Jeez, this is the cause?" And if so, why was no one talking about it? more→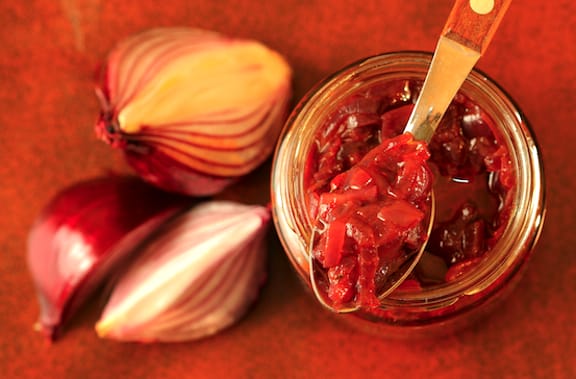 This sweet and savory jewel-tone red onion jam, which can be made a day or several days ahead. This is what you want to serve with Chickpea-Zucchini Farinata. It's also good with flatbread, dolloped on grain dishes, and with fresh, ripe tomatoes.
more→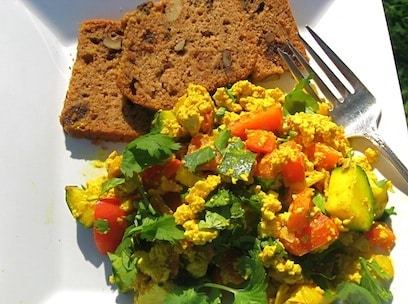 This delicious scrambled eggs-without-the eggs recipe works well for breakfast, lunch, dinner, late night, any time you're in the mood. Feel free to change up any vegetables with what's fresh at your local farmers market. Recipe and photo by Ellen Kanner, who contributes Meatless Monday Musings to VegKitchen. If you'd like to serve this with the delicious slightly sweet quick bread depicted, here's the recipe for Vegan Fig
and Walnut Bread. more→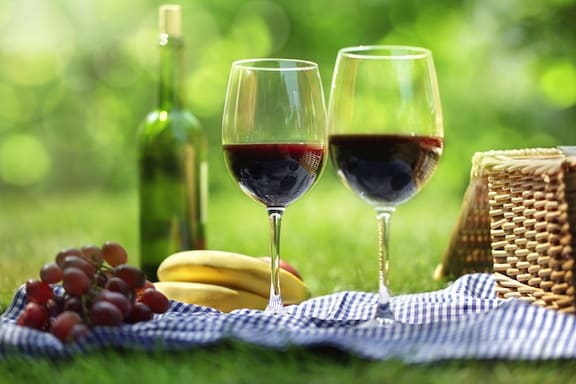 My husband doesn't so much collect wine as he does enjoy drinking it. And we both enjoy bringing together wine, food and friends.  So when he said he wanted to open a magnum of a particular 2004 cabernet, I was all over it. I love parties and menu planning, gathering a good mix of people and the good mix of ingredients and flavors. But this is a big wine, not to mention a big bottle, and it presents certain issues.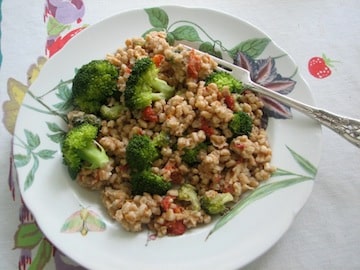 Are you ready to try a deliciously different grain? Farro, a longstanding favorite in Italian cuisine has made quite a comeback. A hardy, whole variety of wheat, it has a great flavor and is a nice alternative to brown rice. Soaking farro overnight (or all day) makes it cook up quicker and creamier. This Farrotto is a heartier, whole grain cousin to risotto. Recipe and photo contributed by Ellen Kanner.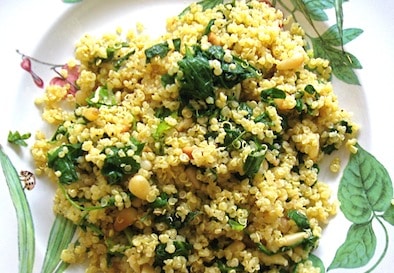 This speedy, simple dish features two — no, three — vegan faves — quinoa, kale and nutritional yeast. Nutritional yeast provides a big B-12 boost and terrific cheesy flavor. What's not to love? Tart this dish up with a handful of your favorite chopped herbs, pair it with grilled vegetables or tempeh or serve with a salad.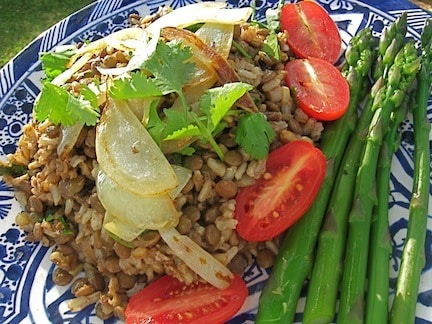 A dish both simple and elemental, the lentils and rice cook together, taking on flavor and qualities greater than themselves. The rice and lentils soak separately before cooking, which brings the tenderness out in the rice and encourages the lentils, which normally require no presoaking, to keep their shape. We should all be so lucky. It's traditionally topped with sautéed onions and makes a meal. Recipe and photo contributed by Ellen Kanner. more→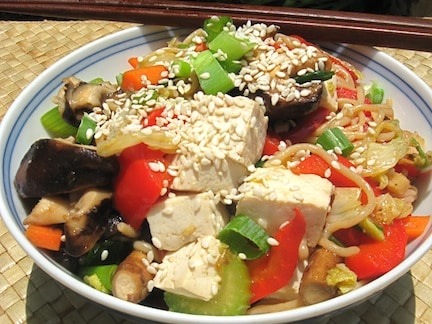 A slightly adventurous spin on fried rice, Korean japchae marries slurpy shirataki noodles and a blizzard of vegetables in a rich soy and mirin broth. Easy and kid-friendly to make and restorative to eat whether served hot or cold. Recipe and photo by Ellen Kanner. more→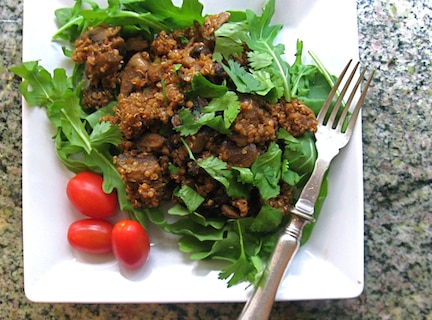 This dish requires some cooking time, but does so on its own, without you fussing. The recipe doubles easily, so you can make it tonight and enjoy leftovers tomorrow. Serve it with a side of marinated tempeh or hummus and you'll be doing the protein strut. Recipe and photo contributed by Ellen Kanner. more→
Gremolata is a mess of chopped herbs, lemon zest, olive oil, breadcrumbs or nuts, with a nubbly texture somewhere between a relish and sauce. Here it's tossed with nutrient-rich kale, celery and whole wheat angel hair for a summer dish bright with flavor, color and crunch. Recipe and photo by Ellen Kanner. more→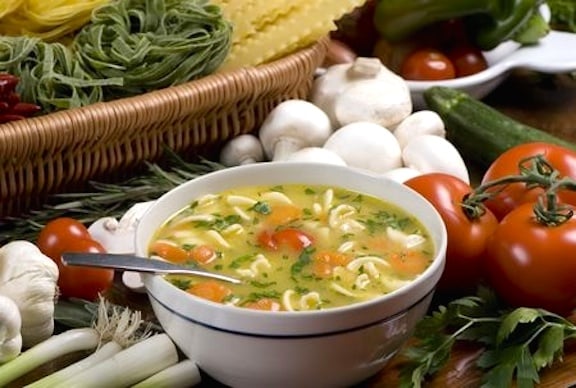 I love big flavors — lemon, saffron, chili, wine. But my trip to Paris reminded how full of flavors vegetables are all by themselves — naturally. This comforting soup lets the vegetables do the talking and is perfect for that in-betweeny time when the calendar says spring but the thermometer still says winter.   more→