James Pegler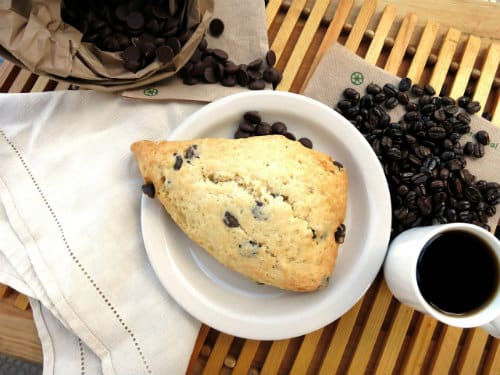 Scones are a great treat to start the day with. Scones are warm, sweet, and satisfying, but unfortunately they are not always vegan. Here is a list of a few karma-friendly vegan scones recipes that you should try.
more→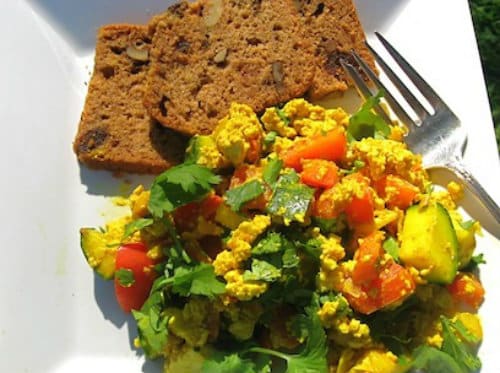 Tofu scrambles are great for any brunch party. Tofu scrambles are versatile, and they can be customized to any theme, season, or flavor pallet. Once you set the theme of your brunch party, you can very likely find a scramble that will compliment that theme. The best part about making a Tofu scramble for your brunch party is that they are simple to make! Here are a few recipe ideas of tofu scrambles that can help you get started planning your next brunch.
more→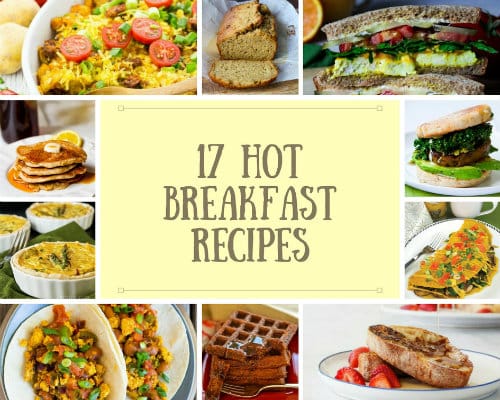 There are times when a cold breakfast just doesn't cut it. There are days when you need something more substantial than a smoothie or a chia pudding to get you going. When the weather turns wet and cold, it is especially nice to have a warm meal to start your day with. We have collected 17 of our favorite hot breakfast recipes for you to try. We hope that you enjoy these offerings.
more→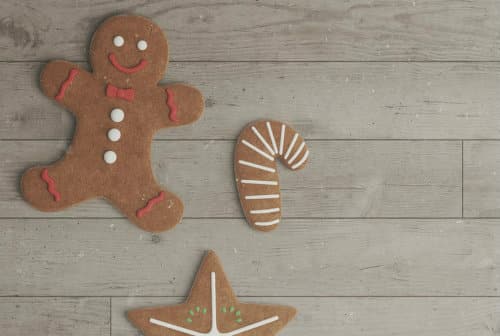 Baking is chemistry, while cooking is more of an art. If certain items are (or are not) present in your formula when you are baking something, then it will change the final product. This is true of vegan and non-vegan baking alike. This article is a look at vegan gingerbread cookies, and what makes one recipe different from another. They are all gingerbread after all, so why would you prefer one recipe to another. This article takes a look at recipes for vegan gingerbread cookies in an attempt to help you find the perfect one for your holiday celebrations.
more→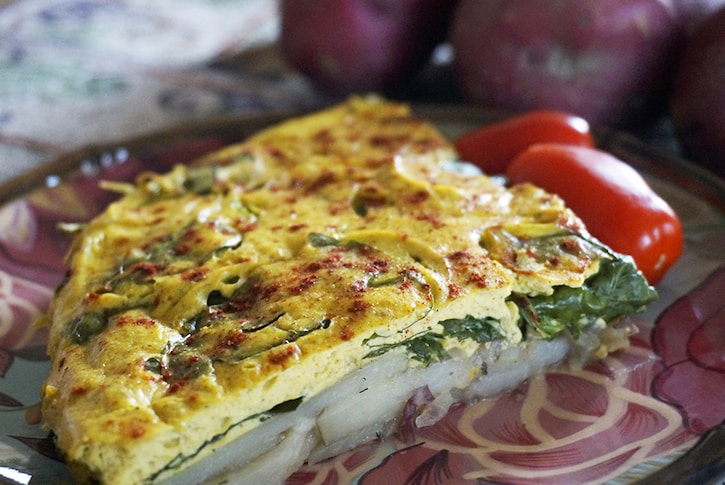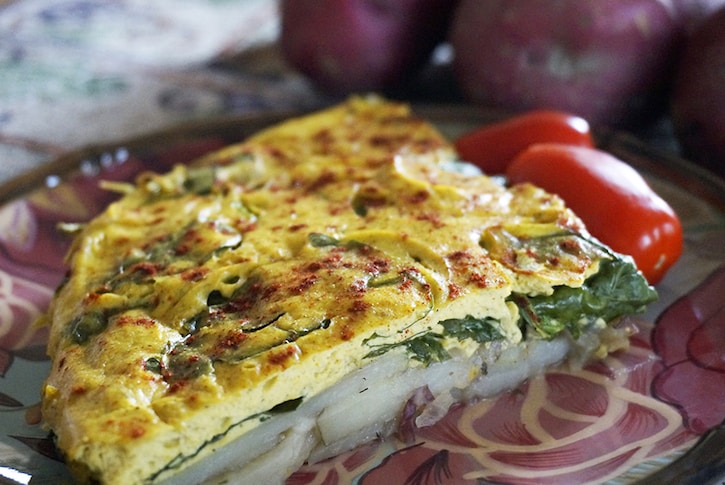 Breakfast has been called the most important meal of the day. It is the first thing that many of us do in the morning. When you have house guests or a brunch party, you are forced to get up early and cook, when you would rather get your beauty sleep. We have collected some recipes for vegan breakfast casseroles that you can make ahead of time. Hopefully, these recipes will make your morning and life easier.
To start, Laura Theodore's oven-baked Vegan Potato and Spinach Fritatta, shown above.  With a delicious potato/onion base, paired with an herb-infused egg-like filling, this egg-less entrée is a true winner, perfect to serve for any meal of the day.
more→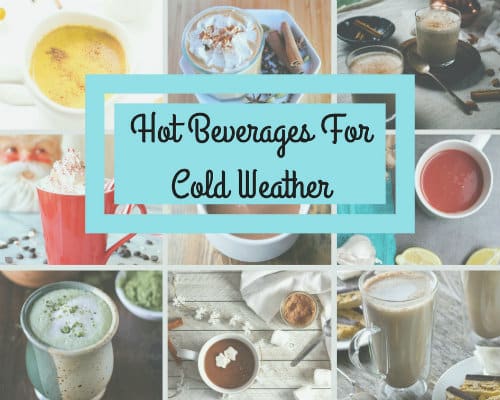 When the days start getting shorter, and the temperatures start to drop, it is nice to have a nice warm mug in your hands. Hot beverages are a large part of that cozy feeling in cold weather. Many of the popular coffee house drinks are not vegan, but you should not have to miss out on these treats when the chill hits the air. That is why we have collected this list of vegan hot beverages for cold weather. Whether you need to cozy up with a book and a blanket, or you are having a family get together for the holidays, this list will have the hot beverages that you need.
more→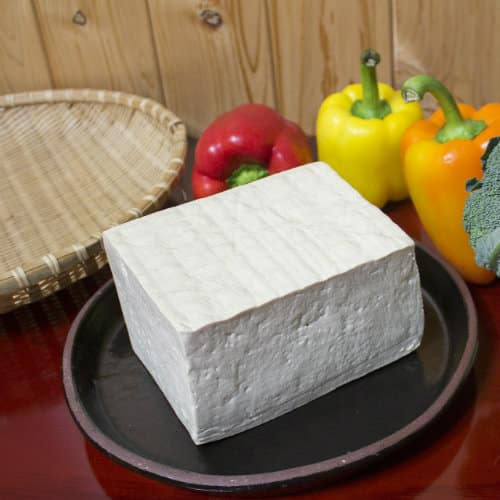 Tofu has become very popular in the United States, and it is an essential element in most vegan diets. The soy-based product is incredibly versatile, and it can be used in several cuisine applications. But, where did it come from and how is it made?  Here is a little history and some fun facts about tofu that you may not have known about this food that we love.  
more→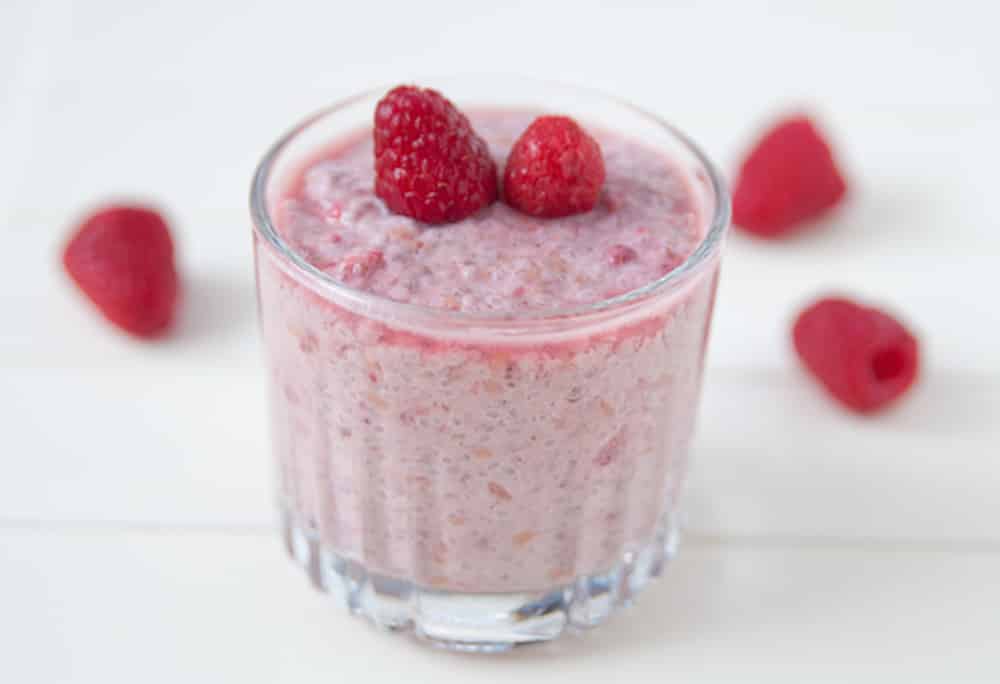 Chia seed pudding has become a popular dessert and breakfast option in the last few years. With the versatility of chia seeds, the wide selection of non-dairy milks on the market, and the hundreds of possible variations of this treat, there's no end to the flavors that you can experiment with. Here we have gotten together some of our favorite chia seed pudding recipes for you to try. And, make sure to learn more about the nutrition benefits of this small but mighty seed in Chia Seeds: Frequently Asked Questions. more→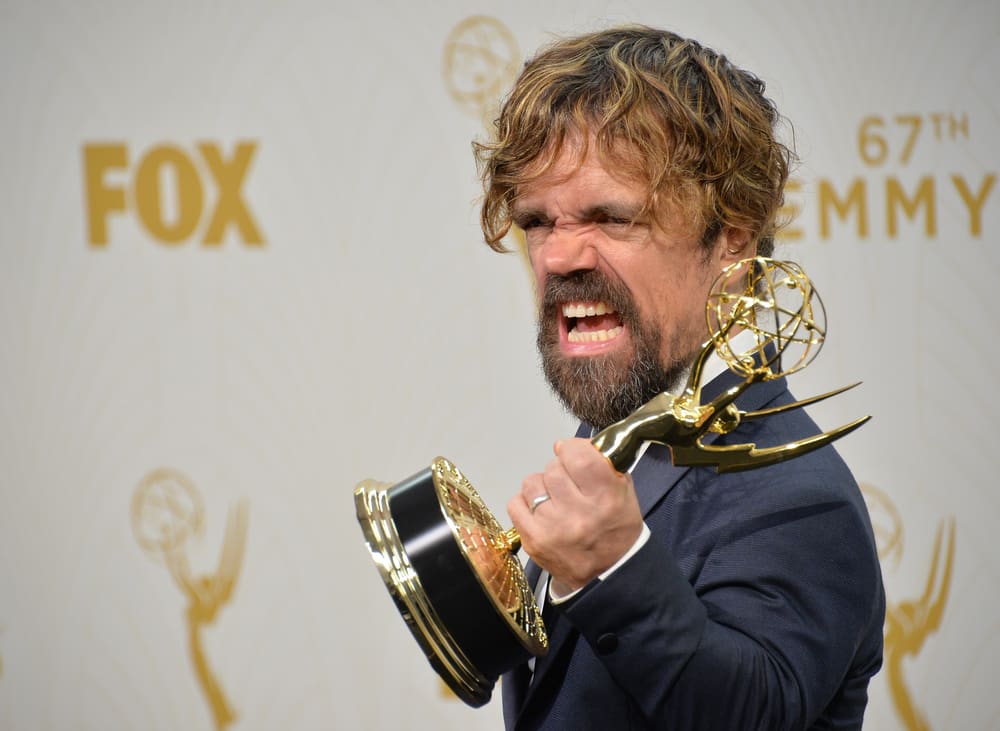 There are several vegan celebrities in the movie and music industry. Vegan celebrities are important to give a voice to the importance of plant-based food. The motivations of celebrity vegans range from animal rights, health, or the environmental impact and animal cruelty inherent in the factory farming of meat. Here is a list of 25 of the most famous vegan celebrities on the planet.
25 Vegan Celebrities
Alec Baldwin
The star of 30 Rock and Saturday Night Live's show-opening Trump sketches is a celebrity vegan. He grew up on a farm and didn't like the idea of hurting those cute animals that were his friends. When he was diagnosed as a pre diabetic, Alec made the switch to a full-vegan diet.  
Russell Brand
The comedian and actor has been an off and on again vegan since October 2011. He has said,   "If you have any concern at all for animal welfare, you've got to not eat meat."
Miley Cyrus
For several years people were wondering if the pop singer was in fact vegan, but she has made it clear lately that she is in fact among thevegan celebrities. She has been very vocal on her Instagram feed about being pro animal, anti-hunting, and vegan AF.
Liam Hemsworth
With the intensity of his fiancé's veganism, it is no surprise that Liam Hemsworth and Miley Cyrus are celebrity vegans. He attributes his Vegan lifestyle to the mistreatment of factory farmed animals.
Brad Pitt
Brad has been a vegan for quite a long time. His veganism is rumored to be based in environmental concerns surrounding the factory farming industry.
Sir Paul McCartney
This Knight of the British empire might just be the King of vegan celebrities. Paul has been a vegetarian since 1975, but seems to have taken a more hard-line vegan stance at some point in the last 40 years. McCartney was instrumental in starting the Meatless Monday campaign in the UK. His diet has been credited with his youthful looks.
Kate Mara
The House of Cards actor is very vocal about being a vegan. She cites health, animal rights, and environmental reasons for her choice to be a vegan.
Rooney Mara
The Mary Magdalene actor chooses to eat vegan for similar reasons as her sister for being vegan celebrities. She has attributed her vegan diet to her ability to eat a lot and not gain weight.
J-Lo
Pop icon Jennifer Lopez credits her plant based diet for her bangin body, and says that it gives her tons of energy. Last month, J-Lo told Glamour that the only animal based item that she really misses is butter.
Jay-Z
Sean Carter, the Don of East Coast rap for more than two decades. At the urging of his wife Beyoncé, He has chosen to Join her as celebrity vegans.
Beyoncé
Pop Icon Beyoncé has chosen to go plant-based, but she does not like the term "vegan" because she says that there are negative associations with it. She has said that she feels great and has a lot more energy on her plant-based diet.
Olivia Wilde
The well known actor, Olivia Wilde, has been a vegetarian for most of her life. She has been adhering to a plant-based diet for several years, but took a hiatus during her pregnancy.
Morrissey
The former Smiths frontman has been saying that "Meat is Murder" since 1985. He has not become any less passionate about animal rights over the last three decades either. He is still very outspoken about the evils of factory farming and animal rights. Morrissey is certainly royalty among the vegan celebrities. 
Jared Leto
Suicide Squad's Joker and Thirty Seconds To Mars frontman has been vegetarian and/or vegan for a couple of decades. He attributes his mid-40s youthful looks to his plant-based diet.
Ellen Degeneres
Ellen has been a vegan for several years, yet the talk show host, actor, and comedian has recently has come under fire for joking about eating fish. She has also developed a line of shoes that use leather in their construction. She still claims to eat an entirely plant based diet, however.
Portia De Rossi
Arrested Development actor, Portia De Rossi attributes her plant-based diet on a revelation that animals are far more intelligent and aware than we give them credit for. Portia and her wife Ellen DeGeneres are celebrity vegans together. 
Casey Affleck
The A Ghost Story actor has long been an outspoken proponent of animal rights, and as such, has adopted a plant-based diet.
Ellen Page
The Juno, Inception, and X-men actor is very vocal about animal rights and her vegan lifestyle. She frequently uses her twitter to address these issues.
Jessica Chastain
This Oscar nominee has been vegetarian or vegan for most of her adult life. She rejects the culture of cruelty that surrounds the meat industry.
Mayim Bialik
The Big Bang Theory actor is vegan, and the video above gives a better insight into why.
RZA
The Wu Tang Clan member is a vegan. He believes that a better tomorrow is one where we are not dependent on the suffering of animals.
Peter Dinklage
The Game of Thrones actor has been a vegetarian for a decade and a half, and has become a vegan recently. He has been very outspoken in his support of PETA and other animal rights groups,
Ariana Grande
The pop singer has said that she loves animals more than people. She chooses to eat a plant-based diet to keep herself healthy, and because of her deep love of animals.
Natalie Portman
The Thor Actress has been a vegetarian or vegan for several years. She has credited her plant-based diet with her glowing and healthy skin.
Carrie Underwood
The American Idol and multiple Grammy and ACM winner has been meat free from the age of 22. She says that she has a great variety of vegan options in her home of Nashville, Tn. Underwood stays away from meat for health and because she recognizes the problems of factory farmed meat.