Jordan St. Clair-Jackson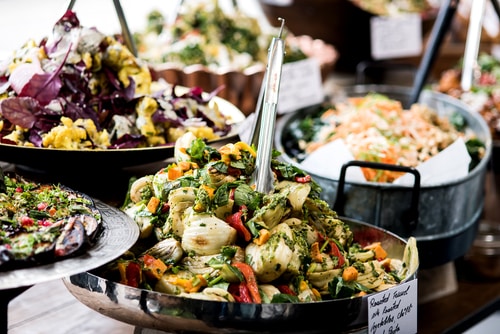 Going on vacation as a vegan is not as simple as booking a flight and a place to stay. You have to consider the typical cuisine of the area and the awareness and understanding of veganism, too. Here are some essential trips on how to enjoy being vegan while traveling with — and among — non-vegans.
For example, it's pretty easy to find vegan options in big cities like New York or Berlin, but it might be harder to enjoy your eats in places like Hong Kong or Bangkok.
This doesn't have to be anything to stress over, though, even if you're traveling with non-vegans. In fact, finding the right options to suit each lifestyle can become an added adventure to enjoy on your trip! Here's how to go anywhere with anyone without compromising your vegan values. more→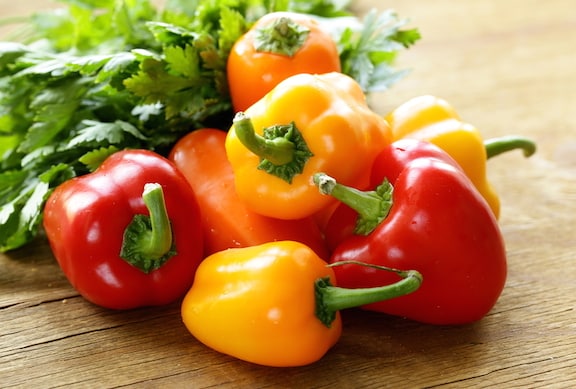 Have you ever thought about starting an indoor garden? Home gardening brings great joy to growers. It also helps people save money, and produces fresh vegetables for a plant-strong diet. What's more, it lets gardeners control how plants are grown —that is, organically and without pesticides — making it safer and healthier. Let's take a look at this introduction to how to grow fresh vegetables with hydroponics so that they're available and fresh all year round!
Some people assume that an indoor garden needs a large space, soil, irrigation system, and sunlight. It's not that hard. There are some great solutions to growing food at home; hydroponic gardening is among the most efficient of them. more→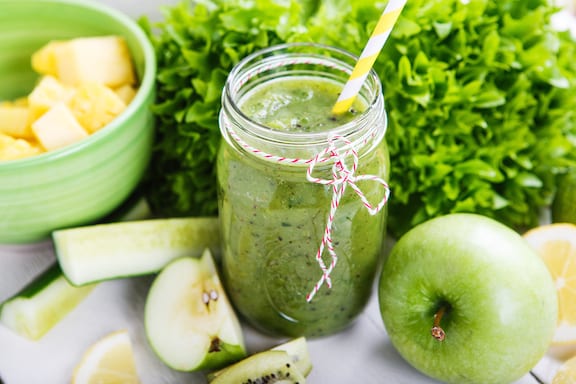 We've all been there— the sluggishness, lethargy and general blah feeling that comes after holiday meals or simply celebrating much too heartily with food and drink. The good news is that these 5 great ways to cleanse your body after an evening (or days, as the holiday spirit sets in) of overindulgence are easy as well as tasty! Even if your indulgence consisted of not-bad-for-you foods, sometimes it's the sheer quantity of food and drink that can do us in. more→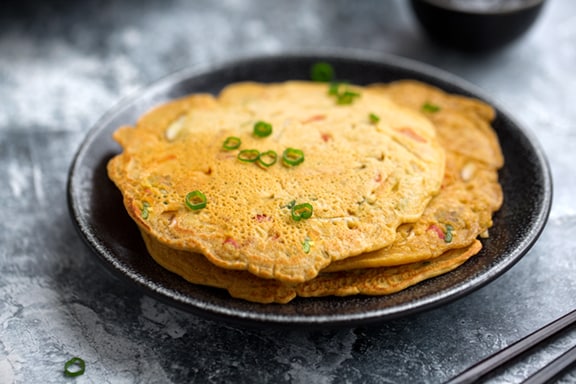 Chickpea flour is a great alternative to grain flours, though it doesn't "behave" like grain in the usual sense. It doesn't rise and become fluffy like wheat flour, for example, but it's wonderful for making pancakes, crepes, and vegan frittatas. Here's a quick guide, followed by tasty and easy chickpea flour recipes for you to enjoy.
Going beyond its traditional use in Indian cuisines, chickpea flour is now readily available in natural foods stores and well-stocked supermarkets. It's sold either in bulk or packaged. One widely available brand is  Bob's Red Mill. Either way you buy it, keep it in a tightly lidded jar or container in a cool, dry place. Truth be told, I like to refrigerate it, as it stays fresh longer and doesn't run as much risk to go rancid. more→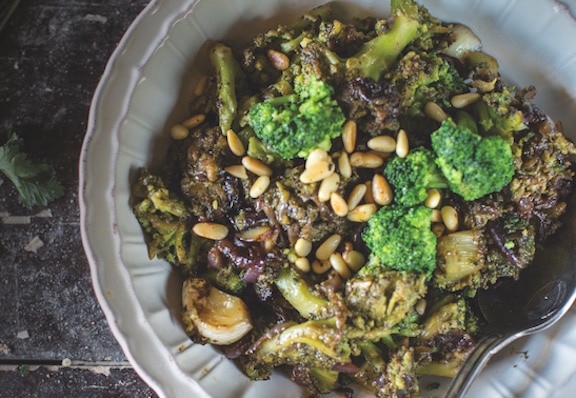 When I lived in New York, I had a flatmate who told me a story about how shocked she was when, during a trip to Italy, she saw her host mother cooking the life out of broccoli. "I had never seen anything like it before!" she said. "She cooked it until almost mushy, with tons of garlic. It was delicious!"
And it is. Strange as it may sound, and although it is surely not the healthiest way to cook broccoli, do give this broccoli Strascinati a try. You will be amazed at how even broccoli can become what tastes like an indulgent, olive oil–laden, garlicky treat.  Reprinted from Naturally Vegetarian by Valentina Solfrini, by arrangement of Avery Books, a member of Penguin Group USA. A Penguin Random House Company, © 2017.
Serves: 4 as a side dish
Florets from 2 large heads broccoli, or about 2 pounds

¼ cup olive oil

3 large garlic cloves, crushed

1 small onion, finely diced

1 tablespoon packed light brown sugar

3 tablespoons balsamic vinegar

1 teaspoon salt

¼ teaspoon pepper

1/3 cup raisins, soaked and squeezed out

¼ cup water

1/3 cup pine nuts or almonds, toasted
Blanch the broccoli florets in boiling water for 5 minutes or, even better, steam them for 10 minutes.
Heat the olive oil in a large pan over medium-low heat and add the garlic. Sauté for about 2 minutes, until the garlic releases its aroma.
Add the onion and sauté for 5 minutes, until translucent.
Add the broccoli and stir to coat with the oil, then add the brown sugar, vinegar, salt, pepper, and raisins. Stir well to dissolve the sugar, add the water, reduce the heat to low, and let cook, half-covered, for 30 minutes.
If the broccoli dries out too much, add a splash more water. Uncover and cook for 5 minutes more, until any leftover water has evaporated and the broccoli is very soft and slightly caramelized. Sprinkle the toasted nuts on top.
VARIATION: For an extra-simple version of this dish, omit the vinegar, raisins, and pine nuts. It will be just as delicious.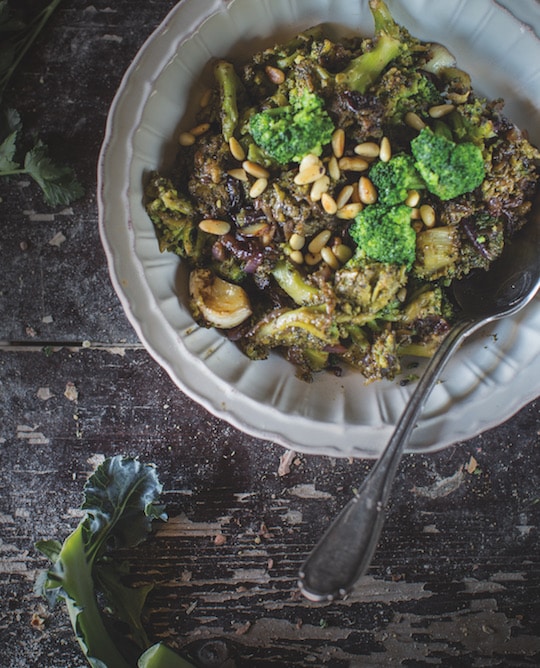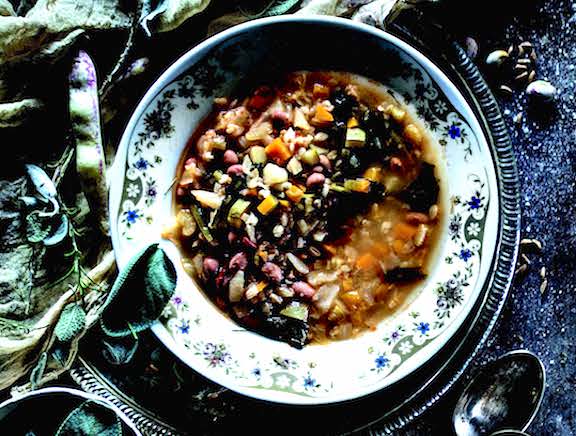 Every time I make minestrone, I stop and think how amazing it is that such a humble dish became so popular outside of Italy. The main idea behind minestrone is the same as a quiche: It's a recipe designed to rid the fridge of all the vegetable scraps that have been sitting for too long and are starting to look sad and wilted. Feel free to throw whatever vegetables you have on hand into your minestrone—this version, enriched with herbs and Tuscan farro, makes for a wonderful fall minestrone soup. Reprinted from Naturally Vegetarian by Valentina Solfrini, by arrangement of Avery Books, a member of Penguin Group USA. A Penguin Random House Company, © 2017. more→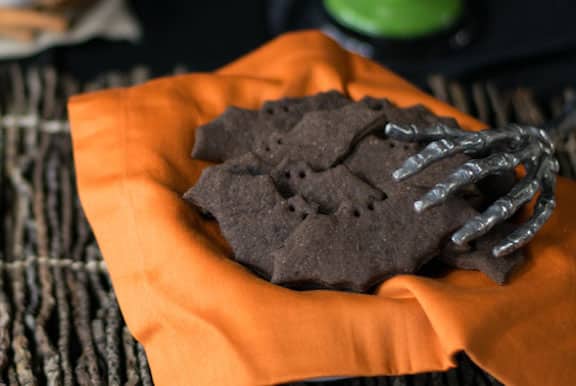 Are you dreading the annual ritual of the kids collecting candy, then having to argue with them about how much they can have and how to avoid those dreaded sugar highs (and future dental bills)? Here are some fun Halloween treats that the kids will love, and which won't send shivers up your spine. For more tips and ideas, see also Leslie Cerier's Healthy Halloween Treats. First up, Kathy Hester's creepy "bats and cats" chocolate graham crackers. They're completely vegan and better for your kids (and you!) than all the sugary candies.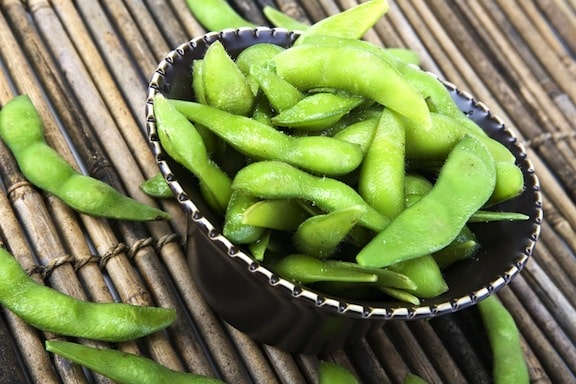 Commonly used and well-loved as a vegetable in Asian cuisines, edamame, or fresh green soybeans come in fuzzy green pods containing two of these bright green beauties. Read on to get to know more about them, learn how to cook them, and explore some easy and tasty edamame recipes.
If you haven't prepared them at home, you might have encountered edamame in Japanese restaurants, where they're listed among the appetizers. Popped out of their pods and lightly salted, they're quite addictive! Their flavor is kind of a cross between fresh green peas and fresh baby lima beans — but better. more→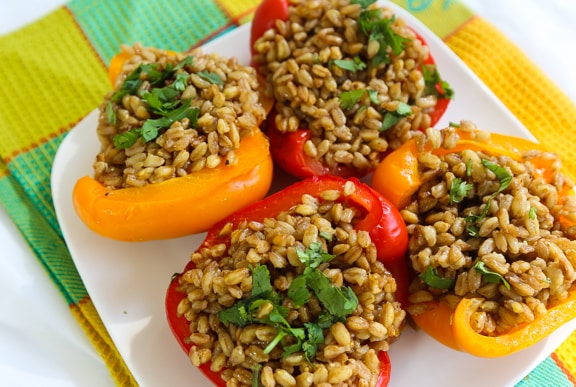 Here are a dozen tasty and healthy vegan farro recipes. This nutty, hearty grain has joined other recently revived ancient grains like quinoa, einkorn, kañiwa, and teff in the modern kitchen. Filled with fiber and high in iron, you'll want swap it in for rice and barley in all kinds of dishes. Make sure to see our guide on How to Cook Farro for more tips, and be inspired by the recipes ahead.
Super-Quick Grain-Stuffed Peppers (shown at top): Once you stuff the pilaf into prepared peppers, you need not even cook or bake them any further. For these, we used a delicious porcini-flavored quick-cooking farro pilaf mix, for those of you who are in a hurry. more→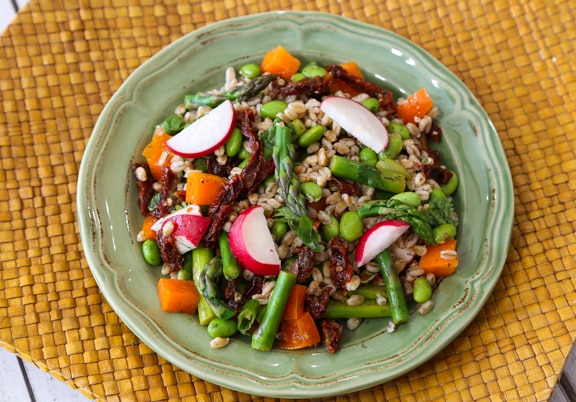 If you keep up with food trends, you've likely heard about farro, one of several ancient grains that have made a comeback in recent years. Farro takes its place among grains like quinoa, einkorn, kañiwa, teff, and others that have been around for millennia, and which have become more widely available in the general marketplace. Following are tips on how to cook farro and enjoy it in recipes.
While farro is new to most of us, it's believed to be one of the most ancient of wheat varieties, along with einkorn. And like einkorn, it's lower in gluten than modern varieties of wheat, though please note, not gluten-free. Shown at top, Spring Farro Asparagus Salad. more→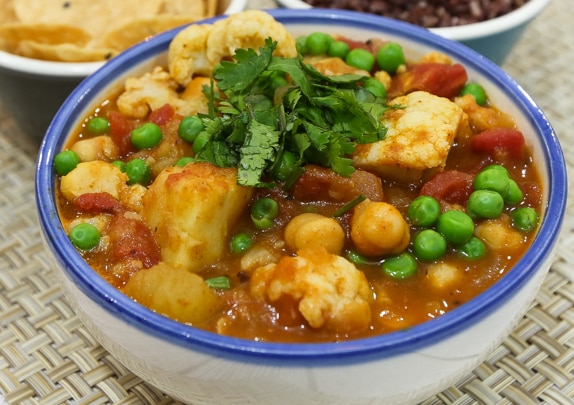 Aloo Gobi is a delectable Indian specialty that features cauliflower, potatoes, and usually peas in a mild, tomato base. I'm not sure my family has ever placed an order, whether eat-in or carry out, that didn't include it as one of our choices. And fortunately it's almost always already vegan, which means it doesn't need to be modified. It's great to be able to make super-quick aloo gobi at home, now that we've found the way — incredibly tasty Indian simmer sauces.
Ever since this new generation of Indian simmer sauces hit the market, we're doing a lot more Indian-style meals at home. Our favorite is the Maya Kaimal line of sauces, but use what's available to you. You'll find Indian simmer sauces at natural foods stores and in the international foods aisle of well-stocked supermarkets. more→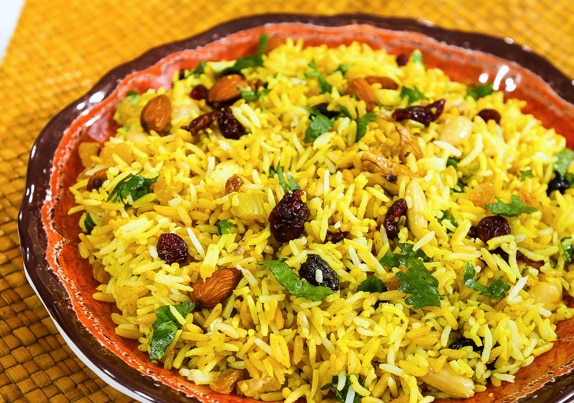 A fantastic side dish for many kinds of meals, especially Indian specialties, what makes this fruit and nut rice pilaf so fruity and nutty is trail mix! Most trail mixes have a nice variety of dried fruits and nuts. As for the rice, you have options. Do you have already cooked rice in the fridge and need to dress it up? Leftover rice from your last Chinese food order (there's always so much of it)? If not, you can use quick-cooking rice or the newest entry into the field of ready-cooked rice that just needs a quick spin in the microwave.
No matter what you choose, this great side is ready in minutes and adds color, texture, and tastiness to any plate. We love this with Super-Quick Aloo Gobi as a complete (and really easy) meal. more→