Nava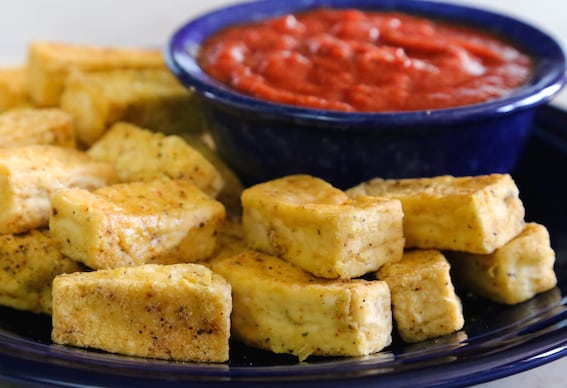 Getting tofu to taste great is simple when you have just the right recipes and tips. Here are easy tofu recipes for kids that the whole family will love. And if you're ready for tofu to become a staple in your repertoire, explore our category Tofu Recipes: Easy and Versatile for lots more ideas.
Parents always welcome new options for healthy eating, and tofu is a superb food to add to the repertoire of growing children. It's high in easily digestible protein, low in fat, and is a good source of calcium, iron, and B vitamins. more→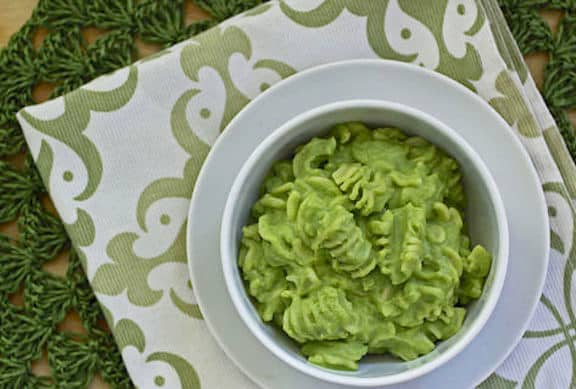 When my kids were really young, my idea of meal planning during those truly frantic days was to rush into the kitchen at six o-clock, thinking: "Quick! Cook the noodles!" Child-friendly pasta dishes are a great choice when you want dinner in a hurry and need to please adults and children.
Most varieties cook quickly enough to accommodate ravenous hunger, yet allow enough cooking time to prepare a simple sauce and a salad. It's hard not to love pasta, and wonder of wonders, even kids will eat it  — even if you have to leave the sauce you like off their portion and just add a little vegan buttery spread. more→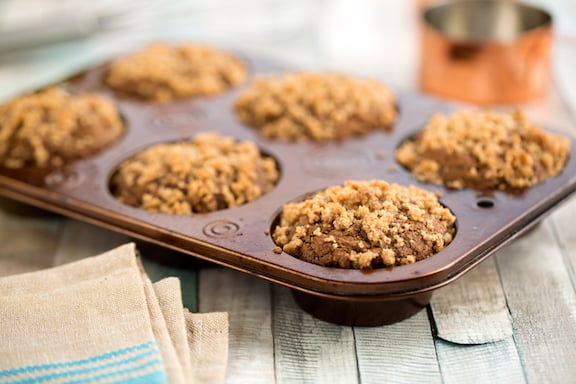 Inspired by traditional Pennsylvania Dutch shoo-fly pie, molasses and a crumb topping team up in delectably wholesome vegan molasses muffins. Barley malt syrup works just as well as molasses and produces a slightly milder flavor. Since these aren't overly sweet, they make a great breakfast muffin, and are welcome in the lunchbox as well; delicious with slices of crisp apple. Photos by Hannah Kaminsky. more→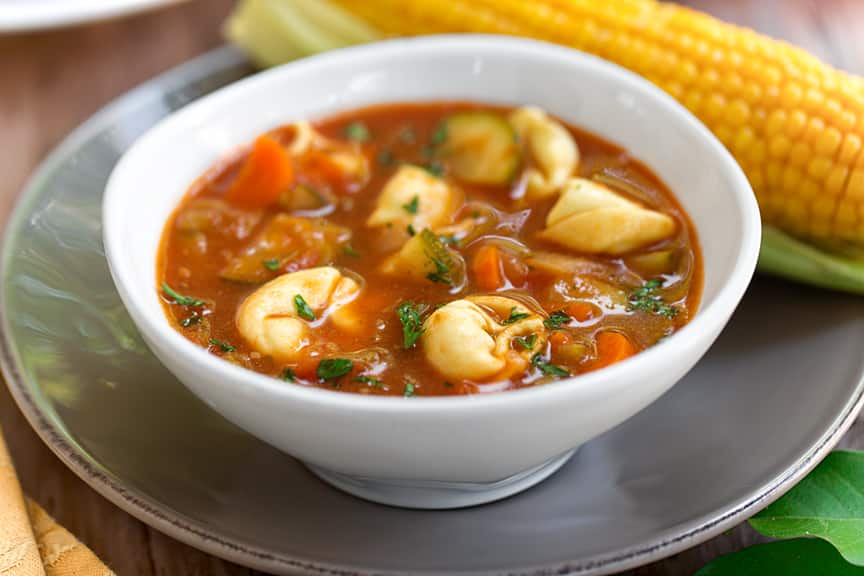 This hearty vegan fresh tomato soup with tortellini or ravioli is filling far served with a fresh corn on the side. It's a wonderful choice for late summer that are starting to get cool, and is a good way to use up tomatoes that are a bit past the season's peak. Look for vegan tortellini or ravioli in the freezer section of your natural foods store. Serve with fresh corn on the side. Photos by Hannah Kaminsky. more→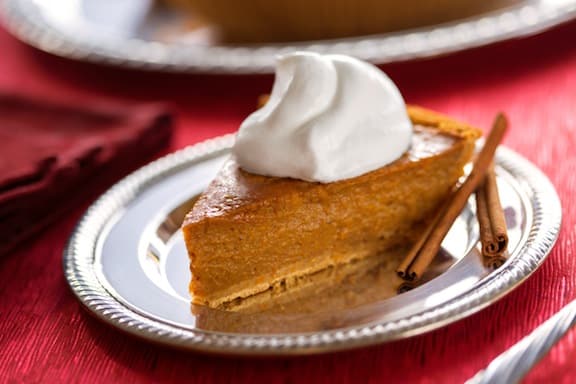 Thanksgiving is the Mother of All Holidays, according to many vegans. There are few special occasions that can compare when it comes to amazing plant-based food choices that celebrate the fall harvest — truly something to be thankful for. And even though the meal can be filling — or indeed, over-filling — leave room for one or two of these delectable vegan Thanksgiving dessert recipes. There are the requisite pumpkin pies, with variations, but if that's not your thing, there are plenty of other appealing options. Make sure to visit our Vegan Thanksgiving Dinner page for an incredible array of options for the entire meal. more→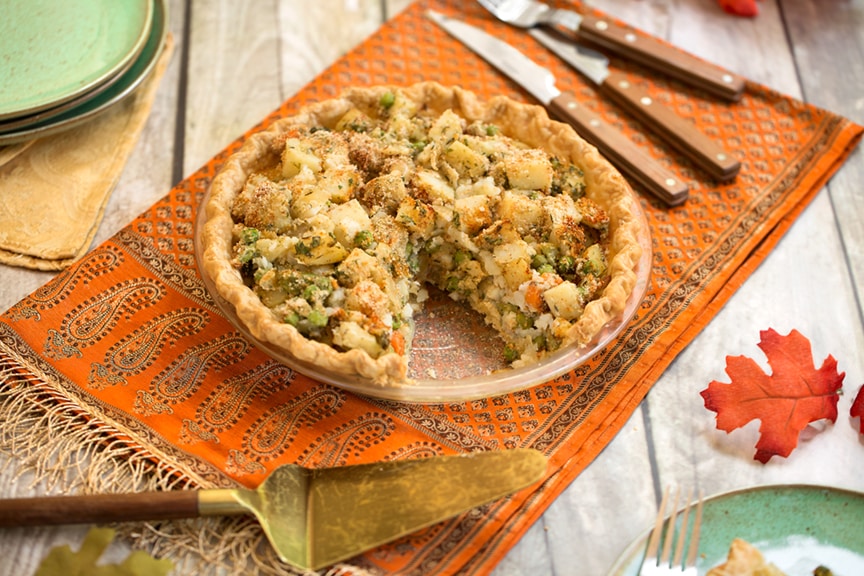 Everyone loves the nostalgic classic, vegetable pot pie. Many VegKitchen readers have let us know that this mild dish of hearty veggies enclosed in pie crust is on their regular cool-weather meal rotation; it's also a crowd-pleasing vegan option for a Thanksgiving or Christmas menu.
Using prepared whole-grain pie crusts makes pot pies a snap to prepare. We like to take them out of the tins they come in, and place them in a similar-sized pie pan. Adapted from The Vegetarian Family Cookbook by Nava Atlas. This recipe makes two pies, for at least 12 servings. For a smaller crowd, to make one pie, halve the recipe. Photos by Hannah Kaminsky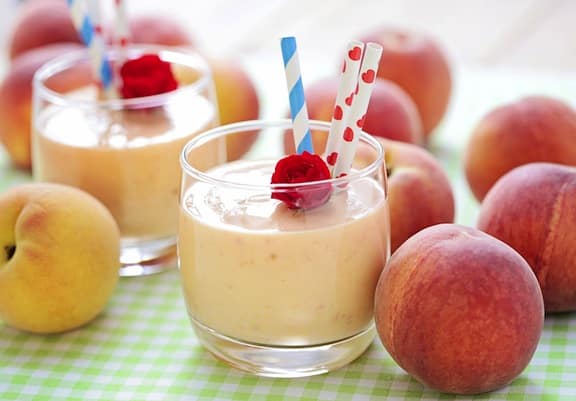 Here's a filling peach smoothie with a subtle, mellow flavor from coconut yogurt. Use only lush, ripe summer peaches or nectarines for this refreshing treat. more→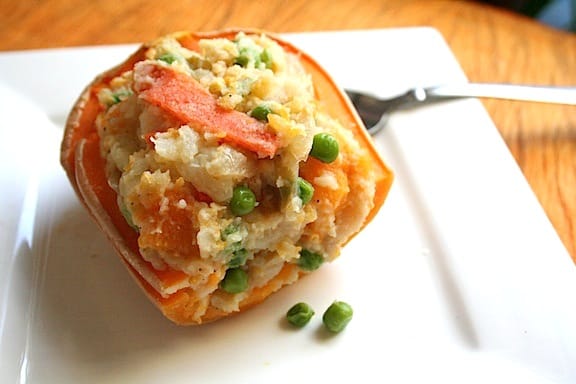 This mild mashed potato-stuffed winter squash makes a great alternative main dish for Thanksgiving, but it's any time during fall harvest season or as a winter comfort food. Double the recipe to feed a bigger crowd. Each stuffed winter squash half can serve as a main dish portion; or cut each half again to make 8 smaller side dish portions. Photos by Rachael Braun.

Winter Squash Stuffed with Mashed Potatoes and Peas
Recipe type:
Winter squash / Thanksgiving
Prep time:
Cook time:
Total time:
This mild mashed potato-stuffed squash makes a great alternative main dish for Thanksgiving, but it's any time during fall harvest season or as a winter comfort food.
Ingredients
2 medium butternut or carnival squashes (1½ to 2 pounds each)
6 medium potatoes, any variety, peeled and diced
1 tablespoon olive oil
1 large onion, chopped
1 large carrot, cut into thick 2-inch-long matchsticks
½ cup unsweetened nondairy milk
1 cup frozen petite green peas, thawed
2 teaspoons salt-free seasoning blend (such as Spike or Mrs. Dash)
Pinch of nutmeg
Salt and freshly ground pepper to taste
Nutritional yeast to taste, optional
Instructions
Preheat the oven to 400 degrees F.
Cut the squash in half lengthwise and remove the seeds and fibers. Cover with aluminum foil and place the halves, cut side up, in a foil-lined shallow baking pan. Bake for 40 to 50 minutes, or until easily pierced with a knife but still firm. When cool enough to handle, scoop out the pulp, leaving a firm ¼- to ½-inch-thick shell all around. Mash the pulp and set side until needed.
Meanwhile, combine the potatoes with enough water to cover in a large saucepan. Bring to a simmer, then simmer steadily, covered, until the potatoes are tender, about 10 to 15 minutes.
Heat the oil in a medium skillet. Add the onion and carrot and sauté over medium heat until the onion is golden and the carrot is tender-crisp. Remove from the heat.
When the potatoes are done, drain them and transfer to a mixing bowl. Add the milk  and mash until smooth. Stir in the onion-carrot mixture, followed by the peas, nutritional yeast, and nutmeg. Add the reserved squash pulp, and stir gently until the mashed potato and squash are well integrated.
Divide the mixture evenly among the four squash shells. Bake for 15 minutes, until well heated through. Serve each half as one substantial portion, or cut each half crosswise to make 8 smaller portions.
Variation: Substitute 1 large sweet potato for 2 of the other potatoes.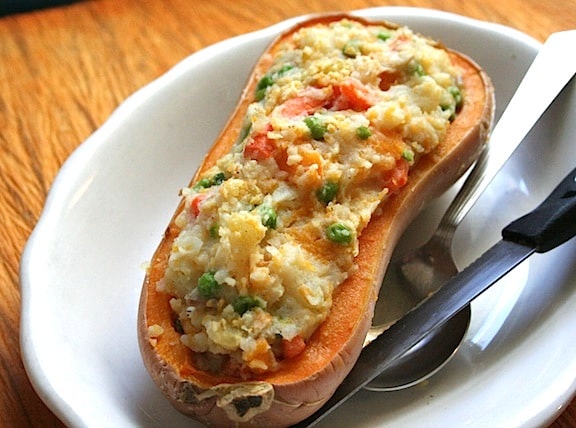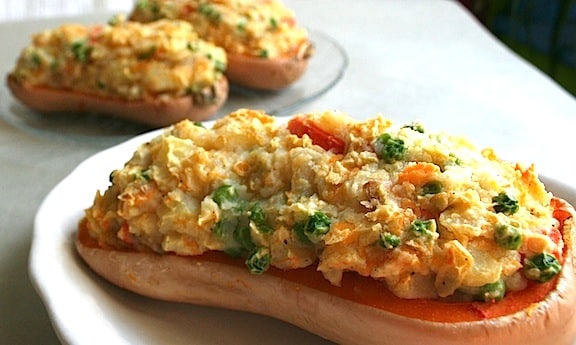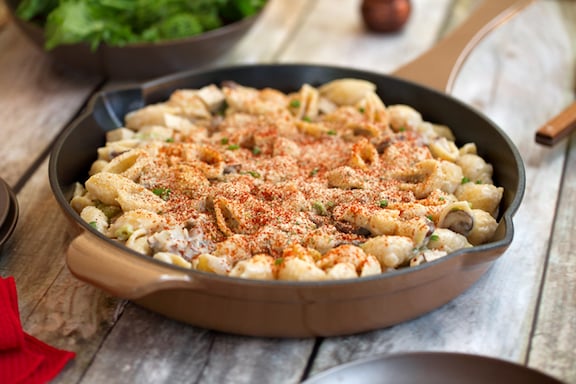 This tofu noodle skillet is a vegan version of the vintage tuna-noodle casserole that evokes 1950s TV moms in shirtwaist dresses, wearing pearls. Firm and chewy baked tofu stands in for the tuna. The first few time I made this, I baked it, which tends to dry it out quite a bit.
When I made it again, I realized that there's really no reason to bake it, as all the ingredients are cooked and ready, needing just a spin in the skillet to pull eveything together. However, if you'd like to make this more casserole-like, simply transfer to a small casserole dish and serve from there. Or, you can make it ahead of time, and then reheat briefly in the oven in a casserole dish. Serve this mild dish with plenty of green veggies — broccoli, broccoli rabe, greens, or green beans. more→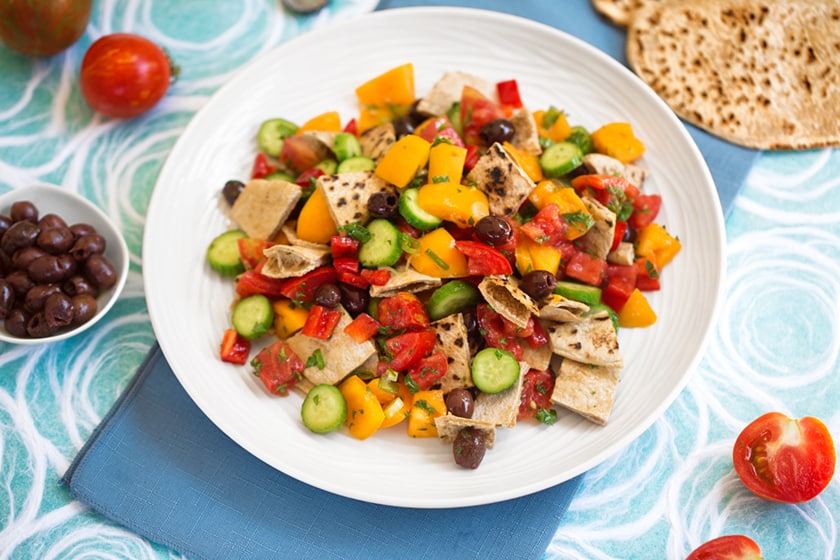 Fattouche salad is a Middle Eastern classic that's not as well known in western culture as is tabbouleh, though maybe it should be — it's just as delicious. It gets its characteristic touch from the use of small bits of toasted pita bread mingling with juicy tomatoes, cucumbers, and fresh herbs. It's good all year round, though especially tasty with summer tomatoes more→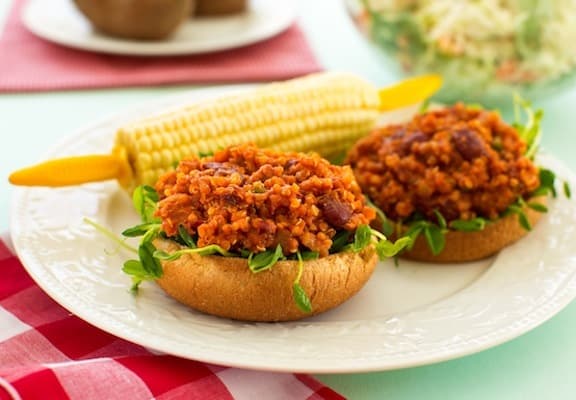 Seriously—who needs fake meat when you can make hearty, beautifully textured dishes using grains and beans? This serves up deliciously on rolls, but if you're not a bread person, you can serve the mixture in a lettuce-leaf cup or atop a corn tortilla. Serve with baked potatoes or sweet potatoes and any slaw-style salad. Fresh corn on the cob when in season is a great addition as well. Recipe from Plant Power: Transform Your Kitchen, Plate, and Life with More Than 150 Fresh and Flavorful Vegan Recipes by Nava Atlas. ©2014, published by HarperOne, reprinted by permission. Photos by Hannah Kaminsky.   more→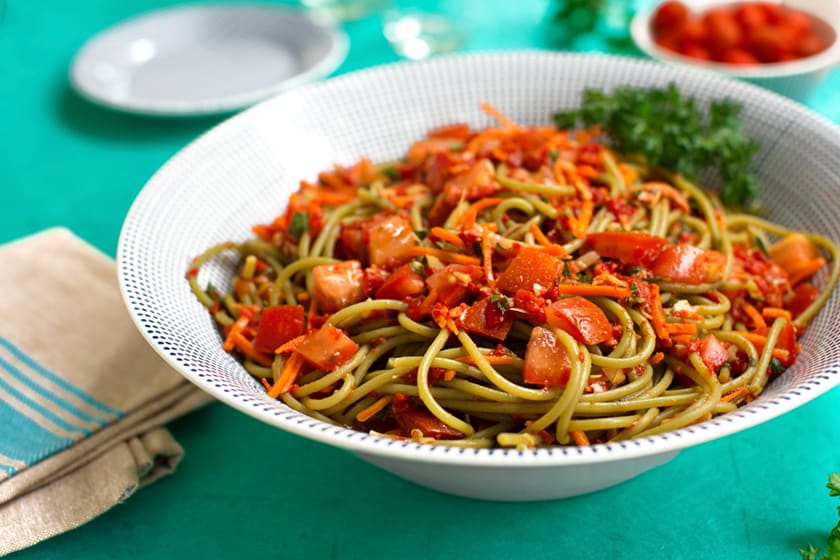 This cold linguine salad features vibrant flavors provided by artichoke hearts, roasted peppers, artichoke hearts, sun-dried tomatoes, and lots of fresh parsley. It will hold up well on hot days or when being transported to a potluck. If you prefer to have it warm, by all means, do so. Simply skip the step of rinsing the pasta in cool water and use it straight after it's been drained. For a complete meal, serve with a simple chickpea salad. Photos by Hannah Kaminsky. more→