Fried foods aren't great for you, which is why this recipe for baked falafel is such a pleasure. Besides being healthier, it's also much easier to make. Plus, frying is just messy. Serve these little balls of happiness with the accompanying Smoky Tahini Sauce in a pita or in wraps with fresh tomatoes and lettuce, or atop rice or whole grain.  Contributed by Dynise Balcavage, from Celebrate Vegan* (Lyons Press, ©2011).
Serves 4
Falafel:
2 tablespoons olive oil
15-ounce can chickpeas, rinsed and drained
½ small onion, minced
3 garlic cloves, minced
2 tablespoons fresh parsley, chopped
1 ½ teaspoons cumin
½ teaspoon ground coriander
½ teaspoon baking powder
¼ teaspoon black pepper
Salt, to taste
2 tablespoons flour, plus more, if needed
Smoky Tahini Dressing:
½ cup tahini
2 garlic cloves, minced (sauté first if you don't like raw garlic)
1/3 cup lemon juice
½ teaspoon salt
1 teaspoon smoked paprika
½ tsp sumac (lemony Middle Eastern herb) — see note
1 tablespoon water
2 tablespoons fresh cilantro
Preheat the oven to 350º F. Drizzle a little of the oil onto a high-sided cookie sheet or in a baking pan and spread it evenly. Or, you can just use baking parchment.
Place remaining oil and the rest of the falafel ingredients in food processor and pulse on and off until the mixture holds together in a dough-like mass. You may need to remove the dough with your hands and work it a bit. Add enough flour so that it holds together.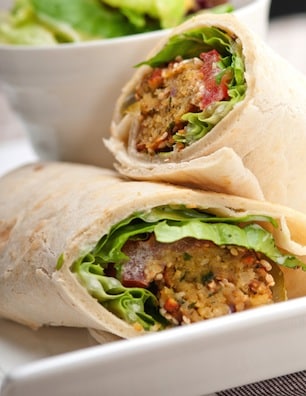 Form into 2-inch balls or patties. Place in the oiled pan.
Bake for 10 to 12 minutes on one side, or until golden. Flip and bake on the other side for 10 to 12 minutes longer, or until golden and crisp. Drain on paper towels.
While the falafel is baking, rinse out the food processor. Combine the ingredients for the Smoky Tahini Dressing in the work bowl and process until smooth. Pour into a spouted container. Serve as suggested in the headnote, above. Pass around the Smoky Tahini Dressing.
Note: Substitute lemon-pepper if sumac is unavailable.
Dynise Balcavage is also the author of Urban Vegan: 250 Simple, Sumptuous Recipes from Street Cart Favorites to Haute Cuisine.* and blogs at Urban Vegan.
*This post contains affiliate links. If the product is purchased by linking through this review, VegKitchen receives a modest commission, which helps maintain our site and helps it to continue growing!