This vegan and gluten-free salad, with the unusual central feature of cauliflower enveloped in barbecue sauce, make a fantastic summer main dish salad, though it would be welcome year round. Once the cauliflower is done, the rest comes together in a flash. Recipes and photos contributed by Cara Reed, from Fork and Beans.
Serves: 2 or more
½ head cauliflower, cut into florets
½ cup BBQ sauce (Quick Vegan Barbecue Sauce or your favorite brand)*
½ cup black beans (if canned, drain and rinse)
1 avocado, peeled and sliced
1 ear corn, cooked, kernels sliced off (or 1 cup steamed frozen corn)
¼ red onion, diced
Shredded carrots, as desired
3 cups shredded lettuce, any variety
Cara's non-dairy ranch dressing or VegKitchen's Vegan Ranch Dressing
(add some BBQ sauce to spice it up if desired)
Crushed tortilla chips for topping, optional
Preheat the oven to 350º F. Line a cookie sheet with foil. Place the cauliflower florets on the sheet and bake for 5 to 7 minutes. Brush the BBQ sauce onto the cauliflower. Bake for another 2 to 3 minutes (or see note for stovetop or grill preparation).
Assemble all of the ingredients together for the salad. You can mix them together, or line a platter with the lettuce and compose the remaining ingredients on top.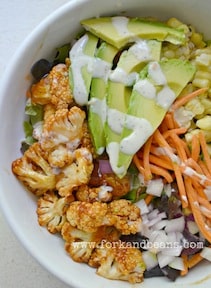 Note: When it's hot and you don't want to turn on the oven, steam the cauliflower florets in a large skillet with a little water, covered,  until tender-crip. Add the barbecue sauce and cook for 2 to 3 minutes longer, uncovered, or until the cauliflower is nicely enveloped with the sauce, stirring frequently. You can also cook the cauliflower on the grill. Simply stir the cauliflower together with the sauce in a large bowl and cook on a hot grill for 5 to 6 minutes, turning about halfway through.
*Cara's recipes are created for a gluten-free audience (as well as egg-free and dairy-free). If you'd like to make this a completely gluten-free recipe, make sure any barbecue sauce you purchase is gluten-free. And if you make the homemade sauce, use a gluten-free soy sauce.
Cara Reed blogs at Fork and Beans. Read the story of how she transformed her diet and improved her health here.