Dress this simple and pretty salad of broccoli, red cabbage, cherry tomatoes, and olives with a tasty salsa salad dressing, or just use any favorite dressing. This adds color and crunch to the dinner plate. Photos by Evan Atlas.
Serves 4
3 cups bite-size broccoli florets (see Note)
1 cup thinly sliced red cabbage, or more, if desired
½ pint (about 1 cup) halved cherry tomatoes (red or golden)
½ cup cured black olives, such as kalamata, halved if desired
Salsa and Olive Oil Salad Dressing, as desired
(or use any favorite dressing, such as vinaigrette, to taste)
Salt and freshly ground pepper to taste
Dry-roasted sunflower seeds as desired
Combine the first 4 ingredients in a large salad bowl and toss.
Dress as desired with salsa salad dressing or oil and lemon juice or vinegar and toss again.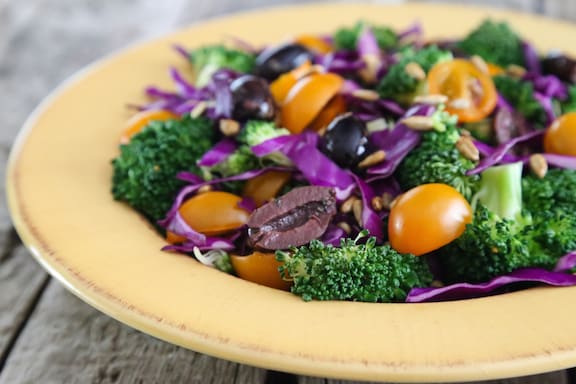 Season with salt and pepper. Add a sprinkling of sunflower seed and toss again.
Note: If you prefer your broccoli lightly steamed rather than raw, by all means do so. Steam the broccoli briefly in a small amount of water just until bright green, then drain and rinse until cool before proceeding with the salad.