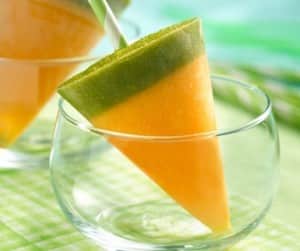 Ice pops made from real fruits and veggies are a win-win — lots of fun for kids to eat, and reassuring for parents to know they're giving their children a wholesome treat. Recipe adapted from a contribution by the Betty Crocker company.
Yield: 6 ice pops
2 containers (6 oz each) nondairy vanilla yogurt
(soy or coconut)
2 cups chopped ripe mango
½ cup carrot juice
1 cup packed fresh spinach leaves
In blender, place yogurt, mango and carrot juice. Cover; blend until smooth. Reserve 1 cup mixture; cover and refrigerate. Divide remaining mixture among 6 (5-oz) paper cups, about ⅓ cup in each. Cover cups with foil; insert craft stick into center of each pop. (Or fill ice pop molds according to manufacturer's directions.) Freeze about 2 hours or until frozen.
In blender, place reserved mango mixture and spinach. Cover; blend until smooth. When first layer is frozen, remove foil from pops. Pour about 3 tablespoons spinach mixture in each cup over frozen layer. Return foil to pops to support sticks. Freeze about 6 hours or until frozen.