Family-Friendly Vegan Dinner Recipes: For families with vegan and vegetarian kids and teens — and anyone who loves simple, hearty fare. More families than ever are going vegetarian or vegan. Here is a selection of easy, tasty recipes to help the plant-strong members of your family eat well and thrive! For this compact collection, these recipes were chosen for their popularity on the site — those dishes that are the most viewed, month after month.
While these recipes have proven themselves as kid-friendly favorites, there's no reason that adults can't enjoy them as well, spiced up to suit individual tastes. More than 20 full-color photos included. See entire contents under the cart buttons.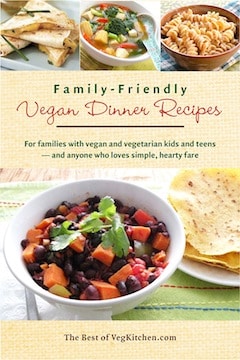 This title is part of VegKitchen's "Best of VegKitchen" pdf e-book series. Featuring recipes that have proven most popular on the site, these compact e-books let you to delve into specific food niches without poring through lots of web sites (or even just VegKitchen, which in itself has thousands of recipes!).
Please note — this e-book can be viewed on your computer after downloading, or printed and popped into a binder, but it is not formatted for e-readers such as Kindle, Nook, etc.
How it works: Once you click Add to cart (below), you'll be taken to a checkout page. All orders are processed though PayPal. Once payment has been made, you'll receive an e-mail with a link to an instant download. Chances are that you already have Adobe Acrobat reader on your computer, but if not, you can download it for free by following this link.
50 pages, $5.95
CONTENTS
Hearty Family-Friendly Recipes 
Hearty Vegetable Pot Pie
Mom's "Tuna"-Noodle Casserole
Cincinnati "Chili Mac"
Potatoes and Collard Greens with Vegan Sausage
Mexican Pizza
Broccoli and Cheddar-Stuffed Potatoes
Polenta with Black Beans and Spinach
Quick Black Beans and Spinach
Vegan Cheese-y Delights
Nachos with Chile Con Queso
Vegetable Rarebit (Melted Cheese Toasts)
Easy Quesadillas or Soft Tacos
Pizza Potatoes
Easy Pasta & Grain Dishes
Very Green Noodles
Mixed Vegetable Lasagne
Vegan Macaroni and Cheese
Peanut Butter-Sesame Noodles
Sesame-Ginger Soba Noodles and Greens
Pasta with Vegan Alfredo Sauce
Seashells in Sand (Quinoa and Seashell Noodle Pilaf )
Salads Your Family Just Might Just Eat!
Macaroni Salad with Vegetable Confetti
Cold Cucumber-Noodle Salad
Fruited Red Cabbage Salad
Classic Carrot-Raisin Salad
Green Pea, Radish, and Vegan Cheddar Salad
Summer Squash and Broccoli Relish Salad
Taco Salad
Sesame-Ginger Salad Dressing
Thousand Island-Style Dressing or Dip
Soups
Creamy Corn Chowder
Alphabet Soup
Colorful Asian-Style Tofu-Vegetable Soup
Butternut Squash and Apple Soup
Tofu
Baked Tofu Nuggets
Teriyaki Tofu Triangles
Tofu Fajitas
Tofu and Potato Hash Browns
Simple Vegetable Recipes
Broccoli and Baby Corn Stir-Fry
Sweet Cinnamon Roasted Baby Carrots
Scallion Pancakes
Coconut Creamed Corn
Baked Sweet Potatoes and Apples