Feeding the Hungry Ghost* is the first book by accomplished food journalist, Huffington Post Meatless Mondays columnist, and VegKitchen contributor Ellen Kanner. Those who find themselves with this volume in their hands are in for a treat. It's a collection of musings arranged seasonally (many in the form of memoir), on the place of food as a way to comfort, connect, inform, and expand our consciousness.
What makes it a rarity in the realm of food writing is that it comes from Ellen's completely plant-based perspective. Those of us who love good food writing might gravitate to books by Laurie Colwin and Ruth Reichl, even as we cringe over loving descriptions of beef stew and other bits of meaty whatnot. We no longer need to do that, thanks to Ellen.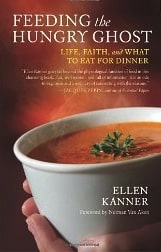 Ellen Kanner and I have much in common. We are women of the angsty, Jewish-born variety, and we use humor and creative ways with food to lighten our past and leaven our present. From reading Feeding the Hungry Ghost, I learned that Ellen, like me, was traumatized by beef tongue casually served at the table (seriously, whose idea was this?), and part of her culinary awakening consisted of discovering that vegetables are a thing of beauty when they're not cooked to death or come from a can.
Where little Ellen had "the bejeezus" scared out of her by her grandfather's truss, little Nava freaked out over Charles Laughton in "The Hunchback of Notre Dame." I only regret that Ellen and I didn't meet as children; we would certainly have been BFFs.
Apart from laugh-out-loud moments and witty wordsmithery, Feeding the Hungry Ghost is no lightweight in the depth department. Filled with insight, Ellen tackles the big questions of what it means to be human (with nods to family, friendship, culture, love, sex, desire) through the lens of food — the choices we make when we decide what to put on the table and into our mouths.
And though this isn't a cookbook per se, each chapter ends with a recipe or two — recipes that feel so soulful, so hand-wrought, that there's no need to label them as "vegan" — they're just downright delicious. I know, because I've made a lot of them, and so have many VegKitchen readers.
Ellen is never preachy, but you learn a little more about the world — and yourself — with each delectable essay. This is a perfect gift for your foodie family members or your friends, or, what the heck, for yourself. It just might become one of your nightstand books, to perpetually dip into and savor, as it is for me.
For a taste, so to speak, of Ellen's writing, see her Meatless Monday Musings on VegKitchen.  Read an excerpt from the book here.  As in the book, each musing is linked to a recipe. Finally, learn more about Feeding the Hungry Ghost on Amazon.com. 
Here are a few questions I asked of Ellen:
Nava: Mark Twain said, "The secret source of humor itself is not joy but sorrow." There are passages in FTHG that are laugh out loud hilarious. Is there anything about this Twain quote that resonates with you?
Ellen: Humor stems from sorrow, but more importantly, it diffuses it, neutralizes or at least lessens it  — something I kept in mind when writing Feeding the Hungry Ghost.   Humor creates positive energy, and with it, the possibility for change. So I'll answer your Twain quote with one from William Blake, "Energy is eternal delight."
Nava: From your contributions to VegKitchen, and also from your book, it's apparent that your recipes are not merely instructions on what to do with ingredients to arrive at a tasty dish, but each one is almost a story in itself, beginning with its title. Tell us a bit about your process in creating recipes, and do you also see them as stories, or do you have a different take?
Ellen: Story is the secret ingredient in much of my cooking. Sometimes it's the story of who grows the food, sometimes it's a recipe's significance  — ties to a particular culture or a personal or family back story.  That's what inspires me in the kitchen.
Story not only provides part of the pleasure of cooking for me, it offers context.  If I'm going to suggest someone do something, eat kale, for instance, I want to explain why.  I hope by sharing why gumbo z'herbes is a traditional dish eaten at Lent, perhaps you'll be more interested in making and eating it — plus, it's a great way to turn a mountain of greens into something transcendent, kind of like like the miller's daughter in Rumpelstiltskin spinning straw into gold.  Oh, look, another story.
Nava: It's unusual to encounter a book of witty and wise food writing that also happens to come from a vegan perspective. Who do you see as the audience for this book, and do you hope to reach out beyond the plant-based crowd?
Ellen: Feeding the Hungry Ghost is for everyone who loves food.  I'm the vegan who wants to invite everyone to the table. This includes omnivores.  We can believe and eat different things, but the fact is we all have to eat and we're all human.  That's what interests me — the point at which we connect. With connection, with dialogue comes the possibility of coming together, and nothing facilitates connection and dialogue more than a great meal.  Come, have some crispy farinata, some minty spring pea dip, some wild mushroom salad.
Nava: Though your writing style is different, as is  your perspective on food, there's just something about FTHG that conjures up memories of Laurie Colwin. It's not so much a comparison, more that you seem like her vegan soul sister. Has this connection come up in reviews of the book, and if so, do you reject it or embrace it? Do you consider Laurie Colwin an influence?
Ellen: Wow. Laurie Colwin had a warm, unique voice and a quirky sense of humor that came through both in her fiction and in her food writing.  I first discovered her when I was a newlywed living in Tokyo. Someone moving back to the States gave me a stack of old Gourmets, and reading her food essays felt like having a good friend in the kitchen.  To be that for other readers, to be Laurie Colwin's vegan soul sister would be an honor.
Nava: You share a fair amount in the book, things about yourself and your life that go beyond the kitchen. Was that easy or hard for you? And in the process of writing your life, in and out of the kitchen, did you discover things about yourself that had never before occurred to you?
Ellen: I didn't think about personal disclosure being as easy or hard as much as I thought of it as being necessary.  Writing helps me make sense of the world, and in some cases, make sense of myself, but I didn't put the personal bits in there as therapy.  If change  — whether it's changing your diet or your life  — were easy, we'd all do it.  The thing is, to be human is to be complicated.  I couldn't advocate all this food and health and spirit stuff without acknowledging that, and to me that means showing readers who I am and where I'm coming from, rather than talking about change from some lofty position.
* This post contains affiliate links. If the product is purchased by linking through this review, VegKitchen receives a modest commission, which helps maintain our site and helps it to continue growing!