Here is a sampling of easy fruity treats for kids that are a bit more exciting than plain fruit on a plate. For another nifty idea for using fruit, see Fruit and Yogurt Parfaits. Recipes adapted from The Vegetarian Family Cookbook.
---
CHUNKY APPLESAUCE
Shown at top this is the perfect thing to make after you've gone apple-picking or to celebrate the first crop of apples at local farmers' markets. Please, use organic apples!
Serves: 4 to 6
6 to 8 large sweet cooking apples, such as Cortland or Rome,
peeled and cut into ½-inch dice
½ cup apple juice
2 tablespoons natural granulated sugar, agave nectar,
or maple syrup, or to taste
Cinnamon to taste
Combine the apples and juice in a large saucepan. Bring to a simmer, cover, and cook over low heat, stirring occasionally, until the apples are soft, about 20 to 30 minutes.
Add sugar and cinnamon to taste, and allow to cool. Serve warm or at room temperature.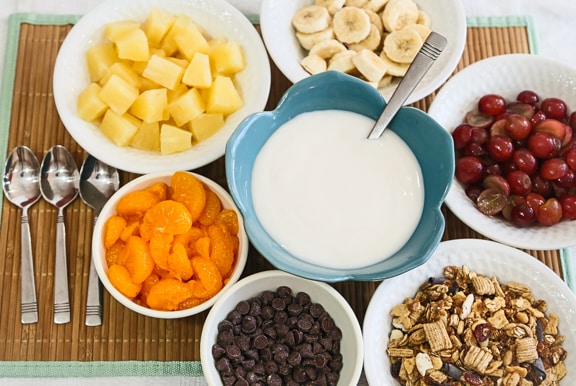 BANANA-YOGURT AMBROSIA
Young children often balk at dishes in which ingredients are "touching." However, I served this often when my sons were younger and had friends visiting. I found that if kids decide for themselves what's touching what, they don't seem to mind a mixed dish. In fact, most kids loved creating patterns in their yogurt with the other items, and often asked for seconds.

Serves: 4 to 6
1 to 2 medium bananas, sliced
1 cup (about half of one 16-ounce can) unsweetened pineapple tidbits, drained
1 large pear, peeled and diced
½ cup small seedless grapes
½ cup dark or golden raisins or dried cranberries)
¼ cup semi-sweet chocolate chips, optional
1 cup granola, optional
2 to 3 cups vanilla soy yogurt
Place all the ingredients except the yogurt into separate, small bowls.
Divide the yogurt among 4 to 6 individual serving bowls. Let everyone take a little of whichever ingredients they'd like to dress up their ambrosia.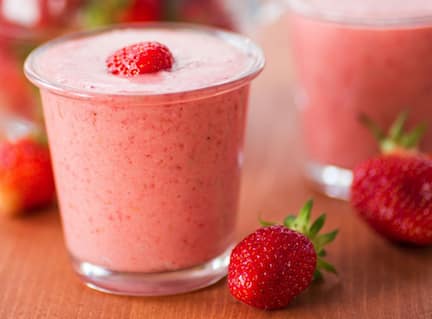 CLASSIC STRAWBERRY OR BLUEBERRY-BANANA SMOOTHIE
If you're looking for just one fruit smoothie combo to fall in love with, this strawberry and banana is a classic for good reason! It's a good way to start the day
Makes: Two 12-ounce smoothies or three 8-ounce smoothies
1 large banana (freeze banana ahead of time if you'd like)
1 heaping cup sweet strawberries, hulled, or 1 cup blueberres (use frozen off season)
½ cup vanilla almond or other nondairy milk
½ cup orange, mango, or berry juice
2 tablespoons hemp seeds, optional
Combine all of the ingredients in a blender and process until smoothly pureed. For a thinner smoothie or more servings, add more nondairy milk or juice. Serve at once.
Explore the entire Veg Kids and Teens page on VegKitchen for lots of easy, healthy recipes for vegetarian and vegan kids and teens.