Fresh Summer Tomato Recipes (pdf e-book) features 35 of VegKitchen's favorite recipes for using summer's bounty of tomatoes. Here are ways to make the most of luscious tomatoes, including salads, salsas, hot and cold pastas, soups, pizzas, stews, skillets, and side dishes.
When tomatoes are at their peak of flavor, you'll love having a focused array of recipes right at hand. Sample Curried Tomato-Potato Salad, Tomato-Mango Salsa, Asian Noodles with Tofu, Tomatoes, and Basil, Fresh Tomato Pizza with Eggplant and Olives, and lots more plant-strong recipes! Photos of several recipes are included. See entire recipe listing under the cart buttons.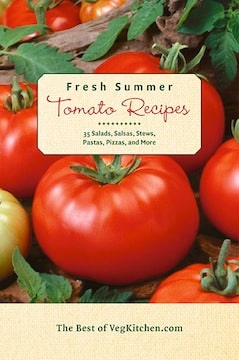 Fresh Summer Tomato Recipes is part of VegKitchen's "Best of VegKitchen" pdf e-book series. Featuring 35 or so recipes that have proven most popular on the site, these compact e-books let you to delve into specific food niches without poring through lots of web sites (or even just VegKitchen, which in itself has thousands of recipes!). Please note — these e-books can be viewed on your computer after downloading, or printed and popped into a binder, but they are not formatted for e-readers such as Kindle, Nook, etc. Explore our other affordable, attractive Best of VegKitchen e-books! 
How it works: Once you click Add to cart (below), you'll be taken to a checkout page. All orders are processed though PayPal. Once payment has been made, you'll receive an e-mail with a link to an instant download. Chances are that you already have Adobe Acrobat reader on your computer, but if not, you can download it for free by following this link.
42 pages, $5.95
CONTENTS
Salads and salsas
Italian Bread and Tofu Salad
Fresh Corn and Tomato Salad
Vegan Caprese Salad
Tomato Relish Salad with Fresh Oregano and Thyme
Chickpea Salad with Tomatoes and Basil
Tabbouli-Style Quinoa and Black Bean Salad
Curried Potato-Tomato Salad
Raw Squash "Noodles" with Fresh Tomato Sauce
Fresh Tomato Guacamole
Fresh Tomato Salsa
Tomato-Mango Salsa
Warm and Cold Pastas
Pasta Salad with Red Beans and Tomatoes
Pasta Twists with Tomatoes, Artichokes, and Basil
Pasta with Spinach, Chickpeas, and Tomatoes
Tomato Tortellini or Ravioli
Pasta with Fresh Summer Tomato Sauce
Asian Noodles with Tofu, Tomatoes, and Basil

Luscious Tomato-Garlic Sauce for Pasta
Soups 
Fresh Tomato and Corn Soup
Fresh Tomato-Coconut Soup
Cool White Bean and Tomato Soup
Classic Tomato Gazpacho
Pizzas, Skillets, and Side Dishes
Fresh Tomato Pizza with Eggplant and Olives
Fresh Tomato Pizza with Peppers and Artichokes
Vegan Pizza Margherita
Stewed White Beans with Fresh Tomatoes
Greek Stewed Potatoes, Tomatoes, and Zucchini
Stewed Tofu with Corn and Tomatoes
Simmered Tofu with Leeks and Tomatoes
Summer Tofu Skillet with Tomatoes and Bell Peppers
Italian-Style Braised Greens with Tomatoes
Grits with Fresh Corn and Tomatoes
Golden Tomatoes Sautéed with Olives and Parsley
Baked Tomatoes Provençal
Creole Tomatoes with Okra