Here's a fun, useful, and luscious giveaway especially for VegKitchen readers, brought to you by my friend and talented colleague, Laura Theodore, also known as The Jazzy Vegetarian. One fortunate reader will receive The Best of Jazzy Vegetarian 3-DISC, DVD Set — fans of this highly successful series know that vegan chef Laura Theodore can turn any meal into a delicious special occasion.
Each half-hour episode includes hands-on instruction and tasty tips for seasoned cooks and newcomers alike. Laura creates scrumptious entrées like Holiday Stuffing Casserole, Spaghetti and Wheatballs, and Polenta Pizza. And when sweet treats are in order, Laura highlights decadent and rich-tasting desserts like Chocolate Cake, Luscious Carrot Cupcakes and Homemade Pumpkin Pie.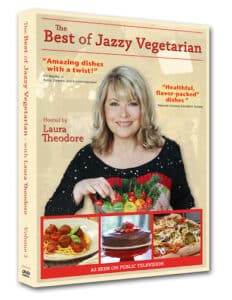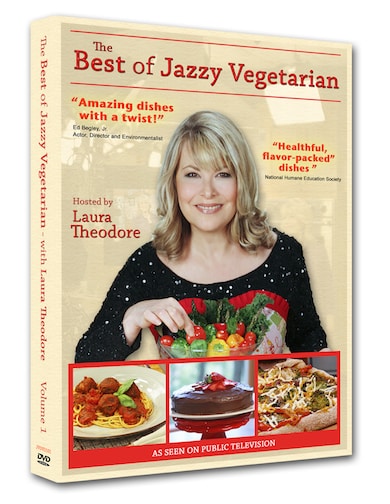 Getting inspired with these entertaining cooking DVDs will be a great way to welcome spring, great for holidays and company meals as well as everyday fare. These discs contain:
DISC ONE
Festive Lasagna
Deli Delights
Just Desserts
DISC TWO:
Happy Holiday Meal
Spaghetti and Wheatballs
Sweets for the Sweet
DISC THREE:
Pizza with a Twist
Breezy Brunch
Giving Thanks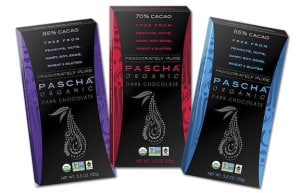 To sweeten the deal, literally and figuratively, Laura has also offered a 3-bar set of Pascha Organic Dark Chocolate, a fine brand that's not only vegan but also fair trade and completely allergen-free.
In addition to the Jazzy Vegetarian Television Series, Laura Theodore is also the host of the Jazzy Vegetarian Radio Show. Her most recent book is Jazzy Vegetarian Classics: Vegan Twists on American Family Favorites.* Laura is a regular contributor to VegKitchen — the latest is this beautiful Chocolate Ganache Cake, shown at the top of this post, a perfect dessert for spring celebrations — Easter, graduations, Mother's Day, even small weddings!
This giveaway starts from this very moment (Monday, March 2) and runs until Thursday, March 4 at noon. To enter, simply leave any kind of comment  — why you'd enjoy this set of cooking videos, why you love chocolate, etc. Winner will be chosen randomly, so you're not being "graded" on creativity!
Please note: Sometimes it takes me a little while to approve comments (especially when I'm sleeping!) but no worries, all comments will be posted within a few hours and will all count toward entries.
*This post contains affiliate links. If the product is purchased by linking through this review, VegKitchen receives a modest commission, which helps maintain our site and helps it to continue growing!
Thanks for entering, everyone! This giveaway is now closed. The winner is Karen Hardin. Everyone else, please do check out your local listings to find out if and when Jazzy Vegetarian Television Series is shown in your area.