For Vegetarian, Vegan, and Dairy-Free Kids and Teens
Compiled and edited by Jordan St. Clair-Jackson and the editors of VegKitchen
Healthy School Lunch: Recipes & Ideas (more than 50 in total) will make the task of making school lunch for kids and teens who are vegetarian or vegan easier and more fun. They'll also be useful for those following dairy-free diets due to allergy or intolerance. You'll find lots of tips and recipe-free ideas, as well as easy recipes for: sandwiches and wraps; hot and cold container lunches; dips that will make veggies more appealing; muffins & bars; and more.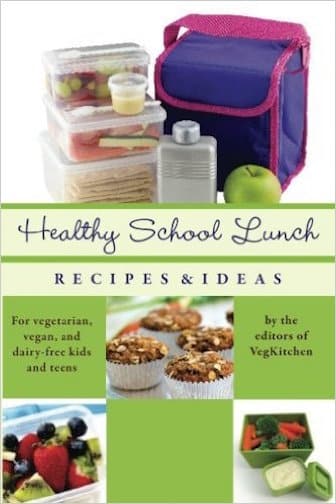 Plus: Simple dinner main dishes that can become the next day's lunch, and lots of ideas for packing fruit that will ensure that it gets eaten!
VegKitchen's school lunch articles and recipes are among the most visited on our site. We hope the ideas in this book will help you stay organized and motivated to make great lunches throughout your kids' school days!
Buy on Amazon.com
*This post contains affiliate links. If the product is purchased by linking through this review, VegKitchen receives a modest commission, which helps maintain our site and helps it to continue growing!