Healthy School Lunches: Recipes and Ideas (pdf e-book) will make the task of making school lunch for vegetarian or vegan kids easier and even more fun. The recipes here will also be useful for those following dairy-free diets due to allergy or intolerance. Here you'll find lots of easy recipes and ideas that will appeal to veg kids and teens as well as those who like to eat healthier and want to want to avoid those generic school meals! Photos of several recipes are included. See entire contents under the cart buttons.
This compact collection is part of VegKitchen's "Best of VegKitchen" e-book series. Featuring 35 or so recipes that have proven most popular on the site, these compact e-books let you to delve into specific food niches without poring through lots of web sites (or even just VegKitchen, which in itself has thousands of recipes!).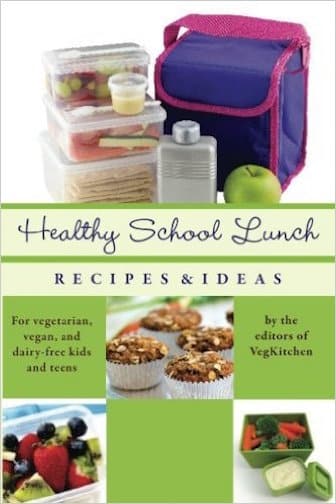 Healthy School Lunch is also available for your devices!
To order as an instant-pdf download that you can view and print from your computer: Once you click Add to cart (below), you'll be taken to a checkout page. All orders are processed though PayPal. Once payment has been made, you'll receive an e-mail with a link to an instant download. Chances are that you already have Adobe Acrobat reader on your computer, but if not, you can download it for free by following this link.
47 pages, $5.95
Contents:
TIPS FOR MAKING SCHOOL LUNCH EASIER AND HEALTHIER
SCHOOL LUNCH IN A BENTO BOX
SANDWICHES AND WRAPS: RECIPES AND IDEAS
Recipe-free ideas:
Nut butter classics and beyond
Hummus, avocado, and cucumber
Baked tofu, avocado, and tomato
BBQ-flavored tempeh
Classic "TLT"
Sweet potato and spinach wrap
Veggie burgers, embellished
English muffin or bagel pizza sandwich
Cheddar-apple sandwich Falafel in pita
Vegan cream cheese options
Sandwich recipes
Vegan Deli Hero
Salad Pita Sandwiches or Wraps
Vegan Elvis Sandwich
Cool Refried Bean Wraps
Tofu Eggless "Egg Salad" Sandwiches
Chickpea and Kale Sandwich Spread
Hot & Cold Container Lunches
Hot Bean Dip
Basic Hummus
Lunch Box Pasta Salad
Cold Peanut Butter Noodles
Last night's dinner, today's lunch:
Vegan Macaroni and Cheese
Veggie Lo Mein
Simple Sweet Potato Soup
Creamy Broccoli Soup
Classic Vegetarian Chili
Quick Black Bean and Sweet Potato Chili
Quinoa and Pinto Bean Sloppy Joes
Muffins & bars
Basic Tasty Muffins, with Variations
Zucchini-Raisin Muffins
Carrot Muffins with Maple-Cream Cheese Frosting
Savory Corn Muffins
Chocolate-Chip Apricot Blondies
Soft and Chewy Granola Bars
Salads & dips
Apple Coleslaw
Classic Carrot-Raisin Salad
Creamy and Colorful Potato Salad
Raw Veggies with Dip
Thousand Island Dressing or Dip
Quick Tartar Dressing or Dip
Ranch Dressing or Dip, Three Ways
Fruitful flavors for the lunch box
*This post contains affiliate links. If the product is purchased by linking through this review, VegKitchen receives a modest commission, which helps maintain our site and helps it to continue growing!