The homestyle Italian classic, sausage and peppers, is updated with vegan sausage. It makes a hearty one-dish meal, good served with pasta, grains, or even soft polenta. Shown above, it's paired with farro. Mild, pale-green Italian frying peppers that are occasionally available in supermarkets and produce markets make this more authentic, but using common bell peppers works just as well. 
Serves: 6
2 tablespoons extra-virgin olive oil
One package Tofurky or Field Roast vegan sausage,
any variety, cut into 1/2-inch slices
1 large onion, quartered and thinly sliced
2 to 3 cloves garlic, minced
4 large Italian frying peppers, seeded and cut into strips (or substitute
3 large red, green, or yellow bell peppers, or a combination)
1/4 cup dry white wine, optional
28-ounce can crushed or pureed tomatoes
1 teaspoon dried oregano (or fresh oregano to taste)
1 teaspoon dried basil (or fresh basil to taste)
1/2 teaspoon dried thyme
Dried hot red pepper flakes to taste
Salt and freshly ground pepper to taste
Hot cooked pasta, grains, or polenta, optional
Heat just enough of the oil to lightly coat the bottom of a large skillet, reserving the rest. Add the sausage and cook over medium-high heat, stirring frequently until all sides are golden brown. Remove from the skillet and set aside.
Heat the remaining oil in the same pan. Add the onion and sauté over medium-low heat until translucent. Add the garlic and peppers and sauté until all are soft and golden.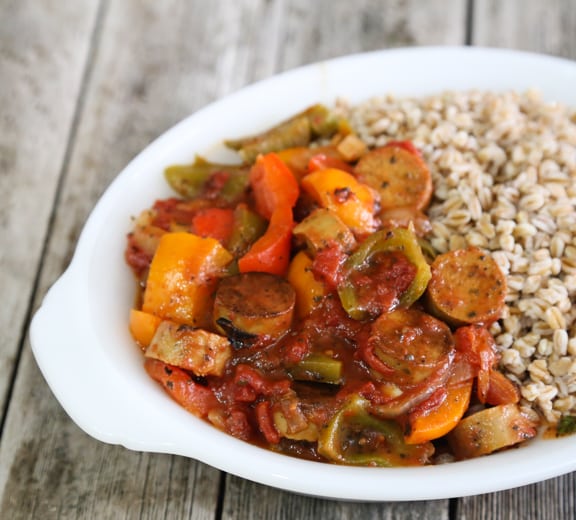 Stir in the optional wine, pureed tomatoes, and seasonings. Bring to a simmer, then cover and cook over low heat for 10 minutes.
Stir the reserved vegan sausage into the mixture. Season with salt and pepper. Serve at once, spooning some of the sausage and peppers mixture over individual servings of pasta, grains, or polenta, or on its own if you prefer.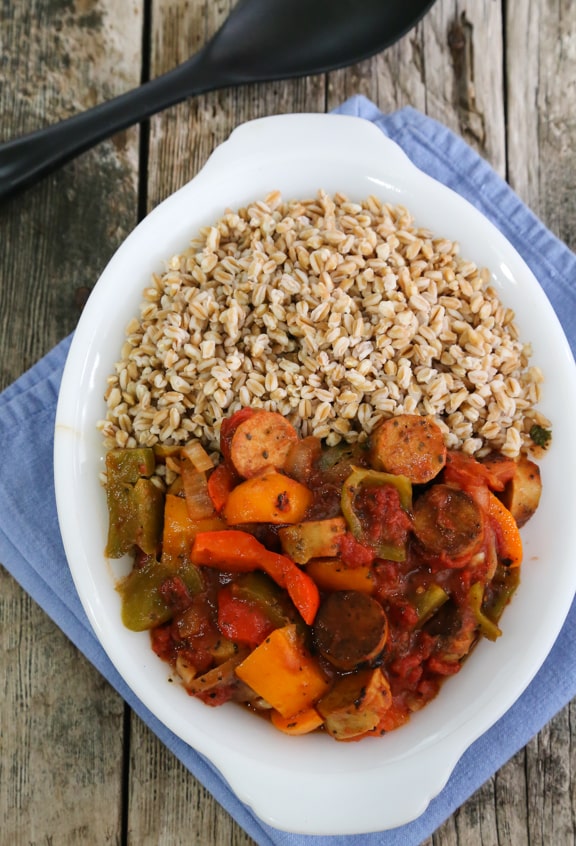 Photos: Evan Atlas
Here are more: