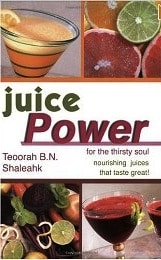 Juice Power (from your blender)* by Teoorah B.N. Shaleakh is a compact little book that immediately appealed to me, because though I like the idea of juicing, I don't like juicers. The recipes in this book use the whole fruit (except in the case of citrus, of course) or vegetable, and often in unexpected combinations. So in a way they are more like smoothies or blended beverages.
I also like that in the headnote for each recipe, the author tells you what the key nutrients are, and what the beverage is ideal for, in terms of benefits. The organization is unique, with chapters like Lose Weight, Cleanse Your System, Increase Your Energy Level, Increase Your Stamina, and more. So pull out your blender (I use my food processor and it works well, too), stock up on some fresh fruits and veggies, and drink up!
QUICK-ME-UP
Makes: 24 ounces
Strawberries are an excellent source of vitamin C and folate. They are also packed with powerful antioxidants that provide protection by neutralizing free radicals-substances in the body that can damage cells and lead to disease. Strawberries may help protect the brain from oxidative stress and may reduce the effects of age-related declines in brain function. Apples provide respe~table amounts of both insoluble and soluble fiber (including pectin), some vitamin C, and potassium. Apples are also a good source of quercetin, a flavonoid that may help protect against heart disease. Bananas can be easily digested by nearly everyone, including infants and the elderly. This tropical fruit supplies a substantial amount of potassium along with significant amounts of vitamin B6.
1 red apple, washed, cored, and quartered (peeling is optional)
1 cup coconut milk, almond milk, rice milk, or soymilk
1 cup ice 1 ripe banana
¼ cup pure maple syrup
4 strawberries (use frozen out of season)
1 teaspoon vegetarian protein powder
Place all the ingredients in a blender and process until smooth.
VEGETABLE COMBO
Makes: 16 ounces
Spinach is exceptionally rich in carotenoids, including betacarotene and lutein. It also contains quercetin, a flavonoid phytochemical with antioxidant properties. Spinach is rich in vitamins and minerals, particularly folate (folic acid), vitamin K, magnesium, and manganese; it also contains more protein than most other vegetables.
1 cucumber, coarsely chopped (do not peel)
1 cup spinach, finely chopped
½ cup green peas (optional)
½ lemon, juiced
1 teaspoon spirulina powder
½ small clove garlic, chopped
Combine all the ingredients in a blender and process until smooth. Strain before serving.
CUCUMBER LEMONADE
Makes: 32 to 48 ounces
The phrase "cool as a cucumber" makes much good sense. This vegetable's high water content gives it a very unique moist an, refreshing taste. While the flesh of cucumbers is primarily com posed of water, it also contains two compounds that help pre vent water retention: ascorbic acid (vitamin C) and caffeic ad (a natural antioxidant found in fruits and vegetables; it is nc related to caffeine). The hard skin of cucumbers is rich in fiber and contains a variety of beneficial minerals including silia potassium, and magnesium.
4 cucumbers, chopped
4 lemons, juiced
½ cup ice
¼ cup pure maple syrup
Combine all the ingredients in a blender and process until smooth.
Teeoorah B.N. Shaleahk is actively involved with the Divine Universal Sisterhood and teaches vegan cooking classes at Soul Vegetarian Restaurant in Atlanta, Georgia. She is also co-founder of LifeLinkInc, a global health network that promotes disease prevention and health maintenance. She is the author of Juice Power.*
*This post contains affiliate links. If the product is purchased by linking through this review, VegKitchen receives a modest commission, which helps maintain our site and helps it to continue growing!