Easy, Healthy Recipes for Kids and Teens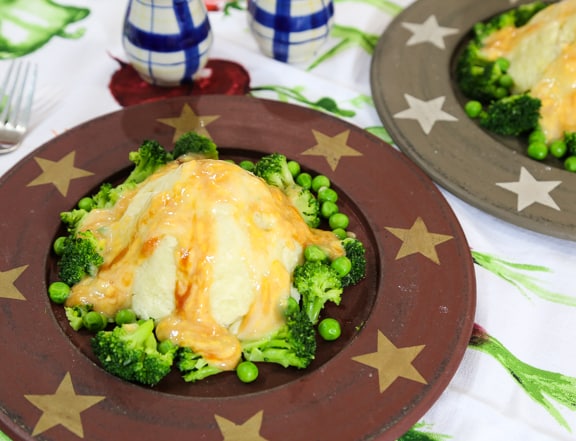 When my kids were young, they never wanted mashed potatoes until we read The Trouble With Grownups, a Berenstain Bears book. In one scene, the cubs are bored with the same old dinner. Mama and Papa scold the cubs for building volcanoes with their mashed potatoes. Immediately charmed, my kids wanted mashed potatoes so they could rebel against the grumpy fictional bear parents. We even concocted a "hot lava" sauce for the mashed potato volcanoes.
I see nothing wrong with making food more amusing, especially if doing so inspires kids to eat it. Mashed potato volcanoes with hot lava became a fixture on their repertoire, and it accomplished the feat of getting mine to eat two — or three —vegetables in one dish. more→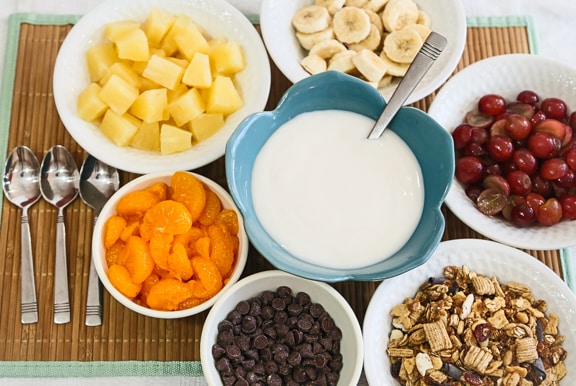 Children are notoriously picky eaters, so when it comes to preparing healthy food for kids that they'll actually eat, sometimes you've got to add some fun to the equation. When mine were young, I found that getting them to participate in the preparation was a good way to encouraged them, because they were more likely to eat what they helped make. I found cooking activities were particularly successful when they and their friends were between the ages of 5 and 8, when hand-eye coordination is excellent and the willingness to do adult-supervised activity is still a plus. more→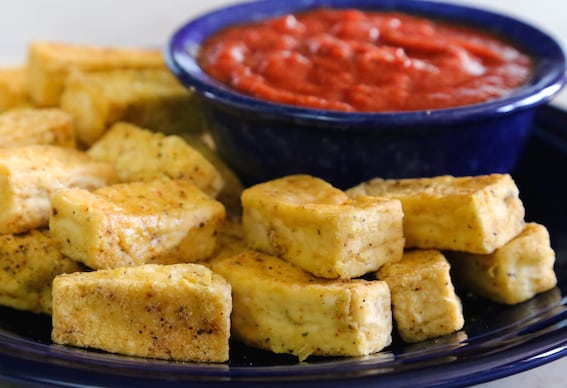 Getting tofu to taste great is simple when you have just the right recipes and tips. Here are easy tofu recipes for kids that the whole family will love. And if you're ready for tofu to become a staple in your repertoire, explore our category Tofu Recipes: Easy and Versatile for lots more ideas.
Parents always welcome new options for healthy eating, and tofu is a superb food to add to the repertoire of growing children. It's high in easily digestible protein, low in fat, and is a good source of calcium, iron, and B vitamins. more→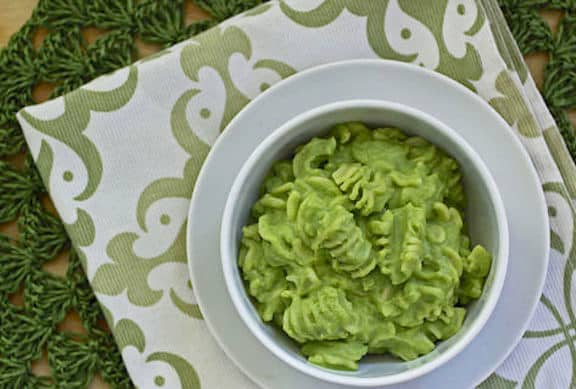 When my kids were really young, my idea of meal planning during those truly frantic days was to rush into the kitchen at six o-clock, thinking: "Quick! Cook the noodles!" Child-friendly pasta dishes are a great choice when you want dinner in a hurry and need to please adults and children.
Most varieties cook quickly enough to accommodate ravenous hunger, yet allow enough cooking time to prepare a simple sauce and a salad. It's hard not to love pasta, and wonder of wonders, even kids will eat it  — even if you have to leave the sauce you like off their portion and just add a little vegan buttery spread. more→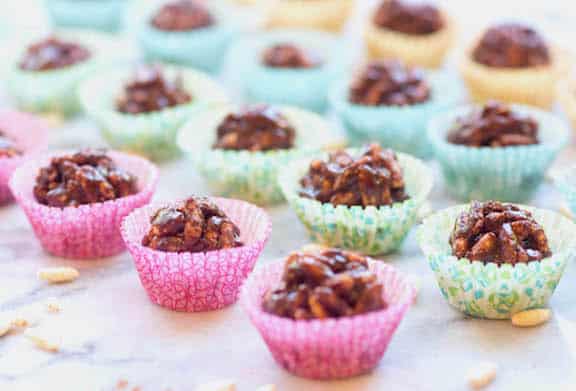 Here's a super-simple snack that will please kids of all ages! These chocolatey crispy rice cereal balls make a perfect snack for evening or after school. Recipe Vicki Marquez. Photos by Jennifer Kathryn.  ©2016, reprinted by permission. more→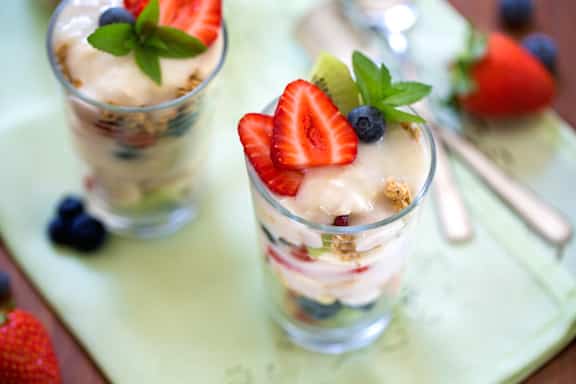 As a parent, making sure your children choose healthy foods can be a Herculean task. Young children as well as tweens and teens don't just need variation, they want foods that are visually appealing and will tickle their taste buds. You have to think creatively and come up with new ideas to make sure they eat healthy. If your child is a vegan, it can be even more challenging to make healthy but delicious foods. However, there is a lot you can do with plant-based ingredients without having to compromise on the taste. more→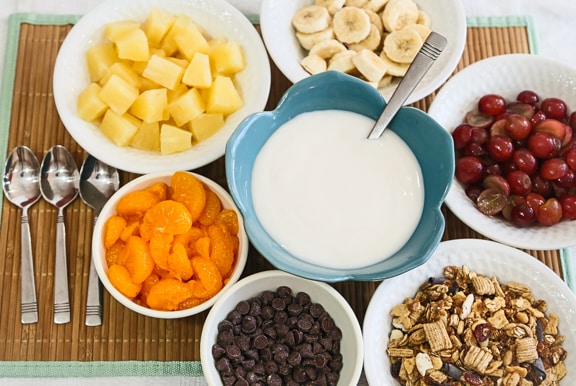 Bowls of nondairy yogurt, dried and fresh fruit, and granola can be a quick light lunch or nutritious snack. It's great for kids — especially young children who balk at dishes in which ingredients are "touching." But if they decide for themselves what's touching what, they don't seem to mind a mixed dish. When my kids were young and had friends over, they created patterns in their yogurt with the other items, and often asked for seconds. This is great for adults, too. Why let kids have all the fun? Photos by Evan Atlas. more→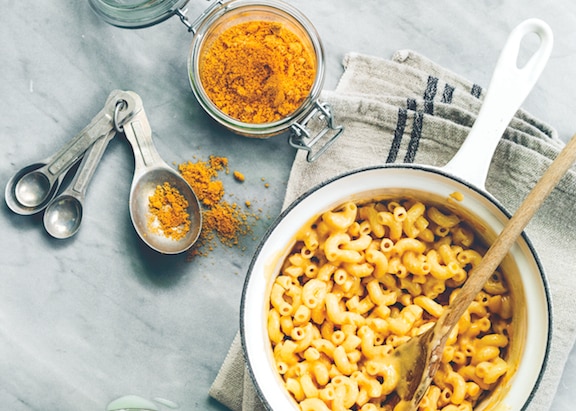 Unless you were raised by macrobiotic hippies, you've had it. I've had it. And there's no shame in saying it— we've all had macaroni and cheese out of the box. My kids would plead with me to buy it, and I was thrilled when the vegan stuff came on the market. Maybe you don't crave it anymore, but it sure is convenient to have some on hand for the kids or the babysitter. But there's no need to buy it, because you can make the instant cheese sauce mix yourself in just a few minutes! It makes enough to coat the equivalent of 5 store-bought boxes instant macaroni and cheese.Reprinted by permission from The Homemade Vegan Pantry* by Miyoko Schinner, © 2015. Photographs by Eva Kolenko, © 2015 Published by Ten Speed Press, an imprint of Penguin Random House LLC. more→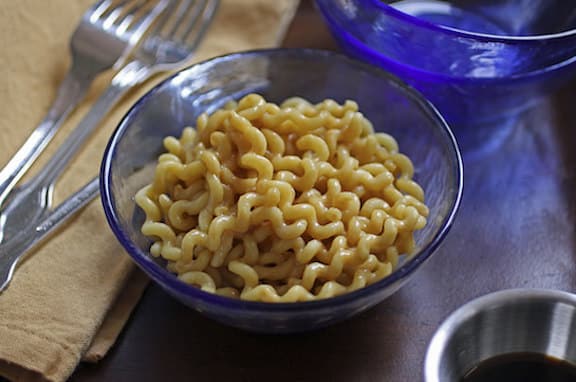 Though this basic recipe for peanut butter noodles is designed for kids whose preference runs to milder flavors, adults can enjoy this as well, by spicing up their portion hot sauce such as Sriracha, or dried hot red pepper flakes, and a sprinkling of scallion. This is good at room temperature as well as warm. Photos by Lori Maffei.
more→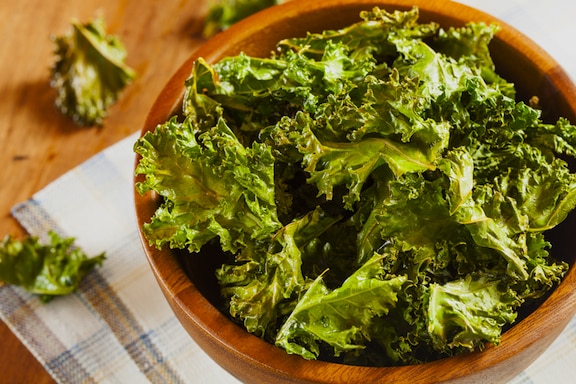 Here's a simple how-to for making kale chips. One of the trendiest and most popular things to do with kale is to transform it into crispy chips for snacking. Though I'm more partial to raw kale salad, kale chips enthusiasts report that once these are out of the oven, they're instantly devoured by snackers of all ages. more→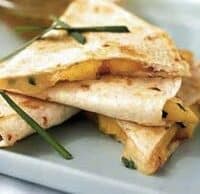 Quesadillas and soft tacos are easy, quick accompaniments to serve with soups and salads. They can also be served with heartier dishes such as chilies or casseroles for families with hearty appetites. more→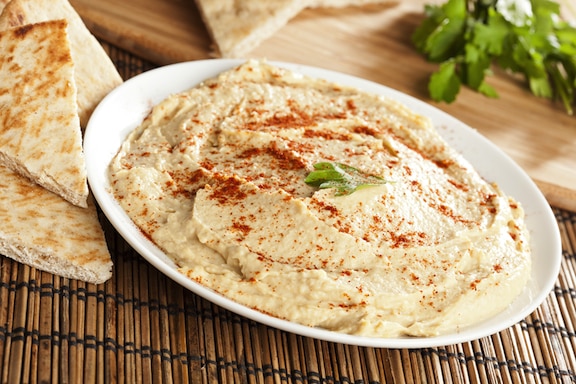 What's a vegan web site without a basic recipe for hummus? Here's ours, with a few tasty variations. This classic Middle Eastern dip is great teamed with fresh pita bread and crisp veggies for scooping it up. It's a fantastic snack for kids and a great ingredient for wraps or pita sandwiches.