Garlic lovers, this sauce is for you! It's perfect for summer, when you can get garden-fresh organic tomatoes. It's delicious served over pasta or polenta. Recipe contributed by Vicki Chelf.
Yield: About 2 cups
6 to 8 medium ripe, flavorful tomatoes
2 tablespoons olive oil
1 cup chopped onion
12 cloves garlic, sliced
6 bay leaves
¼ cup chopped fresh basil
½ teaspoon sea salt
To peel tomatoes, first drop them into a large pot of boiling water for about 3 seconds, then remove them from the water with a slotted spoon. When they are cool enough to handle, remove the skin. Chop and set aside.
Heat the oil in a large, heavy saucepan. Add the onion and sauté over medium-low heat for 3 to 4 minutes. Add the garlic and bay leaves, and sauté 5 minutes longer.
Add the tomatoes to the pan. Bring the mixture to a boil, then reduce the heat and gently simmer about 1 hour, or until reduced by about half. Add the basil and salt, and simmer 2 minutes longer. Serve over pasta or polenta, or as a pizza sauce.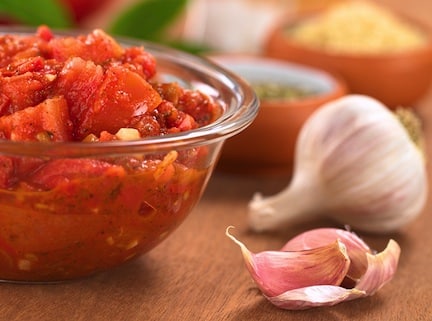 Vicki Chelf is the author of Vicki's Vegan Kitchen and other healthy cookbooks. Visit her on the web at Vicki's Vegan Kitchen.