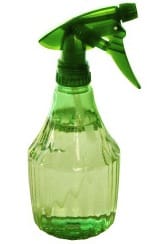 Spring is traditionally the time for major housekeeping activities. Unlike the routine dusting, wiping and vacuuming that go on with some regularly throughout the year, this is the season for cleaning underneath and behind things, rejuvenating the furniture, refreshing the carpets, and airing out the house after a winter of confinement.
What better way to start the season this year than with a green spring cleaning? An easy way to go about this is to follow the recipes for effective, inexpensive and environmentally safe cleaning supplies in Clean & Green: The Complete Guide to Nontoxic and Environmentally Safe Housekeeping (Ceres Press, 162 pages, $9.95). In fact, there are 485 of them, covering homemade all-purpose cleaners, scouring powders and soft scrubbers, disinfectants and mold cleaners, air fresheners and odor removers, tackling tough stains, to clean just about everything, even your car. With the book now in its tenth printing, author Annie Berthold-Bond says, "The nice thing about these formulas is that in addition to working so well, they are easy and quick to make, and safe for people, pets and the environment. When you've finished your spring cleaning, it feels like spring indoors, as well as outside." Sample spring cleaning recipes From Clean & Green: 
_____
Shower-Curtain Vinaigrette
Rub a sponge saturated with vinegar on your shower curtain to remove soap build-up and kill mold and mildew.
____
Walnut Oil and Lemon Furniture Polish
⅛ cup walnut oil
⅛ cup lemon juice
Combine ingredients in small jar and shake well. Using a soft, cotton cloth, rub on furniture to achieve the luster you want.
____
Annie's Favorite Wood-Floor Soap
⅛ cup vegetable-oil-based liquid soap
¼ to ½ cup vinegar or lemon juice
½ cup fragrant herb tea
2 gallons warm water
Combine ingredients in bucket. Swirl water around until sudsy, then mop in the usual way.
____
Cleaning Walls with Glossy Paint
½ teaspoon washing soda
2 cups hot water
Place washing soda in a spray bottle, add water and dissolve the washing soda by shaking the bottle gently. Spray onto the walls and wipe dry with a clean cloth.
____
Borax-And-Vinegar Spray for Appliances
1 teaspoon borax
3 tablespoons vinegar
2 cups hot tap water
Combine ingredients in a spray bottle. Shake to mix and dissolve borax. Spray on appliances. Wipe off with a soft cloth or sponge.
TO ORDER: Clean & Green is available in bookstores or directly from the publisher for $9.95 plus $4.75 p/h. Ceres Press, PO Box 87, Woodstock, NY 12498, 845-679-5573 or www.HealthyHighways.com.