I can whip up decent Asian-style dishes, but I never got the hang of making authentic-flavored Indian dishes at home. It's not all that difficult, as demonstrated by the brilliant Vegan Richa's Indian Kitchen. The truth is that I'm just too lazy to deal with roasting and grinding and mixing and measuring all the myriad spices that add up to those amazing flavors.
For me, making a curry has always meant dumping curry powder into something or another, and If I'm feeling really ambitious, adding some ginger. And while that's not terrible, doing so doesn't give the dishes the deep, complex flavors of Indian cuisine.
All of that has changed now that incredibly flavored Indian simmer sauces are on the market. My favorite brand so far is Maya Kaimal, whose company I thank sincerely for sending along these delectable samples for us to try.
Truth be told, if you wanted to make curries that included all of the individual spices in these readymade sauces, you'd have to spend a pretty penny. Of course, you'd have them in your cupboard for further use, but if you're anything like me, they might also languish there for years afterwards!
The Maiya Kaimal line of simmer sauces, ranging from mild to spicy, includes Goan Coconut, Kashmir Curry, Jalfrezi Curry, and Madras Curry (they also make other sauces that include dairy, so this nice vegan selection is much appreciated). Whatever these sauces are added to takes on the rich, complex flavors that can otherwise only be experienced at the best Indian restaurants.
Recently, we had some weeknight dinner guests, and there wasn't enough time to prepare a more elaborate dinner than usual. So I cooked up a typical Indian vegetable combo of onions, garlic, cauliflower, potatoes, tomatoes, chickpeas, and peas; then added a full jar of Madras Curry. Each serving was topped with cilantro, and a bottle of Spicy Ketchup was passed around. We had some leftover black rice to go along with it, and added some of the Chickpea Chips and a very simple salad. Needless to say, the dinner was a hit, and more Maya Kaimal fans were created!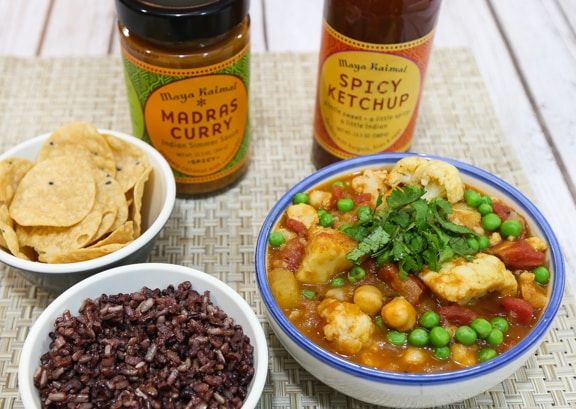 Like the sauces, the Spicy Ketchup is also divine, whether it's used to spike your curries or as an offbeat companion to fries (especially sweet potato fries!). The Naan Chips and Chickpea Chips are flavorful, low in fat, and can be served with curries or eaten plain or with dips as a snack or appetizer.
For anyone who wants to make tasty, almost effortless Indian-style food at home, Maya Kaimal simmer sauces are a real gift!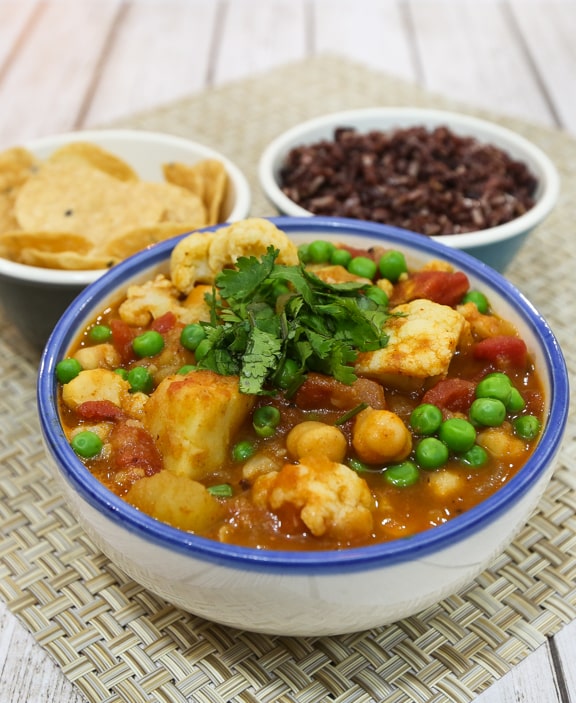 Disclaimer: This is not a sponsored post. The review is an unbiased opinion by the editors of VegKitchen / Vegan Food Hacks. We only endorse products that we feel would be of benefit to our readers. The products were supplied by Maya Kaimal, and it was at our discretion to review them, or not.