Meatless Monday Musings
Kip Andersen, co-producer/director of "Cowspiracy: The Sustainability Secret," considered himself to be an environmentalist. He recycled to reduce waste, took quick showers to save water, supported several environmental organizations. Then "I did some research and discovered all these incredible things — rainforest destruction, species extinction — can all be tied to animal agriculture. Jeez, this is the cause?" And if so, why was no one talking about it? more→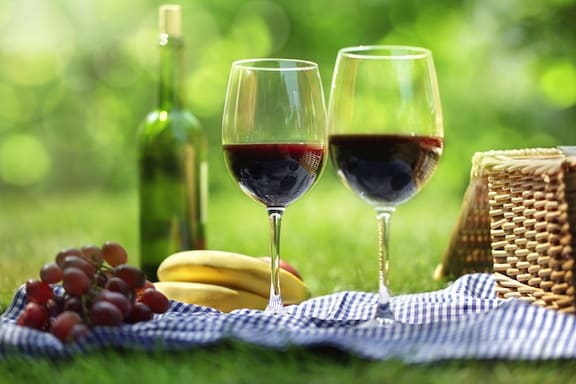 My husband doesn't so much collect wine as he does enjoy drinking it. And we both enjoy bringing together wine, food and friends.  So when he said he wanted to open a magnum of a particular 2004 cabernet, I was all over it. I love parties and menu planning, gathering a good mix of people and the good mix of ingredients and flavors. But this is a big wine, not to mention a big bottle, and it presents certain issues.
These are challenging days for those of us who eat. Food's expensive now. The drought we're feeling is killing our crops and is going to make things even worse. The House Agriculture Committee's proposed Farm Bill takes a $16 billion chunk out of the Supplemental Nutrition Assistance Program (or SNAP, formerly known as food stamps progam). These are "near draconian cuts," as Wholesome Wave CEO Michel Nischan says. "In its current form the proposal would deny food-assistance to millions of people, many of them children."
Getting a healthy meal into yourself and your family can be challenging enough. Try multiplying that by seven billion. Now we've got issues every step of the way — what food we produce, how we produce it, how we distribute it, what we eat and how we waste it. By 2050, our population is predicted to grow by two billion more. That's nine billion people on the planet and all of us hungry. The planet will not be getting any bigger. Or any more fertile. So it's up to us to be smarter about growing, sharing, eating and preserving our food. more→
The writer, director, editor of the documentary Vegucated did not descend "from the planet Vega to convert the mere earthling."  Marisa Miller Wolfson started out as a midwest girl with a fondness for bacon.  Along the way, she became "a professional eco-nudger"  and dedicated vegan. How?  "It didn't take much," Wolfson recalls.  It took seeing a film about "the horrors of industrial agriculture."   more→
"Being vegan is a glorious adventure. It touches every aspect of my life — my relationships, how I relate to the world," says Victoria Moran. Holistic health counselor, longtime vegan and all-around glowing kind of person, Moran is author of books including Creating a Charmed Life* and the new Main Street Vegan,* a plant-based omnibus where spirit meets stomach and magic meets Main Street.
Magic for Moran is not a sprinkling of fairy dust, it's potential, possibility, the interconnectedness of things,  "Everything is connected," she says. "The way I treat myself physically is going to affect how I feel about whether I want to get up and go to the gym, if I can sit and meditate for twenty minutes or if I'm going to be all squirmy."
Moran grew up in Kansas City, during the heyday of processed food and fad diets.  As a girl with weight issues, she tried them all.  The daughter of a diet doctor father and a mother who ran "reducing salons — precursor to gyms," Moran "was bad for business," she says.  It was always a struggle."
Her struggle strengthened her determination to find a better way. Moran studied food and nutrition and discovered "all of the best foods, with the most nutrition per calories — I'd never had them." She couldn't even pronounce them. "I thought kale was pronounced kah-lay." She's been into kale and off meat since her teens and vegan for almost thirty years.
Becoming vegan "is so much easier now, there's so much more support for it." On the other hand, "we're eating more junk food in more absurd portions. If you want to be the kind of vegan who glows and ages amazingly and who doesn't have weight issues, then you'll be eating lots of greens and berries, big salads with onions and mushrooms, which are wonderful phytochemicals, and not so much processed food."
Moran's daughter Adair shares her mother's way of eating — she's been vegan since birth — but is less into magical, more into practical. She joined forces with Moran in writing Main Street Vegan.* Subtitled Everything You Need to Know to Eat Healthfully and Live Compassionately in the Real World, it addresses big, magical issues like ahimsa, the Indian tem for compassion for all species (including angry omnivores) as well as basic vegan how-tos, including recipes for cool vegan cocktails.
Working with her daughter "was just so much fun," says Moran. "One thing I see in her and lifelong vegans, she doesn't have any axes to grind. They don't have this urge to change anybody else."
Like mother, like daughter.  Moran can cite vegan statistics  — "a vegan saves 209 animals a year — " but she's not messianic. "I have a highly developed cult radar.  If anyone's the least bit pushy, I'm no thank you. I don't want to be like that about this."  Want to further the vegan cause?  Shut up and lead by example. "The best thing you can do is bring good food to potlucks and be healthy and vibrant and lively."
Moran advocates making the switch to vegan by taking small steps rather than by radical change. "Enjoy your food, enjoy your life," and make sure your diet always includes a healthy serving of magic.  "Life would be very dreary if there were no magic," says Moran. "If the real world were only that vail of tears, I just don't think could get up in the morning."
As her book's subtitle suggests, though, Moran lives in the real world. "Being vegan is not the key to immortality.  We're all going to get sick and die, that hapens to every living creature.  But it's the loveliest feeling to know you're living without harming."
Ellen Kanner writes the Meatless Monday column for The Huffingon Post, is the Edgy Veggie, a syndicated columnist, and Dinner Guest blogger on Culinate. She is also a contributor to Bon Appetit, Relish, Eating Well, Vegetarian Times, More, the Miami Herald and regional publications across the country including Pebble Beach and Palm Beach Illustrated. 
*This post contains affiliate links. If the product is purchased by linking through this review, VegKitchen receives a modest commission, which helps maintain our site and helps it to continue growing!
Every family should have its own designated party giver. When VegKitchen diva Nava Atlas was growing up, that meant her Aunt Blanche. "She was the family hostess, she set the style," recalls the author of many meatless cookbooks including the new Vegan Holiday Kitchen. "It was never anything fancy, but comfortable, generous and gracious. She was someone to aspire to. She helped everybody. And everyone loved her." more→
A vegan walks into a bar, gets a glass of the house red and says, barkeep, there's fish bladder, pig hoof, egg and milk in my wine. more→