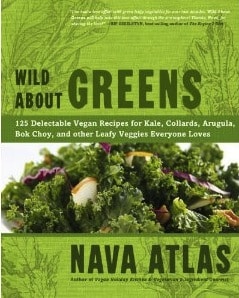 This spring you will find me all over the map, traveling to various venues to speak about my personal work as well as to demo the joys of healthy plant-based food. Please join me if you are in the California bay area, suburban NYC, Raleigh-Durham NC, slightly upstate NY, or Portland, OR:
February 10-13, Richmond, CA: Codex International Book Fair
March 3: NY VegFest, NYC (past)
March 10, Great Neck Library, Great Neck, NY: A plant-strong plan for the spring holidays — a demo and discussion of Vegan Holiday Kitchen  and Wild About Greens– 2 pm.  (past)
March 23, Raleigh, NC: Wild About Greens — food demo, discussion, and potluck, co-sponsored by the Kadampa Center and the Triangle Vegetarian Society. 6 pm.
March 25, Durham, NC: Presentation and talk for the academic community and public at Duke University:  Clarissa Sligh and Nava Atlas in Conversation: Race, Gender, and Identity in Artists' Books. 6:30 pm, Perkins Library, room 318.
April 12-14, New Paltz, NY: Mohonk Mountain House — Healthy Living: Culinary Tips for a Plant-Based Palate, a weekend of food demos and tastings with Nava Atlas, Fran Costigan, Leslie Cerier, and Whitecliff Winery. My demos will feature recipes and tips from Wild About Greens.
May 24-26, Portland, OR: Vida Vegan Conference — I'll be speaking on several panels at this annual vegan food and lifestyle blogger's event.
June 15, Guilderland, NY: Guilderland Public Library — Demo and discussion featuring Wild About Greens as part of Guilderland LIbrary's Tastes Good/Get Healthy Series. 11 am
July 3-7, University of Pittsburgh at Johnstown, PA — Vegetarian Summerfest, at the grande dame of Veg Conferences, I'm a mere part of this amazing line-up of experts in the field of veg cuisine and nutrition.