What do people like more about pizza, the crust or the sauce and cheese? There's nothing wrong with a good, crusty crust. But when the craving for pizza hits, it's usually the gooey cheese that's the object of desire. Melty vegan cheese like Daiya mozzarella style shreds has been a game changer for vegans. Back in the day, I used to hear people say that they could never go vegan, because they couldn't give up pizza. Now there's no excuse! And that's what makes these fun pizza veggies possible.
What goes on pizza can vary wildly and creatively, but mozzarella and marinara sauce still hold sway as the classic combo. The crust is just the vehicle for holding everything together on a solid foundation. But what if bread isn't your thing, or you've gone gluten-free? What if you're desperately looking for ways to entice your kids or picky eaters to eat more vegetables? Or what if you like pizza, but your digestive system objects to the crust?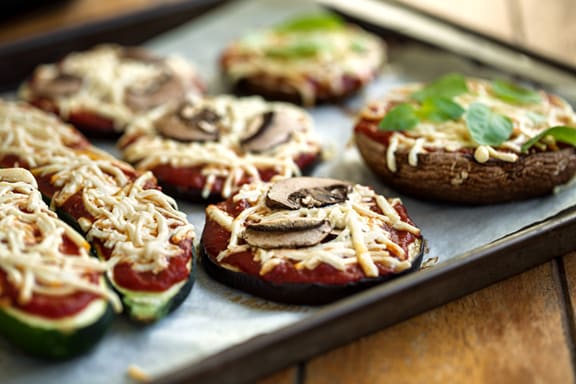 These nifty and super-easy vegan pizzas on veggie "crusts" provide a fun answer to all of the above. Potatoes, zucchini, eggplant, and portobello mushrooms stand in as surfaces for your marinara sauce and melty vegan cheese. You can add more vegetable toppings, or not.
You can make these pizza veggies with one kind at a time, or more. We tried all of the above, and they all were great!
Shopping/Ingredient list

28-ounce jar marinara sauce (your favorite brand)

1 bag Daiya or other vegan mozzarella cheese shreds
Use one or more of these vegetables:
1 large baking potato per person

1 medium zucchini per person

1 or 2 portobello mushrooms per person

1 medium to large eggplant (each will be good for 3 or 4 servings)
What to do
To make these, there's no specific recipe to follow, just a few basic steps:
1  Preheat the oven two 425° F.
2  Then, start easy prep on the vegetables as follows:
Eggplant: Simply cut into ½ inch thick rounds.
Zucchini: cut in half lengthwise.
Potatoes: Scrub and microwave until done until fairly tender. Cut the potato or potatoes in half lengthwise and mash the insides lightly with a fork.
Portobello mushrooms: Remove the stem and wipe the caps clean.
3  Line a baking sheet or two with parchment paper, and arrange your prepped eggplant, zucchini, and/or portobellos on them in a single layer. Put them in the oven as it's heating up. If using potato, and have already baked or microwaved it, no further prebaking is needed.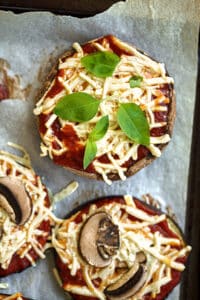 4  Once the oven has reached 425° F, take the vegetables out and test to see if they're done. Chances are, you'll need to flip the eggplant and portobello, and give each a few more minutes. Don't overbake them, because you'll be baking further once you put the sauce and cheese on.
5  Once the vegetables are done but still firm, take them out of the oven and carefully spoon some marinara sauce over their surfaces (for zucchini, cut side up; for portobello, gill side up; for eggplant, either side). Follow with a sprinkling of vegan cheese shreds. Add a few toppings if you'd like — lightly steamed broccoli, wilted mushrooms, basil leaves, etc.
4  For potatoes that have been prepared as above, you can skip the last three paragraphs. Simply later on the marinara and vegan cheese shreds, and any other toppings you might like. Broccoli and/or mushrooms particularly well pizza potatoes.
5  Bake for 10 to 12 minutes, or until the cheese is well melted. Remove from the oven and serve at once.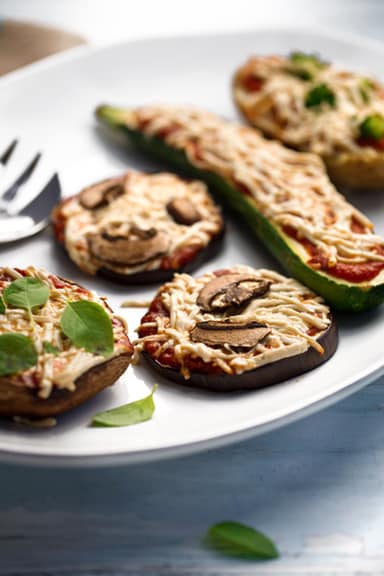 Can you think of any other vegetables that might work for this as well? If so, please comment below.