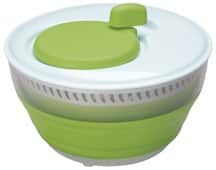 As a huge fan of salads of all kinds, I can't believe that I lived this long without a salad spinner. So when Progressive International sent me their collapsible salad spinner* to try out, I was interested, but not not exactly excited. After one try, though, I was sold! I might never have put a salad spinner on a list of "must-have" kitchen gadgets, but I think I've changed my tune. I'm thinking about all the paper towels I wasted blotting delicate leaves or pressing liquid from kale. It's especially important to remove dampness from salad greens so that they don't wither upon contact with dressing; it's even more crucial to make sure that raw kale is nice and dry before massaging it for use in salads, or for making kale chips. This does a really splendid job with kale.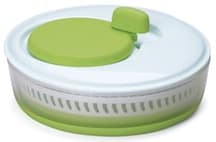 A salad spinner, this one included, is a fairly simple item — it works kind of like the spin cycle in your washing machine, except that it needs no electricity to power it. What sets apart the design of Progressive International's models is that they're collapsible, and don't take up a vast amount of space in your cabinets. And actually, the bowl part of it is nice enough that you can use it for serving — once you take out the spinning basket, transfer the salad greens to the bowl, and you're all set.
I'm not a huge collector of gadgets, but now that I have this spinner, I use it frequently. With spring just ahead, and my thoughts running frequently to salad, I'm sure it will hardly see the inside of my kitchen cabinet. Learn more about the Progressive International Salad Spinner,* and some of Progressive's other cool kitchen gadgets
*for storage and cooking on Amazon.com.
*This post contains affiliate links. If the product is purchased by linking through this review, VegKitchen receives a modest commission, which helps maintain our site and helps it to continue growing!