Tasty, Easy Bean Main Dishes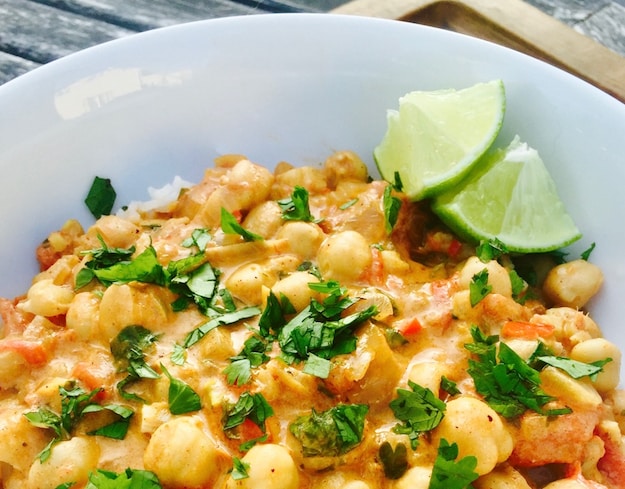 What wine to serve with vegan food is a perennial question. Pairings work "when the food makes the wine taste better, and the wine makes the food taste better."
So says wine consultant Sunny Gandara, DWS, CWE, the in-house sommelier for Vegan Wines. She has nearly 15 years of experience in the wine and spirits industry, holds multiple certificates and diplomas for as a wine educator – and she's an ethical vegan.
She also happens to be professionally trained chef who loves demystifying vegan food and wine. She's given us three original recipes that she created exclusively for Vegan Wine's club members, and today, for the first time, she is making them available to non-members. more→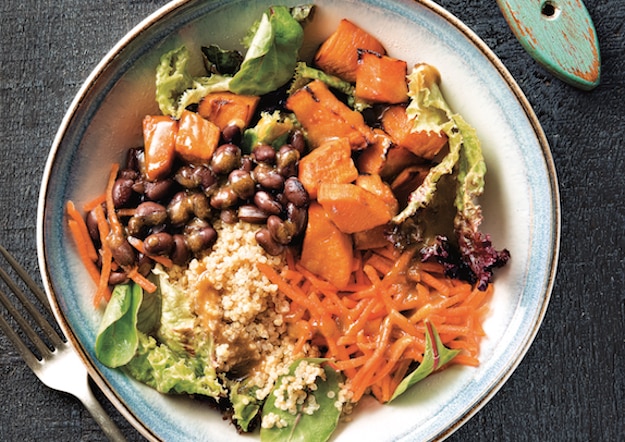 You know the feeling when everything just melds together in perfect harmony? This is that feeling. Warming cumin, tart lime and sweet maple syrup combine to elevate the flavor of everything else in this delicious and filling black bean and quinoa bowl. Reprinted with permission from From the Kitchen of YamChops by Michael Abramson, Page Street Publishing Co. © 2018. Photo credit: Vincenzo Pistritto.
more→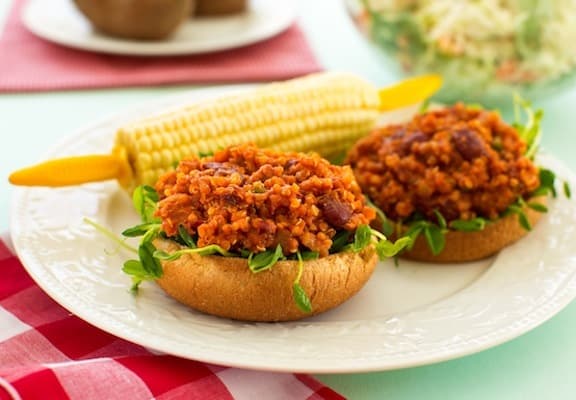 Seriously—who needs fake meat when you can make hearty, beautifully textured dishes using grains and beans? This serves up deliciously on rolls, but if you're not a bread person, you can serve the mixture in a lettuce-leaf cup or atop a corn tortilla. Serve with baked potatoes or sweet potatoes and any slaw-style salad. Fresh corn on the cob when in season is a great addition as well. Recipe from Plant Power: Transform Your Kitchen, Plate, and Life with More Than 150 Fresh and Flavorful Vegan Recipes by Nava Atlas. ©2014, published by HarperOne, reprinted by permission. Photos by Hannah Kaminsky.   more→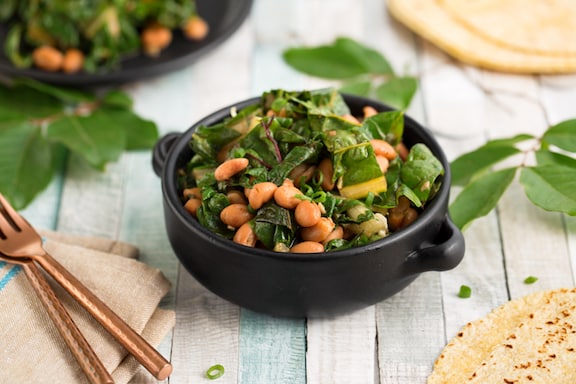 This simple recipe for chard with pinto beans is inspired by a Native American recipe made with wild greens. It's an excellent way to use up big bunches of chard when it's in peak season. You can use any variety of chard — green, Swiss, rainbow — our favorite is the latter. You can substitute other greens in whole or in part, too — kale, collards, spinach, mustard greens, etc. Try this side with tortilla dishes that don't themselves contain beans, like vegan quesadillas. more→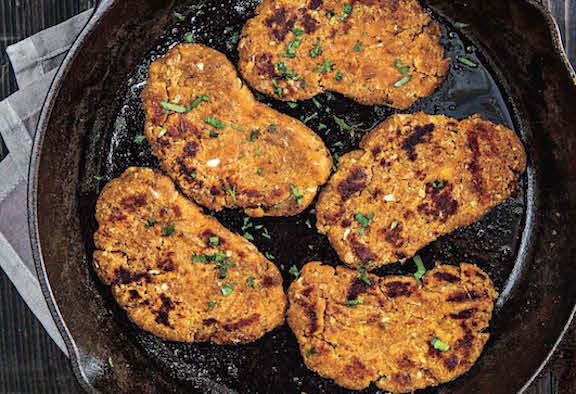 Chickpea Cutlets are a classic recipe from Isa Chandra Moskowitz, fantastic for Thanksgiving or Christmas menus, or everyday meals. They come together in no time at all, taste great smothered in gravy, and put your steak knives to work. Place a big pile of these in the middle of the table or stuff them into a sandwich—or just slice them up in a salad. Excerpted from The Superfun Times Vegan Holiday Cookbook  © 2016 by Isa Chandra Moskowitz.  Reprinted with permission of Little, Brown and Company. All rights reserved. more→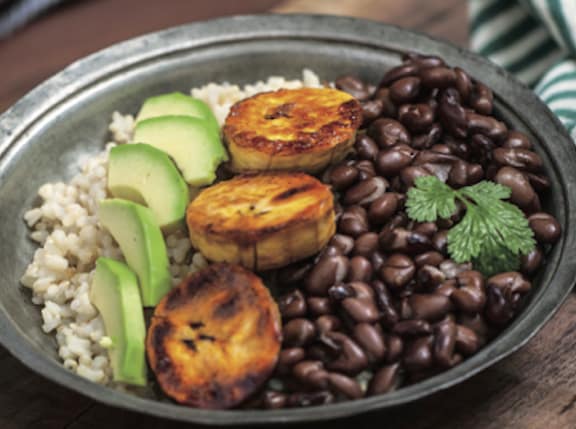 This dish is a personal favorite because it brings back so many great memories of my childhood. What's not to love about black beans and rice? Oven-baked platanos maduros — sweet plantains — add an authentic touch. Plantains are a member of the banana family. They're a great source of potassium and fiber, and they contain more vitamins than their cousins. You'll love the delicious sweetness of these golden brown beauties. Adapted from The 22-Day Revolution Cookbook by Marco Borges, ©2016. Reprinted by arrangement with Penguin/Random House. more→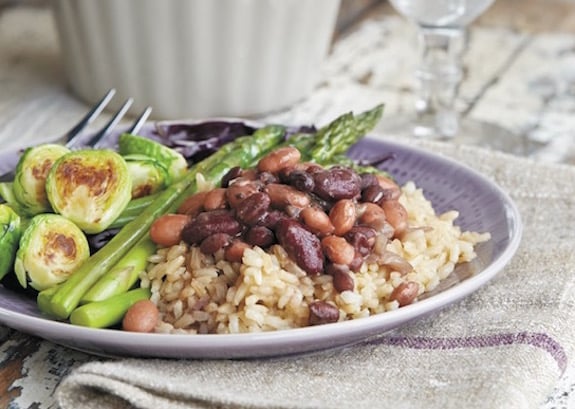 This dish, three nutrient-dense beans—pinto, kidney, and adzuki— cooked with a sea vegetable (kombu) and served over brown rice, is a nod to macrobiotics and its philosophy that health, longevity, and healing can be obtained through a simple, plant-based diet. Serve as an entrée, surrounded by steamed vegetables and a simple grain side dish. Excerpted from Vegan Pressure Cooking by J.L. Fields @2015, Fair Winds Press. Reprinted by permission. more→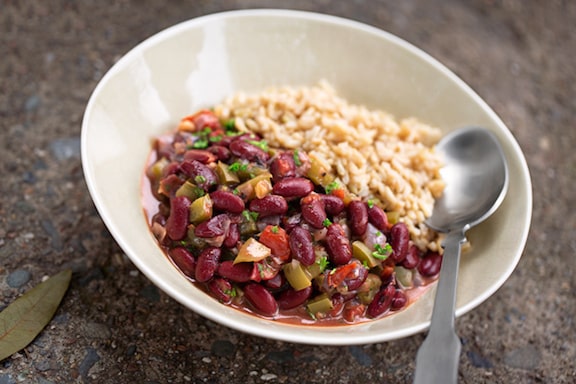 It's hard to think of a more classic combo than rice and beans. They're easy to make, inexpensive, and filling. Most of these dishes are already vegan in their original form, the few that aren't become completely plant-based, as presented here, with a simple omission or modification. If one had to choose a single truly characteristic dish of New Orleans, it would be hard to come up with one more renowned than Red Beans and Rice. Shown at top, this isn't a dish to start when you come home from work at night! It's not a lot of work, but needs time to simmer. It's perfect to make on a rainy Sunday afternoon. more→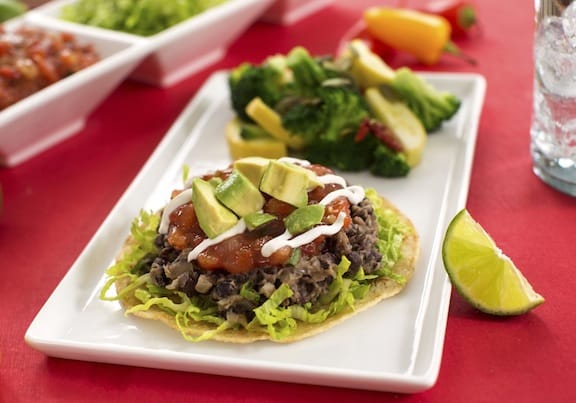 Black beans are nutritious and versatile. Here are 8 of VegKitchen's easiest recipes for these tasty beans. Let's start with Black Bean Tostadas, featuring crisp tortillas piled generously with crisp lettuce, salsa, and if you'd like, vegan sour cream. more→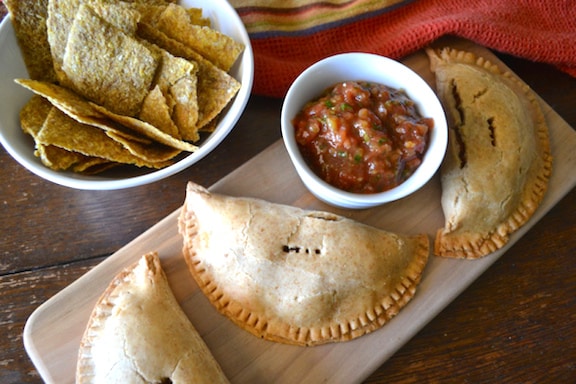 I think I could eat one of these turnovers every day for lunch and be quite happy. They have everything I love: beans, olives, sweet potato, smoky cumin and crust. Especially crust. I like to make a big batch and put half in the freezer. Serve with salsa and/or cashew sour cream if you'd like. If you're not into making your own dough, use vegan puff pastry. Or go super simple and stuff whole wheat tortillas with the warm filling. Recipe and photo contributed by Annie Oliverio.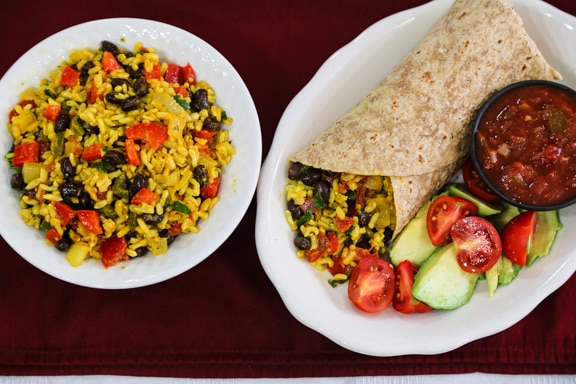 Often, rice is served alongside burritos, but the combination of rice and beans wrapped inside the tortilla is quite satisfying. These yellow rice and black bean burritos make a filling meal that needs only a salad to complete, though stoneground tortilla chips and salsa are always welcome! Photos by Evan Atlas. more→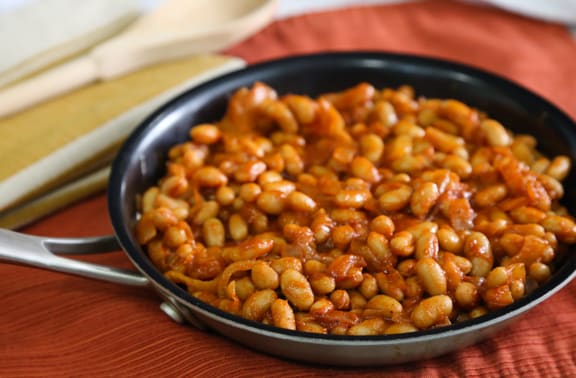 If you like the kind of vegetarian baked beans that come in a can, you're sure to love this yummy, quick homemade version even more. White beans are cooked in a skillet with a sweet and savory sauce. It's a dish that comes together quickly. For a simple meal, serve with baked sweet potatoes or a grain dish, and one of VegKitchen's slaw-style salads. Photos by Evan Atlas. more→