Bean Salads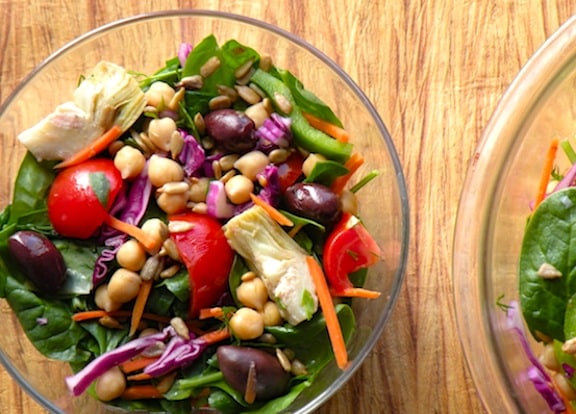 A feast of color and texture, this salad of baby spinach, embellished with other colorful veggies, is quick to prepare and a pleasure to serve. Serve it in larger portions as a main-dish salad, or in smaller portions as a substantial side salad. Delicious served with a pureed vegetable soup and some fresh bread. Photos by Rachael Braun.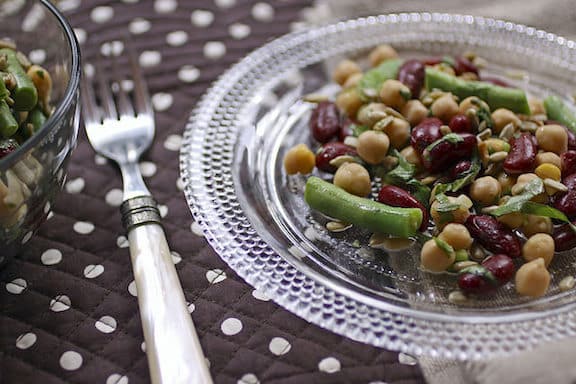 Classic three-bean salad gets a contemporary twist with balsamic vinegar, cilantro, and sunflower seeds. It's an easy salad you can enjoy year round, but is a special favorite to serve with summer outdoor meals and your plant-based barbecued proteins. Photos by Lori Maffei. more→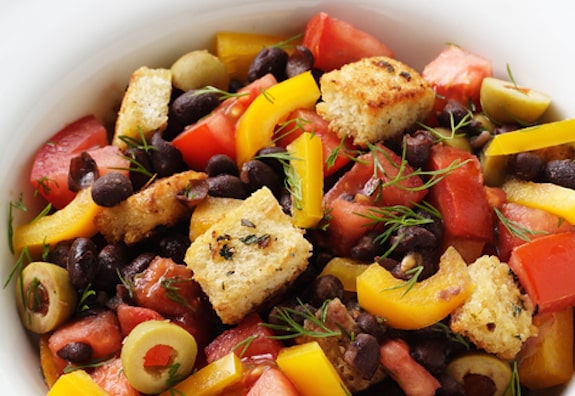 This easy and appetizing bean and tomato salad adds color and crunch to any meal. Use gluten-free croutons if need be, or replace with sautéed cubes of prepared polenta. It's delicious with grain dishes and pastas, or simple quesadillas or soft tacos. Add some sautéed greens or steamed broccoli and you've got a great weekday meal! Adapted from Vegan Express. Photo by Susan Voisin, FatFree Vegan Kitchen. more→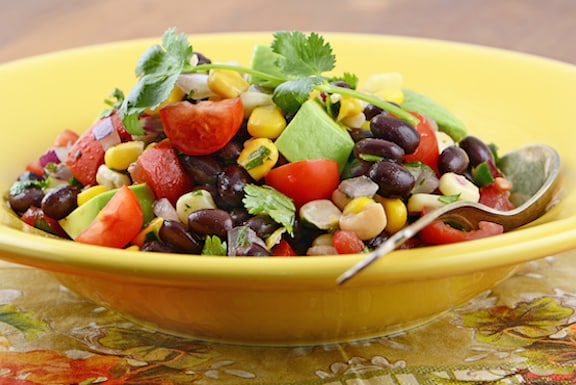 Corn and black beans look and taste enticing together in this Southwestern-inspired salad. Embellished with tomato, avocado, and lime juice, this makes a great potluck dish for a crowd if you double the recipe. more→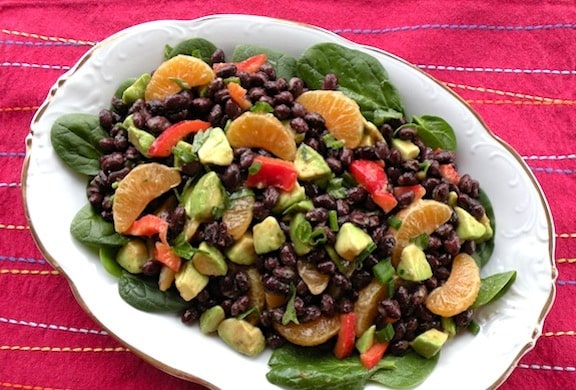 Black beans, diced mango, and avocado taste heavenly together in this delicious salad. Fresh, perfectly ripe mangos are best, of course, but they're not always in season and occasionally unreliable. Once in a while I like to take the guesswork out of mangos and use canned (organic), which is akin to using canned pineapple—you know exactly what you're going to get. Otherwise, tiny clementine sections work well to give little bursts of fruity flavor. more→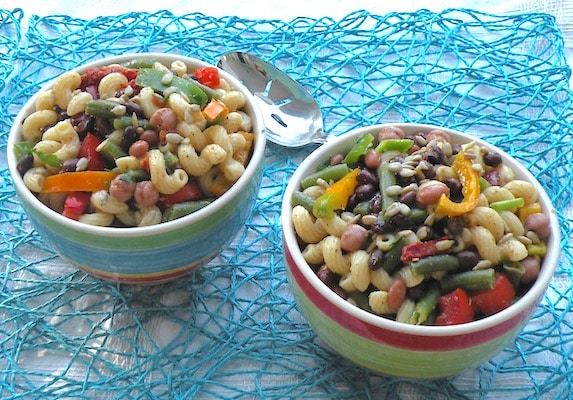 Adding pasta to the popular three-bean salad combo gives it a contemporary twist. This party-sized pasta salad goes with just about anything else you're serving — grilled vegetables, veggie burgers, tofu or tempeh dishes — it's a most companionable accompaniment. more→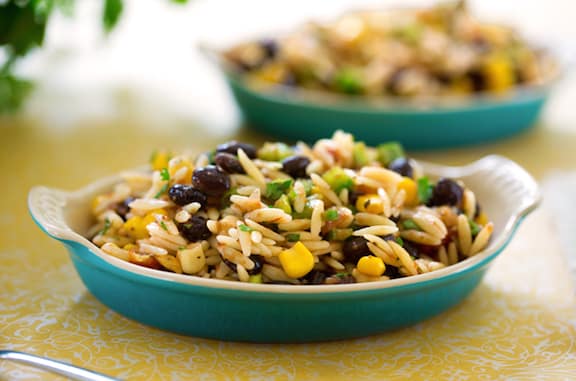 Bursting with Southwestern flavors, this pasta salad, made with tiny rice-shaped orzo, is as flavorful as it is easy to make. It features corn, prepared salsa and lots of cilantro. Serve with vegan quesadillas any time of year, or with grilled vegetables and a simple slaw for a nice summer meal. Photos by Hannah Kaminsky.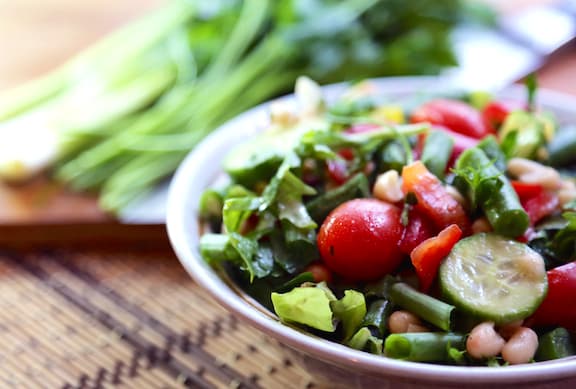 Featuring the companionable flavors of fresh green beans, navy beans, and cucumber, here's a lively, refreshing salad, perfect for picnics, potlucks, and casual company buffets. Use the recommended amounts of fresh herbs as a guideline — the more, the better! Photos by Evan Atlas. more→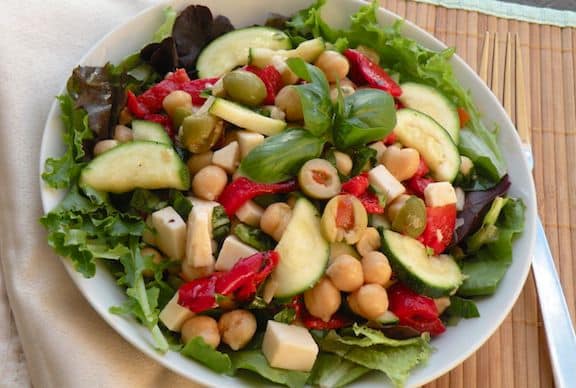 Serve this hearty salad of chickpeas, vegan mozzarella, and zucchini on its own as a first course preceding a lighter pasta dinner (see some tempting possibilities in Pasta on the Lighter Side). If you're a basil fan, use as much as you'd like. If not, substitute another herb, like parsley. more→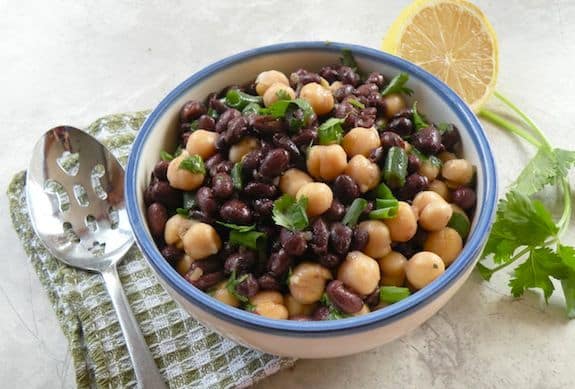 Mix up your favorite beans with fresh herbs and a vinaigrette, and you've got a great way to add protein to a meal. Adapted from The Vegetarian 5-Ingredient Gourmet. more→