Bean Stews and Chilis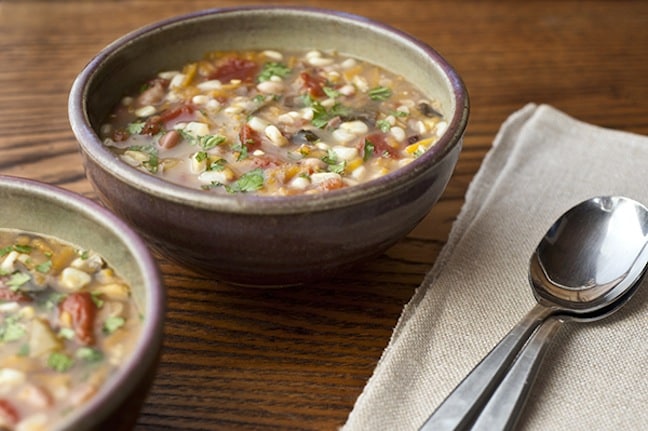 This sweet and spicy stew is a fun and unusual take on chili. And if you happen to have leftovers, it tastes even better a day or two later. Kelp may seem like an unusual ingredient here, but it has several benefits: it makes the beans more digestible, and it also contains flavor-enhancing compounds and loads of minerals and vitamins. Copyright © 2010 Gluten-Free Recipes for the Conscious Cook* by Leslie Cerier (New Harbinger, Inc). All rights reserved. Used by permission of the publisher and author.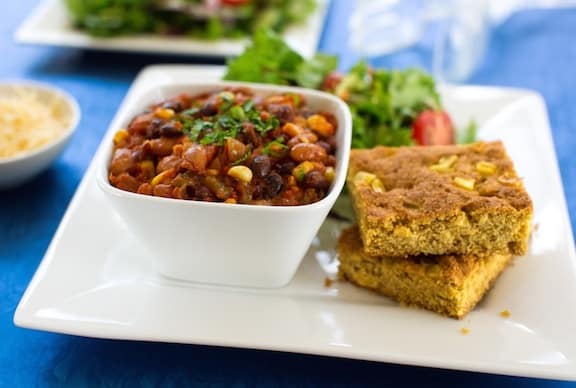 This chili recipe isn't revolutionary, but a plant-based repertoire wouldn't be complete without it. For a classic combo, serve with Corn Kernel Cornbread and a colorful salad, combining mixed greens, tomatoes, carrots, cucumbers, olives, and pumpkin or sunflower seeds. Recipe from Plant Power: Transform Your Kitchen, Plate, and Life with More Than 150 Fresh and Flavorful Vegan Recipes by Nava Atlas. ©2014, published by HarperOne, reprinted by permission. Photos by Hannah Kaminsky. more→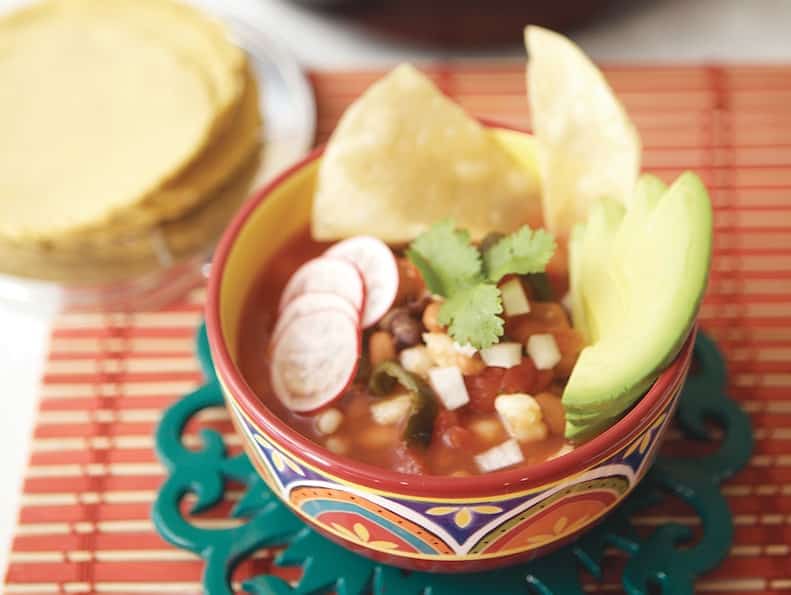 Posole is a Mexican long-simmered stew chock full of history, endless variations of ingredients, and the common thread of hominy. And sometimes you need hot posole stew and you need it . . . almost now! Posole loves to be topped with lots of salad like ingredients—crunchy cabbage, radishes, avocado—that coolly contrast with the soothing, warm tomato stew below. I'm a fan of canned hominy for fast and easy posole making. The canned stuff just requires a brief rinse to use, is cheap, and is ready for whenever you need this quick cooking posole. When you have a bit more time, try making Homemade Soft Corn Tortillas to go with this. Recipe from Viva Vegan!: 200 Authentic and Fabulous Recipes for Latin Food Lovers by Terry Hope Romero. Reprinted courtesy of Da Capo Lifelong Books. Photos by Angie Gaul.
more→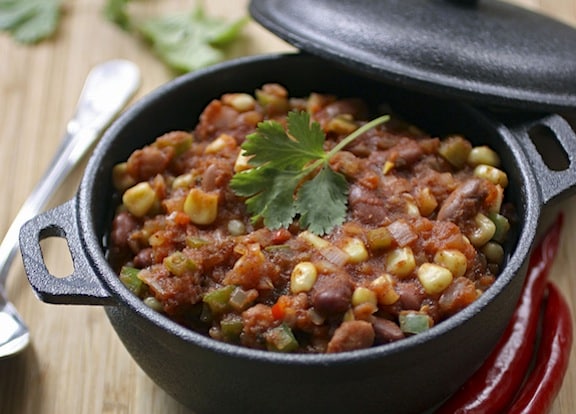 There has rarely been a comprehensive collection of vegetarian or vegan recipes, in print or online, that didn't include at least one recipe for chili. Bean-based chills are warming, hearty, and inexpensive. They're as welcome for everyday meals as they are for parties and potlucks. They freeze well and are also a great lunchbox option. Here's a handful of chili varieties to choose from. more→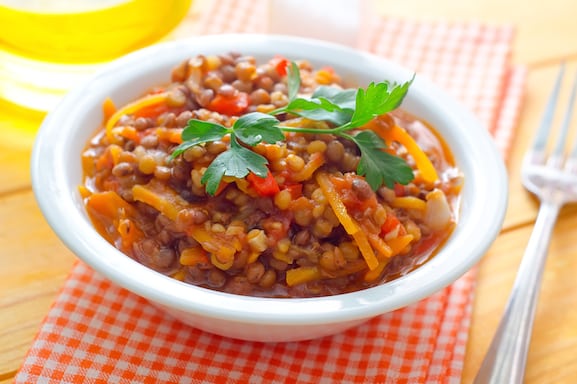 Lentil chili is deliciously offbeat, especially with the addition of sweet potato. Smoky spices, intended for grilling, are readily available in the spice section of supermarkets, and add a bold but not overly hot flavor to the stew. I like to serve this with fresh greens, steamed or sautéed and a simple slaw-style salad. Stone-ground tortilla chips and some salsa are also welcome! more→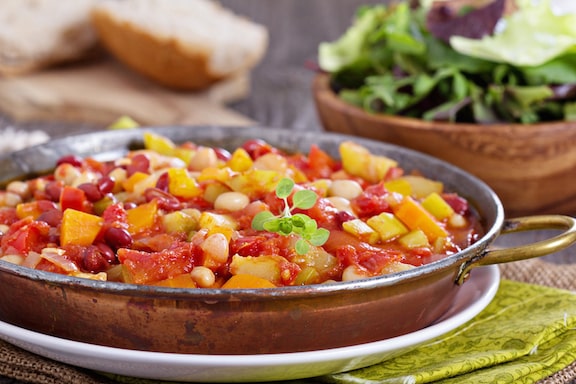 Here's a simple and tasty stewed bean dish for late summer or early fall. Use yellow summer squash or delicata in late summer, or butternut squash in early fall. Tomatoes and white beans are a companionable pair. Serve with crusty bread and a big colorful salad. more→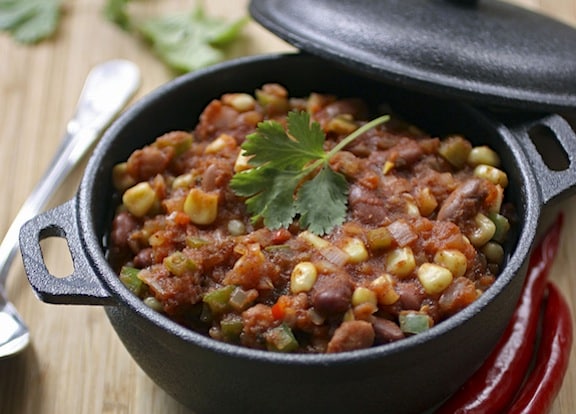 A standard in the vegetarian/vegan repertoire, this variety of chili consists of beans and vegetables in a spiced tomato base. It's great for everyday meals as well as casual company dinners. It's especially welcome when the nippy days of late fall arrive. This mildly spiced chili is good in its basic form, or try the variations for spicing it up and embellishing it. Leftovers are great for thermos lunches. Perfect paired with Green Chili Cornbread or Vegan Cornbread. Adapted from The Vegetarian Family Cookbook. Photos by Lori Maffei.
more→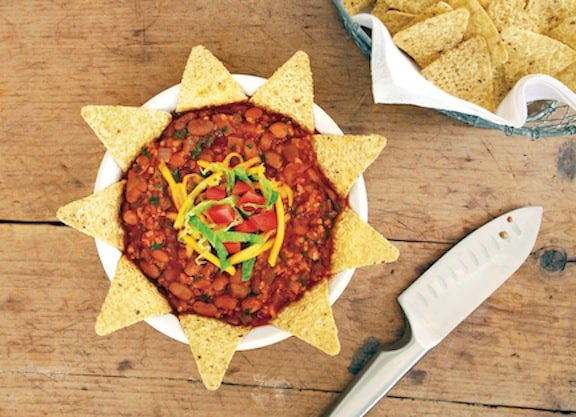 The presentation of this easy, offbeat soup, filled with spiced beans and grain (quinoa or bulgur) is like a taco turned inside out, is fun and dramatic. It's perfect for a chilly weeknight meal, served with a colorful salad and a green veggie. Adapted from Vegan Soups and Hearty Stews for All Seasons. Photo by Theresa Raffetto. more→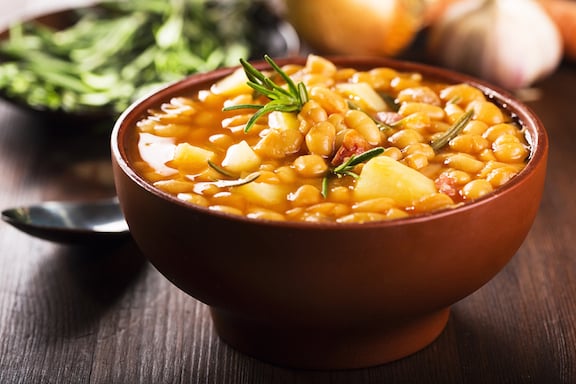 This meatless version of a rustic Provençal stew, made with white beans, is sensual and satisfying. A fresh, crusty French baguette is perfect for soaking up its delicious broth. A bountiful tossed salad makes it a complete meal. more→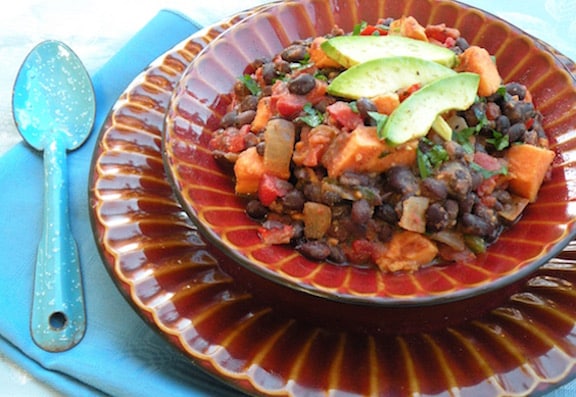 With the addition of sweet potatoes, this easy chili is filling and warming. Baking or microwaving the sweet potatoes ahead of time cuts down on both the preparation as well as the cooking time. Enjoy leftovers for a thermos lunch or subsequent dinners. Fresh corn bread is a wonderful companion. Serve with a simple salad or any of VegKitchen's coleslaws and/or a side of sautéed greens. If you need a last-minute idea for a vegan main dish for Thanksgiving dinner, this is a great choice. Adapted from The Vegetarian Family Cookbook.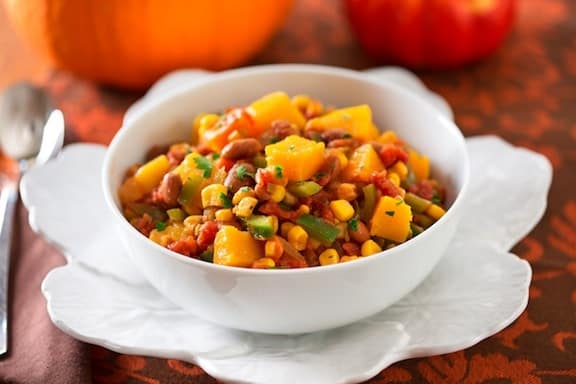 Here's a great main dish option for Thanksgiving dinner. It's somewhat like chili, though more about the squash than beans. In Native American mythology, squash, corn, and beans are known as of the "three sisters" — the very crops that the harvest festival of Thanksgiving is meant to celebrate! If you bake your pumpkin or squash a day ahead, the stew will come together in a snap. And if you're not accustomed to dealing with winter squash, or don't have the time, see the shortcut following the recipe. Photos by Hannah Kaminsky.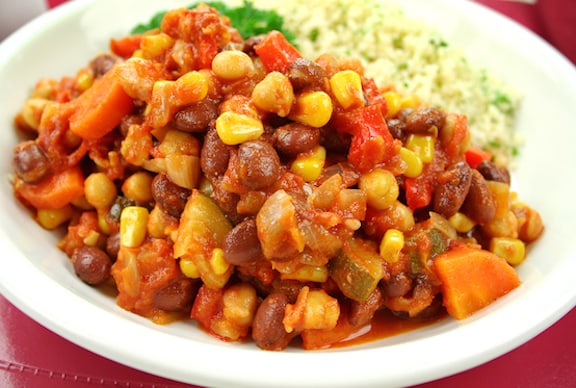 Kind of a simplified chili, here's a hearty stew featuring beans and corn. If your beans are cooked, or you're using canned, this comes together very quickly when you want a cool-weather dinner in a hurry. Serve with a simply prepared grain like quinoa, rice, or couscous and a big salad. more→