Lentils and peas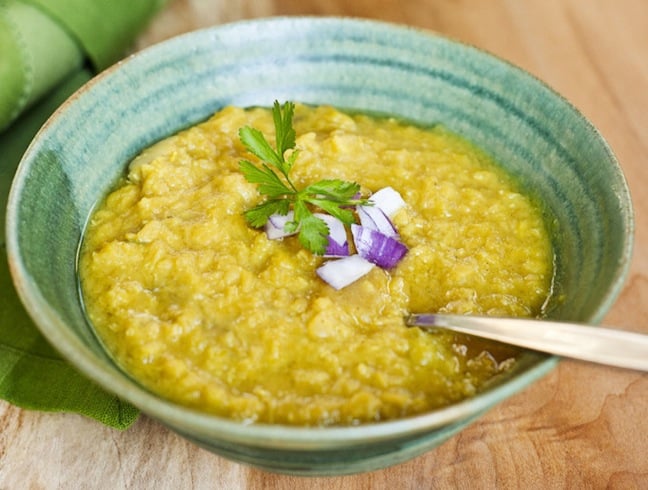 Here's an easy, nourishing soup of red lentils, made creamy with coconut milk and spiced with plenty of ginger. It's a warming bowlful to come home to on a cold day! Recipe excerpted with permission from Going Wild in the Kitchen,* by Leslie Cerier, © 2005, Square One Publishers, Inc. Photos by Tracey Eller.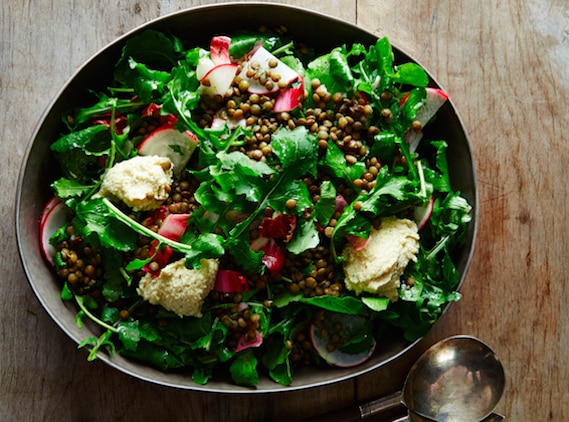 This arugula salad is inspired by that traditional combination of Le Puy lentils, walnuts, and goat cheese, with crisp radishes adding a welcome crunch and a peppery kick. In place of the goat cheese, I use tangy, salty Herbed Cashew Cheese. Making the cashew cheese requires some forethought, so if you don't have any on hand or time to make it, you can omit it or substitute a chopped avocado. Reprinted with permission from Food52 Vegan by Gena Hamshaw © 2015, published by Ten Speed Press, an imprint of Penguin Random House LLC. Photographs © 2015 by James Ransom. more→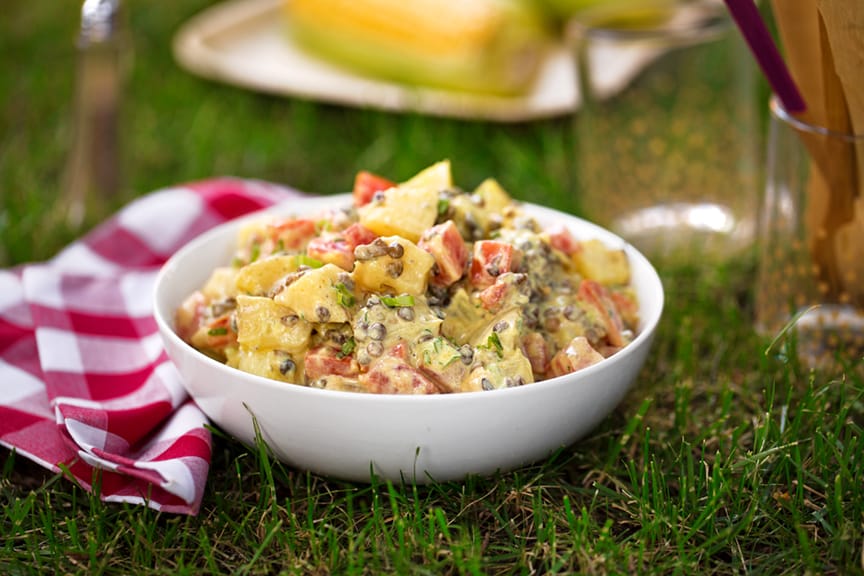 This curried potato salad is a luscious combination of potatoes, lentils, and tomatoes — an offbeat change-of-pace from the standard varieties, and gets a nice protein boost from the lentils. It's hearty enough to serve as a summer main dish with fresh corn on the cob. Add a cold summer soup for a larger meal. Photos by Hannah Kaminksy. more→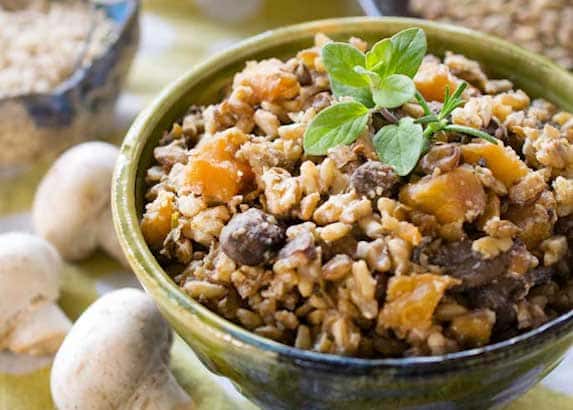 Some nights are so cold it's hard to tear yourself away from the fire to make dinner. This is the recipe you need to make, perfect for your Instant Pot — winter one-pot lentils and rice. It's hearty, filling, and uses staples from your pantry. Plus, there's only about 10 minutes of hands-on time, then you can go back to the couch and curl up under a throw until it's ready to eat. Recipe and photos by Kathy Hester, fromThe Ultimate Vegan Cookbook for Your Instant Pot © 2017. Published by Page Street Publishing, reprinted by permission.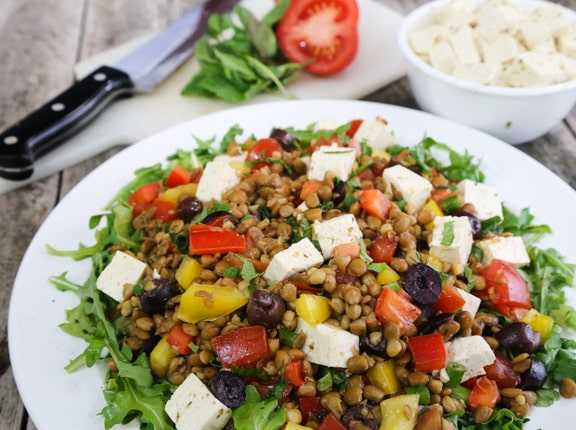 This hearty, Greek-inspired cold dish of lentils, tomatoes, olives, and tofu "feta" is easy enough to make for everyday meals, and impressive enough to serve on special occasions. It's a nice dish to bring to potlucks, as well. Photos by Evan Atlas.
more→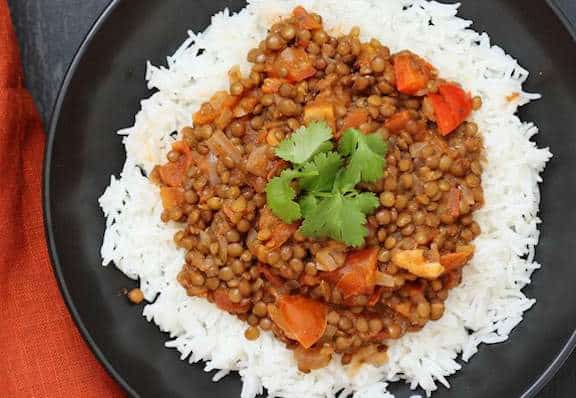 If you want to impress someone with a dal, make it this one. Don't be afraid of the number of spices—it is quite simple to make. The spices and garlic are blended to a paste and fried in the oil. A hot sauce (chiles, garlic, and vinegar) in the tadka is another secret to getting the right flavor profile. Serve this as a part of a meal, or with rice or naan or other flatbread. Recipe and photos from Vegan Richa's Indian Kitchen * © 2015 by Richa Hingle. Vegan Heritage Press, LLC. reprinted by permission.

Masala Lentils (Sabut Masoor)
Prep time:
Cook time:
Total time:
A hot sauce (chiles, garlic, and vinegar) is the secret to getting the right flavor profile in this lentil dal. Serve this as a part of a meal, or with rice or naan or other flatbread.
Ingredients
¾ cup brown lentils, washed and drained
2 cups water
2 to 3 teaspoons safflower or other neutral oil
½ cup finely chopped red or white onion
6 cloves garlic, chopped
½ teaspoon ground cumin
2 teaspoons ground coriander
½ teaspoon ground cardamom
½ teaspoon ground cinnamon
½ teaspoon fenugreek leaves or ⅛ teaspoon fenugreek seeds
1 teaspoon sweet or hot paprika
⅛ teaspoon nutmeg
¼ teaspoon black pepper
1½ tablespoons sriracha or other hot sauce, to taste
2 tablespoons water
1½ cups chopped tomato
¾ teaspoon salt
2 tablespoons chopped cilantro, for garnish
1 tablespoon vegan butter (optional)
Instructions
Combine the lentils with 2 cups of water in a saucepan. Partially cover and cook over medium heat until the lentils are tender, 25 to 30 minutes.
While the lentils are cooking, make the tempering. Heat the oil in a skillet over medium heat. Add the onion and cook until golden brown, 5 to 6 minutes.
In a blender, combine the garlic, cumin, coriander, cardamom, cinnamon, fenugreek, paprika, nutmeg, black pepper, sriracha, and 2 tablespoons of water. Blend to combine well.
Add this paste to the onions in the skillet. Cook until fragrant, about 2 minutes. Stir in the tomatoes and salt, and cook until the tomatoes are tender, about 8 minutes. Mash the larger tomato pieces.
Add the tempering to the lentils. Bring to a boil over medium heat. Reduce heat and simmer for another 5 minutes.
Taste and adjust salt and spice. Garnish with cilantro and vegan butter, if using, and serve hot.
Visit Richa at Vegan Richa: Eating plants until we photosynthesize!
*This post contains affiliate links. If the product is purchased by linking through this review, VegKitchen receives a modest commission, which helps maintain our site and helps it to continue growing!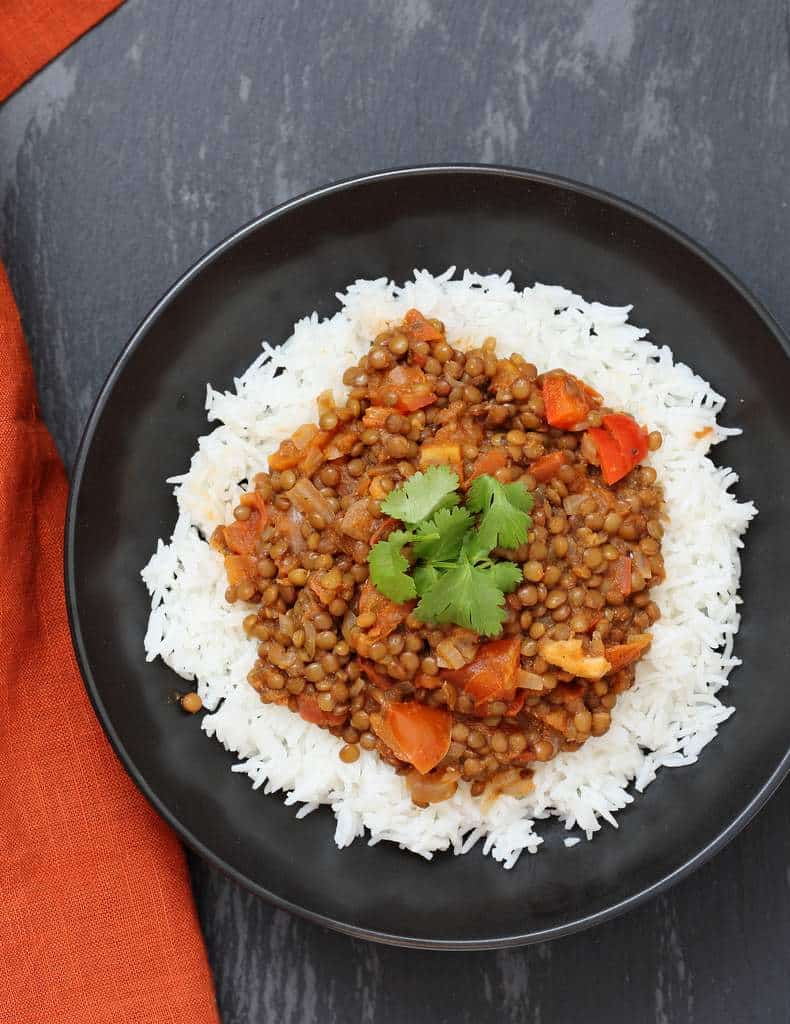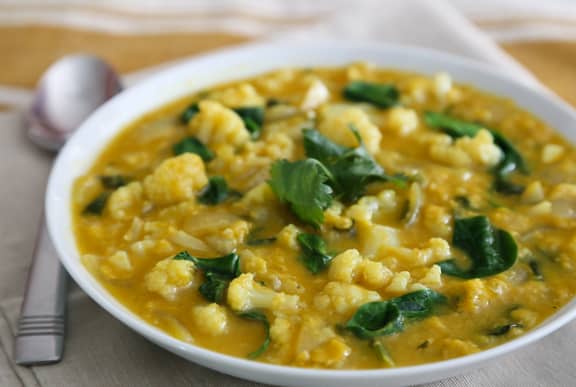 Red lentils cook quickly, so they're a good choice when you want a hearty, filling soup in little time. Adding a couple of cups of pumpkin or butternut squash puree adds to the orange-y goodness of this soup — and cauliflower and spinach contribute to its overall veggie-packed deliciousness. Serve this main-dish soup with a fresh flatbread and a simple salad. Photos by Evan Atlas.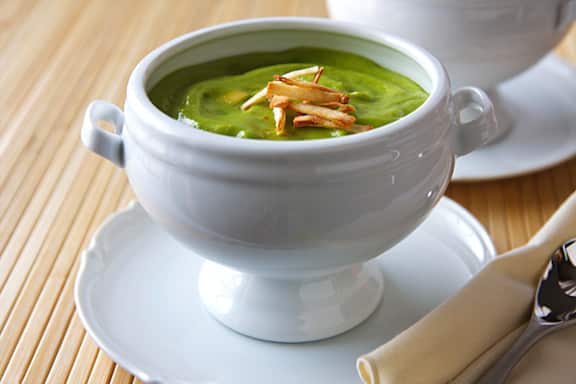 Cold soups are one of my favorite ways to feel refreshed in the summer heat. What makes any cold soup even better for me is if it needs no cooking at all, like this one featuring ripe avocados and green peas. And it adds gorgeous burst of green to the table, as well. Recipe adapted from Vegan Holiday Kitchen. Photos by Susan Voisin.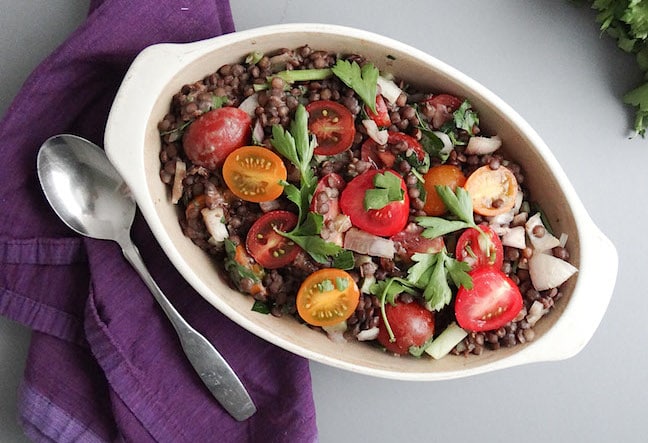 Beans aren't the only member of the legume family worth celebrating. Lentils, packed with fiber and protein, are just as nutritious. Plus they cook up—no soaking required—in only 15 to 20 minutes. A French ami shared her mother's traditional recipe for lentil salad with me years ago. This simple salad, seasoned with a French vinaigrette, is classic dish in France. It makes a wonderful, protein-rich highlight of any meal. Because the flavors continue to meld, it's also great the next day. Recipe from Plant-Powered for Life: Eat Your Way to Lasting Health with 52 Simple Steps and 125 Delicious Recipes, © 2014 Sharon Palmer. Reprinted with permission from The Experiment.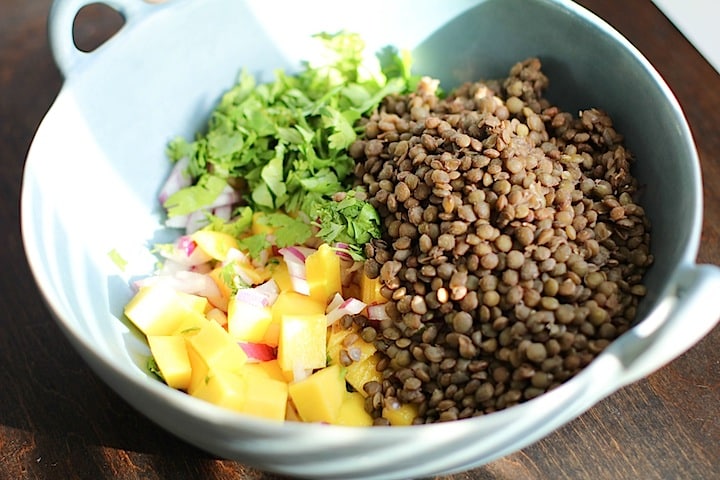 This lentil salad is unique, blending Indian flavors from the cumin and coriander with the Mexican flavors of mango and lime. One of the best things about salad is you can combine ingredients that you wouldn't normally pair up, and it usually works wonderfully. French lentils, also known as du Puy lentils, are the best type of lentil to use in salads. Green, brown, and red lentils are perfect in soups and stews because they're soft and tend to fall apart, while du Puy lentils work better in salads because they hold their shape well when cooked properly. All in all, a refreshing summery salad, with  great sustenance from the lentils. Recipe and photos contributed by Sophia Zergiotis of Love and Lentils.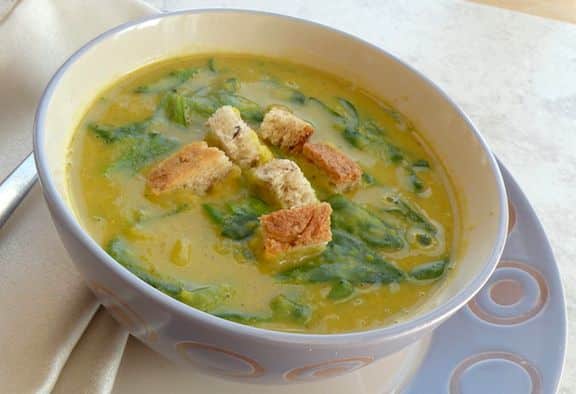 Here's a simple soup of quick-cooking red lentils, embellished with tender greens. It's a warming homemade soup you can have on the table in less than 45 minutes. Once you've done the onion-garlic sauté, there's very little additional work to do! Serve with fresh pita, croutons, or crispy pita chips that you can crumble right into the soup. The recipe yields a flavorful but mild soup; see notes on seasonings following the recipe if you'd like to kick it up a few notches.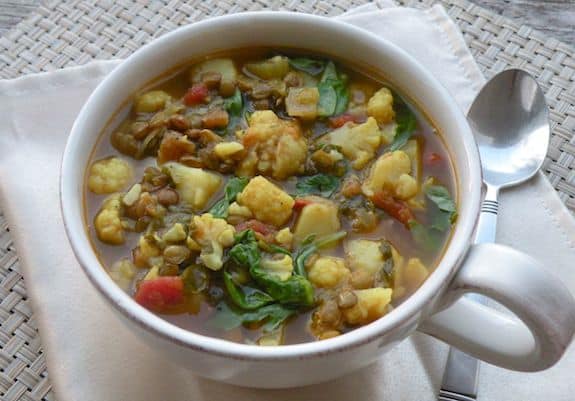 This hearty lentil soup features a slew of compatible ingredients, including potatoes, cauliflower, and spinach or arugula. It all melds together in a garlicky, mildly curried broth. Add a fresh flatbread and a simple salad for a satisfying meal. more→