Lentils and peas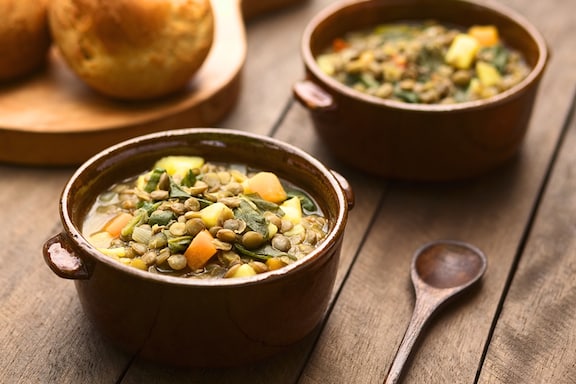 This satisfying soup features lentils, potatoes (and optional sweet potatoes) and greens, a trio of compatible ingredients in a mildly curried broth. This is a wonderful soup to come home to on a cold late fall or winter day, so make it on a quiet Sunday and enjoy it when you come home from work the next day. It's also a good choice to pack in a Thermos, to take to work or school.

Serves: 6 to 8 
2 tablespoons olive oil

1 large onion, chopped

4 to 6 cloves garlic, minced

1 cup raw brown or green lentils, rinsed

1 large celery stalk, diced

6 cups water

2 large potatoes, scrubbed and diced (or use 1 large potato and 1 medium-large sweet potato)

15- to 16-ounce can diced tomatoes, undrained (try fire-roasted for extra flavor)

2 to 3 teaspoons good-quality curry powder, or more, to taste

1 tablespoon salt-free seasoning blend (like Frontier or Mrs. Dash)

6 to 8 ounces leafy greens, washed, stemmed, and chopped (use chard, kale, collard greens, spinach, or arugula — or a combination of whatever you have on hand)

1/4 cup chopped fresh cilantro, optional

Juice of 1/2 lemon

Salt and freshly ground pepper to taste
Heat the oil in a soup pot. Add the onion and sauté over medium-low heat until translucent. Add the garlic and continue to sauté until both are golden.
Add the lentils, celery, garlic, and water. Bring to a rapid simmer, then lower the heat. Cover and simmer gently for 10 minutes.
Add the potatoes, tomatoes, and curry powder, and seasoning blend, and simmer gently until the potatoes and lentils are tender, about 20 to 30 minutes longer.
Stir in the greens, cilantro, and lemon juice. Adjust the consistency with more water as needed, then season with salt and pepper. Simmer over very low heat for another 5 minutes. Serve at once or if time allows, let stand off the heat for an hour or so, then heat through before serving.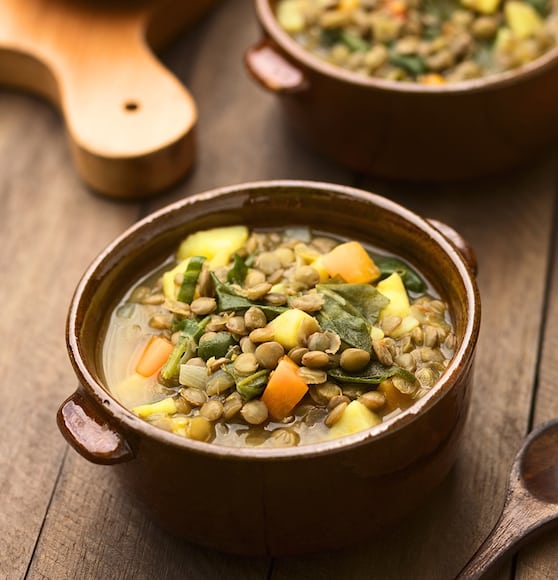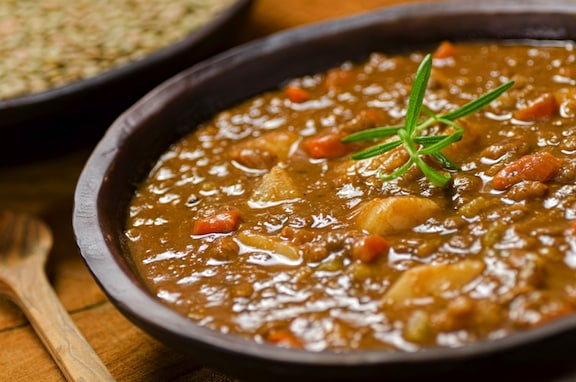 The earthy flavor of these protein-packed legumes shines in this basic rendition of lentil soup. Make sure to see the variations listed below the recipe. This is perfect as a soup centerpiece, served with crusty bread or fresh cornbread, and any kind of salad you enjoy.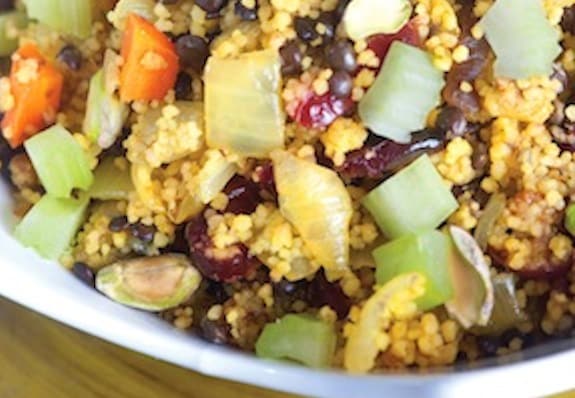 This delicious grain dish, studded with celery, black lentils, cranberries, and pistachios,  is as welcome for everyday meals as it is for the holiday table. Celery is used twice in this dish: softened in the beginning with a little olive oil, and tossed in at the end for a decisive crunch. You may substitute traditional couscous for the whole wheat and brown or green lentils for the black ones. (The black ones are especially pretty, though.) Recipe reprinted with permission from Ripe: A Fresh, Colorful Approach to Fruits and Vegetables* © 2012 by Cheryl Sternman Rule, photography by Paulette Phlipot; Running Press, a member of the Perseus Book Group. more→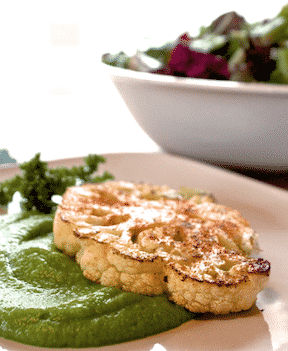 This cauliflower recipe makes the most beautiful presentation and it's a breeze to make. Minimal ingredients … whole foods at their best. I served these with a big, fresh salad. Perfect lunch! The trickiest part to this recipe is slicing the cauliflower, only because you will lose some. It's mostly the inner slices that will easily retain their structure. The rest just fall apart, so be prepared to have another cauliflower recipe on hand for the leftovers! Contributed by Helyn Dunn from her blog Helyn's Healthy Kitchen.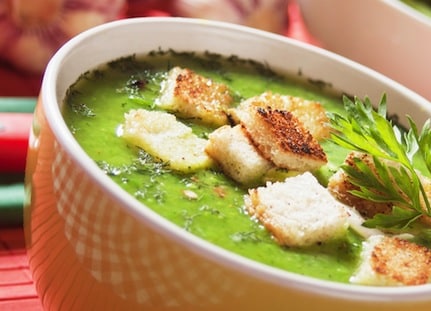 Split peas cook down with pieces of potato and aromatic vegetables to create a thick and hearty, stick-to-your-ribs soup that's excellent served with saltine crackers or slices of bread. Green split peas are rich in protein, complex carbohydrates, several vitamins and minerals, and beneficial dietary fiber, all while being extremely low in fat and sodium. This makes them a great choice if you're trying to eat more healthy and nutritious meals. Reprinted with permission from The Complete Idiot's Guide® to Vegan Slow-cooking* by Beverly Bennett (Alpha Books, 2012). more→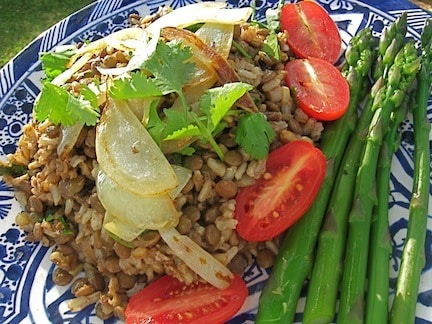 A dish both simple and elemental, the lentils and rice cook together, taking on flavor and qualities greater than themselves. The rice and lentils soak separately before cooking, which brings the tenderness out in the rice and encourages the lentils, which normally require no presoaking, to keep their shape. We should all be so lucky. It's traditionally topped with sautéed onions and makes a meal. Recipe and photo contributed by Ellen Kanner. more→
Nuts and lentils make this a protein and vitamin-packed soup. It's simple, creamy, and comforting. Recipe and photograph from Virgin Vegan The Meatless Guide to Pleasing Your Palate** by Linda Long, reprinted by permission of Gibbs Smith Publisher, © 2013. more→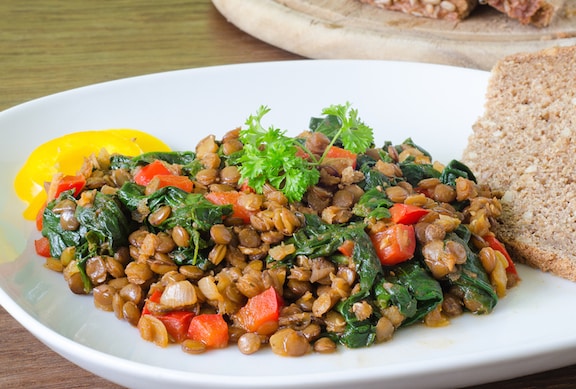 Since my family loves lentils, I keep a few cans of organic canned lentils on hand to use when we want a meal with this nourishing legume in a hurry. If you prefer to cook your own, the dish will also come together in a snap if you have them cooked ahead of time. To make this dish a little fancier, try using beluga lentils. There diminutive, gleaming black lentils contrast attractively with the greens and dried tomatoes. Green or brown lentils will taste just as good, though they're not as pretty. This is great served with Cauliflower Rice Pilaf, Quinoa with Cauliflower, Cranberries, and Nuts, or another grain dish, plus a simple salad.
Serves: 4 to 6 as a side dish
1 tablespoon olive oil
1 medium onion, finely chopped
2 cloves garlic, minced
1/2 medium red bell pepper, finely diced
6 to 8 ounces baby spinach, rinsed
Two 15-ounce cans lentils, drained and
rinsed (try using beluga lentils if available)
1/4 cup sliced sun-dried tomatoes (with a little of their oil, if using oil-packed_
2 tablespoon lemon juice, or to taste
1 teaspoon ground cumin
1/4 cup minced fresh dill, cilantro, or parsley, or more to taste, optional
Salt and freshly ground pepper to taste
Heat the oil in a large skillet. Add the onion and sauté over medium-low heat until translucent. Add the garlic and bell pepper, and continue to sauté until the onion is golden.
Add the spinach and cover the pat; Cook until just wilted, 1 to 2 minutes.
Add the remaining ingredients and stir until the spinach is evenly distributed with the lentils. Cook just until the mixture is well heated, then serve.
Variation: Replace all or part of the spinach with baby arugula.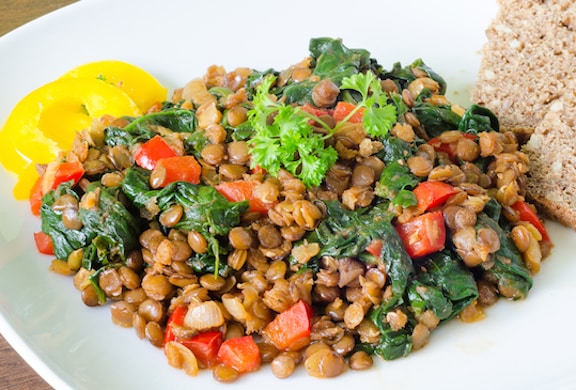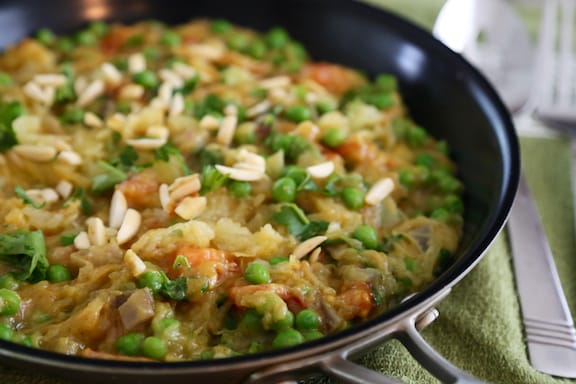 If ever there was a "fun" vegetable, it would be spaghetti squash. Here's a tasty way to serve it, with a lightly curried tomato-coconut sauce, plus peas and almonds. I enjoy serving it to anyone who has never tried it, as everyone seems amused by its spaghetti-like appearance. Photos by Evan Atlas. more→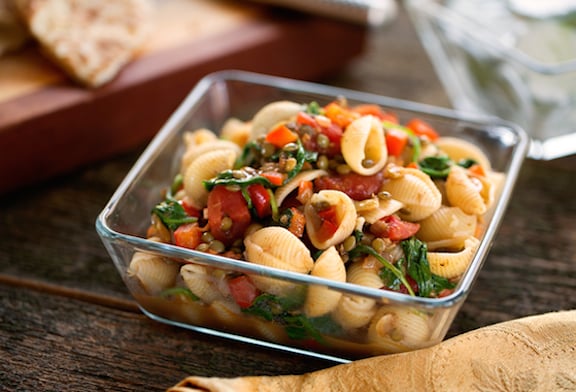 Spinach and lentils often paired Indian cuisine. Here, they are given an unusual context when combined with pasta. For a delicious meal, serve with a fresh flatbread and sliced cucumbers in coconut yogurt, embellished with cilantro. Photos by Hannah Kaminsky.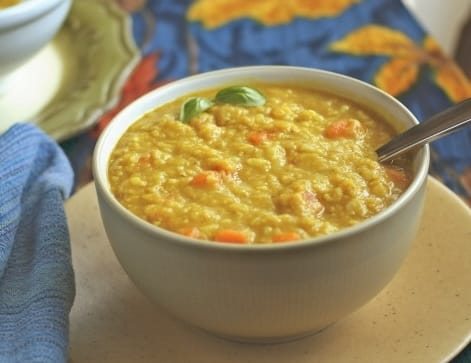 This hearty soup, adapted from Vegan Soups and Hearty Stews for All Seasons, features a variation serendipitously discovered by Ricki Heller of Diet, Dessert, and Dogs. Craving pea soup, Ricki pulled out the book, started the soup, and realized she had no yellow split peas. Undaunted, she quickly substituted red lentils and discovered that the soup works just as well with that substitution. Thanks to Ricki for that inspiration, and for the lovely photo here as well. more→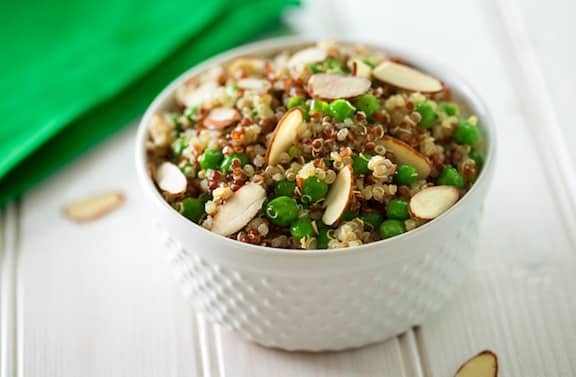 Lots of peas and toasted almonds combined with quinoa add up to a tasty and nourishing pilaf. For a light meal, serve with Tossed Salad Wraps or with a bountiful salad of any kind, and fresh corn. Photos by Hannah Kaminsky. more→