Vegan Breakfast Recipes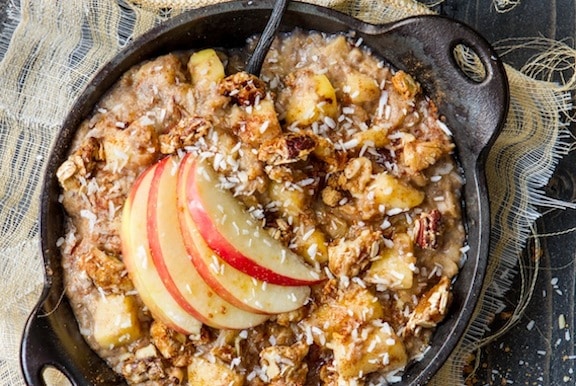 This voluminous Apple Pie Oatmeal will remind you of delicious apple pie, but will leave you feeling energized and ready to tackle the day ahead. I like Gala apples in this recipe, but feel free to use any variety that you wish. Gluten-free, oil-free, refined sugar–free, soy-free! Recipe and photo from The Oh She Glows Cookbook* by Angela Liddon. more→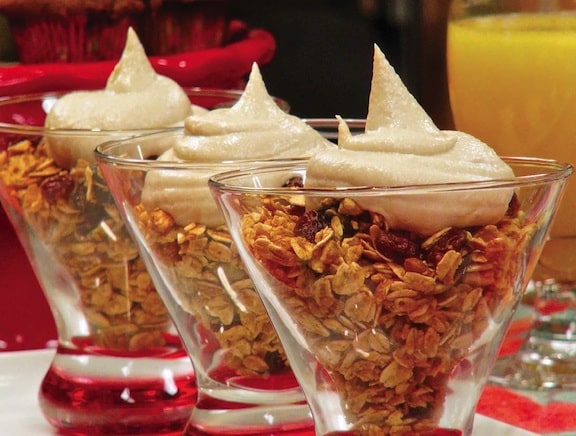 Nothin' like homemade granola. I love the scent and taste of freshly baked granola served with some nondairy milk on the side. To jazz it up a bit, top the granola with a dollop of Banana Whipped Topping. Mornings just got better! Recipe from Jazzy Vegetarian Classics: Vegan Twists on American Family Favorites* (BenBella Books 2013), reprinted by permission.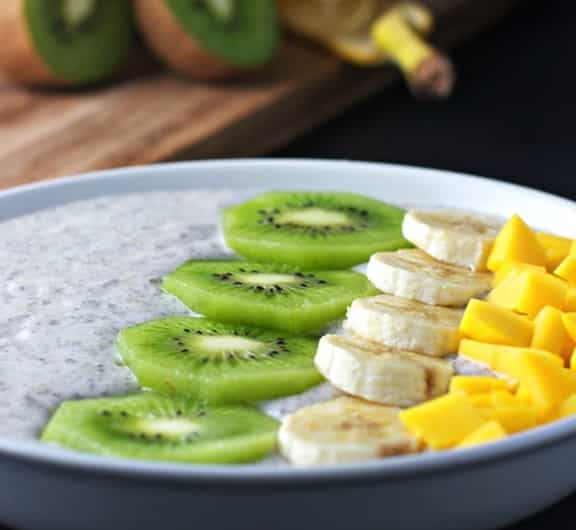 This breakfast bowl featuring chia seeds is just as easy as to make as pouring a bowl of cereal, more nutritious and tastes even better! It takes two minutes to mix all the ingredients together, place in an air-tight container and refrigerate overnight. Wake up and breakfast is ready. You can also portion out into smaller containers for a great grab and go breakfast on the run.  more→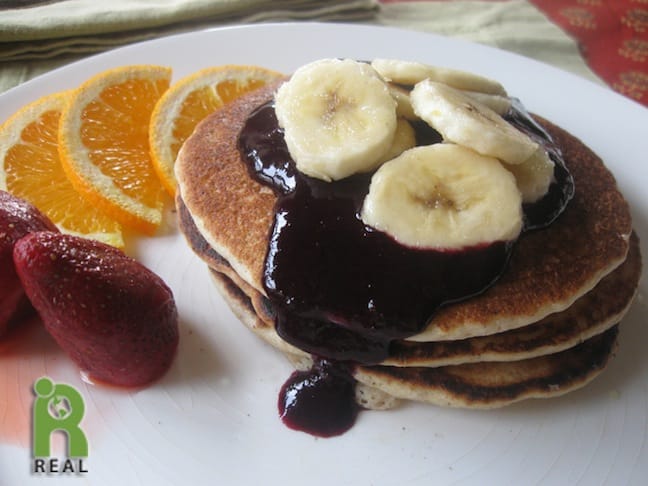 If you've got memories of buttermilk pancakes and syrup, here's our REAL version using soymilk soured with vinegar in place of buttermilk. Serve with REAL blueberry syrup – surprisingly made only with blueberries! Recipe and photo contributed by Caryn Hartglass, founder of Responsible Eating and Living. more→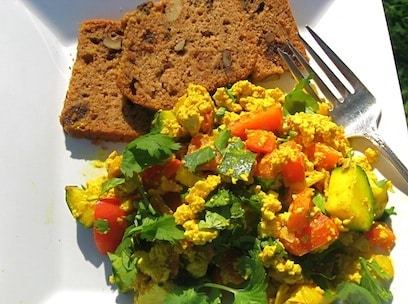 This delicious scrambled eggs-without-the eggs recipe works well for breakfast, lunch, dinner, late night, any time you're in the mood. Feel free to change up any vegetables with what's fresh at your local farmers market. Recipe and photo by Ellen Kanner, who contributes Meatless Monday Musings to VegKitchen. If you'd like to serve this with the delicious slightly sweet quick bread depicted, here's the recipe for Vegan Fig
and Walnut Bread. more→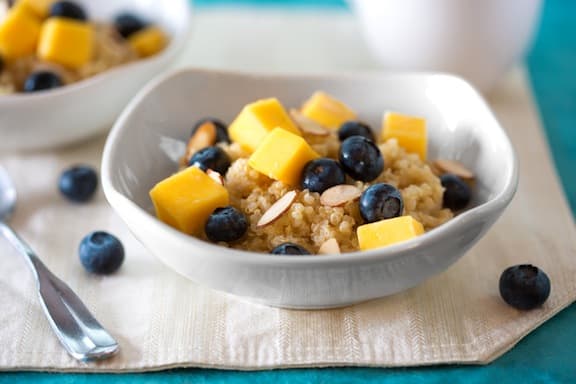 Start with cooked quinoa, then add a bit of sweetening, spice, fresh fruit, and nuts or seeds for a nourishing breakfast that will sustain you through the morning. If you make quinoa recipes regularly, you may have leftover, unseasoned quinoa in the fridge, which is ideal for this — less to do in the morning! Photos by Hannah Kaminsky.
Serves: 1
1/2 to 1 cup leftover plain cooked quinoa, depending on your morning appetite
(use 2 parts water to 1 part quinoa to cook it if you have no leftovers)
1/4 to 1/2 cup vanilla nondairy milk (almond or hemp milk are good for this),
sweetened or not, as you prefer
1 teaspoon liquid sweetener (if not using sweetened almond or hemp milk)
such as agave or maple syrup (see note)
Cinnamon, nutmeg, and/or cardamom, to taste
Fresh fruit of your choice (about 1/2 cup) — choose from diced apple, pear, mango,
or stone fruit in season; sliced  banana; whole blueberries or raspberries; sliced strawberries
A sprinkling of nuts and/or seeds (choose from chopped walnuts or pecans,
sliced almonds, pistachios, pumpkin seeds, sunflower seeds, hemp or chia seeds (optional)
Warm the cooked quinoa in a small saucepan with a little nondairy milk (or, if cooking from the start, add the nondairy milk once the quinoa is done).
When most of the nondairy milk has been absorbed, transfer to a bowl. Stir in sweetener and spice to taste.
Top with fruit of your choice, followed by nuts and seeds of your choice. Serve at once.
Note: You can use a touch of stevia liquid or powder instead; remember, very little goes a long way!
Variation: Use other leftover cooked grain in place of substitute (brown rice, couscous, barley, etc.). Or use rolled grain flakes like spelt, kamut, steel-cut oats, or even quinoa flakes.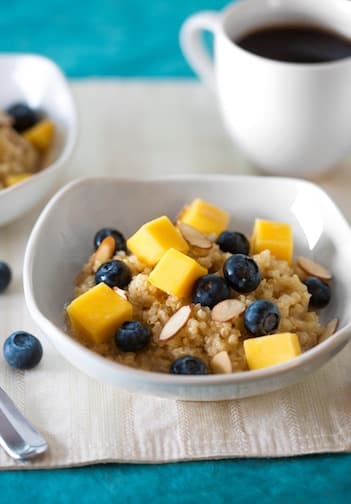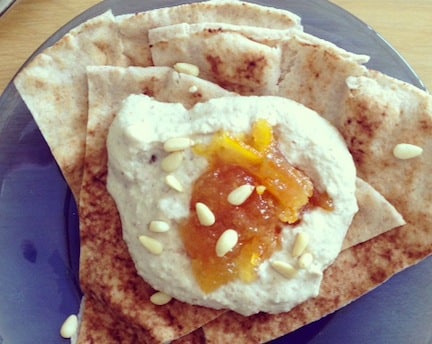 Here's something a little creamy, a little sweet, and easy to pair with nearly anything. Behold, shockingly simple, pretty, sumptuous sweet vegan ricotta. This spread pairs beautifully when slathered on crackers or toast, crowns fruit in a gorgeous way, adds oomph to baking recipes, and is a creamy, dreamy topping for oatmeal and granola. I like mine nestled between french toast and marmalade. more→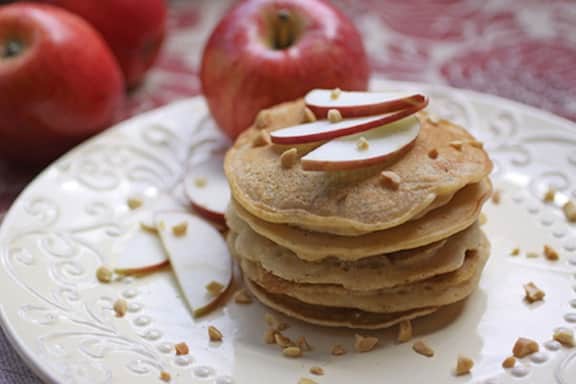 Apple slices with nut butter are a great healthy snack. Now, this delicious flavor combo can be enjoyed in these luscious pancakes. For gluten-free, use gluten-free flour. This recipe makes eight pancakes. From Nut Butter Universe* by Robin Robertson. © 2013 Robin Robertson. Used by permission from Vegan Heritage Press. Photo by Lori Maffei.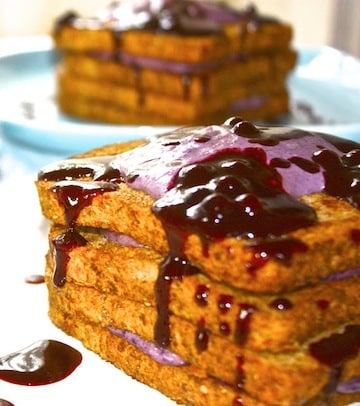 What to make for a late morning brunch… too cold for a smoothie, not really up for oatmeal… haven't had french toast for a while so I thought, why not make it a little different and a lot special…
There are three components to this fantastic, healthy dish: the french toast itself, the blueberry "cream" cheese stuffing and the blueberry syrup… of course you can use any or all of them separately for other yummy, nutrient-dense meals. Contributed by Helyn Dunn from her blog Helyn's Healthy Kitchen. more→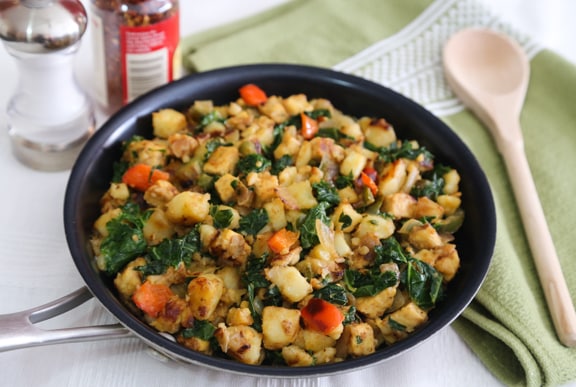 A hearty vegan spin on a "meaty" classic, this skillet hash of potatoes and high-protein tempeh (embellished with bell pepper and kale) is as good served as a quick dinner as it is an offbeat and hearty breakfast. For breakfast or brunch, serve with fruit; add whole-grain bread for a heartier meal. For a quick dinner, serve with an abundant tossed salad, whole grain bread, and orange slices. Photos by Evan Atlas. more→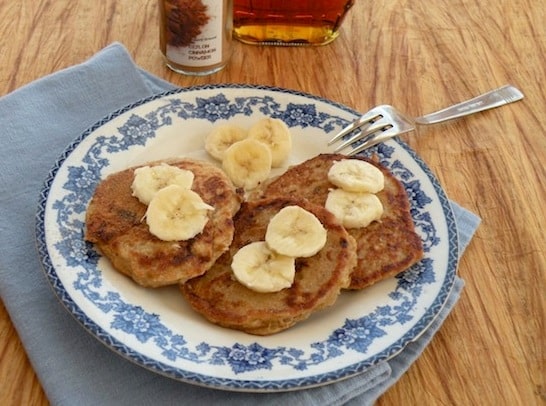 This simple recipe for banana fritters, given to me by a wonderful Jamaican cook, makes a pleasantly offbeat breakfast treat. When my kids were growing up, I found this easy enough to make for breakfast even on school days, on occasion. They're also a nice accompaniment (minus the syrup) to savory dishes like bean stews or spicy dishes. This makes about a dozen fritters.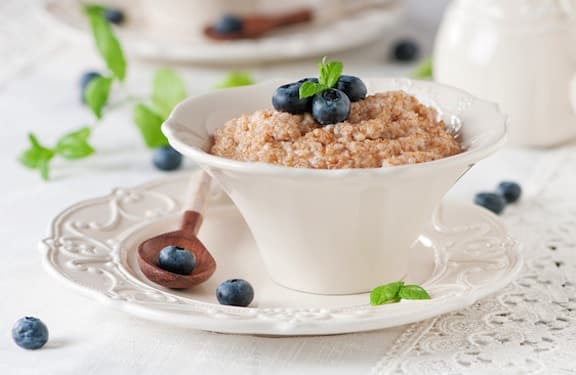 Though cream of wheat or oatmeal are fine choices as hot cereals, there is a world of grains to explore for breakfast, from tiny whole grains to cracked, rolled, and ground grains. Explore the hot cereal section of most any natural foods store and see what appeals to you. If these grains are new to you, buy them in packaged form so you can follow specific instructions for cooking. more→