Everyday Meals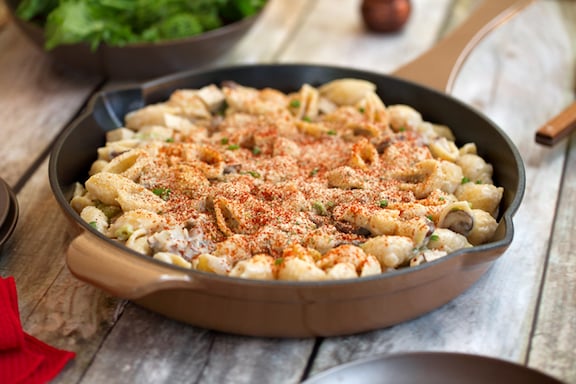 This tofu noodle skillet is a vegan version of the vintage tuna-noodle casserole that evokes 1950s TV moms in shirtwaist dresses, wearing pearls. Firm and chewy baked tofu stands in for the tuna. The first few time I made this, I baked it, which tends to dry it out quite a bit.
When I made it again, I realized that there's really no reason to bake it, as all the ingredients are cooked and ready, needing just a spin in the skillet to pull eveything together. However, if you'd like to make this more casserole-like, simply transfer to a small casserole dish and serve from there. Or, you can make it ahead of time, and then reheat briefly in the oven in a casserole dish. Serve this mild dish with plenty of green veggies — broccoli, broccoli rabe, greens, or green beans. more→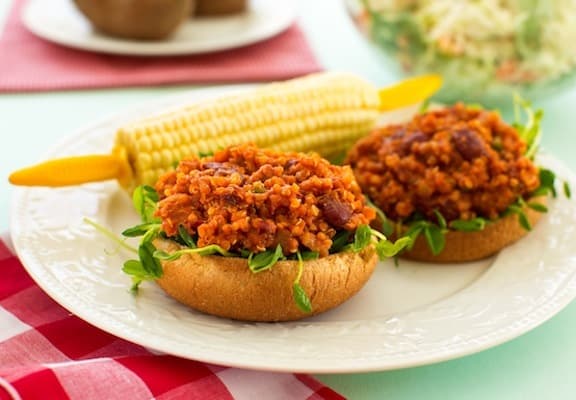 Seriously—who needs fake meat when you can make hearty, beautifully textured dishes using grains and beans? This serves up deliciously on rolls, but if you're not a bread person, you can serve the mixture in a lettuce-leaf cup or atop a corn tortilla. Serve with baked potatoes or sweet potatoes and any slaw-style salad. Fresh corn on the cob when in season is a great addition as well. Recipe from Plant Power: Transform Your Kitchen, Plate, and Life with More Than 150 Fresh and Flavorful Vegan Recipes by Nava Atlas. ©2014, published by HarperOne, reprinted by permission. Photos by Hannah Kaminsky.   more→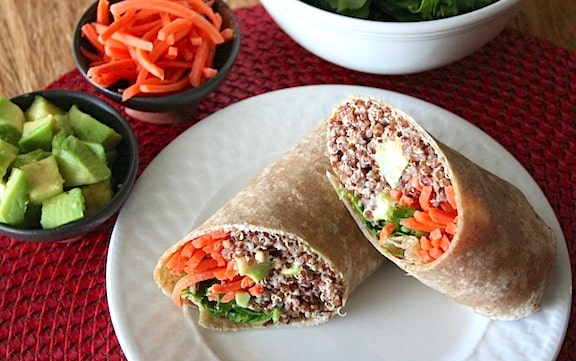 VegKitchen's pages offer a number of tasty recipes and ideas for vegan sandwich and wraps, perfect for lunches at home or to take to school or the office (or even as quick, casual dinners). Here are the ones that have proven most popular with readers — most views, comments, and in general, going most crazy over them when we share on our Facebook page. Keep this list handy, and it will be a long time before you wonder what to have for lunch! Of course, for the mid-day meal, you can rotate these with some of our delicious salads and/or leftover soups as well. Another tip: You can turn any of the wraps below into sandwiches, and vice versa. more→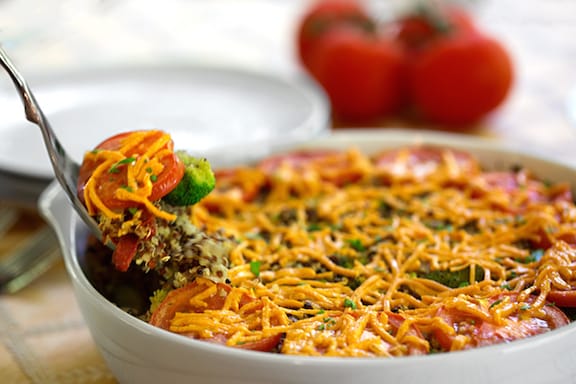 This easy vegan broccoli quinoa casserole of made out of quinoa, broccoli, and vegan cheese makes for a dish that's both nourishing and comforting. Serve with baked sweet potatoes (start the sweet potatoes in the oven about 45 minutes before starting to bake the casserole) and a salad of dark greens and ripe tomatoes. Photos by Hannah Kaminsky. more→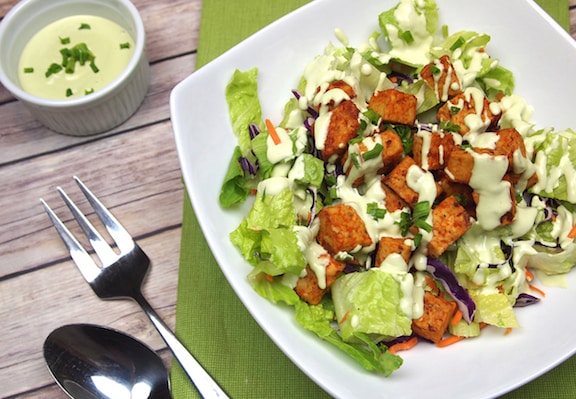 This luscious Buffalo tempeh salad offers up the contrast of spicy tempeh and cool creamy vegan ranch dressing on a crisp salad. If you're sensitive to tempeh's fermented taste, steam the cubes before marinating to tone it down. Steaming will also help the tempeh soak up more of the marinade. Recipe and photos by Dianne Wenz of Dianne's Vegan Kitchen, reprinted by permission. more→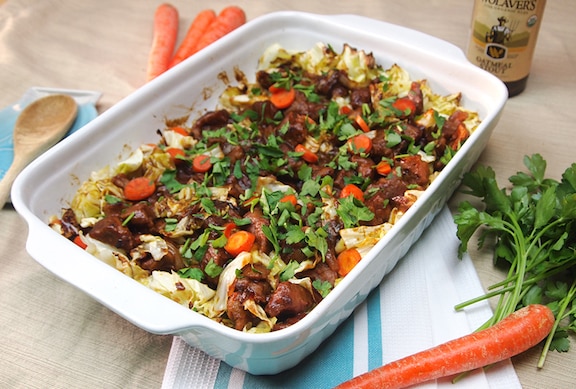 Despite being part Irish, my family never really did anything to celebrate St. Patty's day while growing up. There was no Irish soda bread, no corned beef and cabbage, no colcannon. Since it's turned into a bit of a foodie holiday, I wanted to make something to celebrate my Irish heritage a few years ago, but there were no family recipes to veganize.
I came across an interesting dish in an issue of Better Homes and Gardens, and it seemed perfect for converting. This cabbage casserole has become a St. Patrick's Day favorite in my house, but of course, it's perfect for dinner any day of the year. more→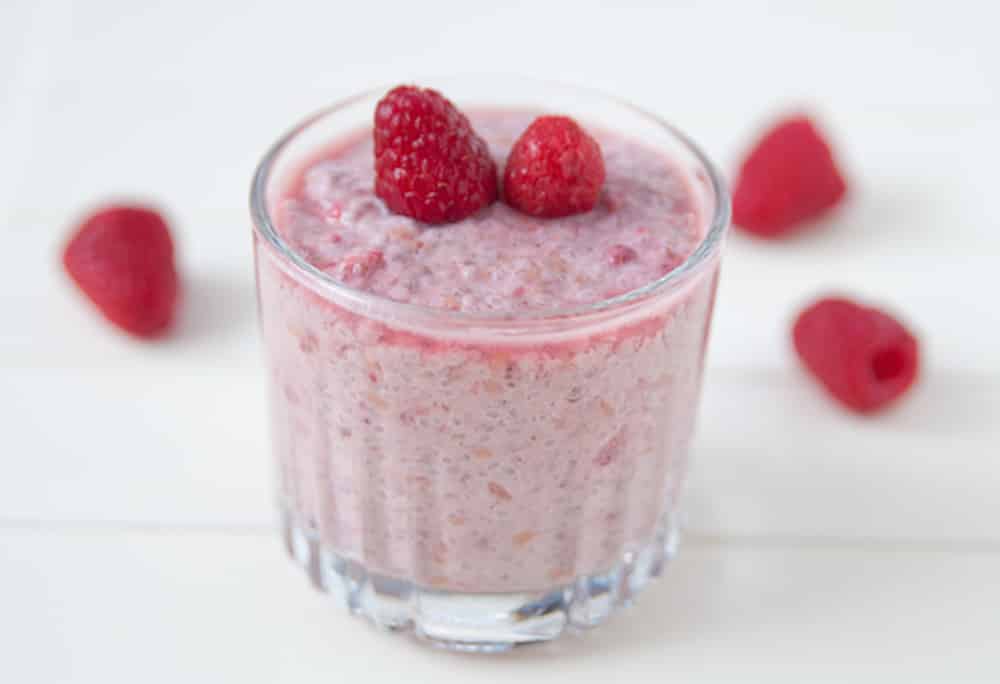 Chia seed pudding has become a popular dessert and breakfast option in the last few years. With the versatility of chia seeds, the wide selection of non-dairy milks on the market, and the hundreds of possible variations of this treat, there's no end to the flavors that you can experiment with. Here we have gotten together some of our favorite chia seed pudding recipes for you to try. And, make sure to learn more about the nutrition benefits of this small but mighty seed in Chia Seeds: Frequently Asked Questions. more→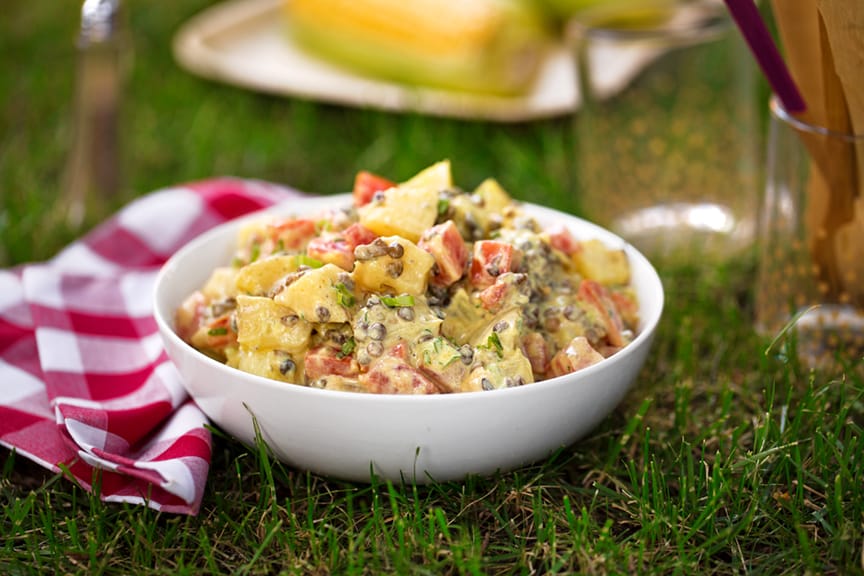 This curried potato salad is a luscious combination of potatoes, lentils, and tomatoes — an offbeat change-of-pace from the standard varieties, and gets a nice protein boost from the lentils. It's hearty enough to serve as a summer main dish with fresh corn on the cob. Add a cold summer soup for a larger meal. Photos by Hannah Kaminksy. more→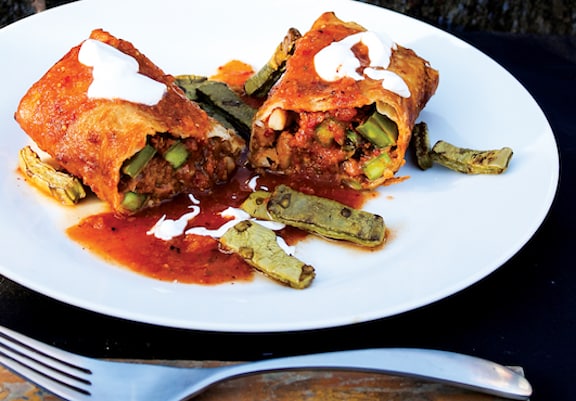 Chimichangas, called chivichangas in Mexico, are basically deep-fried burritos. These Northern Mexico Chimichangas are little decadent, but wonderful as an occasional treat. They epitomize the mingling of the American-Mexican border culture by their use of flour tortillas mixed with a filling suffused with adobo. You can find these in Tucson as easily as on the Sonoran side of Nogales. (from Vegan Mexico: Soul-Satisfying Regional Recipes from Tamales to Tostadas, copyright © 2016 by Jason Wyrick. Reprinted by permission Vegan Heritage Press. more→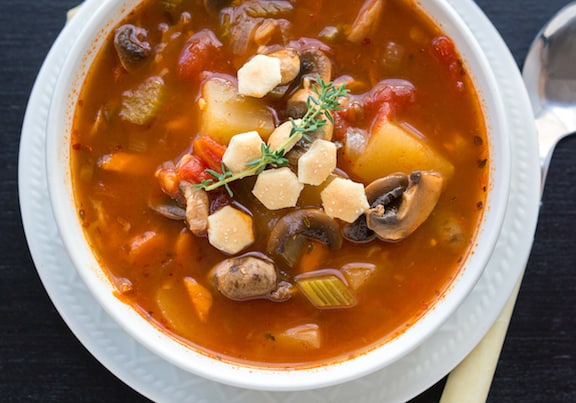 At last, a satisfying vegan clam chowder! Manhattan clam chowder is the red, tomato-based soup found on diner menus all over the city. Mushrooms bring the perfect texture and flavor to this vegan "glam" chowder, a version of the iconic New York City soup. Nori and Old Bay Seasoning cleverly replace the seafood flavors. From NYC Vegan: Iconic Recipes for a Taste of the Big Apple, copyright © 2017 by Michael Suchman and Ethan Ciment. Photos by Jackie Sobon. Used by permission. more→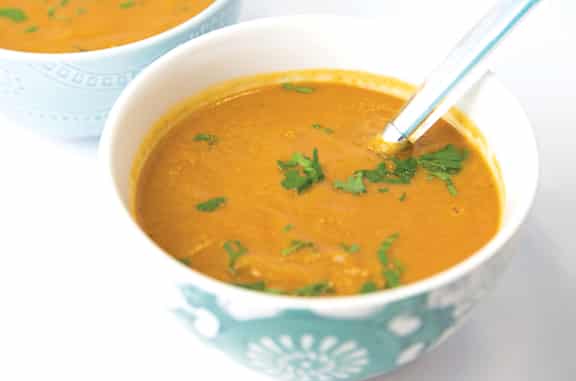 Here's a healthy homemade vegan cream of tomato soup that will remind you of the kind that you might have had from a can when you were a kid — but this one is so much better! This easy and comforting soup is ready for you to enjoy within a half hour, and it's delicious served with vegan grilled cheese sandwiches. Recipe and photos from The China Study Family Cookbook: 100 Recipes to Bring Your Family to the Plant-Based Table by Del Sroufe © 2017, BenBella Books, Reprinted by permission. more→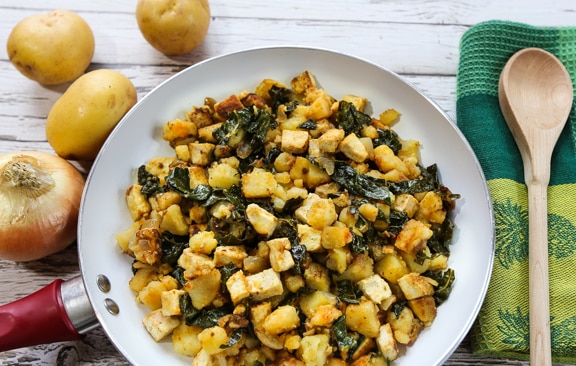 Tofu and potato hash browns is a simple, comforting skillet dish that's just as good for dinner as it is for brunch. Have potatoes cooked ahead of time, and this easy and tasty dish will have your family or guests eating in short order. Leftovers are wonderful for breakfast. Or, if you make this expressly to serve in the morning, you can either microwave or cook the potatoes the night before for a head start. Great accompaniments include orange wedges and fresh whole grain bread. Adapted from The Vegetarian Family Cookbook. more→