Sandwiches and Wraps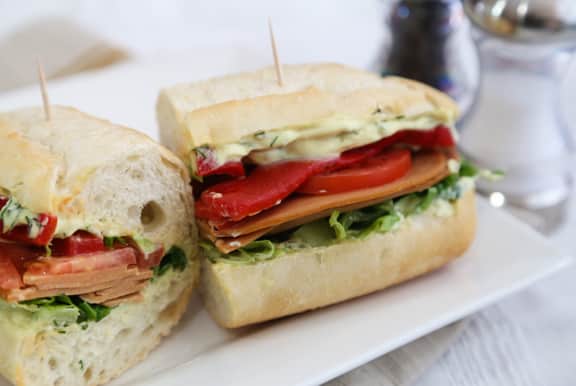 These vegan heroes bridge the gap between not wanting to cook and not wanting to do take-out. They're also a good choice for brown-bag lunch, picnics, or warm summer nights. Add baked sweet potatoes and some sliced fresh fruit, and you've got a reasonably nutritious meal in a short time. While we're not all that much into "fake meat" in our VegKitchen, these are very appealing to die-hard meat eaters and hungry teens. Look for brands such as Tofurky, that don't use soy protein isolate to make their deli slices. Photos by Evan Atlas. more→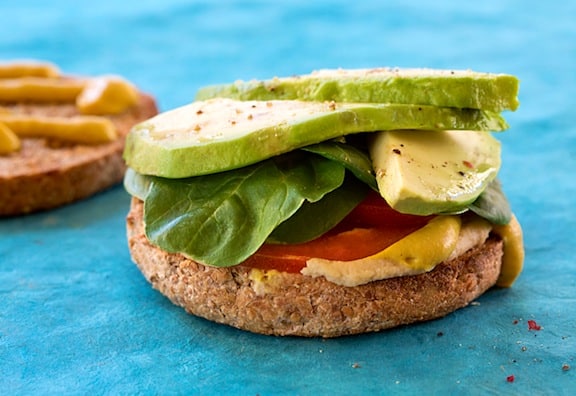 One of my favorites sandwiches is this one, which essentially transforms a garden salad into sandwich filling. Despite its simplicity, this sandwich is really delicious, and the kind of lunch I look forward to all morning. Protein, healthy fats, good carbs, plenty of fiber, antioxidants…it's all there. I use Ezekiel Breads and English Muffins for these sandwiches, and toast them for the best texture, even if not eating right away. If you're brown bagging, partially construct as you pack up, and complete your assembly at lunchtime. Otherwise, pile on the ingredients and enjoy immediately. Contributed by Vicki Brett-Gach, from  Ann Arbor Vegan Kitchen. Photos by Hannah Kaminsky.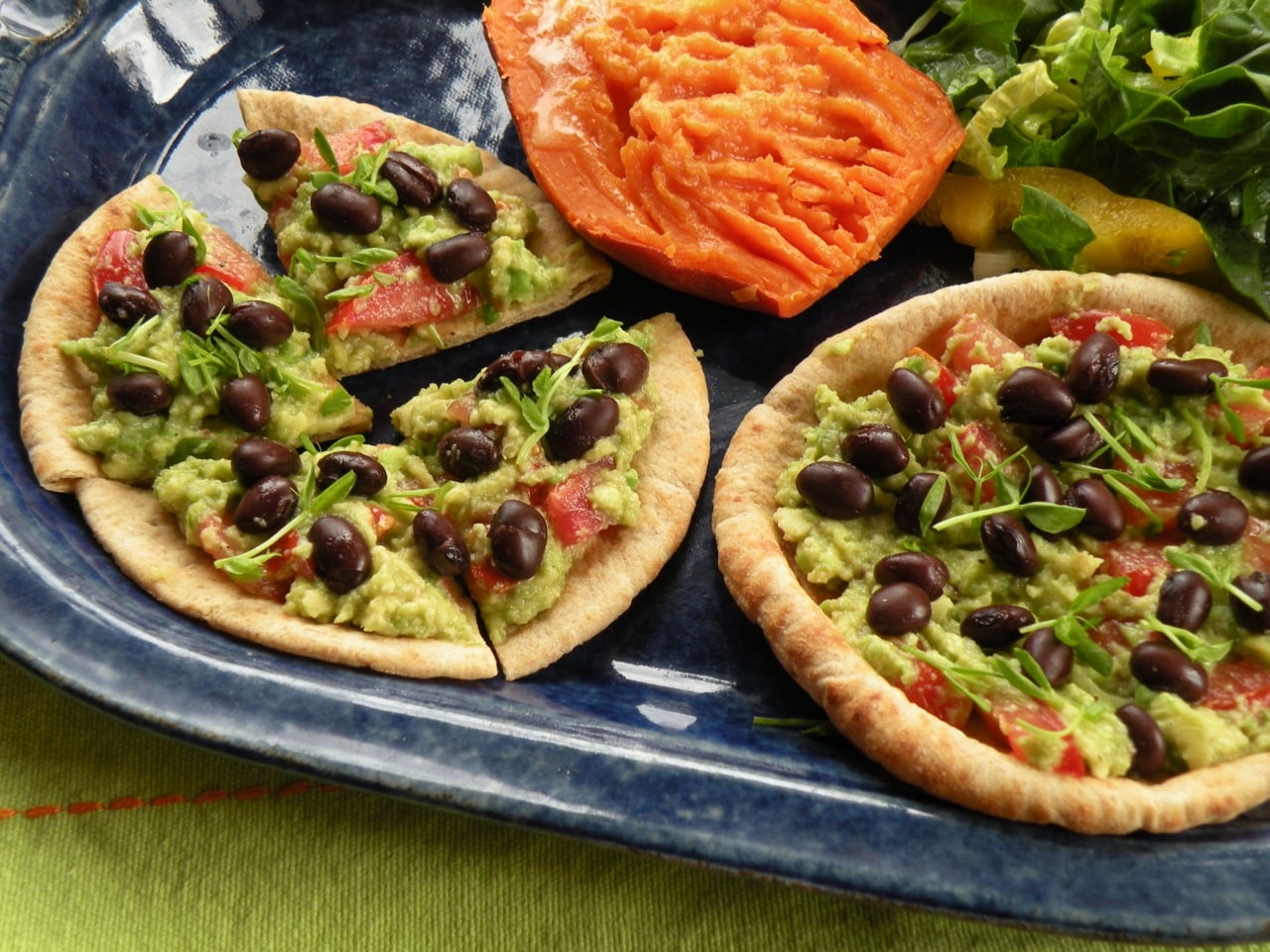 Here's a quick and easy sandwich idea that can save you in a pinch when you need a quick lunch or dinner. Mashed avocado is mixed with tomato and lemon or lime and topped with a sprinkling of your favorite bean. Keep more of the beans nearby for extra protein. Serve with sweet or regular potato and salad (or a warming soup) for a simple and gratifying meal! more→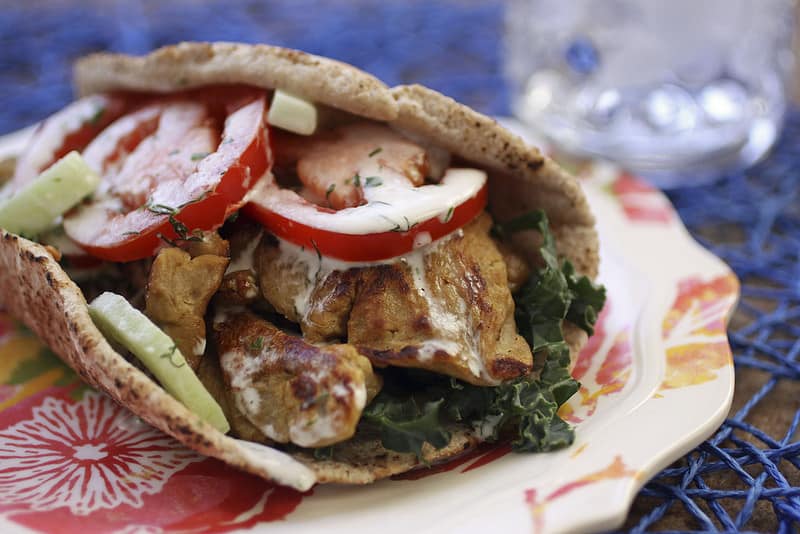 Here is a kinder, gentler version of gyros, the Greek meat-on-a-pita classic. Seitan makes a superb stand-in, and the shortcut creamy cucumber dressing gives the entire enterprise a refreshing zip. For heartier appetites, a serving would be 2 gyros; one is filling enough for moderate appetites or when other dishes are to be served. Recipe adapted from Vegan Express. Photos by Lori Maffei. more→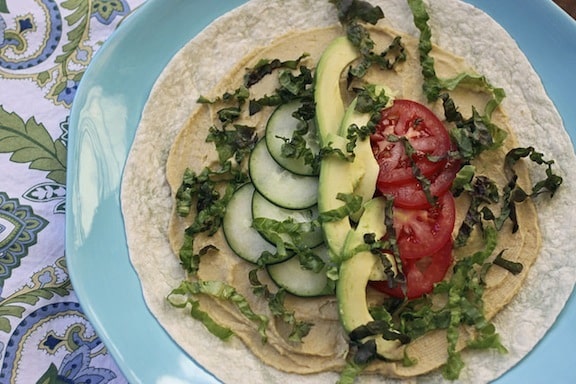 This easy hummus, cucumber, and avocado wrap recipe is as good for dinner as it is for lunch (or even breakfast, for that matter …). You can use homemade hummus or store-bought; either way, it's made in minutes. For lunch, serve with plenty of fruit; for dinner, serve with soup  and/or a simple side dish. It goes well with quinoa tabbouli, or any potato salad. And you need not slavishly follow a recipe, either — make enough for one, or as many as needed. Photos by Lori Maffei. more→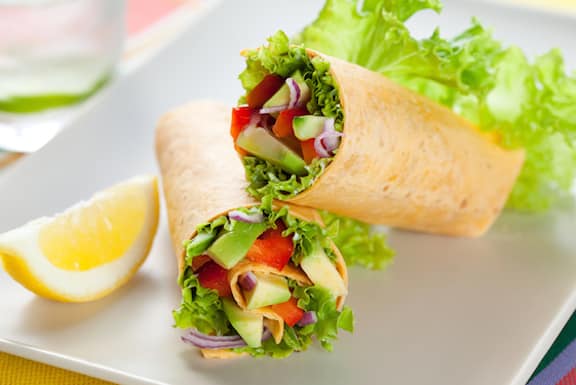 A basic tossed salad becomes a lot more appealing to salad skeptics if you wrap it up. This is especially good with soups, or as a lunchtime option for vegetarian or vegan kids with a more adventurous palate, or as a portable lunch for anyone. more→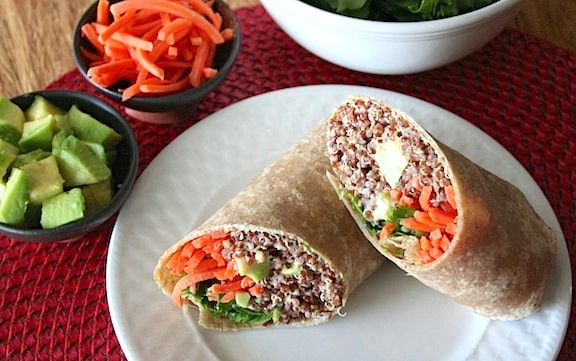 Once you have the cooked quinoa on hand, these delectable Asian-flavored wraps come together very quickly. Photos by Rachael Braun. Recipe contributed by Wendy Polisi, reprinted from Cooking Quinoa.  more→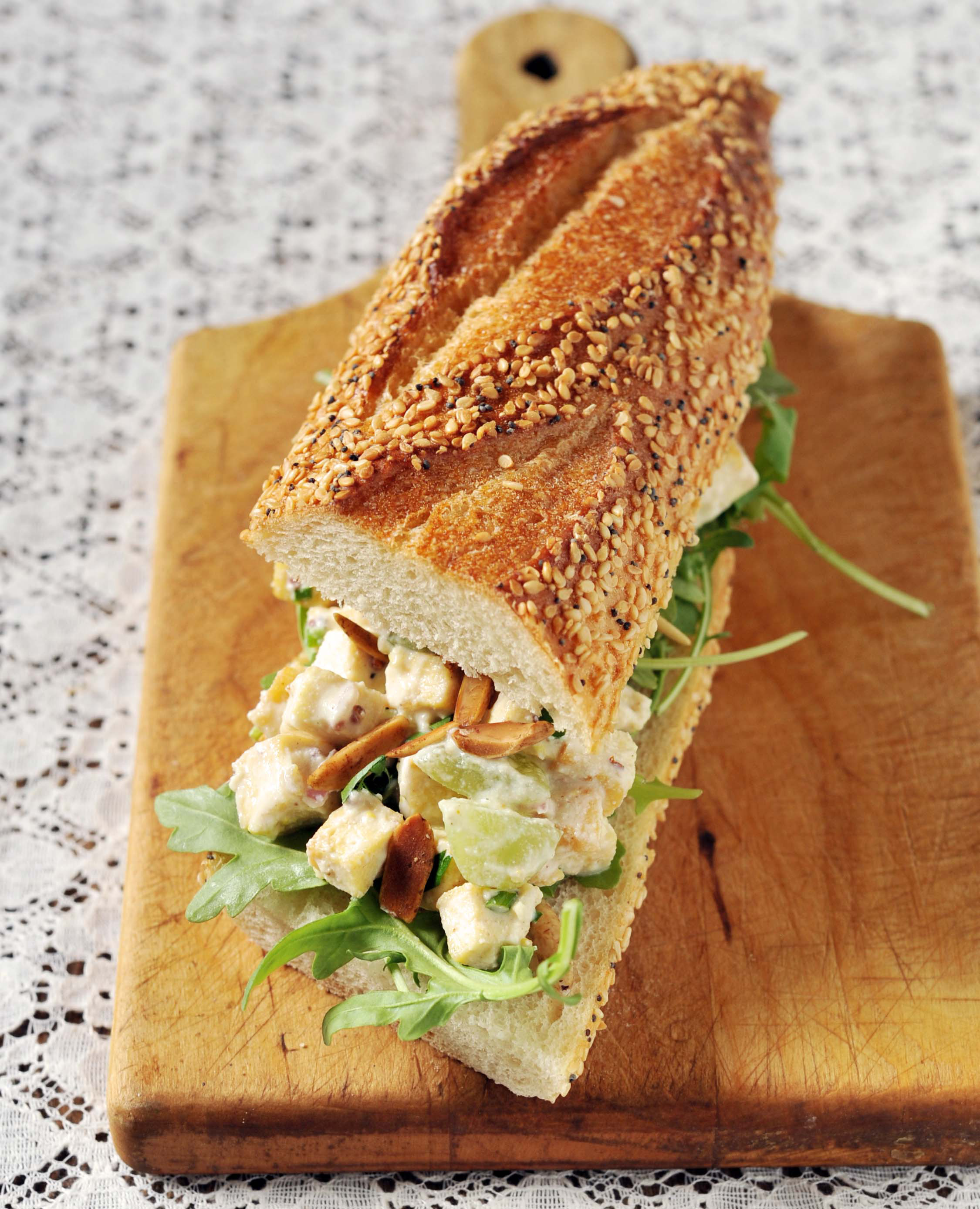 With crunchy almonds and sweet grapes, this elegant tofu salad sandwich will have you oooh-lala-ing. Using both fresh and dried herbs brings a complexity of flavor. It's a perfect picnic sandwich and pairs wonderfully with a dry white vegan wine. Recipe contributed by Tamasin Noyes and Celine Steen from their book Vegan Sandwiches Save the Day!* (Fair Winds Press, 2012).
more→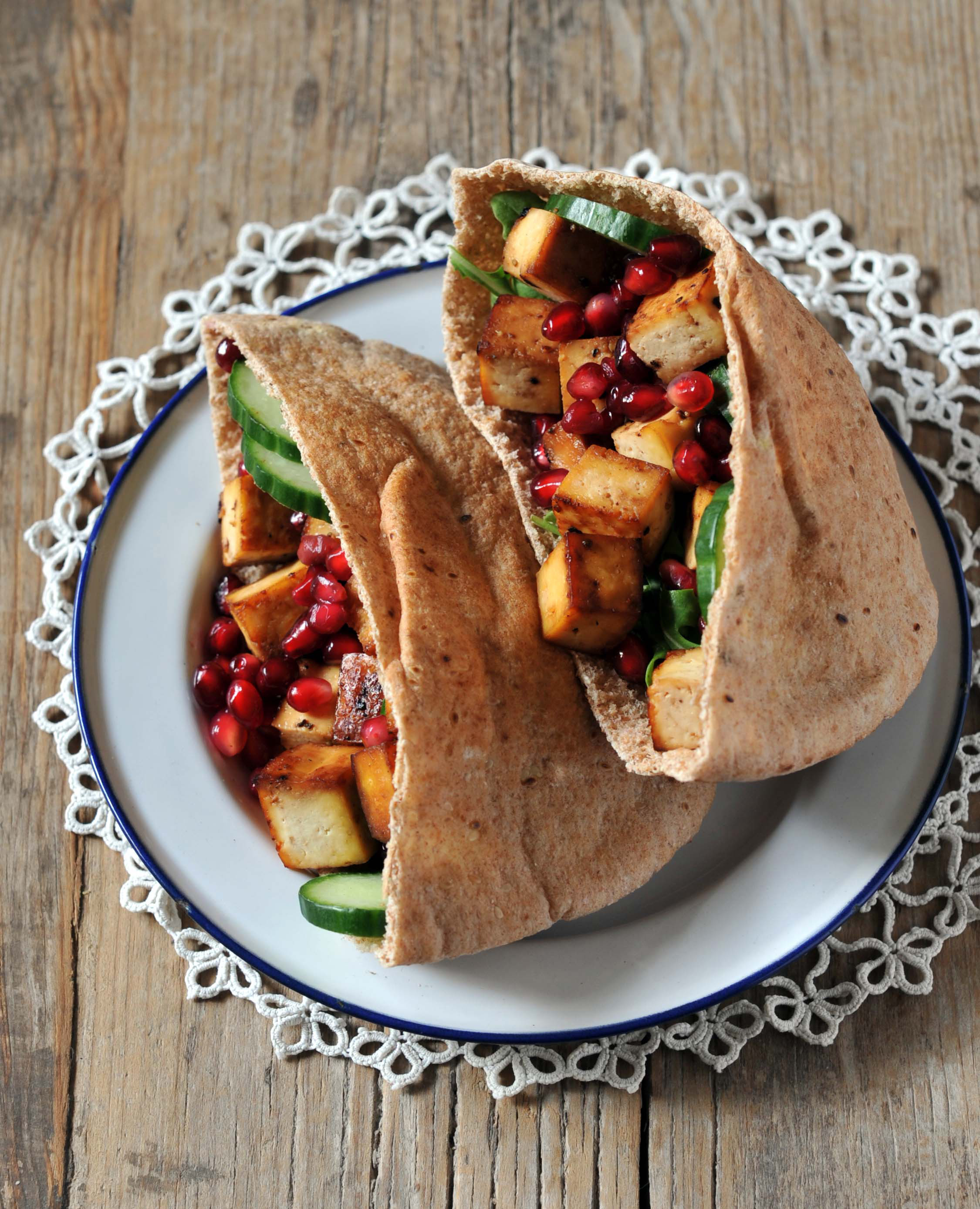 Savory tofu bits combine with pomegranate to make a palate-pleasing pita sandwich. The pomegranate seeds add texture and a tart sweetness, while the ume plum vinegar brings it all together. Recipe contributed by Tamasin Noyes and Celine Steen from their book Vegan Sandwiches Save the Day!*(Fair Winds Press, 2012).  more→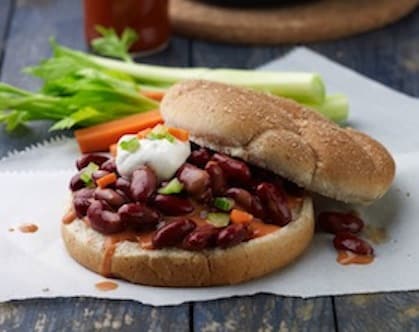 This Sloppy Joe variation can be as spicy or mild as you'd like. If your family members aren't fans of spicy dishes, use less hot sauce or use a milder sauce in its place. From The Great Vegan Bean Book by Kathy Hester. @2013 by Fair Winds Press, reprinted by permission. Photo © 2013 by Renee Comet.  more→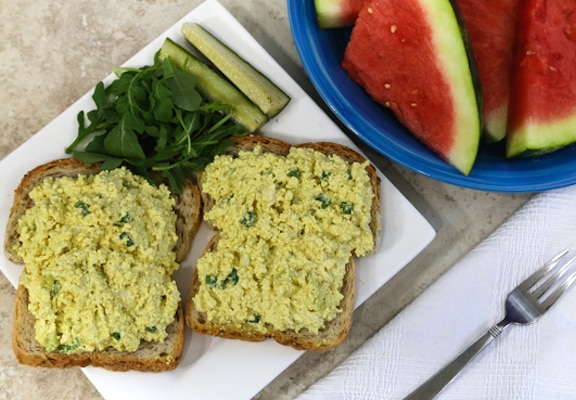 Tofu Eggless "Egg" Salad is one of our favorite vegan food transformations. Made with firm tofu and vegan mayonnaise instead of hard-boiled eggs and eggy mayo, this a treat on fresh bread or stuffed into pita. You can also dollop it onto a green salad for extra protein. Photos by Evan Atlas.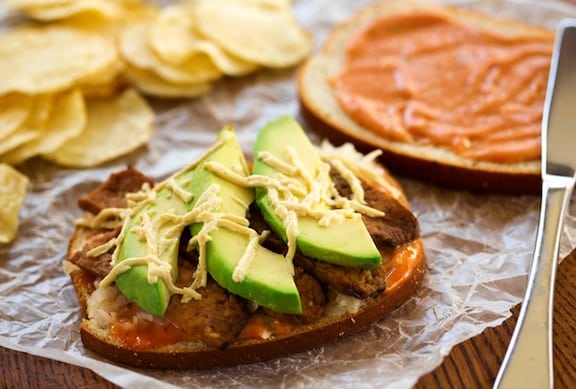 The classic deli reuben sandwich can be made meatless as well as dairy-free with homemade or store-bought smoky strips, and just a touch of vegan cheese. Sauerkraut gives it a nice tang, and avocado makes it luscious! It's great for a quick at-home lunch or dinner, served with soup or salad.The ingredients given here can be easily multiplied for more servings. Photos by Hannah Kaminsky. more→