Soulful Soups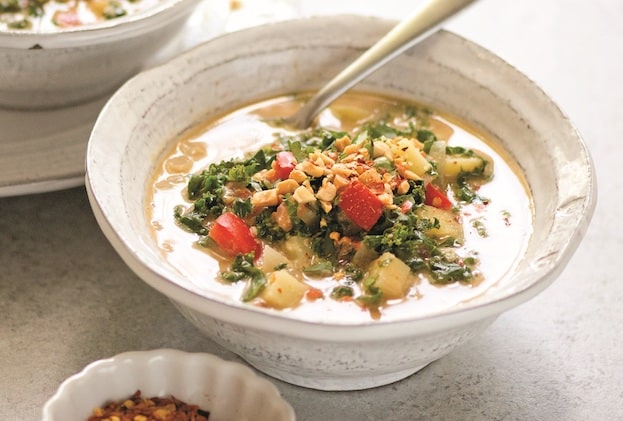 Whenever LeAnne Campbell (author of The China Study Cookbook) makes this luscious peanut kale soup, she doubles the recipe. Everyone goes back to the soup pot for seconds, thirds, and yes, sometimes fourths — It's that good! If you don't have kale on hand, you can also use collard greens or spinach. Recipe and photos from The China Study Cookbook (revised and expanded edition) ©2018 by LeAnne Campbell. Published by BenBella Books, reprinted by permission. more→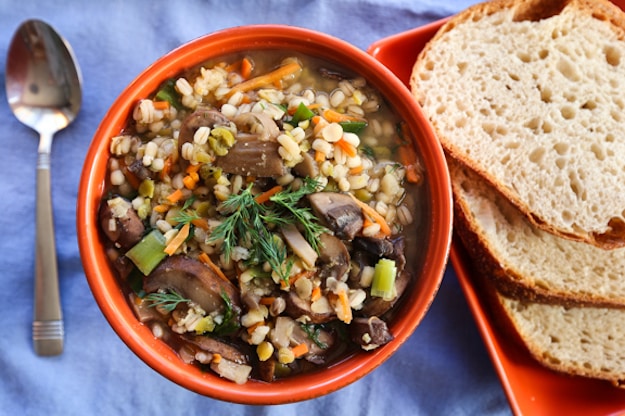 When cold and flu season is in full swing, or if it's simply a bone-chilling winter day, sometimes you need a big pot of comforting soup and you need it now! One of the most soothing bowlfuls ever is mushroom barley soup, and this shortcut vegan version takes at least an hour off the process. Case in point, our Classic Mushroom Barley Soup, which is about an hour and a half or more, from prep to finish. There's not a lot of work time, so when you have more leisure to cook soup, give it a try!
This fast version shaves off the time by using quick-cooking barley and precut fresh veggies. It's just as good as the original, and gets more flavorful as it stands. Look for quick-cooking barley (sometimes called 10-minute barley) in the grains or dried beans section of well-stocked supermarkets and natural foods stores. Trader Joe's has their own brand, too. Or you can search for quick-cooking barley and order online. more→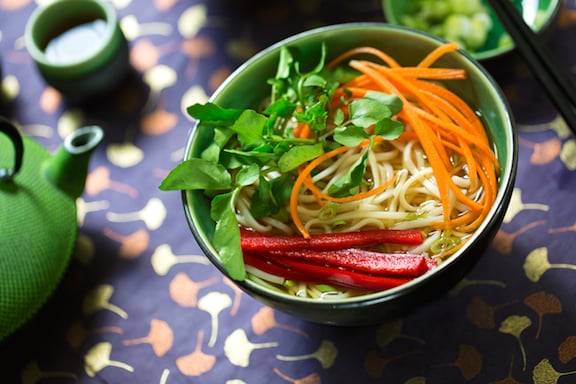 Nothing satisfies like a comforting bowl of soup when you come home feeling tired and chilled, or need a remedy for a cold. But lots of chopping and long wait times for simmering don't have to be part of the equation. Here are 10 warming and super easy vegan soups that combine fresh veggies and shortcuts that result in a good-sized portions. It's no accident that more than half of these aree Asian-style soups, which as a matter of course require little cooking. But they'll all have you saying "Soup's on" in 20 minutes or less! more→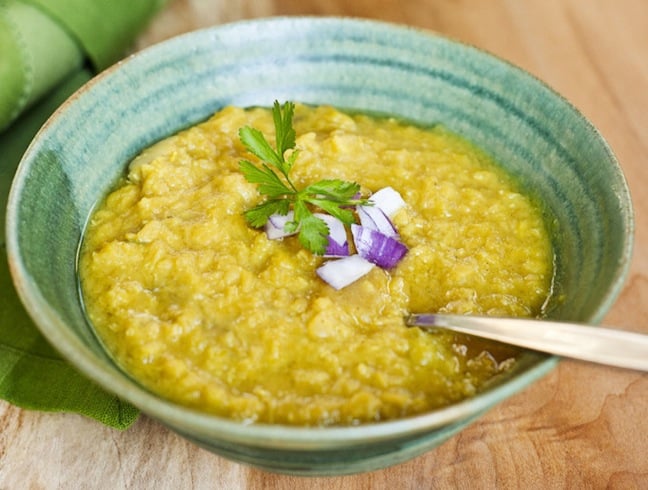 Here's an easy, nourishing soup of red lentils, made creamy with coconut milk and spiced with plenty of ginger. It's a warming bowlful to come home to on a cold day! Recipe excerpted with permission from Going Wild in the Kitchen,* by Leslie Cerier, © 2005, Square One Publishers, Inc. Photos by Tracey Eller.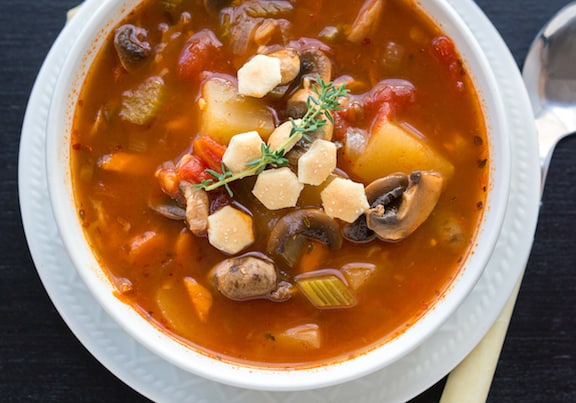 At last, a satisfying vegan clam chowder! Manhattan clam chowder is the red, tomato-based soup found on diner menus all over the city. Mushrooms bring the perfect texture and flavor to this vegan "glam" chowder, a version of the iconic New York City soup. Nori and Old Bay Seasoning cleverly replace the seafood flavors. From NYC Vegan: Iconic Recipes for a Taste of the Big Apple, copyright © 2017 by Michael Suchman and Ethan Ciment. Photos by Jackie Sobon. Used by permission. more→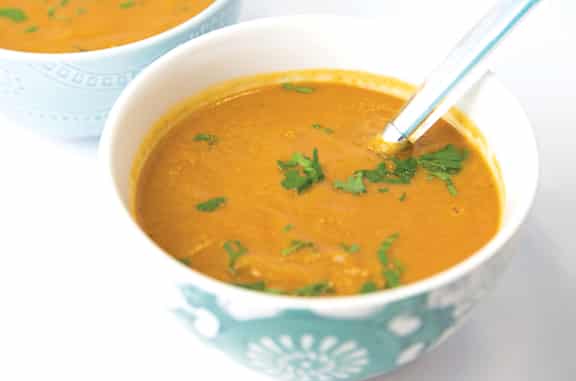 Here's a healthy homemade vegan cream of tomato soup that will remind you of the kind that you might have had from a can when you were a kid — but this one is so much better! This easy and comforting soup is ready for you to enjoy within a half hour, and it's delicious served with vegan grilled cheese sandwiches. Recipe and photos from The China Study Family Cookbook: 100 Recipes to Bring Your Family to the Plant-Based Table by Del Sroufe © 2017, BenBella Books, Reprinted by permission. more→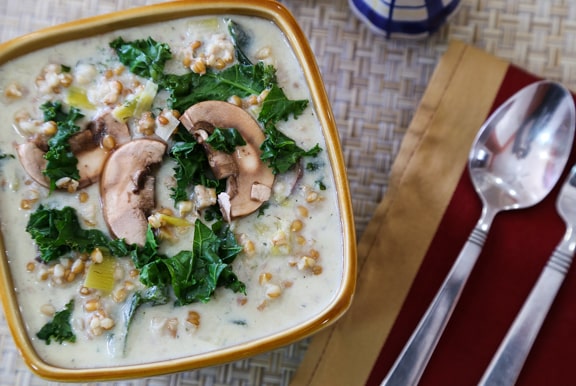 Made creamy with tofu or white beans, this ancient grains soup is filled with tasty leeks and mushrooms. It's truly a bowl of comfort! If you'd like to explore the various ancient grains on the market, you can make this with whole farro, spelt, or einkorn berries. Or go "new school" with ordinary pearl or pot barley. Whichever grain you use, you'll enjoy this nourishing soup on a chilly or rainy day. Photos by Evan Atlas. more→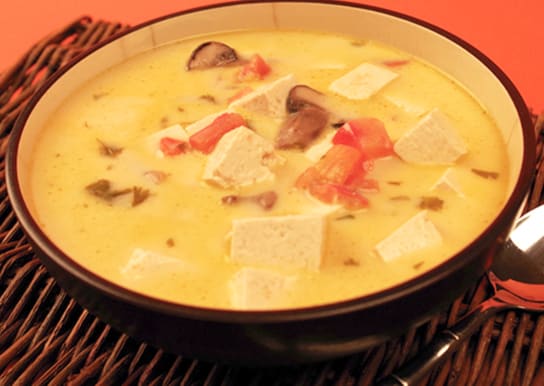 Immune-boosting Spicy Thai Coconut Soup is a super tasty recipe —it's also easy to make, vegan, and gluten-free. For those of you who don't like spicy, the chillies are optional. When you're eating the right foods to support your health, food is your medicine. And when it comes to boosting your immune system, nature provides some powerful ingredients to help us fend off those seasonal bugs. 
Contributed by Ursula Escher, from The Vegan Survival Guide: Boost Your Mental and Physical Health – Your Guide to Functional Veganism* reprinted with permission © UEscher Publishing. more→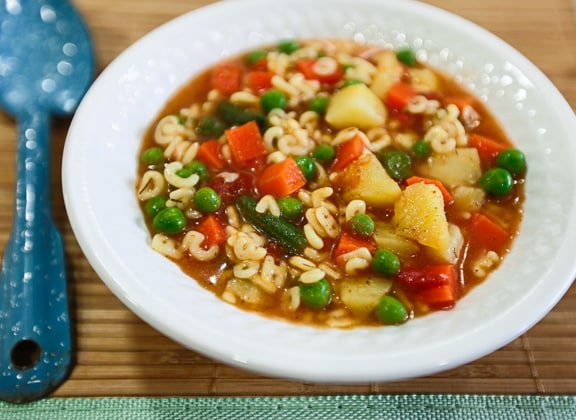 This tasty soup comes together, and is a fantastic way to get kids of all ages to eat their veggies! Start it about 30 minutes before you want to serve it. ,As kids get older, you can leave out the alphabets (or replace them with tiny shells, orzo, or other small pasta), but those letters floating around in the soup gives it great appeal to young eaters. This soup will recall the canned version—but it's much better and fresher. Photos by Evan Atlas. more→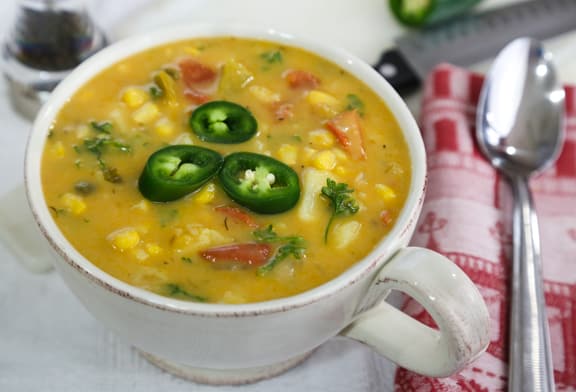 harvestThis flavorful soup of potatoes, corn, and green chiles is a nondairy version of a contemporary classic from the American Southwest. It's filling, so it can serve as a centerpiece of a meal, served with a salad or salad-y wraps. Try this with Cool Refried Bean Wraps for a nice meal. Photos by Evan Atlas.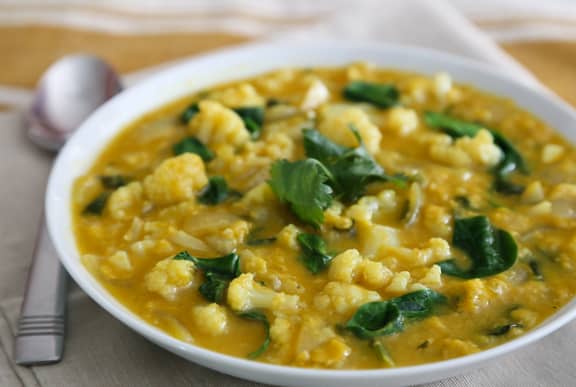 Red lentils cook quickly, so they're a good choice when you want a hearty, filling soup in little time. Adding a couple of cups of pumpkin or butternut squash puree adds to the orange-y goodness of this soup — and cauliflower and spinach contribute to its overall veggie-packed deliciousness. Serve this main-dish soup with a fresh flatbread and a simple salad. Photos by Evan Atlas.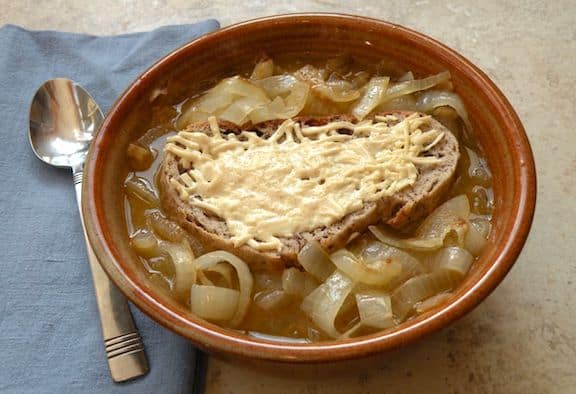 Here's a vegan take on the classic French onion soup, topped with crisp bread and melted nondairy cheese. You'll cry a river while cutting the onions, but you and your family or guests will weep tears of joy while eating this heavenly soup. It's also a good remedy for a cold — all those onions and garlic will do you good! This recipe skips the rather unnecessary step of baking the soup with the bread in it — as really, it's only the bread and cheese that need to be baked. Adapted from Vegan Soups and Hearty Stews for All Seasons by Nava Atlas.