Soulful Soups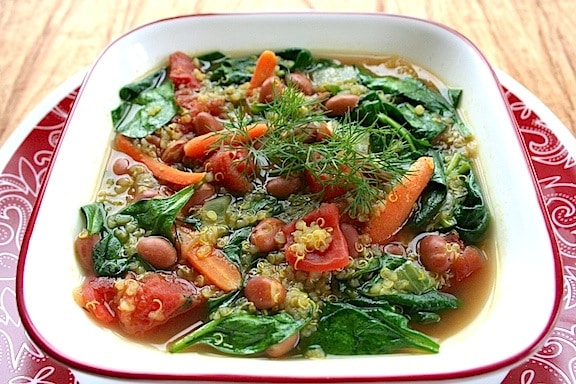 Starting a meal with a veggie-packed vegan soup fills you up in a good way. Hardy vegetables (especially roots and cruciferous veggies), grains, beans, peas, and lentils are quite filling, yet low in calories. more→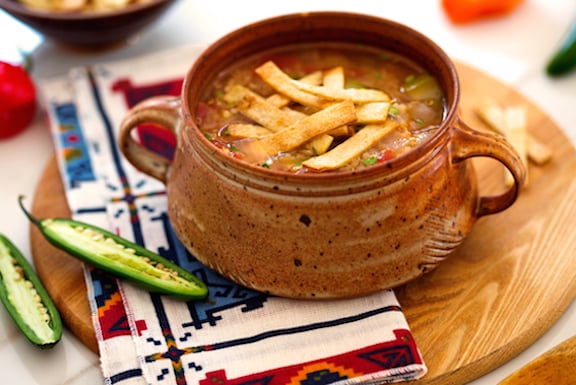 There are many variations on tortilla soup, a southwestern classic. The common denominator is a crisp corn tortilla garnish. This veggie-filled rendition is a light and pleasant way to begin a meal with a southwestern theme — try it with vegan quesadillas. Photos by Hannah Kaminsky.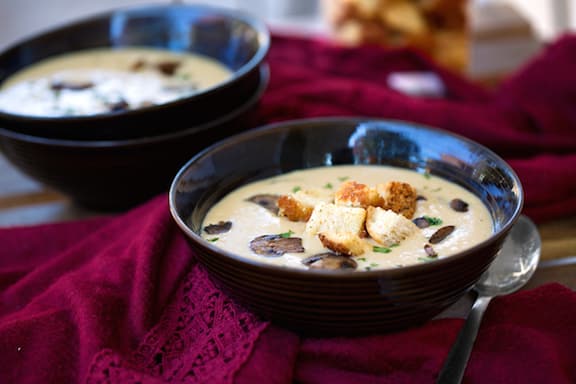 Pureed tofu or white beans make a low-fat but rich-tasting base for a soup sure to please mushroom enthusiasts. This comforting soup is a great first course for most any kind of meal or can be served side-by-side with sandwiches and wraps. Use leftover soup as a delicious Stroganoff sauce for pasta. Photos by Hannah Kaminsky. more→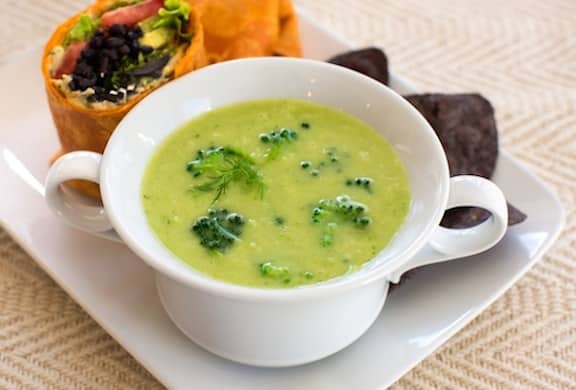 A longtime favorite in our family of broccoli enthusiasts, this soup gets a thick, creamy base from pureed white beans or tofu. The addition of green peas at the end of cooking time brightens the color and heightens the flavor of the soup. This is great served with many kinds of wraps or sandwiches. Recipe from Plant Power: Transform Your Kitchen, Plate, and Life with More Than 150 Fresh and Flavorful Vegan Recipes by Nava Atlas. ©2014, published by HarperOne, reprinted by permission. Photos by Hannah Kaminsky.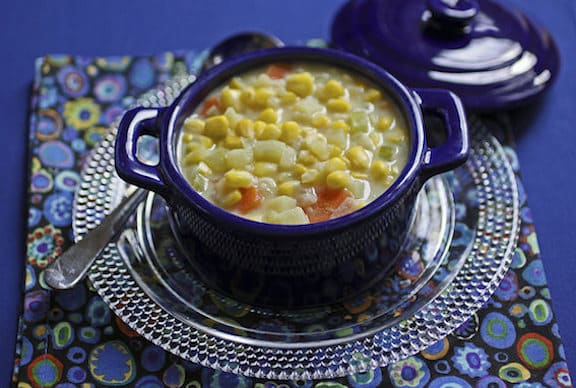 Pureed silken tofu is a superb base for creamy soups, such as this vegan creamy corn chowder. It provides substance without the need for thickening. The mild, familiar flavors will entice kids of all ages to enjoy a soothing bowl of soup. Photos by Lori Maffei. more→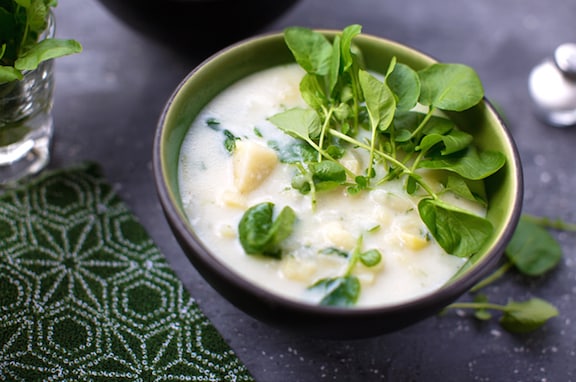 Peppery, bright green watercress adds a touch of spring to a classic leek and potato soup. If you can make this the night before it's needed, so much the better, as the flavors improve from standing overnight. Add the all the watercress when reheating. Photos by Hannah Kaminsky. more→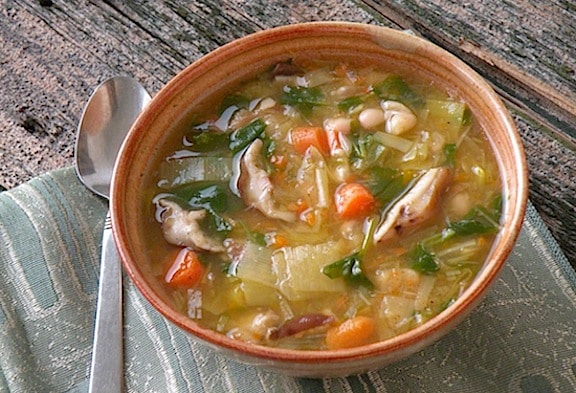 Leeks, mushrooms, beans, garlic, and watercress are super-nourishing ingredients that add up to a soup that's delicious, too. The watercress gives this soup a springtime flavor, but it can be enjoyed any time of year. Recipe from Super Immunity: The Essential Nutrition Guide for Boosting Your Body's Defenses to Live Longer, Stronger, and Disease Free* by Joel Fuhrman. ©2012, HarperOne, reprinted by permission. more→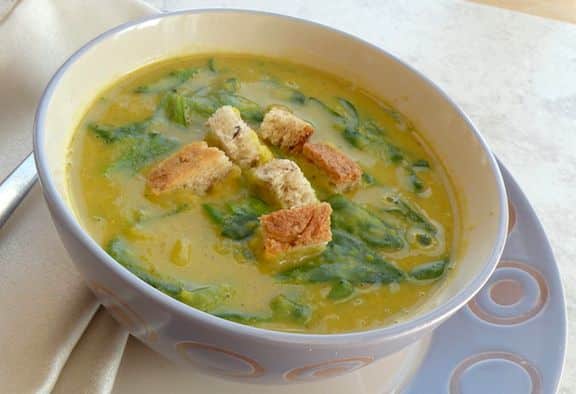 Here's a simple soup of quick-cooking red lentils, embellished with tender greens. It's a warming homemade soup you can have on the table in less than 45 minutes. Once you've done the onion-garlic sauté, there's very little additional work to do! Serve with fresh pita, croutons, or crispy pita chips that you can crumble right into the soup. The recipe yields a flavorful but mild soup; see notes on seasonings following the recipe if you'd like to kick it up a few notches.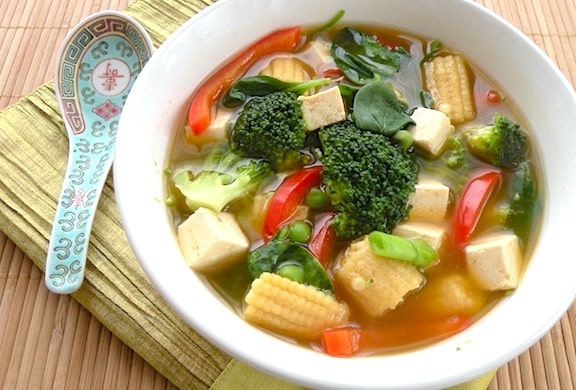 This quick and colorful soup will please anyone who enjoys Asian flavors. Just toss everything into a soup pot and in a few minutes, it's done! Try enticing kids and teens with this simple soup. Serve with an Asian-flavored rice or noodle dish and veggie spring rolls for a fun meal. more→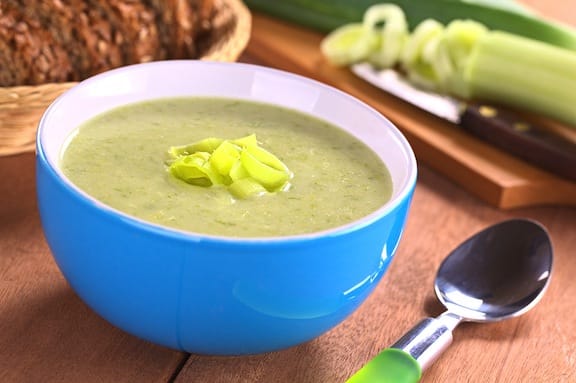 Leeks and potatoes are a classic soup duo. It's a match that's always mild and soothing. For an easy meal, serve this with veggie burgers on whole grain buns and a tomato salad. For maximum flavor, try this with Yukon gold potatoes.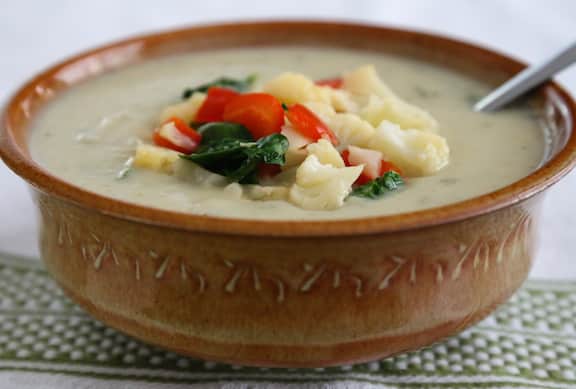 This creamy dairy-free cauliflower soup, enhanced with any of the garnishes recommended, makes a soothing introduction to a meal. It's great with veggie-filled wraps and main-dish salads. Adapted from Vegan Soups and Hearty Stews for All Seasons. Photos by Evan Atlas.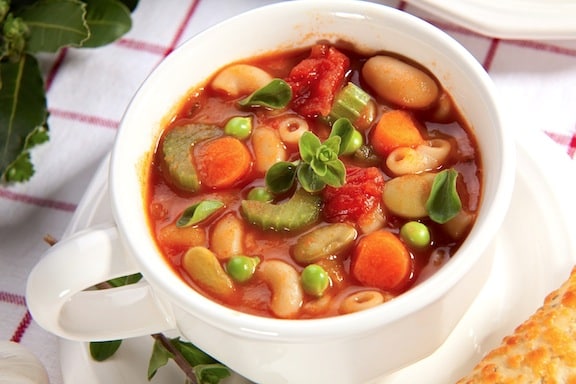 Like Minestrone, Italian Pasta and Bean Soup is a classic, sometimes referred to as pasta e fagiole. It's a meal in a bowl that you can complete easily with fresh garlic bread and a big salad. Adapted from Vegan Soups and Hearty Stews for All Seasons by Nava Atlas. more→