Soulful Soups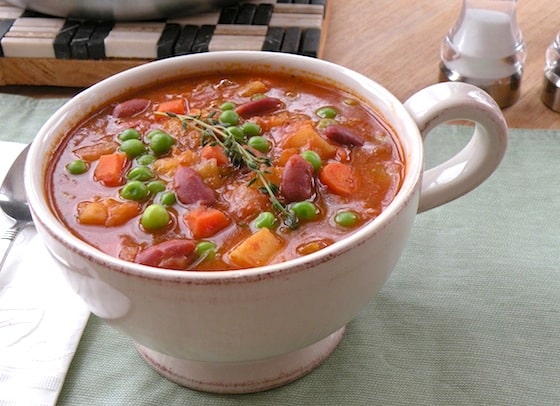 Filling and flavorful, this becomes a meal in itself when served with a robust bread and a simple salad. Though the peas and herbs will lose their color, this keeps exceptionally well and develops flavor as it stands. For an extra special cool-weather meal, start making some Focaccia Bread just before making the soup. Adapted from Vegan Soups and Hearty Stews for All Seasons by Nava Atlas.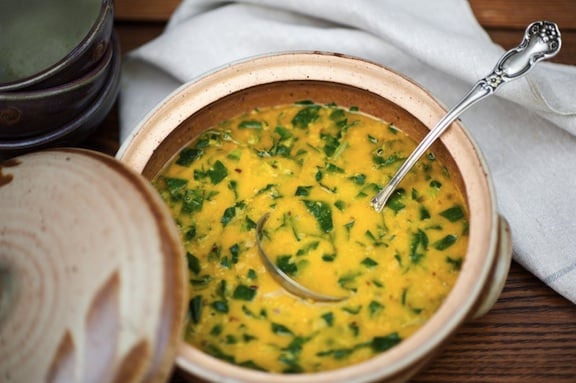 The red palm oil and red lentils give this soup a beautiful orange color. Feel free to use any greens you like such as spinach, collards, kale, mustard greens or even nettles. Recipe contributed by Leslie Cerier. Photos by Tracey Eller. more→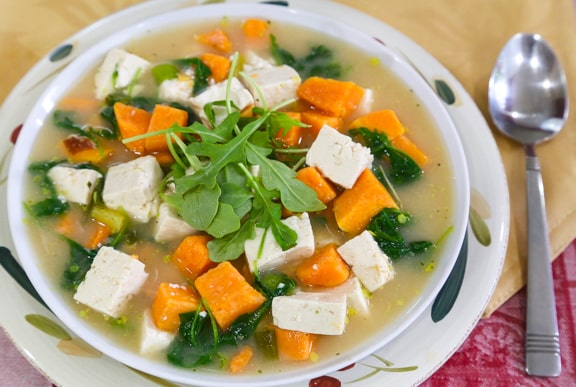 Sweet potato and tender greens (choose from spinach, arugula, watercress, or tatsoi) synergize nicely in this quick miso soup. I prefer mellow white miso as the base for this soup, but use whatever variety of miso you like best, such as dark and hearty hatcho or barley miso. Photos by Evan Atlas. more→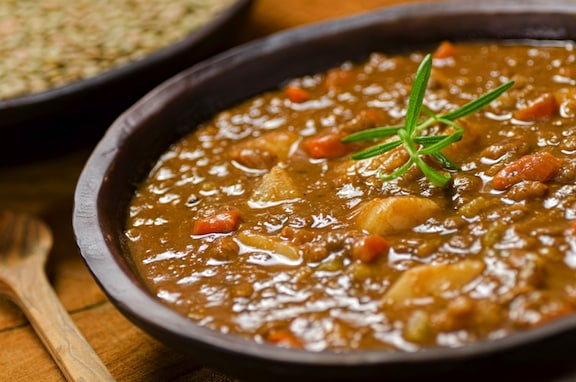 The earthy flavor of these protein-packed legumes shines in this basic rendition of lentil soup. Make sure to see the variations listed below the recipe. This is perfect as a soup centerpiece, served with crusty bread or fresh cornbread, and any kind of salad you enjoy.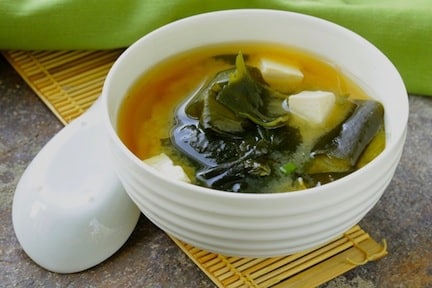 The kind of miso soup that's served in Japanese restaurants is so tasty and warming, and quite easy to replicate at home. It takes just minutes to make. Look for kombu (the sea vegetable that gives the soup its traditional character) in natural foods stores. Note that once the miso is stirred into water, it should not be boiled. Otherwise, its beneficial enzymes will be destroyed.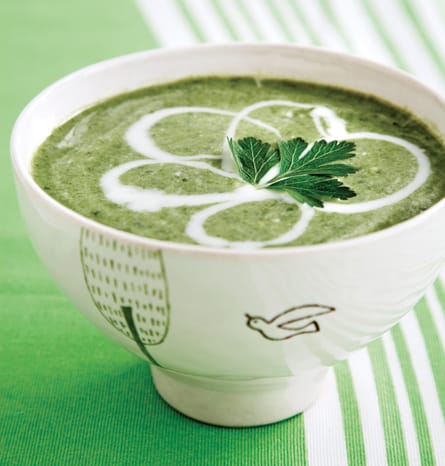 Here's a soup designed to make the most of kale or chard, spinach, arugula, and lettuces when they become too abundant. When greens threaten to take over the fridge, I turn to this recipe, which has become an annual tradition! If you love greens and have plenty of them, you'll find this nourishing recipe useful as well as delicious. Make sure all greens are very well washed. Adapted from Vegan Soups and Hearty Stews for All Seasons.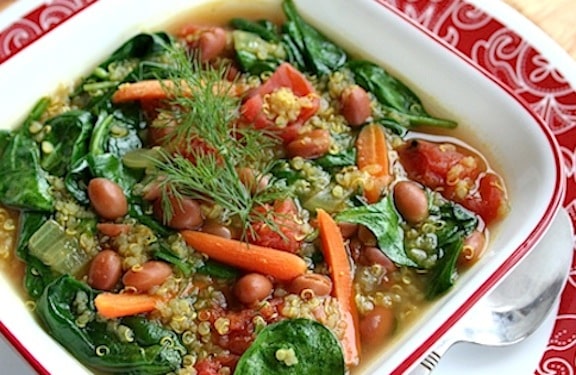 An appetizing, mildly spiced mélange of nourishing beans, quinoa, and greens, this makes a stellar centerpiece for a soup-based meal, as it's done in 30 minutes or less. Quinoa is an excellent source of protein, making this practically a meal in a bowl. Adapted from Vegan Express. Photos by Rachael Braun.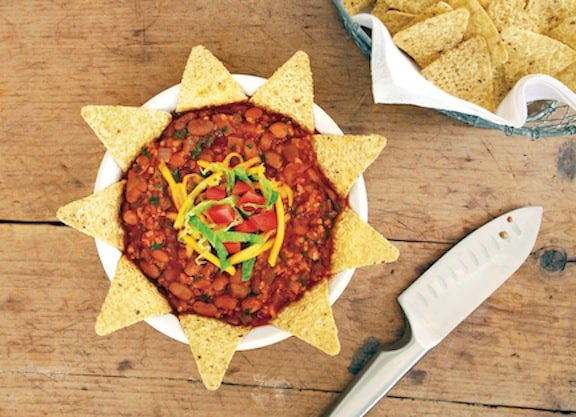 The presentation of this easy, offbeat soup, filled with spiced beans and grain (quinoa or bulgur) is like a taco turned inside out, is fun and dramatic. It's perfect for a chilly weeknight meal, served with a colorful salad and a green veggie. Adapted from Vegan Soups and Hearty Stews for All Seasons. Photo by Theresa Raffetto. more→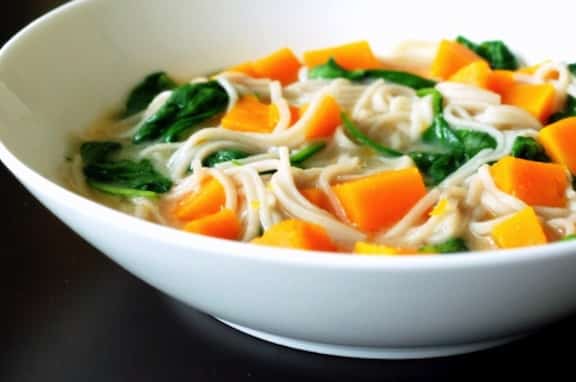 Once you've got the squash baked, this warming noodle soup with colorful and nutritious veggies comes together quickly. It's as pleasing to the eye as it is to the palate. Use chopsticks for "slurping" the noodles, then enjoy the rest with a spoon. Adapted from Vegan Soups and Hearty Stews for All Seasons.  Photos by Janet at The Taste Space.
more→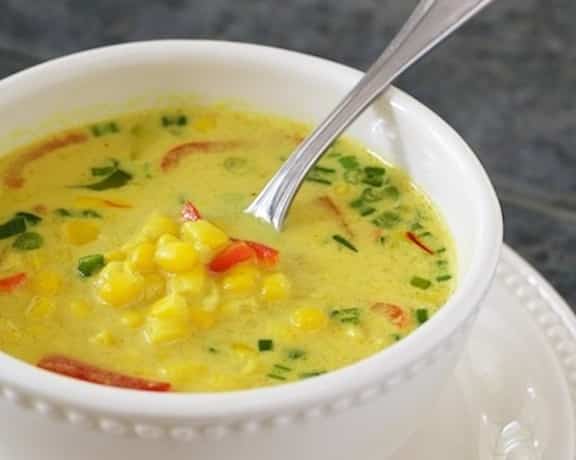 Here's a soup that's great for any kind of weather, not just when it's chilly and rainy. Because it's ready to serve in 20 minutes, it's for any time you want soup in a hurry. You can even chill it and serve it cold on warm days. Recipe adapted from Vegan Express: Featuring 160 Quick, Delicious Recipes for Healthy Meals* by Nava Atlas; photo by Susan Voisin, FatFree Vegan Kitchen. more→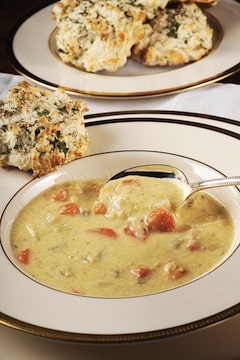 Nuts and lentils make this a protein and vitamin-packed soup. It's simple, creamy, and comforting. Recipe and photograph from Virgin Vegan The Meatless Guide to Pleasing Your Palate** by Linda Long, reprinted by permission of Gibbs Smith Publisher, © 2013. more→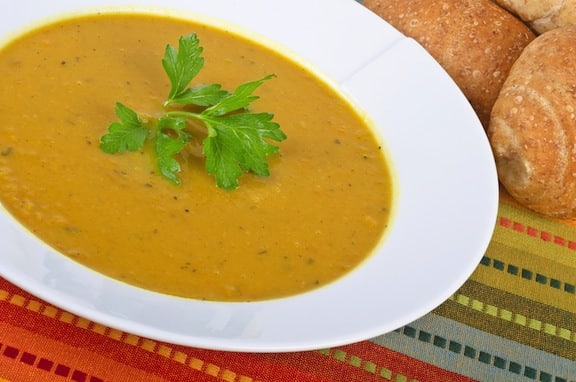 Here's a warming soup with an appealing golden color. The natural sweetness of the sweet potatoes gives this soup a surprising flavor twist. Serve as a first course for festive holiday meals, or as a comforting bowlful for everyday meals.  more→