Vegan Burgers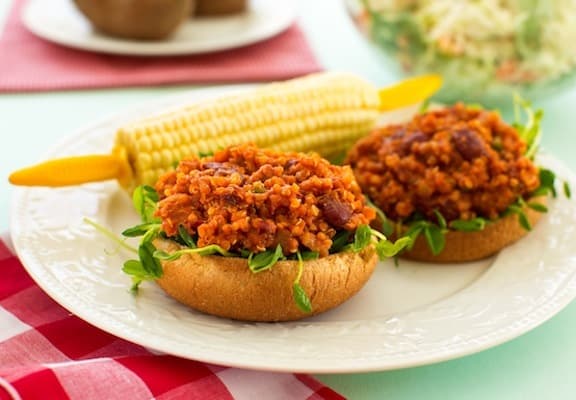 Seriously—who needs fake meat when you can make hearty, beautifully textured dishes using grains and beans? This serves up deliciously on rolls, but if you're not a bread person, you can serve the mixture in a lettuce-leaf cup or atop a corn tortilla. Serve with baked potatoes or sweet potatoes and any slaw-style salad. Fresh corn on the cob when in season is a great addition as well. Recipe from Plant Power: Transform Your Kitchen, Plate, and Life with More Than 150 Fresh and Flavorful Vegan Recipes by Nava Atlas. ©2014, published by HarperOne, reprinted by permission. Photos by Hannah Kaminsky.   more→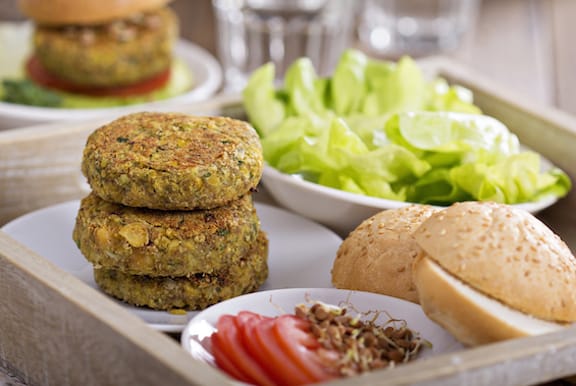 A number of nourishing ingredients mingle in this baked vegan chickpea burger. Though it's tasty enough to be eaten plain as a side dish, it's makes a great sandwich as well. Either way, try it with Quick Tartar Sauce, whose recipe follows.
Makes: About 8 burgers
1 tablespoon olive oil
1 medium onion, minced
2 medium carrots, thinly sliced
2 large celery stalks, strings removed and diced
2 cloves garlic, minced
1 1/2 cup cooked or one 15- to 16-ounce can chickpeas, drained and rinsed
1/2 cup wheat germ, quinoa flakes, hemp seeds,
or quick-cooking oats, or a combination
2 teaspoons salt-free seasoning blend (such as Frontier or Mrs. Dash)
1 teaspoon chili powder
1 teaspoon ground cumin
Juice of 1/2 lemon (about 2 tablespoons)
2 tablespoons tahini (sesame paste)
1/4 cup fresh parsley or cilantro leaves
Salt and freshly ground pepper to taste
Preheat the oven to 350 degrees F.
Heat the oil in a medium skillet. Add the onion and sauté over medium heat until translucent. Add the carrot, celery, and garlic, and sauté until all the vegetables are tender and golden.
Combine the vegetable mixture with the remaining ingredients in a food processor. Pulse on and off until the mixture is evenly and finely chopped, but don't puree.
Drop by 1/3 cup portions onto an oiled nonstick baking sheet (or better yet, a baking sheet lined with baking parchment) and flatten gently.
Bake for 30 minutes, flipping each burger after 20 minutes. Serve on bread or rolls or on their own; either way, they're made even more delicious with Quick Tartar Sauce, following.
Quick Tartar Sauce
Makes about 2/3 cup
1/2 cup vegan mayonnaise
1 tablespoon sweet pickle relish
1 to 2 teaspoons prepared mustard, or to taste
Combine all the ingredients in a small bowl and stir together until well blended.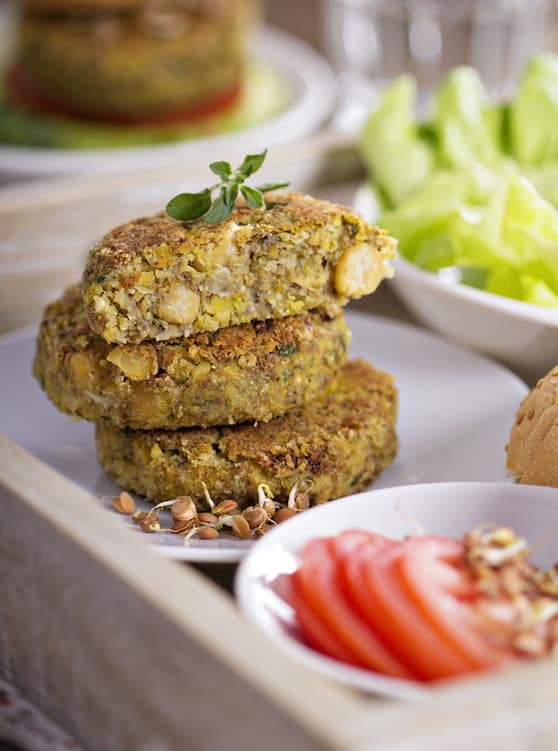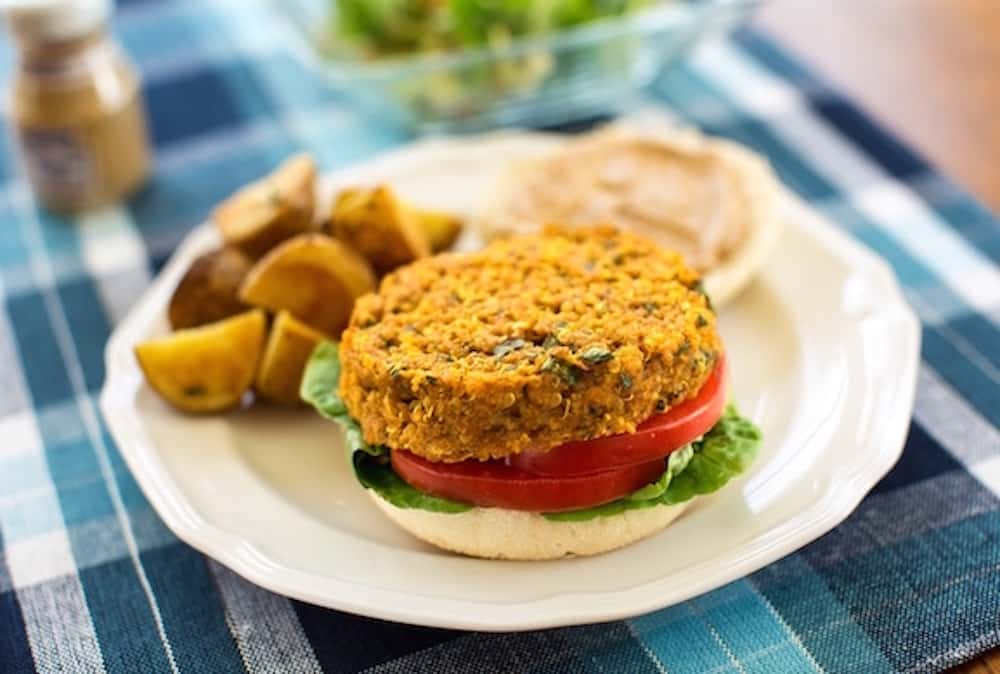 If anyone thought that going vegan means no satisfying comfort food, look no further than this list. Here are 8 great vegan burger recipes you can whip up this summer for a day by the pool, dinner, or whenever! Each of these has its own unique ingredients so you don't have to worry about getting bored with same old vegan burger recipes. Mix it up, try them all! more→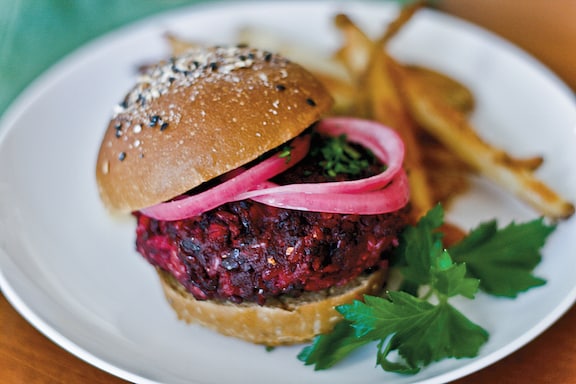 In these tasty beet and brown rice burgers, red wine vinegar is the secret ingredient, bringing a slightly floral and acidic note to the burger. Searing this delicate burger on high heat at the beginning of the cooking process is important; the crust that forms is what helps the burger keep its shape. Recipe from Veggie Burgers Every Which Way: Fresh, Flavorful and Healthy Vegan and Vegetarian Burgers—Plus Toppings, Sides, Buns and More, copyright © Lukas Volger, 2010. Photo by Christina Heaston. Reprinted by permission of the publisher, The Experiment, LLC. more→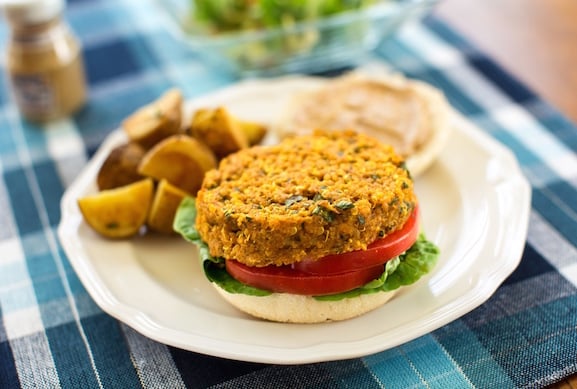 Quinoa and red lentils cook up in the same amount of time, right in the same saucepan, making these nourishing veggie burgers super convenient to make. You can make the whole batch, and freeze half of them for later use once baked and cooled. While these bake, consider roasting some potato wedges or other vegetables at the same time. Add a green salad one of our easy slaws for a great meal. Recipe adapted from Plant Power by Nava Atlas. Photos by Hannah Kaminsky. more→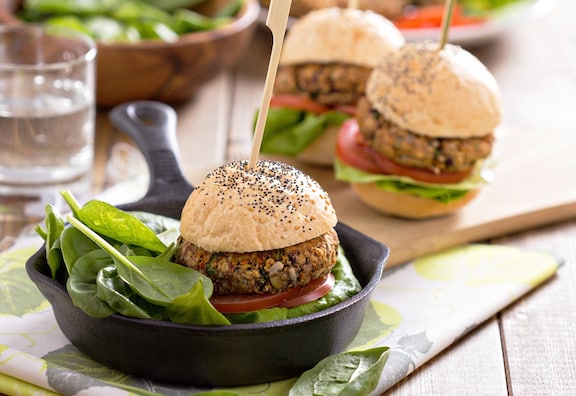 An easy bean burger with a little crunch from sunflower seeds and a subtle smoky flavor, these work well with pink, pinto, or red beans. Make some potato oven fries or sweet potato oven fries at the same time, and serve with your favorite condiments in pita bread or on whole grain buns.  more→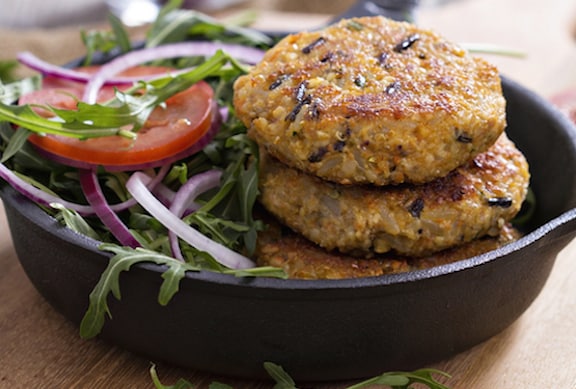 Quinoa and wild rice make a tasty team in these vegan burgers. Serve on their own with a sauce or on whole-grain buns; they're good in pita breads with leafy greens and/or sprouts as well. Since these two grains have very different cook times, it may be best to have the quinoa cooked and ready ahead of time. Having the wild rice cooked ahead of time as well will make preparing these a breeze. more→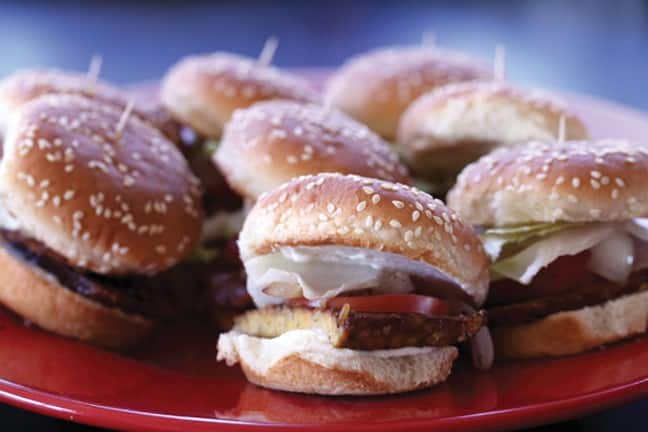 Tempeh is one obliviously of my favorite proteins to work with, and I've found it makes the best little sliders. These are great are because you get about 4 per standard package of tempeh. Since living in LA, these lil' guys have become a staple in my catering arsenal. Here is a hint: you can replace the sriracha with BBQ sauce if it's too hot you! (FromThe Lusty Vegan* © 2014 by Ayinde Howell and Zoe Eisenberg. Used by permission, Vegan Heritage Press.) more→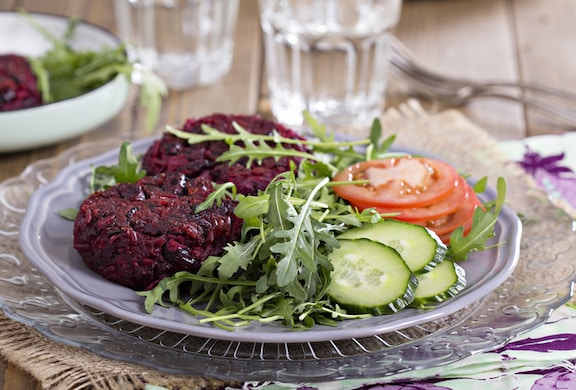 Vegan beet burgers are all the rage in the plant-based world. The red color is absolutely gorgeous! Serve as you would any other kind of burger — on buns or in pita bread, with your favorite condiments. They're so flavorful that I like to serve them on their own. If anything, I'd add a dollop of a quick vegan tartar sauce and serve them with salad.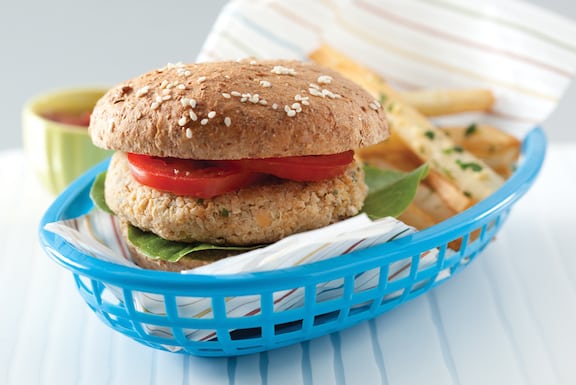 This quinoa burger is loaded with nutritious ingredients, making it a powerhouse meal that's delicious, too. Recipe from Vegan Diner: Classic Comfort Food for the Body and Soul* by Julie Hasson, published by Running Press, © 2011, reprinted by permission. Photo by Steve Legato.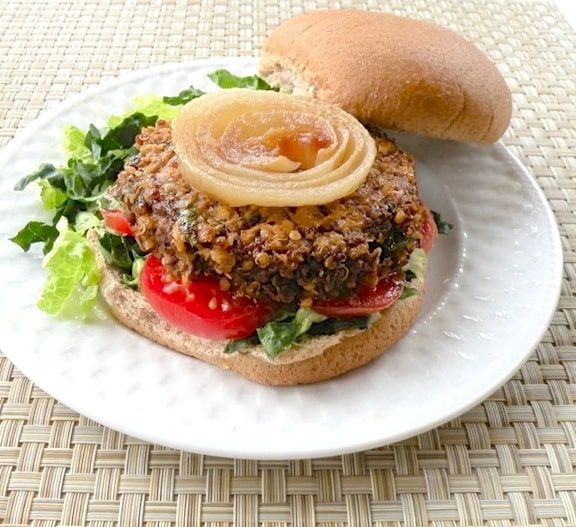 If anyone you know says that they could never go vegan because they'd miss hamburgers, just serve them these. Not that these are at all meat-like nor aspire to be. These burgers, with high-protein quinoa and lentils, plus flavorful mushrooms and plenty of seasonings, are hearty and satisfying. Serve them with your favorite fixings, or just on their own as a high-protein embellishment for the plate. more→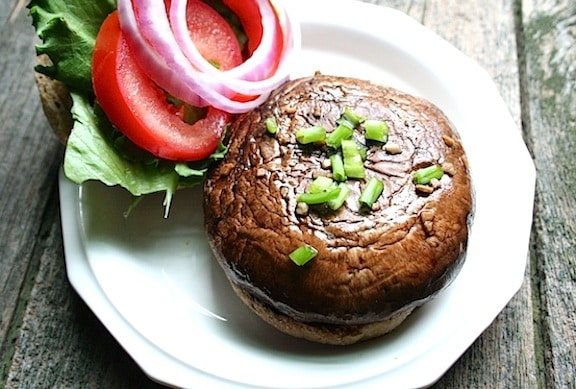 The easiest route to a grilled vegan burger is to simply lavish portobello mushroom caps in a good marinade and plunk them on the grill. To vary this, simply choose different marinades and accompaniments. This is good with or without buns, and works well on an indoor electric grill as well. If you don't have either kind of grill, simply prepare in a skillet. Delicious with lightly cooked or grilled corn and a big salad or any  kind of potato salad.  Photos by Rachael Braun. more→