Easy Asian-Style Noodle Soups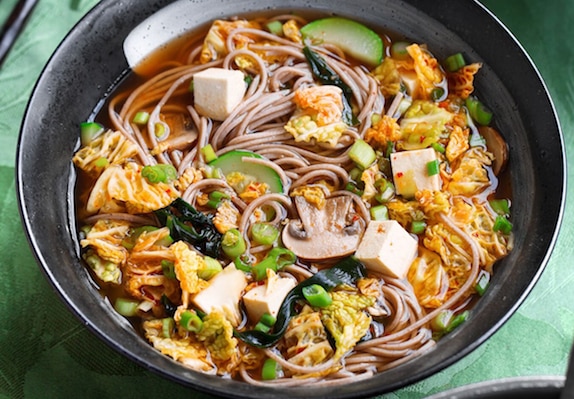 Like many penniless, voracious college students, instant ramen saw me through many late night study sessions back in the day. When the fridge was empty and the pantry otherwise bare, I could always count on a packet or two of freeze-dried noodles to see me through the lean times. They still hold a special place in my heart, the mere thought of those chewy wheat strands swimming in a salty sea of vegetable broth sends my head spinning with hunger, but I'd like to think that my palate has evolved quite a bit since then. Now my approach is a good deal spicier, fresher, and undoubtedly healthier.
No longer shackled to those quick-cooking fried noodle bricks, I've found that buckwheat soba noodles takes only a minute or two longer to reach al dente perfection while adding depth and a pleasant earthiness to the entire bowl. Kimchi is the star of the show here, so even if you don't have all the vegetables suggested below, you can easily make up the difference by just piling on the peppery pickled cabbage instead. Read labels carefully to avoid fishy additions, or make your own if you have extra time to plan ahead. Recipe and photos from Instant Kimchi Noodle Soup are reprinted with permission from Real Food, Really Fast by Hannah Kaminsky © 2018. more→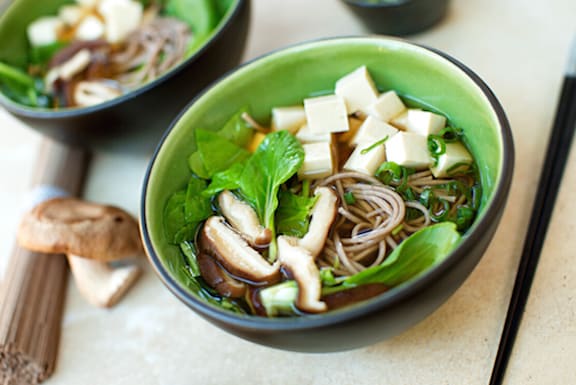 One thing I love about Asian-style soups is that they require little advance planning, and are ready to go from counter to soup pot to table in 30 minutes or less. I do find, though, that unlike other soups that benefit from long simmering and that taste even better after a day or so, Asian soups taste best just done. This is especially true in the case of noodle soups—the noodles absorb much of the broth when refrigerated overnight, leaving you with more of a noodle dish than a soup. more→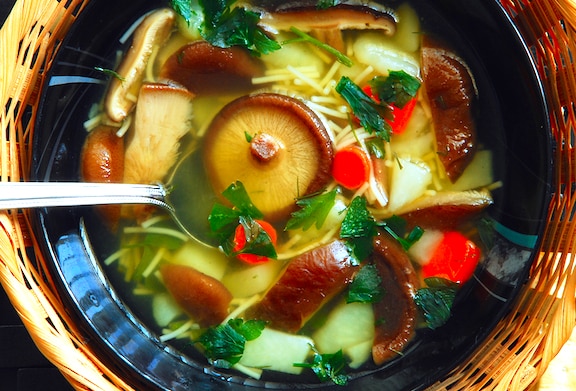 Thick, hearty udon or soba noodles make this quick soup substantial, yet it's not too filling to serve as a first course for an Asian-style meal, like a colorful veggie stir-fry. more→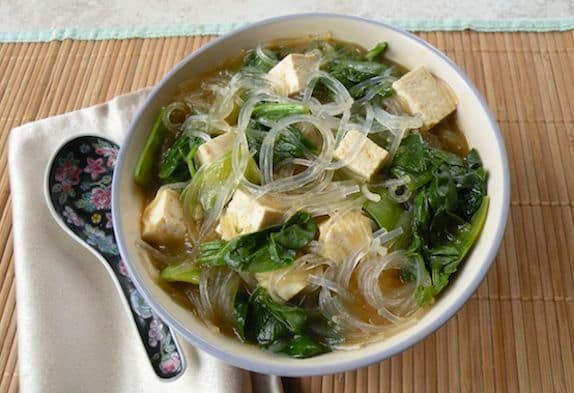 This Asian-style soup featuring bean thread noodles, tofu, and greens, is ideal when you're in a hurry for something warming. It can be on the table in about 20 minutes.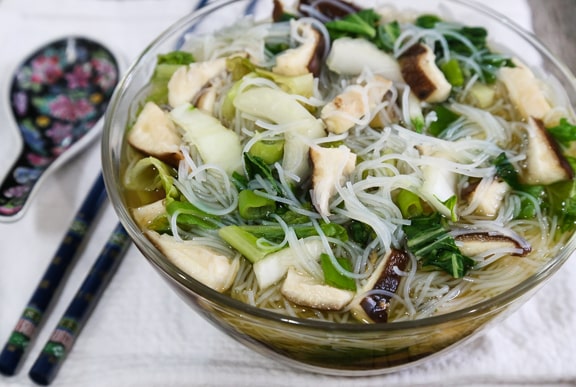 This simple Asian-style soup, filled with fine rice noodles, crunchy lettuce, and healthy shiitake mushrooms, is a good introductory course for stir-fries and tofu dishes. Photos by Evan Atlas. more→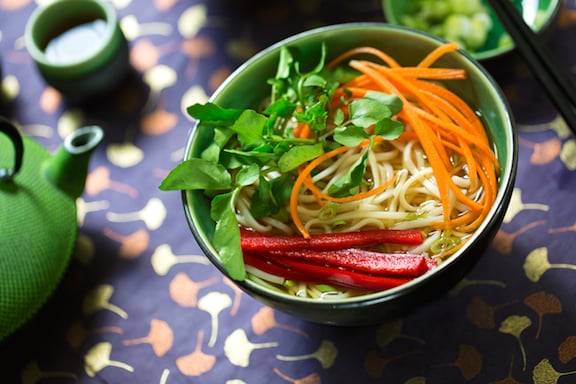 In this Japanese-style soup, udon noodles in a hot broth are topped with crisp raw vegetables, making for an offbeat and pleasing presentation. It can be made minutes before you wish to serve it. The traditional way to eat this is to "slurp" the noodles with the help of chopsticks, then finish off the remaining soup with a spoon. Photos by Hannah Kaminsky.   more→