Global Stews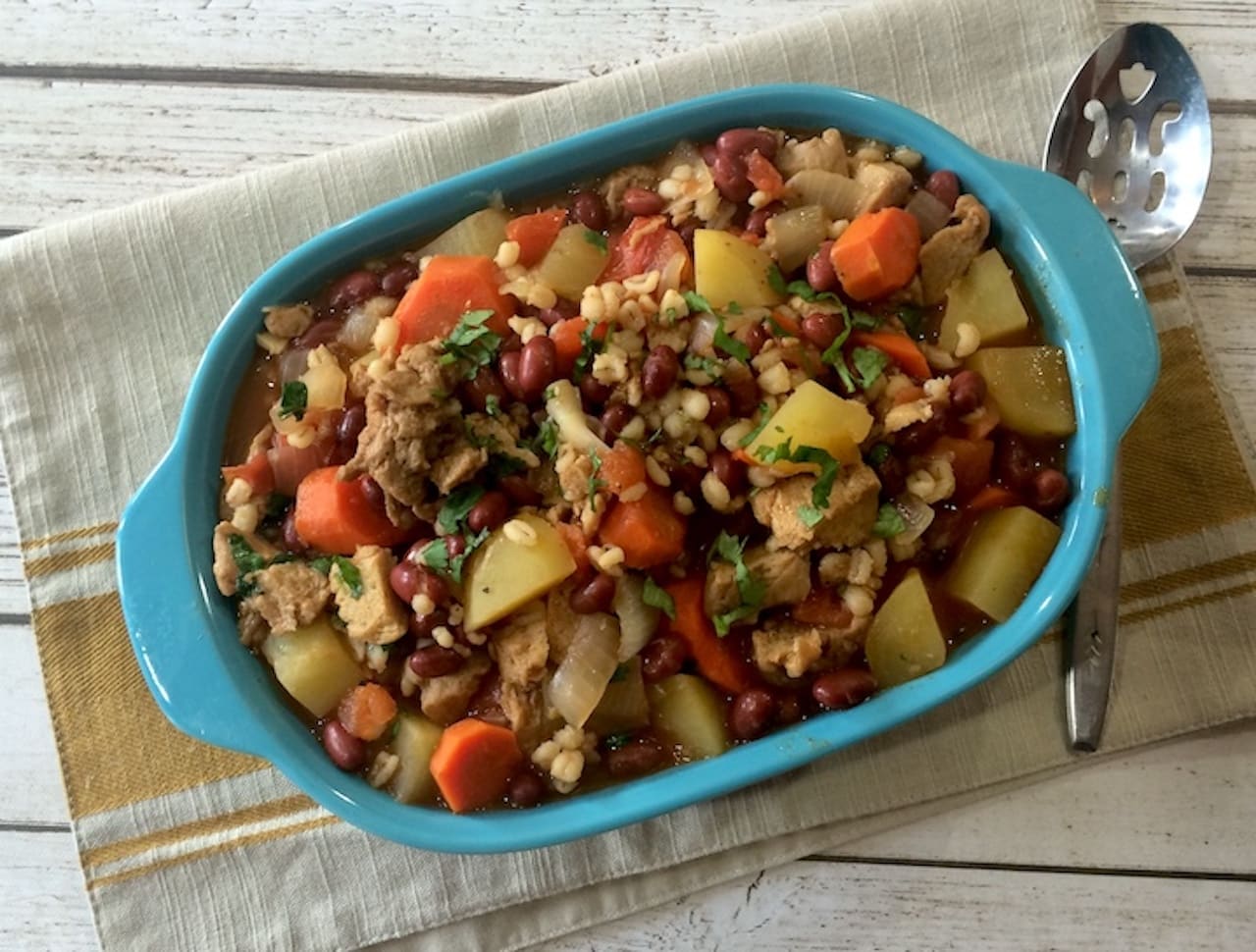 Cholent is a Jewish classic that can be considered an early predecessor to slow-cooker recipes. In its original form, it's put in the oven before the Sabbath and cooked at a very low temperature for about 12 hours so that it can be eaten for the Sabbath midday or late afternoon meal. It's one of the rare Eastern European Jewish specialties that highlights beans. There is a Sephardic cousin to this recipe called hamin. more→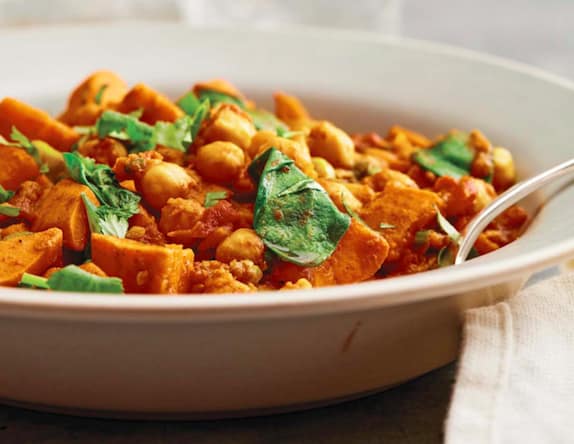 This one-pot meal contains many of the plant-based world's favorite foods: chickpeas, spinach, and yams. It is easy to prepare, cooks quickly, and tastes delicious. Adapted from The Healthiest Diet On the Planet: Why the Foods You Love—Pizza, Pancakes, Potatoes, Pasta and More—Are the Solution to Preventing Disease and Looking and Feeling your Best Copyright ©2016 by Dr. John McDougall & Mary McDougall. Published by HarperOne, an imprint of HarperCollins Publishers, reprinted by permission. Photo by Jennifer Davick Photography.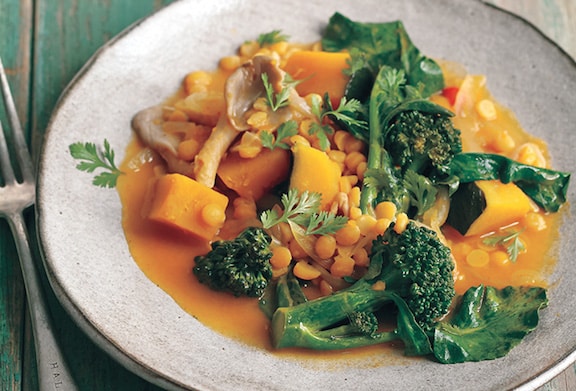 This is a perfect winter dish. You'll be wowed by the flavor of this fusion-style dish, where winter squash pairs very well with Thai curry. The mushrooms add earthiness and a lot of texture, while the broccoli (or greens) adds freshness. Excerpted from Vegan Under Pressure: Perfect Vegan Meals Made Quick and Easy in Your Pressure Cooker © 2016 by Jill Nussinow. Reproduced by permission of Houghton Mifflin Harcourt. All rights reserved. Photo © Lauren Volo.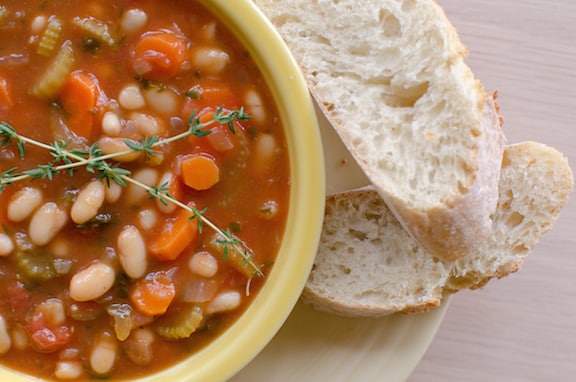 Cassoulet is a French comfort food — a rich, slow-cooked white bean stew originating from the south of France. I first came across cassoulet at the grocery store in St. Maarten (it was sitting among the canned beans), but it wasn't until I was actually in France that I came to appreciate the cultural significance of this dish. Each region has its own variation that reflects local specialties and in that tradition, I've created a vegan version. Serve with a crusty whole-grain bread. Recipe and photo from Happy Herbivore Abroad by Lindsay S. Nixon ©2012, Ben Bella Books. Reprinted by permission.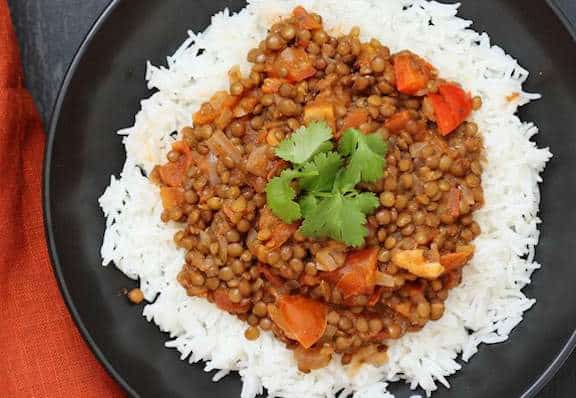 If you want to impress someone with a dal, make it this one. Don't be afraid of the number of spices—it is quite simple to make. The spices and garlic are blended to a paste and fried in the oil. A hot sauce (chiles, garlic, and vinegar) in the tadka is another secret to getting the right flavor profile. Serve this as a part of a meal, or with rice or naan or other flatbread. Recipe and photos from Vegan Richa's Indian Kitchen * © 2015 by Richa Hingle. Vegan Heritage Press, LLC. reprinted by permission.

Masala Lentils (Sabut Masoor)
Prep time:
Cook time:
Total time:
A hot sauce (chiles, garlic, and vinegar) is the secret to getting the right flavor profile in this lentil dal. Serve this as a part of a meal, or with rice or naan or other flatbread.
Ingredients
¾ cup brown lentils, washed and drained
2 cups water
2 to 3 teaspoons safflower or other neutral oil
½ cup finely chopped red or white onion
6 cloves garlic, chopped
½ teaspoon ground cumin
2 teaspoons ground coriander
½ teaspoon ground cardamom
½ teaspoon ground cinnamon
½ teaspoon fenugreek leaves or ⅛ teaspoon fenugreek seeds
1 teaspoon sweet or hot paprika
⅛ teaspoon nutmeg
¼ teaspoon black pepper
1½ tablespoons sriracha or other hot sauce, to taste
2 tablespoons water
1½ cups chopped tomato
¾ teaspoon salt
2 tablespoons chopped cilantro, for garnish
1 tablespoon vegan butter (optional)
Instructions
Combine the lentils with 2 cups of water in a saucepan. Partially cover and cook over medium heat until the lentils are tender, 25 to 30 minutes.
While the lentils are cooking, make the tempering. Heat the oil in a skillet over medium heat. Add the onion and cook until golden brown, 5 to 6 minutes.
In a blender, combine the garlic, cumin, coriander, cardamom, cinnamon, fenugreek, paprika, nutmeg, black pepper, sriracha, and 2 tablespoons of water. Blend to combine well.
Add this paste to the onions in the skillet. Cook until fragrant, about 2 minutes. Stir in the tomatoes and salt, and cook until the tomatoes are tender, about 8 minutes. Mash the larger tomato pieces.
Add the tempering to the lentils. Bring to a boil over medium heat. Reduce heat and simmer for another 5 minutes.
Taste and adjust salt and spice. Garnish with cilantro and vegan butter, if using, and serve hot.
Visit Richa at Vegan Richa: Eating plants until we photosynthesize!
*This post contains affiliate links. If the product is purchased by linking through this review, VegKitchen receives a modest commission, which helps maintain our site and helps it to continue growing!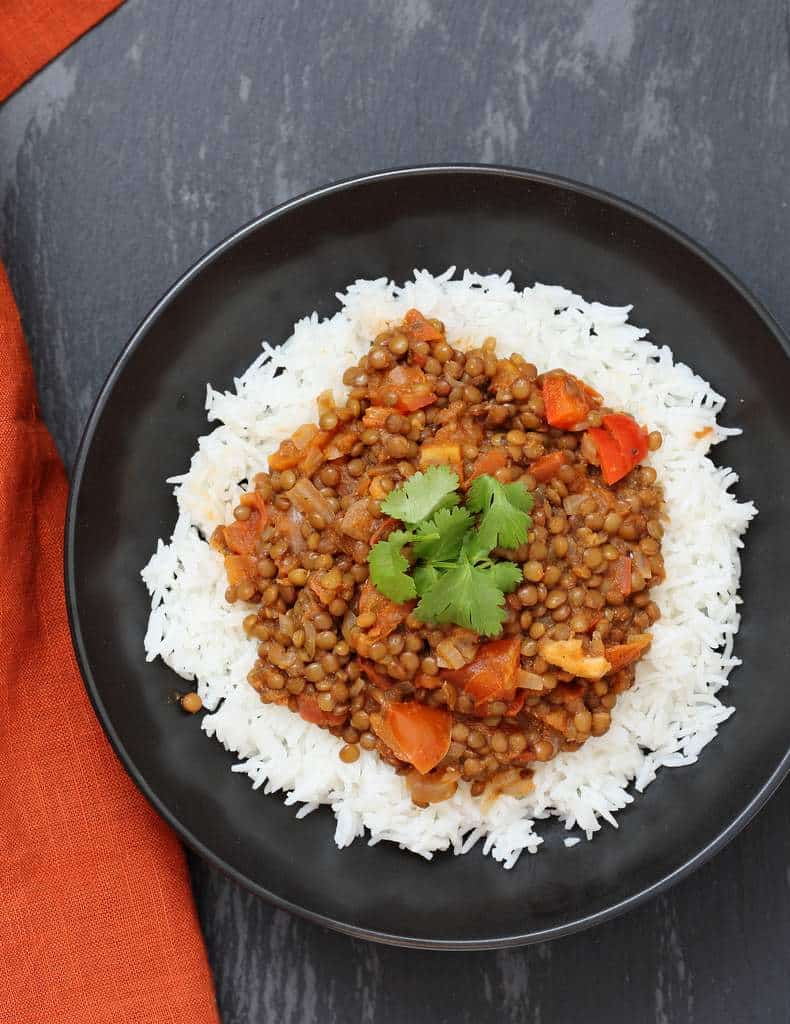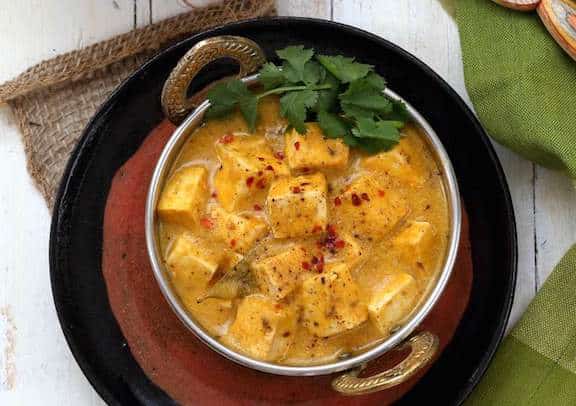 Mangoes are abundant in India, where they are always juicy and sweet. In the United States, mangoes can be a bit tart. For desserts or curries like this one, I prefer mango pulp or puree in canned or bottled form. You can use a ripe mango, if you prefer, but be sure to puree it well before using. This is a simple recipe but the resulting dish is very alluring with its sweet and spicy sauce. It can easily be made soy-free. Recipe and photos from Vegan Richa's Indian Kitchen * © 2015 by Richa Hingle. Vegan Heritage Press, LLC. reprinted by permission. more→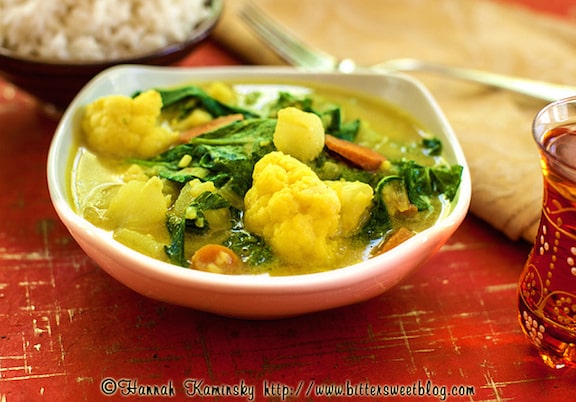 Pungent mustard greens are paired with mild spinach, and with the addition of mellow cauliflower, the result is a gorgeous and satisfying curried stew. Mustard greens, which are in fact a green often used in curries (as is spinach) most often come in really large bunches, so use as much as you'd like; the sharp flavor is well tamed by cooking. If you're not a fan of mustard greens, or just want to use a more familiar type of leafy green veggie, see the variations following the instructions. Recipe from Wild About Greens. Photo by Hannah Kaminsky, from her original review of this this book. more→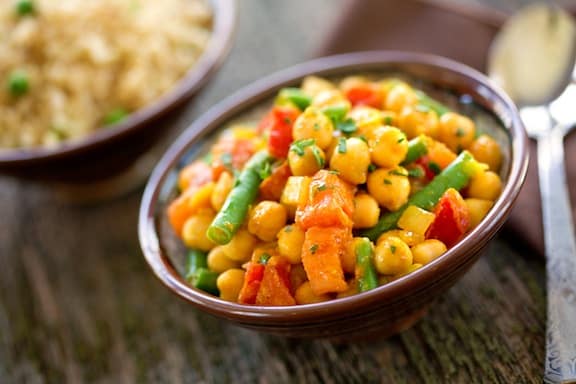 This simplified version of a popular Indian dish, chana masala, is a delightful way to showcase tasty chickpeas. The traditional version doesn't usually contain green beans, but they do add color and texture to the dish. If you prefer, you can substitute a few ounces of fresh spinach or other leafy greens for the green beans. In addition to hot cooked grains, serve with fresh flatbread and a simple salad of tomatoes and cucumbers in a generous dollop of coconut yogurt. Photos by Hannah Kaminsky. more→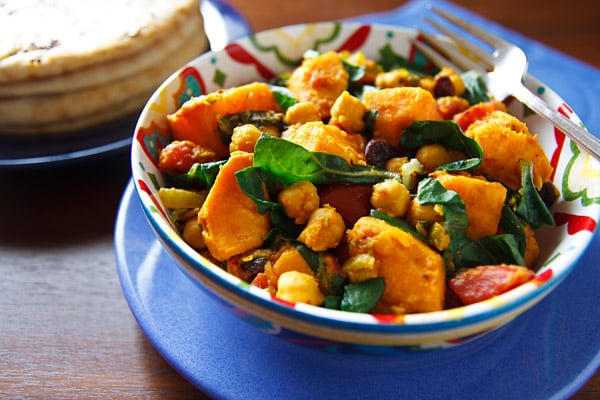 A superb fusion of flavors permeates this nourishing harvest dish of sweet potatoes and chard. Serve like a stew in shallow bowls, accompanied by warm flatbread. This recipe works well with other greens, as you'll see in the variations following the recipe. From Wild About Greens. Photo by Susan Voisin, FatFree Vegan Kitchen. more→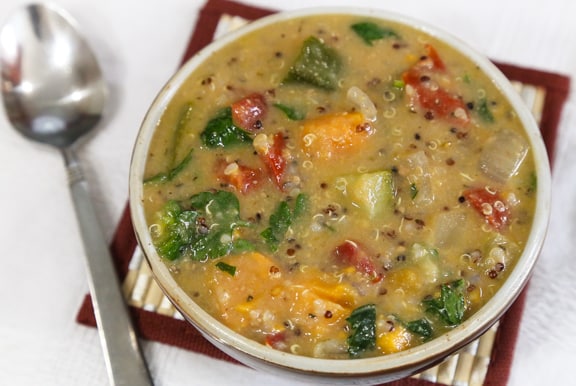 This easy, robust soup, contributed by Marty Hall, has several elements of a certain style of traditional African soups—chilies, sweet potato, and a creamy peanut base. The grain of choice in an African soup like this would likely be millet, but here, quinoa, the nutritious South American super grain, makes for a delightful fusion. Adapted from Vegan Soups and Hearty Stews for All Seasons.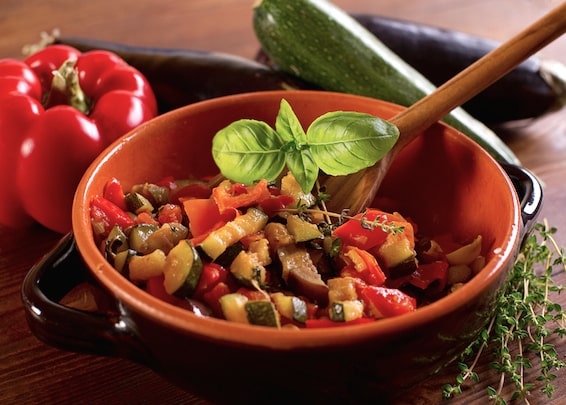 This classic French vegetable stew is a perfect way to enjoy several abundant summer garden vegetables — eggplant, zucchini, peppers, and tomatoes —in a single, savory dish. Fresh basil, and oregano or thyme provide extra pleasure for both the palate and the eye. Serve on its own with crusty bread, or over pasta or polenta. more→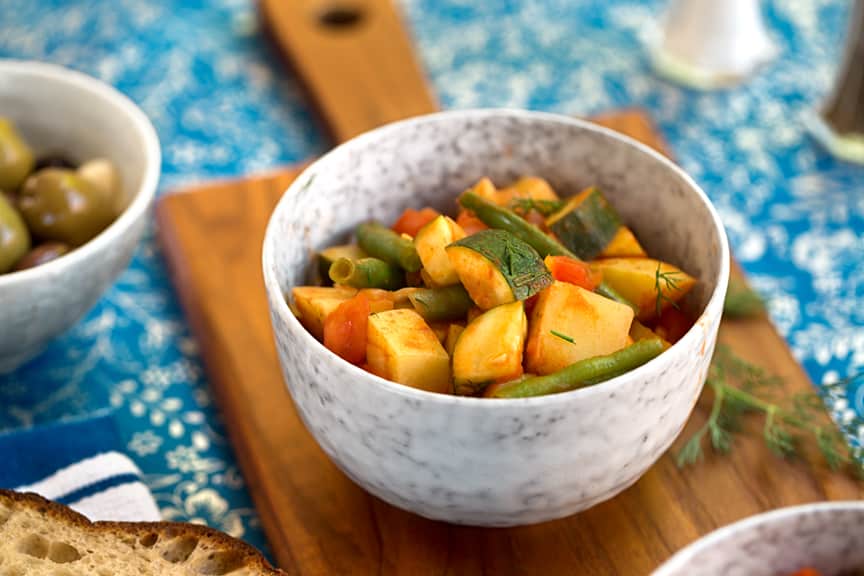 Here's a simple Greek potato stew bursting with summery flavors — green beans and zucchini in a mellow tomato base. A fresh, crusty bread rounds out the meal along with a big green salad with some chickpeas tossed in. For a company meal, add Olive Bar Medley with Tofu "Feta" as an appetizer, and a good wine.  more→