Global Stews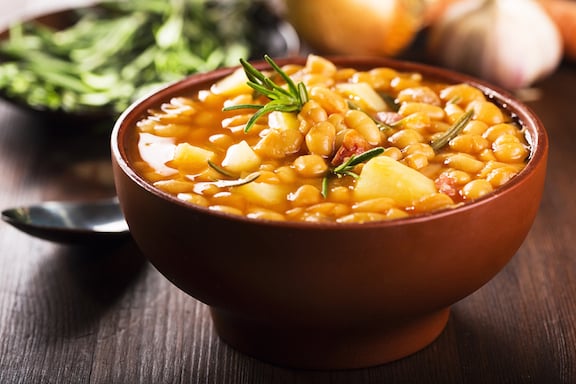 This meatless version of a rustic Provençal stew, made with white beans, is sensual and satisfying. A fresh, crusty French baguette is perfect for soaking up its delicious broth. A bountiful tossed salad makes it a complete meal. more→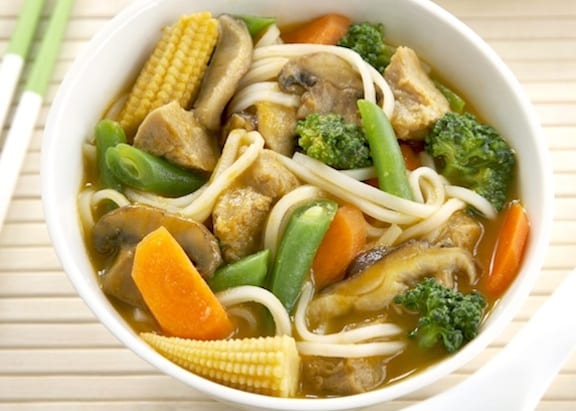 Inspired by a favorite vegetarian Chinese restaurant dish, Buddhist's Delight stew is enhanced with protein-packed seitan. Gluten-free? Substitute an equivalent amount of tofu for the seitan. For an everyday meal, serve with Tri-Color Coleslaw. To make it a feast, add Scallion Pancakes or simply serve veggie spring rolls from your natural food store's frozen food section. Adapted from Vegan Soups and Hearty Stews for All Seasons. Photo by Theresa Rafetto.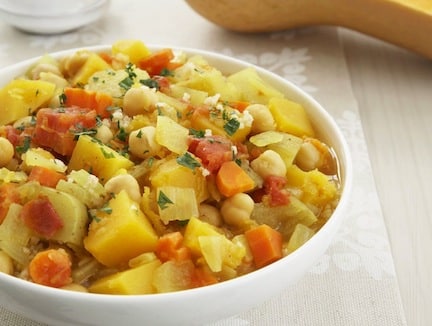 This delicious Moroccan-inspired stew looks as good as it tastes. It's a wonderful way to warm up cold season dinners, with sweet sugar pumpkin or butternut squash in an aromatic broth. This can also be a wonderful choice for fall Jewish holidays — Rosh Hashanah (Jewish New Year)and Sukkoth. Adapted from Vegan Soups and Hearty Stews for All Seasons by Nava Atlas. Photo by Theresa Raffetto.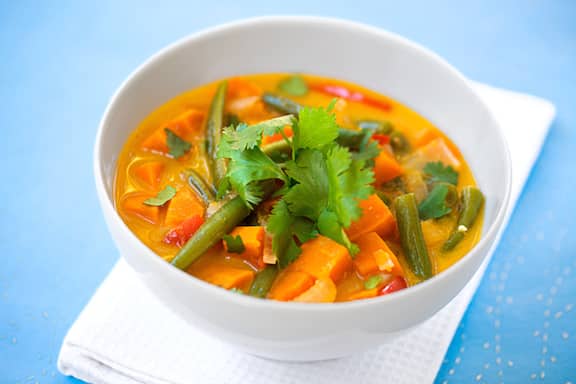 With Thai ingredients available at most natural foods stores and well-stocked supermarkets, it has become easy to enjoy the delightful flavors of this cuisine at home. Use your discretion with the hot seasoning you choose; a little will give a hint of heat, but if you want a spicier stew, you can step it up from there. Adapted from Vegan Soups and Hearty Stews for all Seasons by Nava Atlas. Photos by Hannah Kaminsky.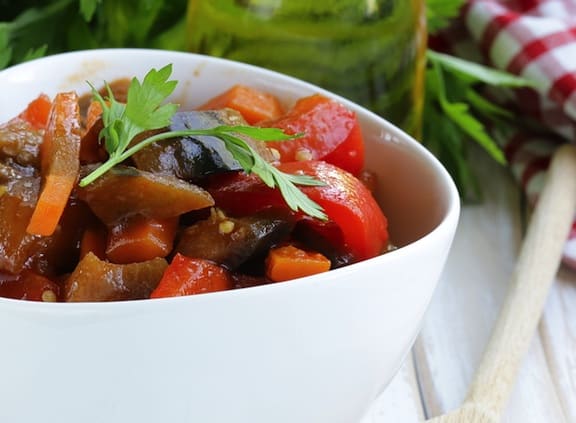 Here's a simple, delicious roasted eggplant stew shared with me by a Turkish friend. Eggplant is always abundant in the Mediterranean, so it's not unusual to find it used widely in many cuisines in the region.  more→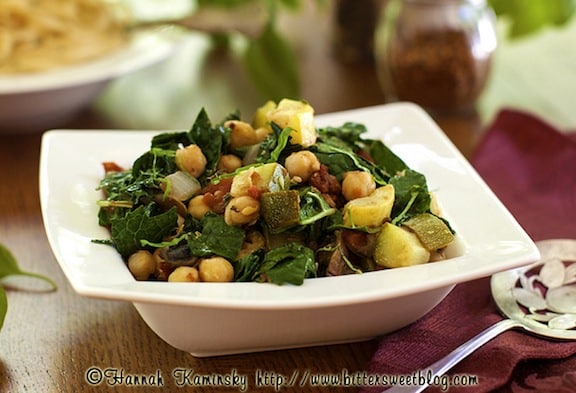 Here's a warming dish of all-season veggies, including plenty of greens. This quick, hearty dish can be served over grains, pasta, or polenta. Though I favor chard in this dish, there's no reason not to try it with other greens, such as those listed under variations, or any others you may have on hand. Adapted from Wild About Greens. Photo by Hannah Kaminsky, from her review on BitterSweet. more→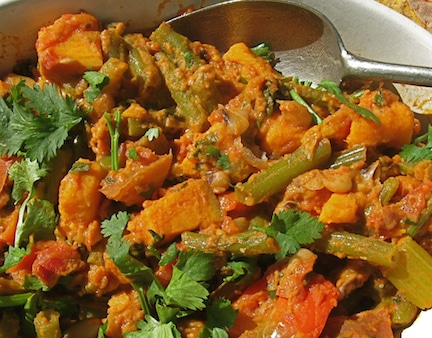 This stew contains peanuts, sweet potato and black-eyed peas, a triumvirate of nutrient-dense, delicious crops. Time does the work with this stew, the taste is lovely and complex. Pairs beautifully with rice or flatbread. more→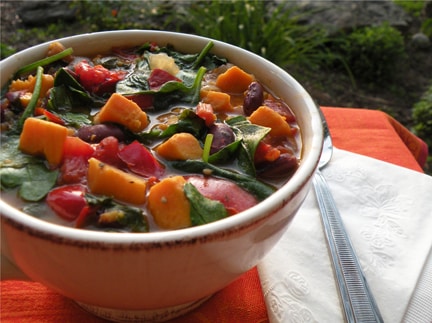 This luscious soup pairs colorful vegetables with a spicy coconut broth. To make it more substantial, add the optional kidney beans.  Some cooked rice added to the bottom of each bowl is another good addition for turning it into a one-dish meal.  This recipe is from Vegan Fire & Spice* by Robin Robertson © 2008, Vegan Heritage Press. Photo by Evan Atlas. more→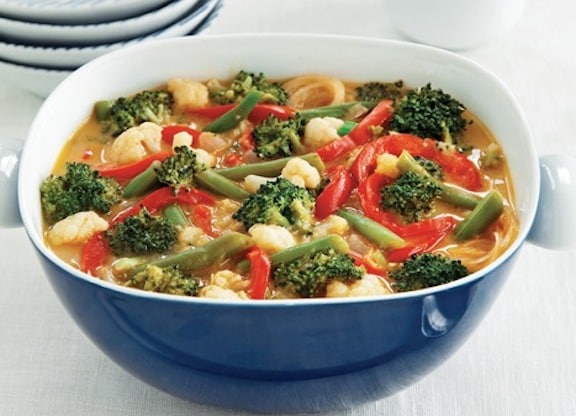 Broccoli, cauliflower, green beans, and peppers mingle in a rich coconut–peanut base, making a stew that's great all year round. Adapted from Vegan Soups and Hearty Stews for All Seasons. Photos by Theresa Raffetto.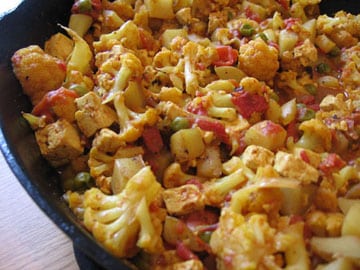 We've rarely gone out for Indian food without including this classic cauliflower and potato curry among our selections. It's a vegetarian/vegan standard. This simplified rendition comes together quickly, and the tofu mimics paneer, the bland, soft cheese found in some Indian dairy dishes. Photo courtesy of In My Box: An Exploration of My CSA Box. more→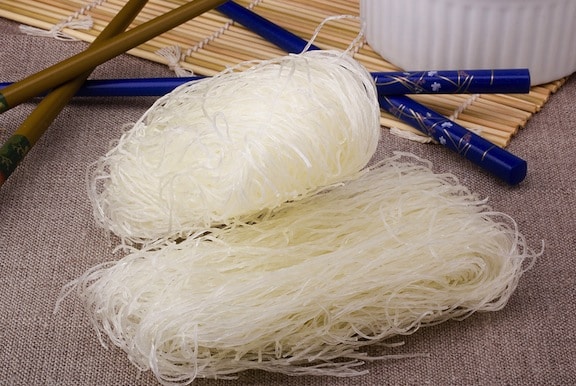 Characteristic of certain Indonesian vegetable dishes are colorful vegetables (in this case, broccoli, carrots, cauliflower, and bell pepper), this stew is enveloped in a rich, spicy peanut sauce and embellished with rice noodles. This has so much going for it that you need only a simple salad to complete the meal. more→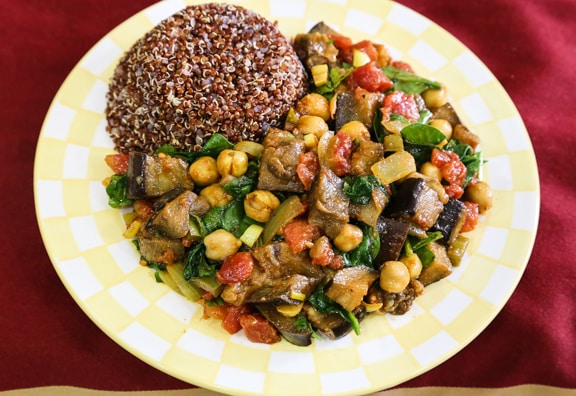 This is a simplified variation of an eggplant dish appears that frequently on Indian restaurant menus as Baingan Bharata. Once the eggplant has been roasted and is cool enough to handle, this dish comes together quickly and easily. Adding some chickpeas makes it a main dish. This is a good make-ahead dish. Make up to the point before adding the greens and cilantro. Let cool and keep covered or refrigerate until needed, then add the greens and cilantro and heat through. Photos by Evan Atlas.