Global Sampler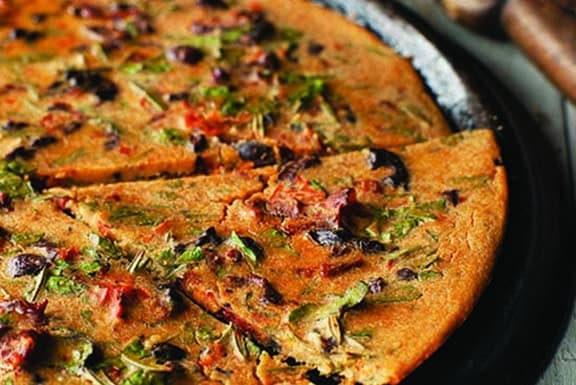 Made with chickpea flour, farinata is actually more of a savory pancake than a bread. It's easy to make this Ligurian specialty that can be served as an appetizer or as part of the main meal. Farinata is often prepared without embellishment, but I sometimes add a fresh herb such as rosemary or sage, or chopped olives and sun-dried tomatoes, as in this recipe. Recipe from Vegan Without Borders* by Robin Robertson/Andrews McMeel Publishing, LLC ©2014, reprinted by permission. Photos by Sara Remington.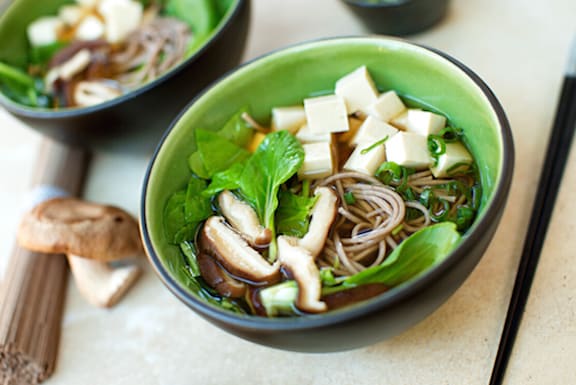 One thing I love about Asian-style soups is that they require little advance planning, and are ready to go from counter to soup pot to table in 30 minutes or less. I do find, though, that unlike other soups that benefit from long simmering and that taste even better after a day or so, Asian soups taste best just done. This is especially true in the case of noodle soups—the noodles absorb much of the broth when refrigerated overnight, leaving you with more of a noodle dish than a soup. more→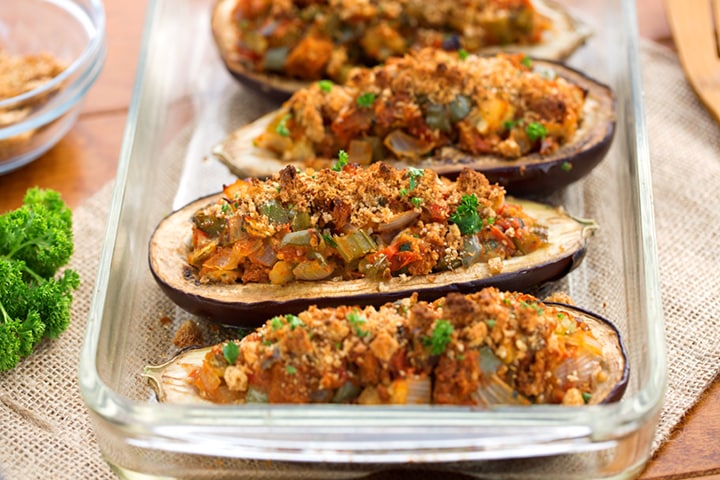 This delicious stuffed eggplant dish is inspired by recipes I came across in old Creole cookbooks. It's filled with typical Creole flavors like celery, bell pepper, onion and garlic, and seasoned with fresh herbs — parsley, basil, and thyme. It's a heavenly dish for eggplant fans! Photos by Hannah Kaminsky. more→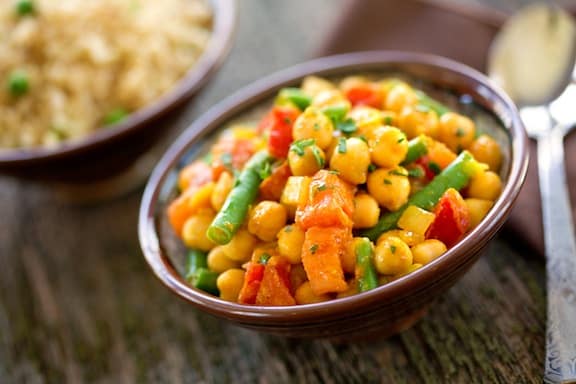 This simplified version of a popular Indian dish, chana masala, is a delightful way to showcase tasty chickpeas. The traditional version doesn't usually contain green beans, but they do add color and texture to the dish. If you prefer, you can substitute a few ounces of fresh spinach or other leafy greens for the green beans. In addition to hot cooked grains, serve with fresh flatbread and a simple salad of tomatoes and cucumbers in a generous dollop of coconut yogurt. Photos by Hannah Kaminsky. more→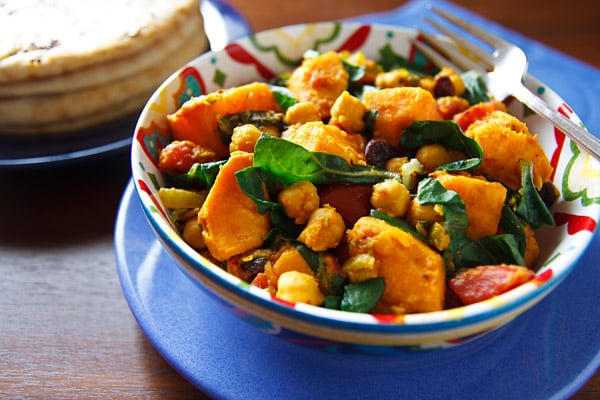 A superb fusion of flavors permeates this nourishing harvest dish of sweet potatoes and chard. Serve like a stew in shallow bowls, accompanied by warm flatbread. This recipe works well with other greens, as you'll see in the variations following the recipe. From Wild About Greens. Photo by Susan Voisin, FatFree Vegan Kitchen. more→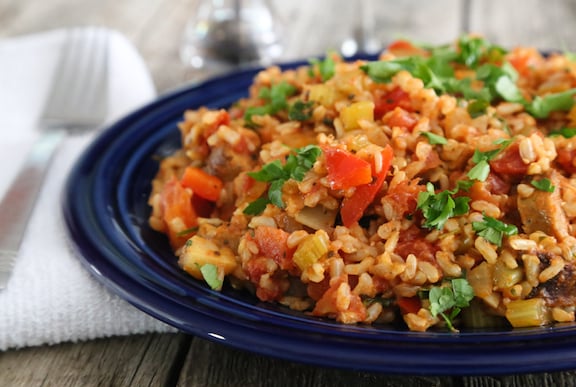 Spicy bits of vegan sausage lend an authentic flair to this simple vegan take on Jambalaya, a Creole-Cajun classic. Serve with any type of coleslaw and fresh corn bread for a hearty, satisfying dinner. Photos by Evan Atlas. more→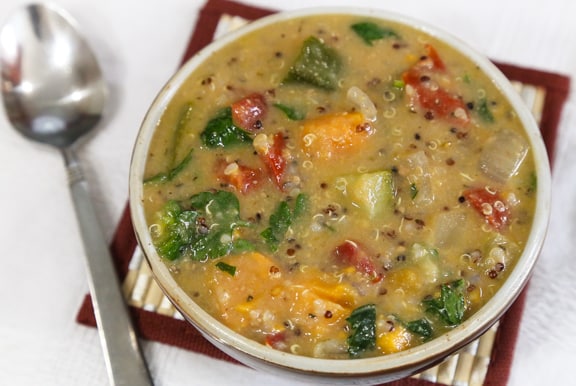 This easy, robust soup, contributed by Marty Hall, has several elements of a certain style of traditional African soups—chilies, sweet potato, and a creamy peanut base. The grain of choice in an African soup like this would likely be millet, but here, quinoa, the nutritious South American super grain, makes for a delightful fusion. Adapted from Vegan Soups and Hearty Stews for All Seasons.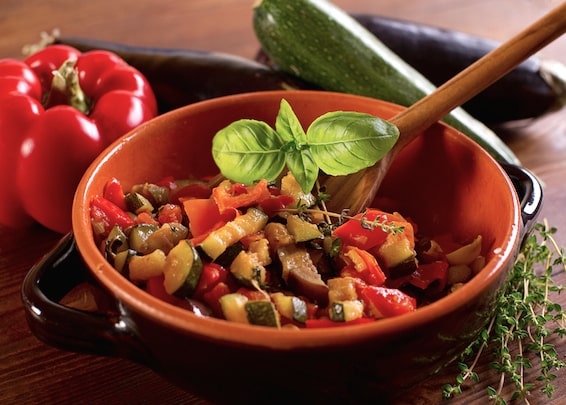 This classic French vegetable stew is a perfect way to enjoy several abundant summer garden vegetables — eggplant, zucchini, peppers, and tomatoes —in a single, savory dish. Fresh basil, and oregano or thyme provide extra pleasure for both the palate and the eye. Serve on its own with crusty bread, or over pasta or polenta. more→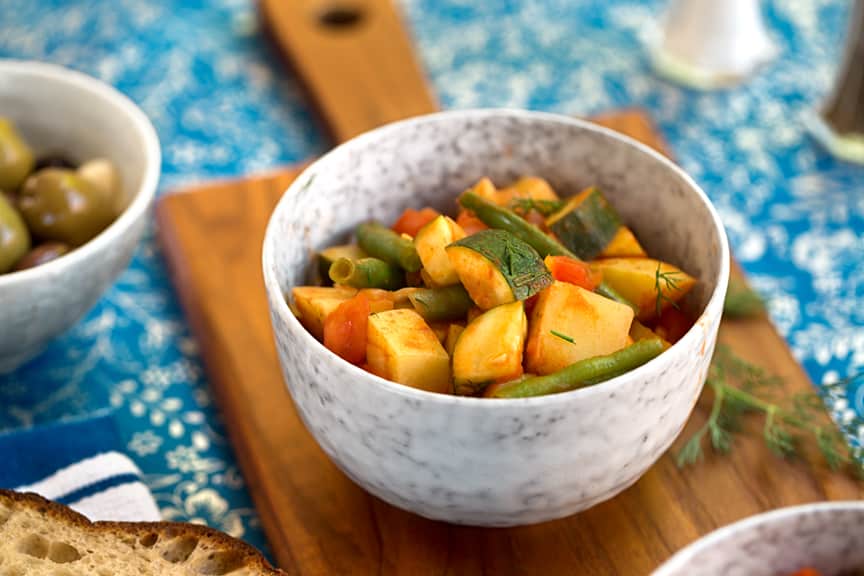 Here's a simple Greek potato stew bursting with summery flavors — green beans and zucchini in a mellow tomato base. A fresh, crusty bread rounds out the meal along with a big green salad with some chickpeas tossed in. For a company meal, add Olive Bar Medley with Tofu "Feta" as an appetizer, and a good wine.  more→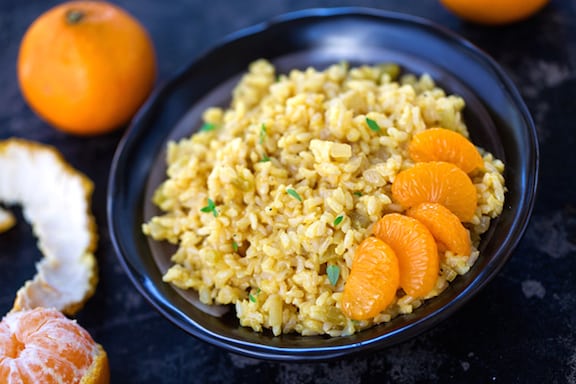 Here's a light and lilting rice side dish, inspired by an old New Orleans Creole recipe. It abounds with a symphony of citrus notes  — orange juice, orange zest, and tiny orange sections. Adapted from Great American Vegetarian by Nava Atlas. Photos by Hannah Kaminsky. more→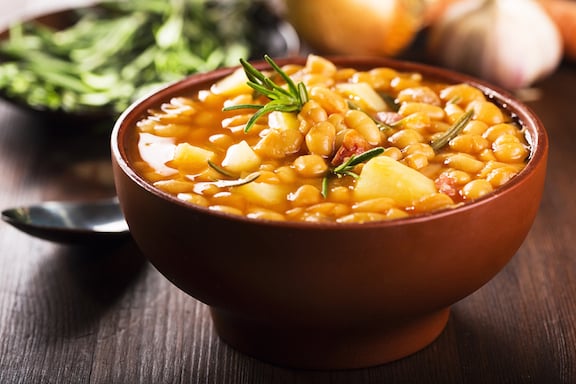 This meatless version of a rustic Provençal stew, made with white beans, is sensual and satisfying. A fresh, crusty French baguette is perfect for soaking up its delicious broth. A bountiful tossed salad makes it a complete meal. more→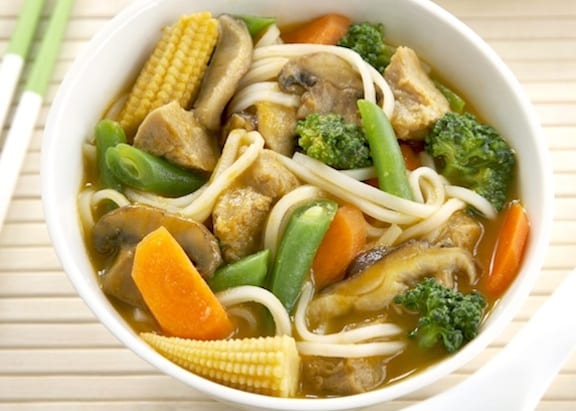 Inspired by a favorite vegetarian Chinese restaurant dish, Buddhist's Delight stew is enhanced with protein-packed seitan. Gluten-free? Substitute an equivalent amount of tofu for the seitan. For an everyday meal, serve with Tri-Color Coleslaw. To make it a feast, add Scallion Pancakes or simply serve veggie spring rolls from your natural food store's frozen food section. Adapted from Vegan Soups and Hearty Stews for All Seasons. Photo by Theresa Rafetto.