Global Sampler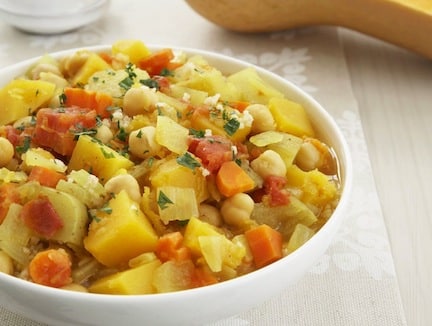 This delicious Moroccan-inspired stew looks as good as it tastes. It's a wonderful way to warm up cold season dinners, with sweet sugar pumpkin or butternut squash in an aromatic broth. This can also be a wonderful choice for fall Jewish holidays — Rosh Hashanah (Jewish New Year)and Sukkoth. Adapted from Vegan Soups and Hearty Stews for All Seasons by Nava Atlas. Photo by Theresa Raffetto.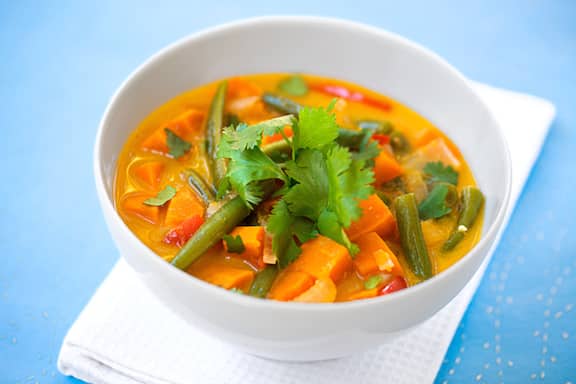 With Thai ingredients available at most natural foods stores and well-stocked supermarkets, it has become easy to enjoy the delightful flavors of this cuisine at home. Use your discretion with the hot seasoning you choose; a little will give a hint of heat, but if you want a spicier stew, you can step it up from there. Adapted from Vegan Soups and Hearty Stews for all Seasons by Nava Atlas. Photos by Hannah Kaminsky.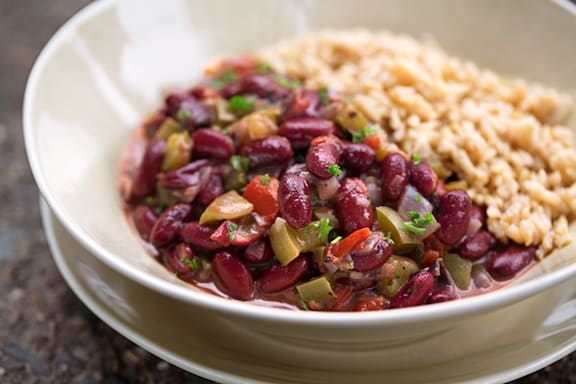 If one had to choose a single truly characteristic dish of New Orleans, it would be hard to come up with one more renowned than red beans and rice. A dish that has been around long enough to have become established in local folklore, it's also one that even today, graces many New Orleans restaurant menus. Vegetarians visiting New Orleans should be aware that "red and white," as it has come to be known, is often made with spicy smoked sausage.
When I visited New Orleans back in 1985, I was lucky enough to find a rare meatless version at the I & I Creole Vegetarian Restaurant, which is no longer open. The chef and owner, had made a batch that day. Her "secret ingredient" was a bit of peanut butter, which imparted a rich, roasted flavor. That, along with a good dusting of cayenne, produces an excellent adaptation of this classic. This isn't a dish to start when you come home from work at night! It's not a lot of work, but needs time to simmer. It's perfect to make on a rainy Sunday afternoon. Adapted from Great American Vegetarian. Photos by Hannah Kaminsky.
Serves: 8
2 cups (1 pound) dry red or kidney beans
1 1/2 tablespoons olive oil
2 medium onions, chopped
1 medium green bell pepper, finely diced
2 large celery stalks, diced
2 cloves garlic, minced
14- to 15-ounce can diced tomatoes (try fire-roasted)
2 bay leaves
2 heaping tablespoons natural peanut butter
1/4 cup chopped fresh parsley
Several leaves sliced fresh basil, or 1 1/2 teaspoons dried
1/2 teaspoon dried thyme
Salt and freshly ground pepper to taste
Cayenne pepper to taste
Hot cooked rice
Sort and rinse the beans, then soak the beans overnight in plenty of water to cover. Before cooking them, drain the beans, then place them in a soup pot  with water in approximately 1 1/2 times their bulk. Bring to a simmer and add the oil, onions, bell pepper, celery, garlic, tomatoes, and bay leaves. Cover and simmer over low heat for 1 hour.
At this point the water level should be just below the beans and vegetables. Add a bit more water if necessary to bring it to that level. Add the peanut butter, parsley, basil, and thyme. Simmer gently over very low heat for  1 1/2 hours, stirring occasionally.
At this point there should be a thick, sauce-like consistency to the liquid. Mash a small amount of beans against the side of the pot with a wooden spoon.
Season with salt, pepper, and cayenne. Cover and cook until most of the beans have burst and are very soft, 20 to 30 minutes longer. The resulting consistency should be thick and saucy. Remove the bay leaves and serve over hot cooked rice.
Nutrition information (with 1/2 cup cooked rice)
Per serving:  Calories: 297;  Total Fat: 3g;  Protein: 11g;  Carbs: 54g;  Sodium: 16 mg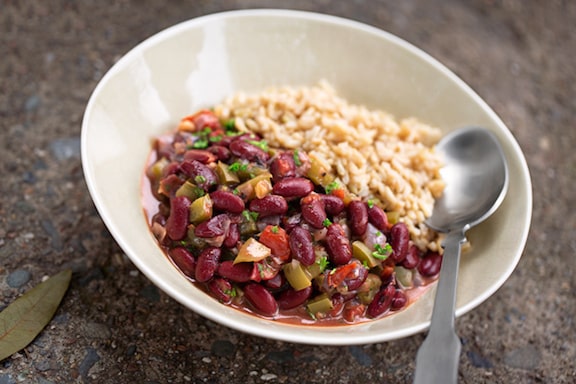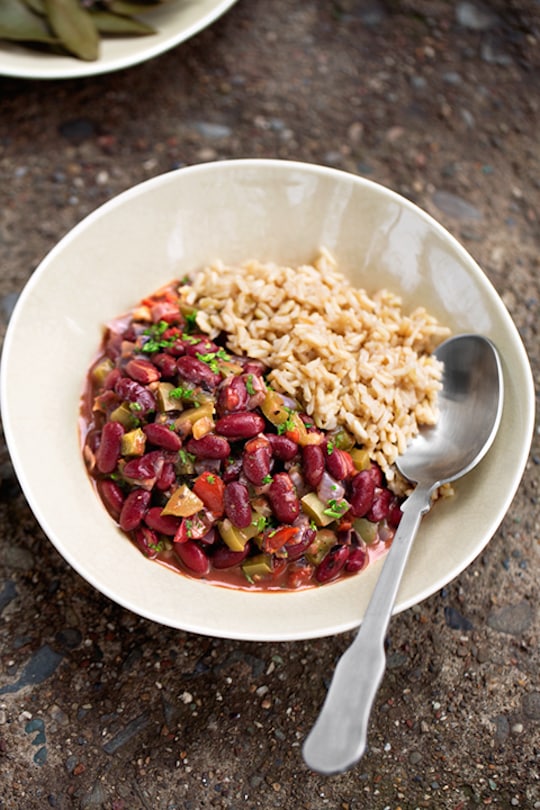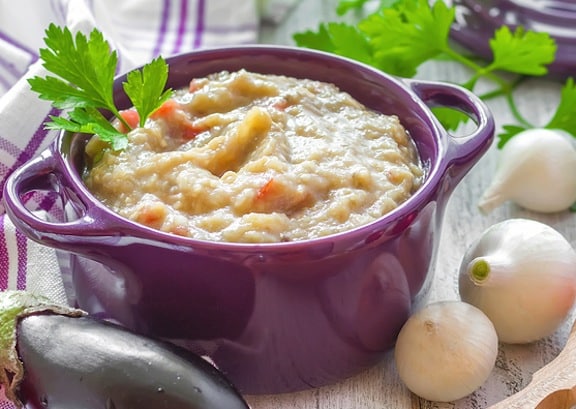 From an old Creole recipe, this offbeat eggplant soup was a  favorite discovery on a trip to New Orleans many years ago. It makes a wonderfully warming soup for winter or early spring. It's believed that the soup originated locally due to the abundance of the eggplant crop in the region. more→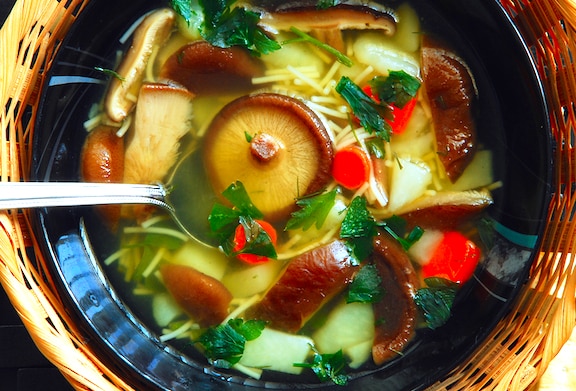 Thick, hearty udon or soba noodles make this quick soup substantial, yet it's not too filling to serve as a first course for an Asian-style meal, like a colorful veggie stir-fry. more→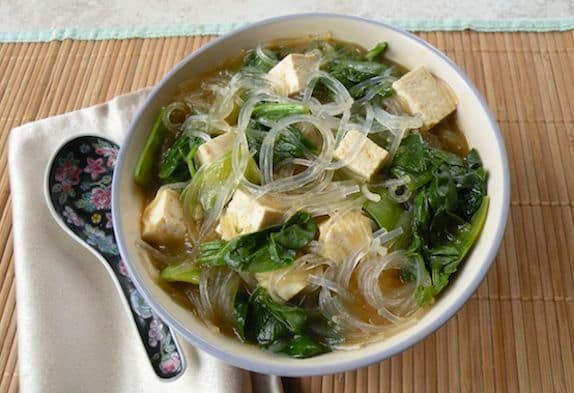 This Asian-style soup featuring bean thread noodles, tofu, and greens, is ideal when you're in a hurry for something warming. It can be on the table in about 20 minutes.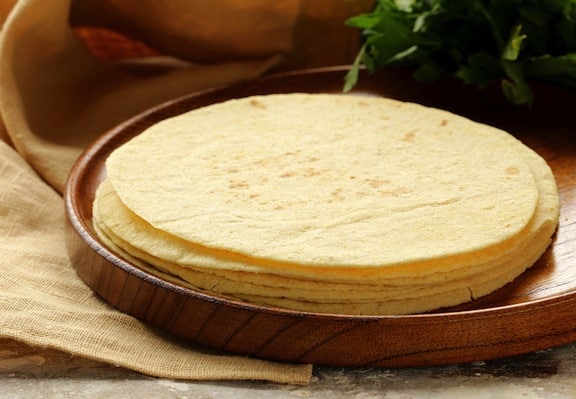 These combination tortillas have a subtle corn flavor and the flexibility and larger size of wheat tortillas. This dough, too, can be made ahead of time. From Breadtime: A Down-to-Earth Cookbook for Bakers and Bread Lovers* by Susan Jane Cheney. more→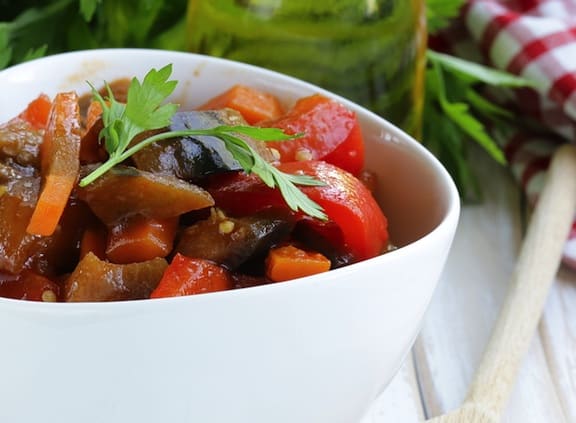 Here's a simple, delicious roasted eggplant stew shared with me by a Turkish friend. Eggplant is always abundant in the Mediterranean, so it's not unusual to find it used widely in many cuisines in the region.  more→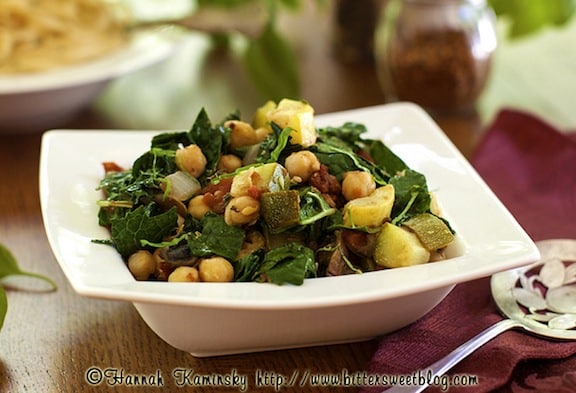 Here's a warming dish of all-season veggies, including plenty of greens. This quick, hearty dish can be served over grains, pasta, or polenta. Though I favor chard in this dish, there's no reason not to try it with other greens, such as those listed under variations, or any others you may have on hand. Adapted from Wild About Greens. Photo by Hannah Kaminsky, from her review on BitterSweet. more→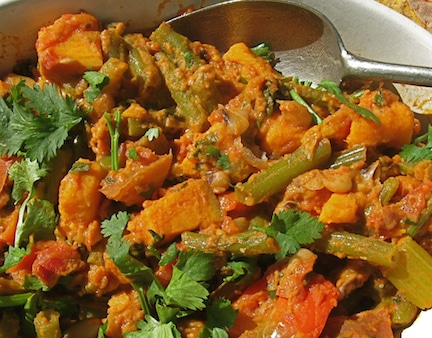 This stew contains peanuts, sweet potato and black-eyed peas, a triumvirate of nutrient-dense, delicious crops. Time does the work with this stew, the taste is lovely and complex. Pairs beautifully with rice or flatbread. more→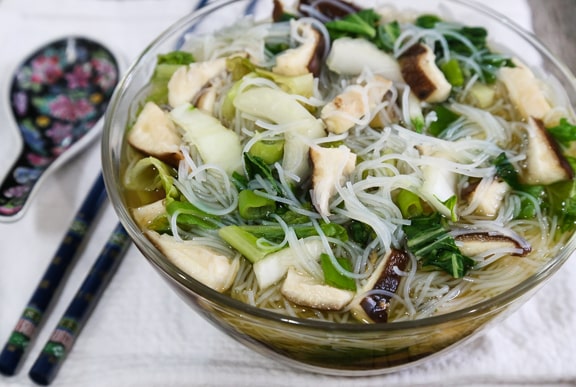 This simple Asian-style soup, filled with fine rice noodles, crunchy lettuce, and healthy shiitake mushrooms, is a good introductory course for stir-fries and tofu dishes. Photos by Evan Atlas. more→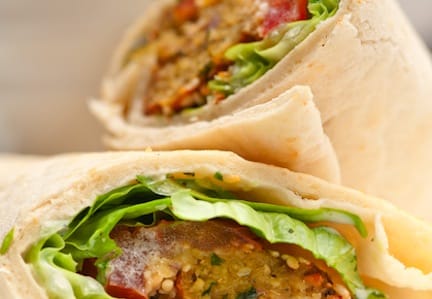 Fried foods aren't great for you, which is why this recipe for baked falafel is such a pleasure. Besides being healthier, it's also much easier to make. Plus, frying is just messy. Serve these little balls of happiness with the accompanying Smoky Tahini Sauce in a pita or in wraps with fresh tomatoes and lettuce, or atop rice or whole grain.  Contributed by Dynise Balcavage, from Celebrate Vegan* (Lyons Press, ©2011). more→