Hearty, Healthy Grain Dishes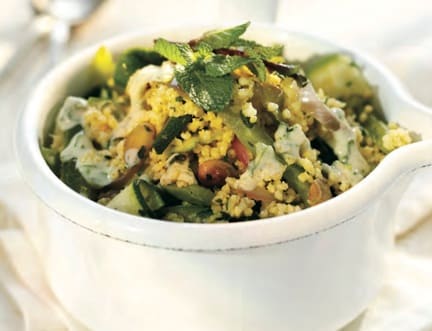 Nutritionally, millet resembles wheat, providing niacin, vitamin B6, and folic acid along with some calcium, iron, potassium, magnesium, and zinc. If you want fluffy, grainy millet, as for this dish, it is essential to leave it alone while cooking. If you want a soft textured millet, however, keep stirring until it is cooked. Contributed by Deborah Gray from 500 Vegan Dishes* (Sellers Publishing, 2011).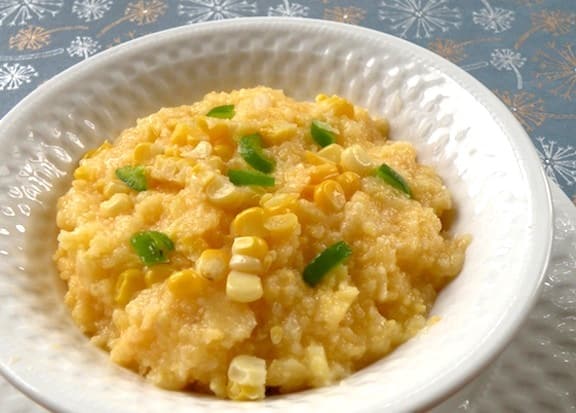 Have you discovered grits (aka hominy grits)? To add variety to your grain repertoire, try grits (hulled, dried, and cracked corn kernels, long a Southern staple). Seek out stone-ground organic grits, which are much more flavorful than the ultra-refined variety sold in supermarkets. I like the Bob's Red Mill brand; they're flavorful and are made from non-GMO corn. This is great for breakfast or brunch, but it can also be a change-of pace dinner served with baked sweet potato and a crunchy coleslaw. Adapted from The Vegetarian 5-Ingredient Gourmet.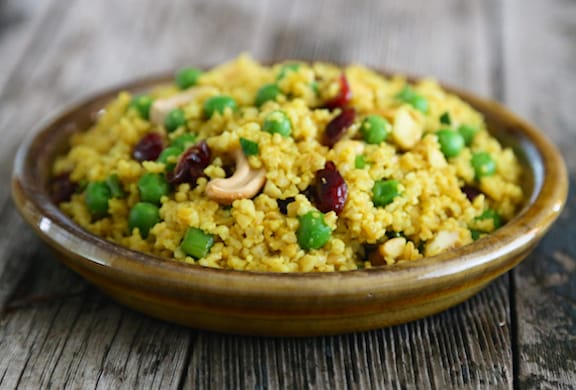 Here's a delicious and colorful couscous dish, embellished with peas, cashews, dried fruits, and curry spices. It's ready in minutes, leaving you plenty of time to build a meal around it. This is very nice served with vegetable curries or simple bean dishes. Photos by Evan Atlas.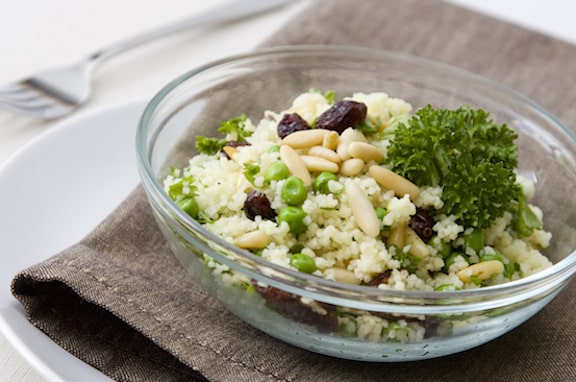 This mild side dish of couscous, green peas, and toasted cashews or pine nuts is a nice complement to vegetable curries. It's also a nice accompaniment to roasted winter vegetables such as Roasted Root Vegetable Medley.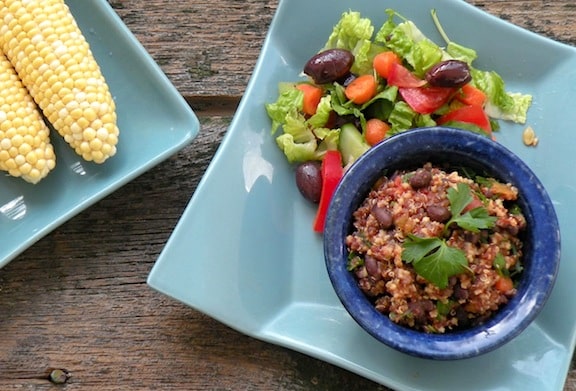 If you want to dress up a simple grain-and-bean pilaf in an instant, a good-quality, prepared tomato salsa is the answer. This is truly an emergency dinner, but a hearty and healthy one, at that! Vary the type of grain and/or bean you use each time you make this, and serve it with a simple salad or coleslaw and a steamed vegetable like broccoli, or fresh corn on the cob. Adapted from The Vegetarian 5-Ingredient Gourmet. more→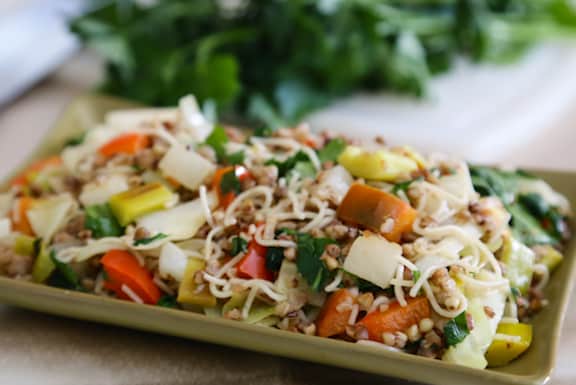 Buckwheat groats, or kasha, lend an invigorating texture and distinctive flavor to this enticing grain dish. Featuring colorful and crunchy veggies, think of this as a more colorful and contemporary version of kasha varnishkes. It's a nice choice for a main dish for vegans at the Jewish New Year table, and a side dish for everyone else. Photos by Evan Atlas.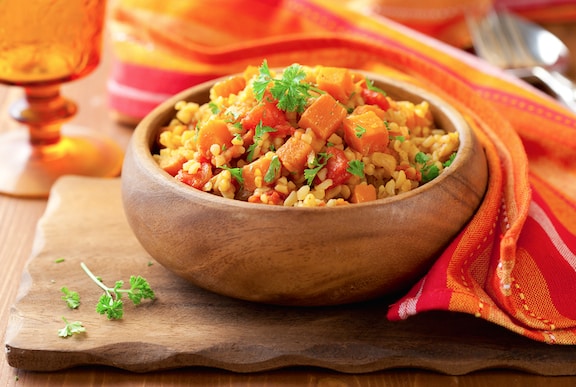 This attractive dish has a subtle sweet flavor and the crunch of toasted walnuts. Double this recipe for a great winter holiday grain dish—it's perfect for Thanksgiving or Christmas dinners. Recipe adapted from Vicki's Vegan Kitchen by Vicki Chelf ©2011, Square One Publishing, reprinted by permission.  more→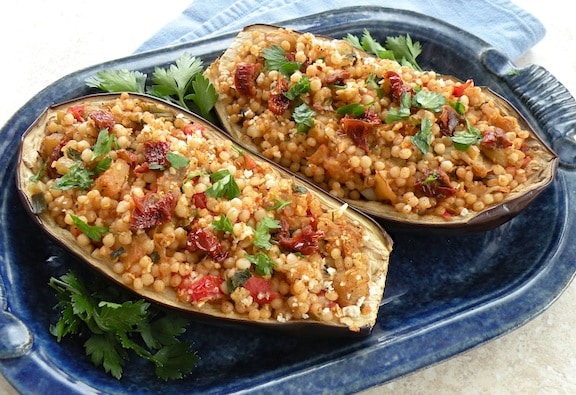 For this delightful couscous stuffed eggplant, you can use regular couscous, or try it with Israeli couscous, as shown in the photo. Regular couscous has more of the look and feel of a grain; Israeli couscous more like a tiny pasta. If you're looking for a gluten-free variation, you can substitute quinoa, which is also excellent in this preparation. more→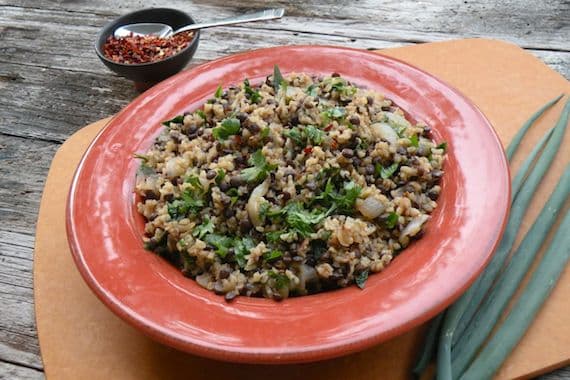 Mujaddarah, a traditional Middle Eastern dish, is sometimes made with rice, and sometimes with cracked wheat (bulgur). The grain is combined with lentils and lots of onions browned by olive oil. Like many simple classics, it's delicious. Serve with Fattouche Salad and a steamed green vegetable for an easy meal. Though they're the least traditional to use in this (brown lentils are the usual) I like to make this with black beluga lentils for the visual contrast. more→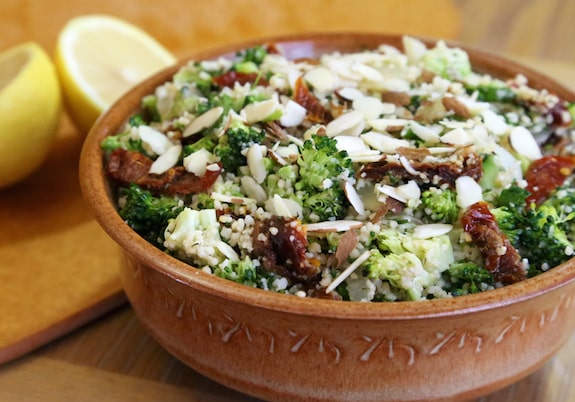 This simple combination of couscous and broccoli, bright with lemony flavor, be too light to serve as a meal's centerpiece, but it's perfect for pairing with a dish of equal heft, like a bean or legume dish, or a main dish salad. I've also enjoyed leftovers of this served cold in a wrap with shredded lettuce and sliced tomatoes. Photos by Evan Atlas.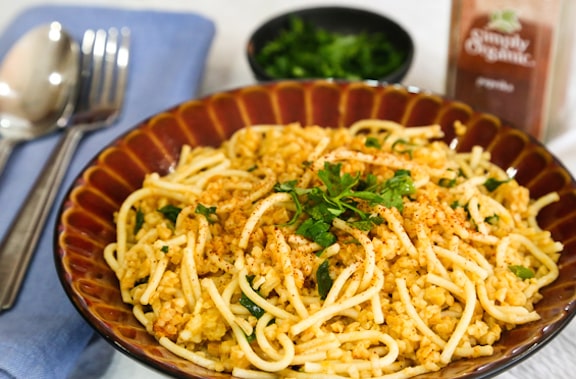 Here's a simple, sturdy grain side dish for everyday meals. Combining a hearty grain like bulgur with delicate noodles is a tasty way to enjoy both. This is excellent served with winter squash dishes, though it can be served year round. Photos by Evan Atlas. more→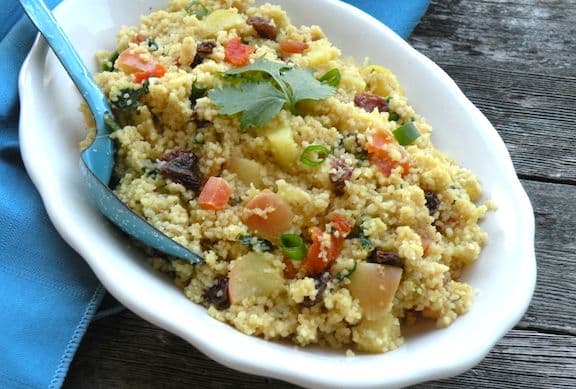 This quick, delicious couscous side dish, naturally sweetened with apple and dried fruits, is good with curries, and also goes well with any kind of well-seasoned bean or lentil dish.  more→