Glorious Grains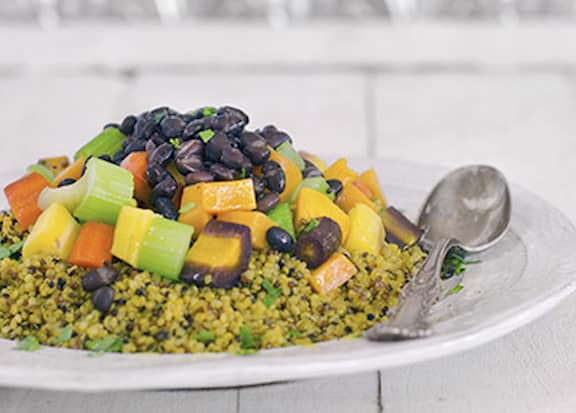 The quinoa and black beans in this dish are high in protein, making it a hearty one-dish meal. It's very budget-friendly, too. Reprinted with permission from The Migraine Relief Plan: An 8-Week Transition to Better Eating, Fewer Headaches, and Optimal Health, © 2016 Stephanie Weaver. Published by Surrey Books, an imprint of Agate Publishing, Inc. Photos © 2016 by Laura Bashar. more→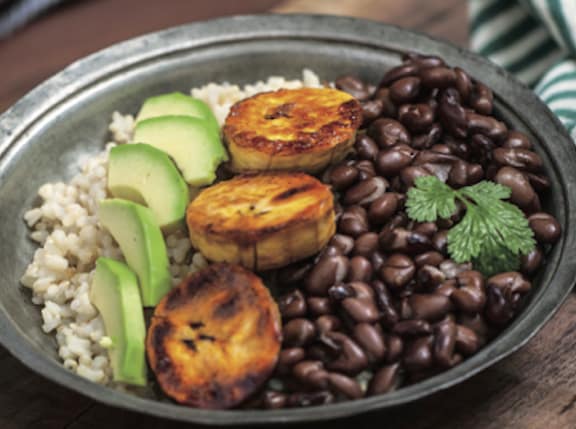 This dish is a personal favorite because it brings back so many great memories of my childhood. What's not to love about black beans and rice? Oven-baked platanos maduros — sweet plantains — add an authentic touch. Plantains are a member of the banana family. They're a great source of potassium and fiber, and they contain more vitamins than their cousins. You'll love the delicious sweetness of these golden brown beauties. Adapted from The 22-Day Revolution Cookbook by Marco Borges, ©2016. Reprinted by arrangement with Penguin/Random House. more→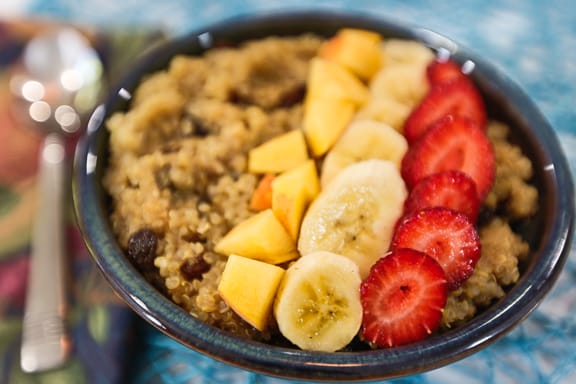 Two superfoods — quinoa and maca root — combine in quinoa maca breakfast bowls that will fuel you for hours. Learn more about the benefits of maca and quinoa, and try another variation on a quinoa breakfast bowl if you like this one. No maca? No worries, this will be yummy and comforting if you choose to omit it. Photos by Evan Atlas. more→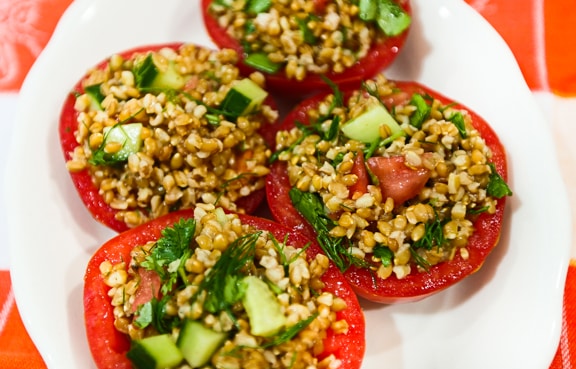 This recipe for using einkorn wheat berries in a salad is perfect for summer entertaining or everyday meals. Reminiscent of tabbouli as far as the flavor and ingredients, this salad offers a change of pace in terms of texture from the nutty, pleasantly chewy einkorn. Learn more about this high-protein ancient grain in our post, How to Cook and Use Einkorn Wheat. And make sure to see the variation below the recipe box for stuffing this tasty salad into ripe summer tomatoes. Photos by Evan Atlas. more→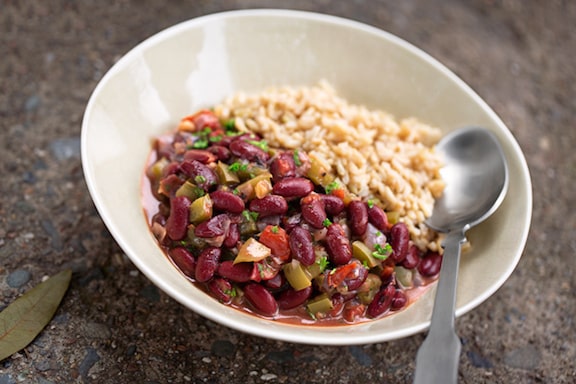 It's hard to think of a more classic combo than rice and beans. They're easy to make, inexpensive, and filling. Most of these dishes are already vegan in their original form, the few that aren't become completely plant-based, as presented here, with a simple omission or modification. If one had to choose a single truly characteristic dish of New Orleans, it would be hard to come up with one more renowned than Red Beans and Rice. Shown at top, this isn't a dish to start when you come home from work at night! It's not a lot of work, but needs time to simmer. It's perfect to make on a rainy Sunday afternoon. more→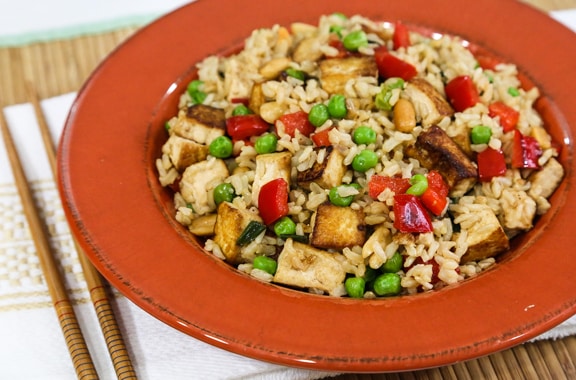 Combining brown rice, tofu, and peanuts in a simple main dish stir-fry, this is sure to become a mainstay in your repertoire if you enjoy these ingredients. Having the rice cooked ahead of time makes this a breeze. Photos by Evan Atlas. more→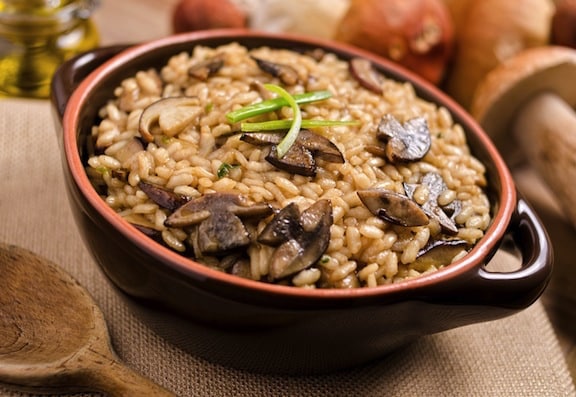 Vegetable broth, garlic, mushrooms, and a bit of scallion make this brown rice side dish a treat in its own right, and not just a bed of grain for other dishes. This serves 6 as a side dish. more→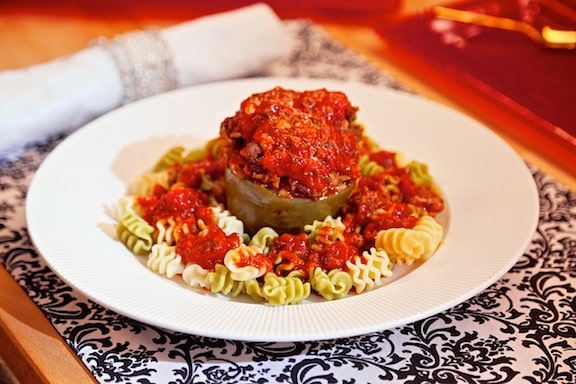 I first made these delicious peppers for a New Year's Eve party and they were a huge hit! Featuring a meaty-tasting seitan and hearty brown rice stuffing, these beautiful bell peppers satiate omnivores and vegans alike. Ready for the oven in under 20 minutes, these six-ingredient wonders are equally ideal for a holiday party or weeknight supper. Recipe from Vegan-Ease: An Easy Guide to Enjoying a Plant-Based Diet. Published by Jazzy Vegetarian LLC, © 2015, reprinted by permission. Photos by David Kaplan.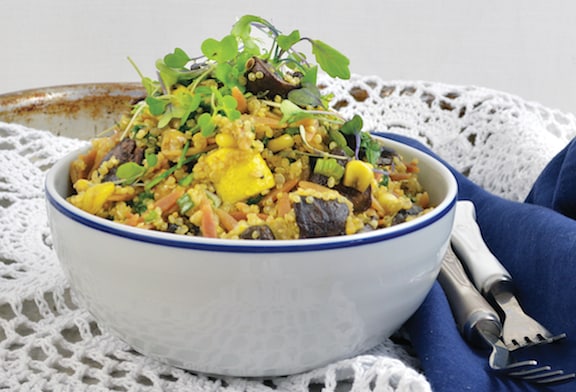 It is no surprise that I love to roast vegetables; it always seems to bring out the best in produce. In this vegan bowl recipe, zucchini and mushrooms are roasted to perfection and stirred into a quinoa pilaf that is accented with scallions and arugula. Recipe and photos from Vegan Bowls: Perfect Harmony in Cozy One-Bowl Meals* © 2015 by Zsu Dever. Used by permission from Vegan Heritage Press, LLC.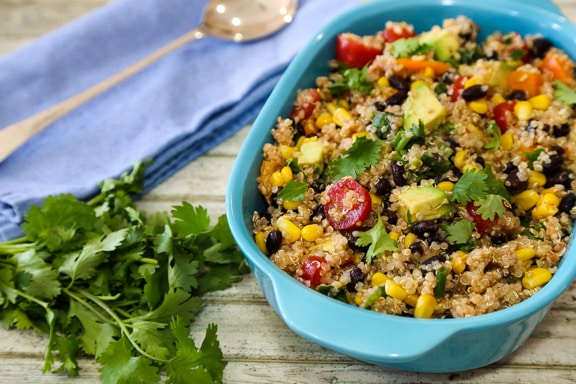 Quinoa and black beans join forces with corn and avocado to make a sturdy salad with southwestern flavors. It's a perfect main-dish salad, paired with a simple soup or Easy Quesadillas or Soft Tacos. Photos by Evan Atlas.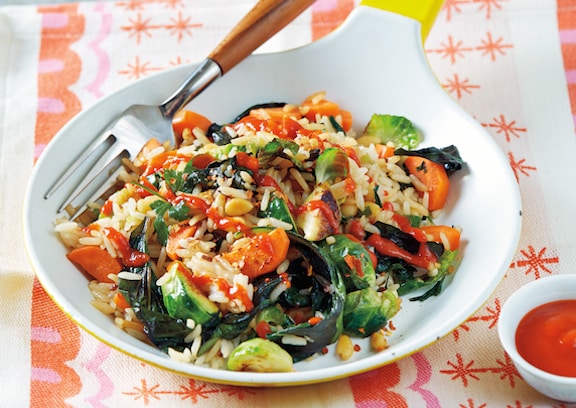 I put Brussels sprouts in everything. Even fried rice is not safe from that little cruciferous flavor bomb! And until someone invents an even more awesome vegetable, I will continue to overuse them. Not that anyone is complaining. This version of fried rice is wonderfully aromatic with the addition of fresh herbs and scallions. And a small handful of pine nuts goes a long way to adding another decadent layer of flavor. You can top the dish with some gingery tofu, or toss in some browned tofu, if you'd like it to be an entrée. Or simply serve in addition to a bigger Thai-inspired spread. Recipe and photo from Vegan With a Vengeance: 10th Anniversary Edition* by Isa Chandra Moskowitz, ©2015. Published by Perseus Books, reprinted with permission.
more→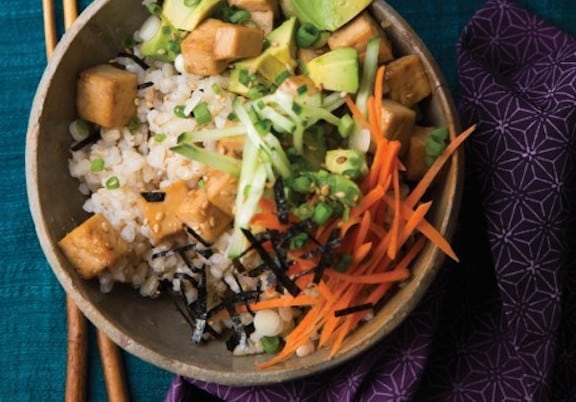 Crisp teriyaki-flavored tofu bites are perched atop nori-flecked sushi rice for an invigorating meal in a bowl. It's a lively combination of cooked and raw ingredients. Recipe originally published in January 2015 Vegetarian Times. Photo courtesy of Vegetarian Times. more→