Asian Noodles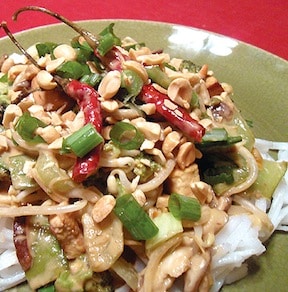 I love all nut butters, but I'll always be hopelessly devoted to my beloved peanut butter. Spicy peanut sauce is my weakness, so any day that this scrumptious, spicy, peanutty Pad Thai is on the table is a day to celebrate. Contributed by Dianne Wenz, from VeggieGirl. more→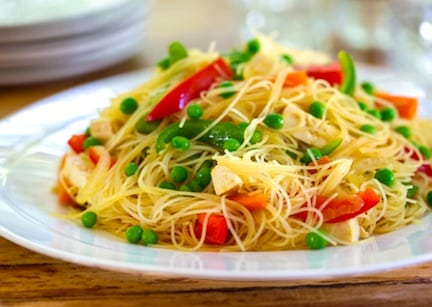 Characteristic of some Southeast Asian cuisines is the overlapping of Asian and Indian influences. This is true here in this tasty and pleasantly offbeat noodle dish that is seasoned with both soy sauce and curry. Fine Asian rice noodles are now available in a whole grain variety. Photos by Hannah Kaminsky.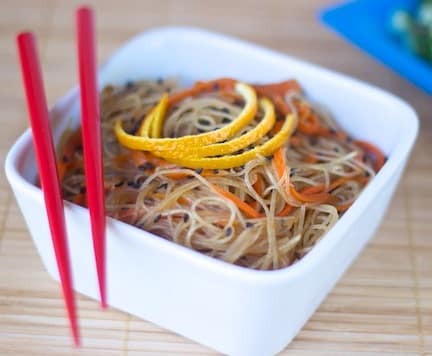 This simple dish of Asian noodles (contributed by Allyson Kramer of Manifest Vegan — a great site featuring lots of gluten-free vegan recipes) ia a nice accompaniment to a larger dinner, or alone as a light lunch. Try them with a gingery tofu dish and a cucumber salad. Allyson is the author of the forthcoming Great Gluten-Free Vegan Eats*. Photo by Allyson Kramer. more→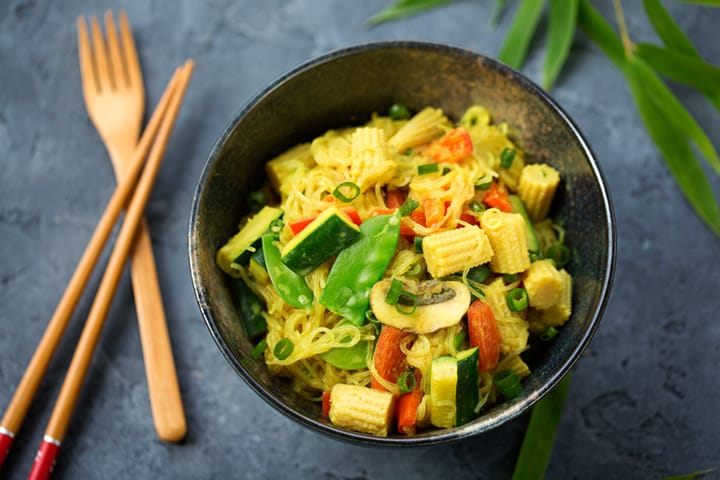 Don't be daunted by the list of ingredients used here; it all comes together quickly, as the idea is to cook everything as briefly as possible. Enveloped in plenty of coconut milk, this dish of noodles and vegetables becomes quite luscious. Serve with a simple tofu or tempeh dish and a platter of raw veggies. Photos by Hannah Kaminsky. more→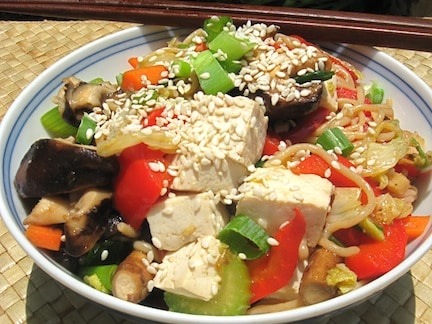 A slightly adventurous spin on fried rice, Korean japchae marries slurpy shirataki noodles and a blizzard of vegetables in a rich soy and mirin broth. Easy and kid-friendly to make and restorative to eat whether served hot or cold. Recipe and photo by Ellen Kanner. more→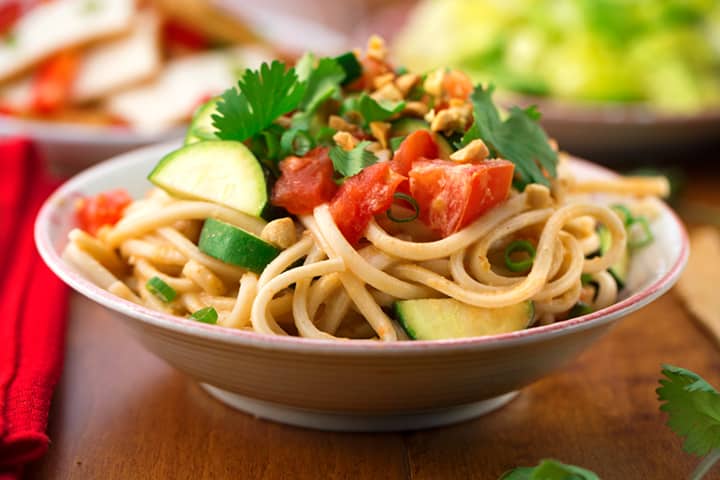 Luscious and nutty, this easy peanut noodle dish incorporates favorite Asian flavors. Substitute veggies other than the ones suggested in the recipe — you can vary them each time, according to what's in season or what's in the refrigerator. You can even substitute cashew butter or almond butter for the peanut butter. Serve warm or at room temperature with a simple tofu or tempeh dish and a crisp salad or platter of raw vegetables. Photos by Hannah Kaminsky. more→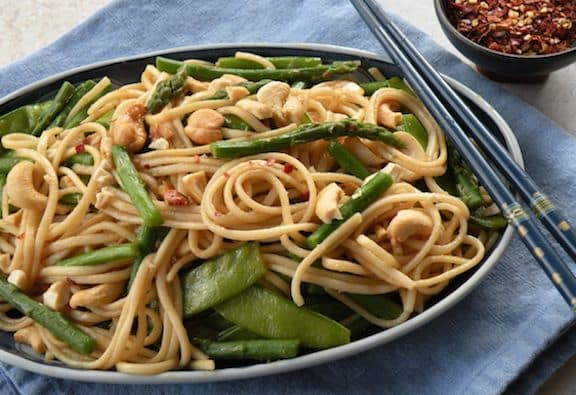 Hearty udon noodles are intertwined with delicious cashews and tender asparagus in a light sauce. Serve this Asian-style dish with a simple tofu or tempeh preparation. It's good served warm or at room temperature.  more→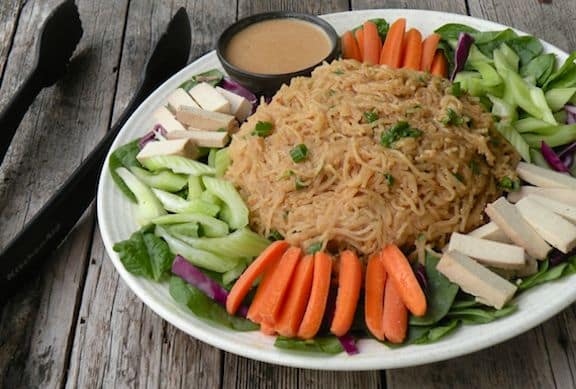 A feast of Asian noodles and colorful vegetables, this medley of flavors and textures is easy enough for a weeknight meal, yet gorgeous enough to impress guests. Meant to be served at room temperature, this is also a good choice for a potluck or buffet.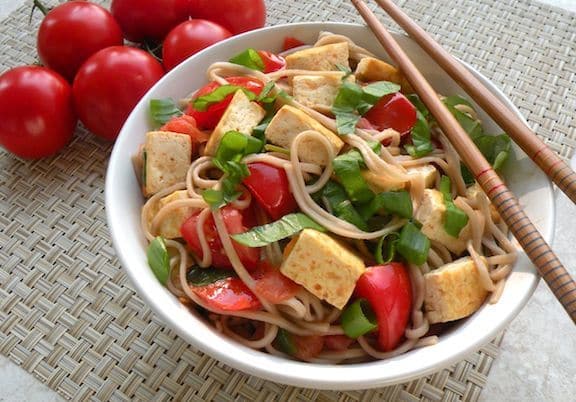 This quick summery dish of soba (buckwheat noodles), tomatoes, tofu, and basil has a lovely combination of Asian and Italian flavors. Flavored with sesame oil and soy sauce, as well as the fresh tomatoes and basil, it might sound strange, but it works! Serve with fresh corn and/or grilled vegetables for a warm weather meal.  more→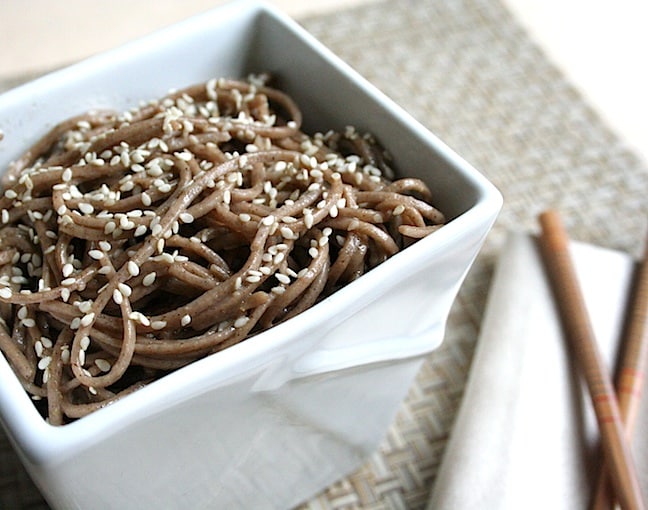 Serve this simple Asian noodle dish alongside or as a bed for vegetable stir-fries and Asian-style tofu preparations. Shown in one of the photos below, mixed with Sweet and Savory Sautéed Tofu. Leftovers are good served cold and packed into school or brown-bag lunches. Photos by Rachael Braun. more→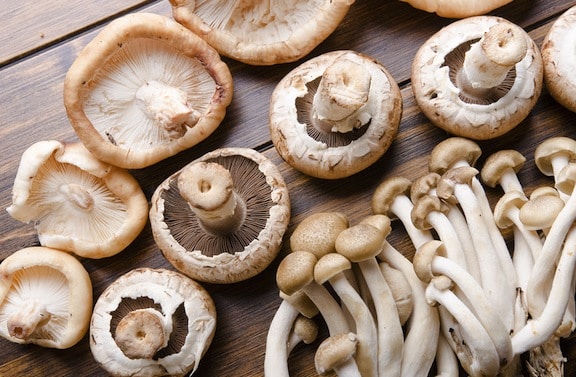 You will find fresh Chinese noodles in cellophane-wrapped packages in well-stocked supermarkets, shelved near tofu products, as well as in natural foods stores.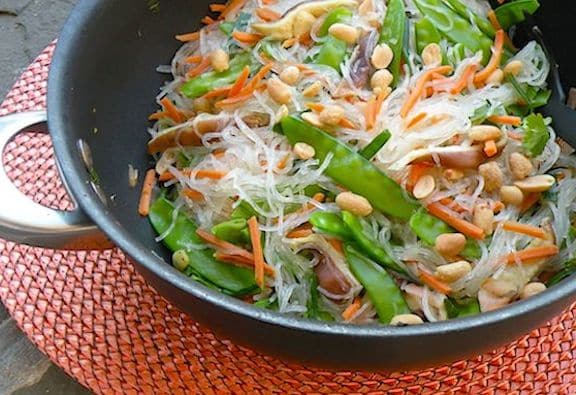 In this simple and fragrant dish featuring snow peas and shiitake mushrooms, either bean-thread noodles or Asian rice vermicelli work very well. Both give this noodle dish a nice light flavor and texture, and they happen to be gluten-free. This is good accompanied with sautéed tofu or tempeh, and can be served warm or at room temperature.