Asian-Style Cold Noodle Dishes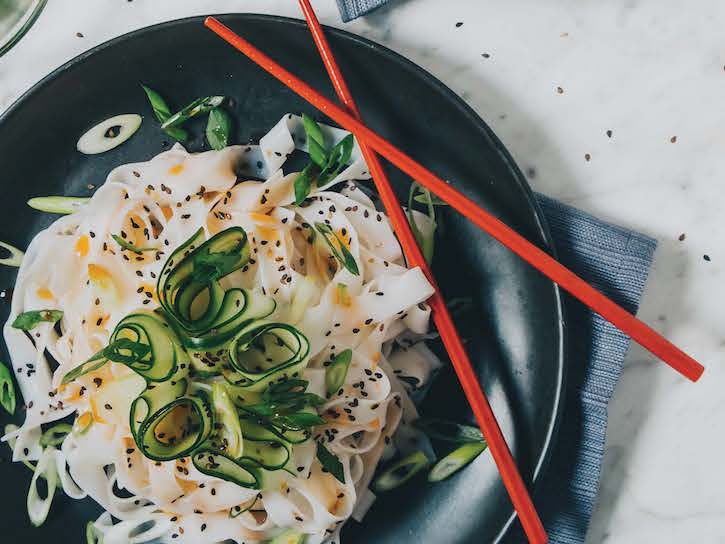 I tend to add megaflavor to everything I cook, but in this dish I embrace the minimalist trend and really like the simplicity of green onions with spice, sesame, salt, and refreshing crunchy cucumber. It was inspired by something I ate a couple of years ago at Xi'an Famous Foods in Brooklyn.
A friend claimed this menu item, known as A-1, was her favorite thing ever, which I mistook for hyperbole. But I was curious. Well, after ordering it and taking one bite, I was in love and certainly wasn't prepared for a long-distance relationship with this noodle dish so I made my own version of Cold Cucumber–Chile Noodles.
Reprinted with permission from Hot for Food Vegan Comfort Classics, text and photography copyright 2018 by Lauren Toyota. Published by Ten Speed Press, an imprint of Penguin Random House LLC. more→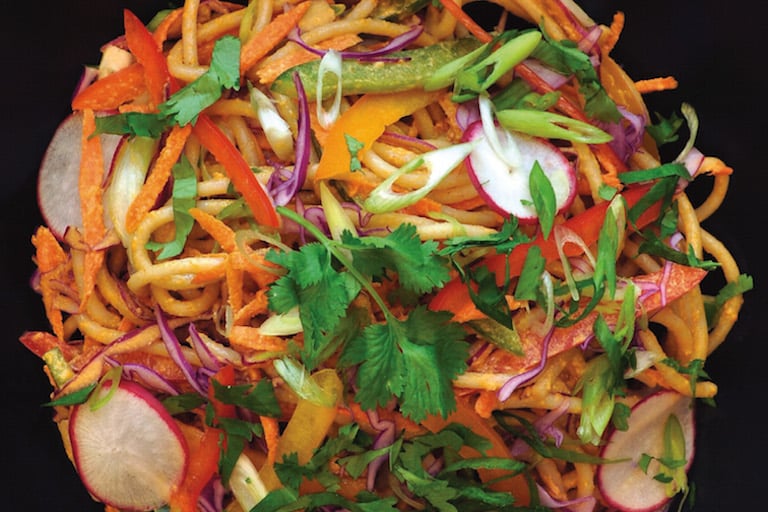 These nutty, saucy chilled gluten-free noodles are irresistibly enticing. And because they're served cold, they make a lovely and convenient addition to a buffet or party meal as an appetizer or main dish. Recipe and photos from Gluten-Free Tips and Tricks for Vegans by Jo Stepaniak ©2016. Reprinted by permission of The Book Publishing Company. more→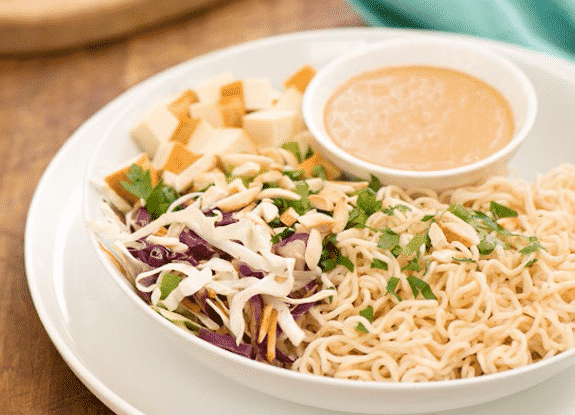 I don't know about you, but I consider ramen a primary cheap-eats food group, and this take on it has major protein and flavor punch. Keep some ramen noodles on hand for quick and easy salads like this one. Thanks to bagged slaw mix and baked marinated tofu (both found in most supermarkets), it only takes minutes to assemble. Reprinted from The Book of Veganish by Kathy Freston & Rachel Cohn ©2016, by arrangement with Pam Krauss Books, a member of Penguin Group U.S., a Penguin Random House Company. more→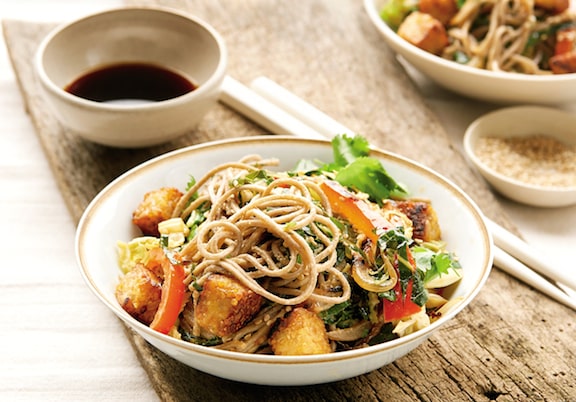 I'm a complete noodle fanatic, but a bowl of pasta with tomato sauce doesn't quite do the trick for me. For me, an ideal noodle dish is one in which veggies have at least equal billing. This Asian-flavored dish of soba noodles and calcium-rich collard greens is flavored with a triple dose of sesame (another great source of calcium): tahini, seeds, and oil. Another bonus — soba noodles made purely of buckwheat are gluten free. If that's not of concern to you, other long noodles — udon or even whole wheat spaghetti — can be substituted. Recipe by Nava Atlas, from Living the Farm Sanctuary Life* by Gene Baur with Gene Stone, © 2015 by Gene Baur. Photographs © 2015 by Rodale Inc. Reprinted by Permission of Rodale Books.

Sesame Soba Noodles with Collard Greens and Tempeh Croutons
Recipe type:
Asian noodles
Prep time:
Cook time:
Total time:
This Asian-flavored dish of soba noodles and calcium-rich collard greens is flavored with a triple dose of sesame (another great source of calcium): tahini, seeds, and oil.
Ingredients
Sauce
⅓ cup tahini
¼ cup lime juice
2 tablespoons reduced-sodium natural soy sauce or tamari, or more if needed
2 tablespoons natural granulated sugar (cane, coconut, or date) or agave nectar
Tempeh croutons
2 teaspoons dark sesame oil
1 tablespoon reduced-sodium natural soy sauce or tamari
1 package (8 ounces) tempeh, any variety, cut into ½" dice
Noodles
1 package (8 ounces) soba (buckwheat) noodles
10 to 12 collard green leaves
1 tablespoon dark sesame oil
1 large red or yellow onion, cut in half and thinly sliced
¼ small head green cabbage, cut into long, narrow shreds
1 medium red bell pepper, cut into long, narrow strips
½ cup chopped fresh cilantro, basil, or Thai basil leaves, or more as desired
1 tablespoon black or tan sesame seeds Red-pepper flakes or Sriracha sauce
Instructions
To make the sauce: In a small bowl, combine the tahini, lime juice, soy sauce or tamari, and sugar or agave nectar.
To make the croutons: In a large or wide-bottomed skillet, heat the oil and soy sauce or tamari over medium heat. Add the tempeh and stir to coat. Increase the heat to medium-high and cook the tempeh until most sides are golden brown. Remove the tempeh croutons to a plate.
To make the noodles: Cook the noodles according to package directions. When they're al dente, remove from the heat and drain.
Meanwhile, cut the stems from the collard leaves with kitchen shears or a sharp knife. Stack 6 or so halves of leaves at a time. Roll the leaves up tightly from one of the narrow ends, almost like a cigar shape, then thinly slice them. Let them unroll to create ribbons of collard greens. Give them a good rinse in a colander.
In the same skillet used to make the croutons, heat the oil. Add the onion and cook over medium heat until softened and golden. Add the collard ribbons, cover, and cook for 7 to 8 minutes, or until they wilt down a bit. Add the cabbage and bell pepper. Increase the heat and cook for 3 minutes, or just until the veggies are on the other side of raw. Remove the skillet from the heat.
Add the cooked noodles to the pan and use a large fork to mix the noodles thoroughly with the veggies. Pour the sauce over the mixture. Add the cilantro or basil and sesame seeds. Scatter the croutons on top. Season with the pepper flakes or Sriracha to taste. This can be served warm or at room temperature.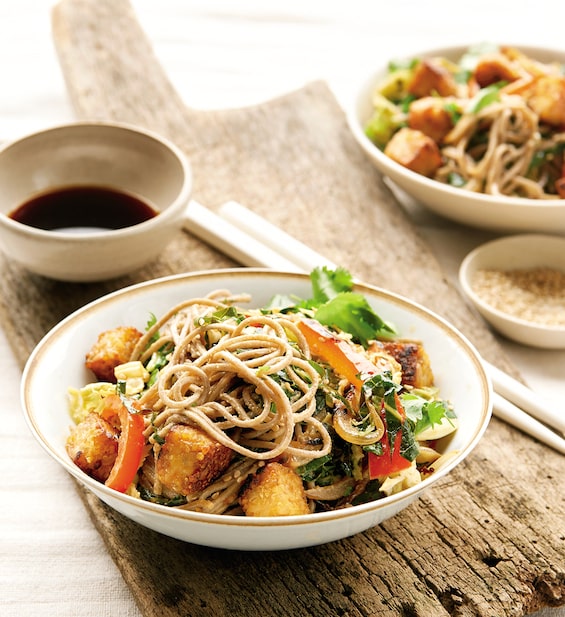 *This post contains affiliate links. If the product is purchased by linking through this review, VegKitchen receives a modest commission, which helps maintain our site and helps it to continue growing!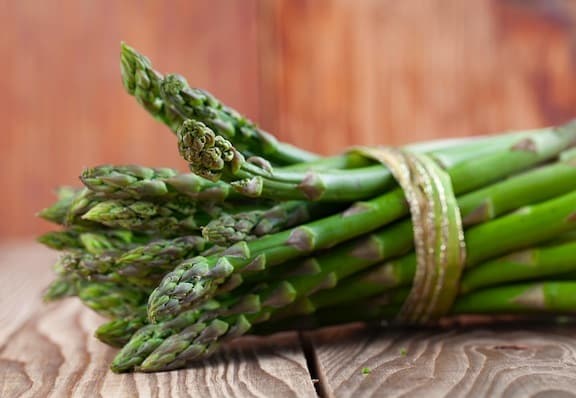 Whenever people ask what they can make a lot of easily and ahead of time for a party, this is what I suggest. It's endlessly versatile-you can vary the vegetable to go with the season, using, for example, snow peas, roasted peppers, grilled eggplant, carrot, mung bean sprouts, and fresh or dried shiitake mushrooms. Reprinted with permission from The New Vegetarian Cooking For Everyone by Deborah Madison,copyright © 2014. Published by Ten Speed Press, an imprint of Random House LLC. more→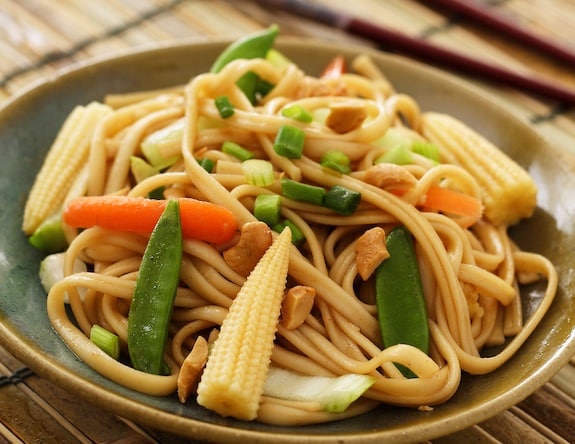 Filled with crisp veggies that need only a little prep but no cooking, this is a crisp and colorful presentation for cold Asian noodles. Serve with your favorite tofu or tempeh dish for an appealing, light meal. Look for sweet and pungent hoisin sauce in the Asian foods section of supermarkets. You might find some of the recommended noodles there too, but if not, you'll surely find them in natural foods stores and Asian markets. Serve with Sweet and Smoky Tofu or Tempeh Strips or Teriyaki Tofu Triangles. Photo by Susan Voisin.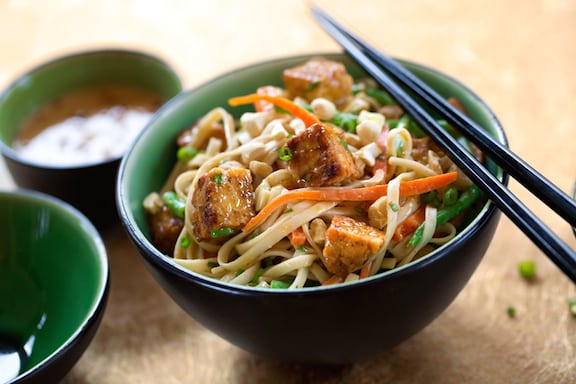 This spicy, nutty dish of noodles and vegetables dressed in peanut sauce and topped with tempeh croutons is a fusion of Indonesian and Thai-influences. It's good served warm or at room temperature. This dish really has it all, so you can finish the meal with a simple soup or a complementary salad like Asian-Flavored Coleslaw. Photos by Hannah Kaminsky. more→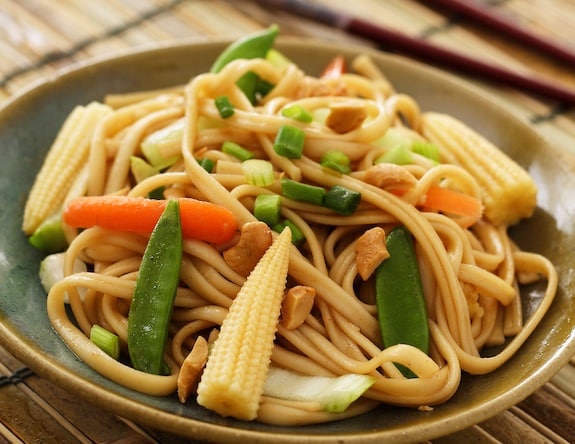 This year-round noodle salad is really more about the veggies than the noodles. Flavored with a citrusy glaze, and spiked with chili oil, it's the perfect accompaniment to your favorite tofu or tempeh dish and can be enjoyed all year round as a room temperature noodle dish. Vary the veggies according to what you have on hand. Thanks to Boyajian for supplying the chili oil used in this recipe. more→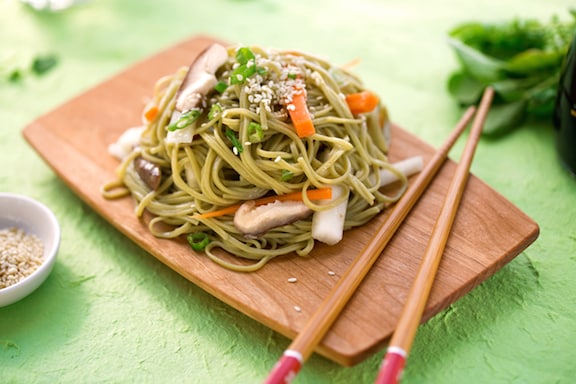 Spaghetti-shaped somen noodles are traditionally eaten cold in Japan during summer months, but you can substitute any kind of soba noodles or whole grain linguine. Peppery daikon radish and mellow carrots work beautifully with the noodles in this simple dish. Photos by Hannah Kaminsky. more→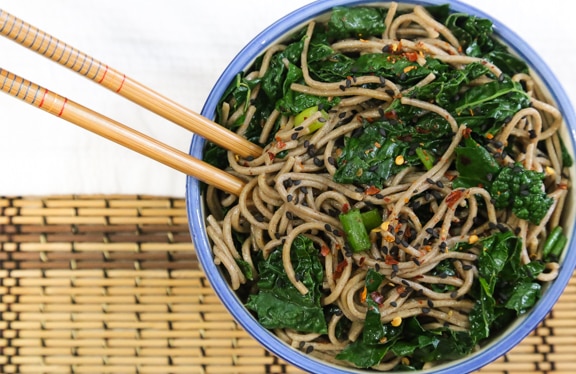 This simple cold soba noodle dish is laced with lots of kale or collard greens and flavored with a piquant ginger dressing. For an easy meal, serve with veggie spring rolls from your natural foods store's frozen foods section, and a platter of slices of baked tofu, tomatoes and cucumbers. Photos by Evan Atlas.  more→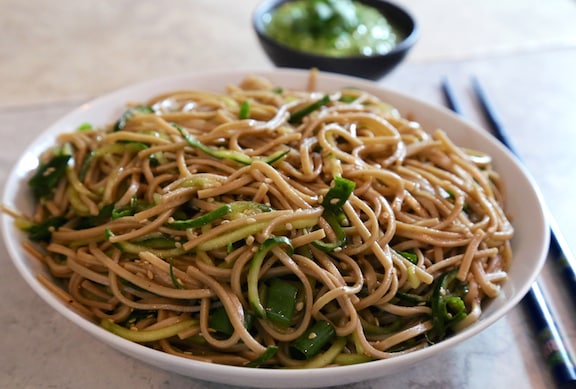 This simple Asian-flavored cold noodle dish is delicious even without the parsley or cilantro sauce, though I highly recommend it. Hearty soba (buckwheat) noodles mingle with refreshing cucumber, and as an added bonus, these noodles are naturally gluten-free. That being said, you can substitute udon or any long whole-grain pasta for the soba. Photos by Evan Atlas. more→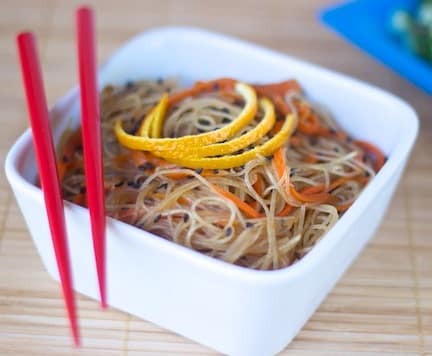 This simple dish of Asian noodles (contributed by Allyson Kramer of Manifest Vegan — a great site featuring lots of gluten-free vegan recipes) ia a nice accompaniment to a larger dinner, or alone as a light lunch. Try them with a gingery tofu dish and a cucumber salad. Allyson is the author of the forthcoming Great Gluten-Free Vegan Eats*. Photo by Allyson Kramer. more→