Pasta and Noodles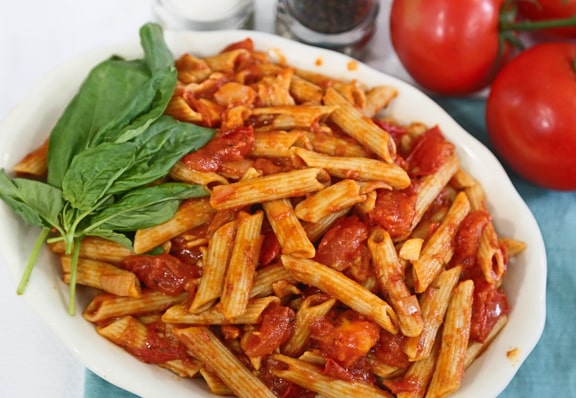 It doesn't take a lot to veganize the classic Italian-American recipe for penne alla vodka — simply replace the heavy cream that's traditionally used in the recipe with nondairy milk or creamer. Most often, recipes for this dish call for canned tomatoes, but this one relies on fresh tomatoes, making it an appealing and easy meal for summer. Serve with a colorful salad and a steamed green veggie — broccoli or green beans are particularly good. Photos by Evan Atlas.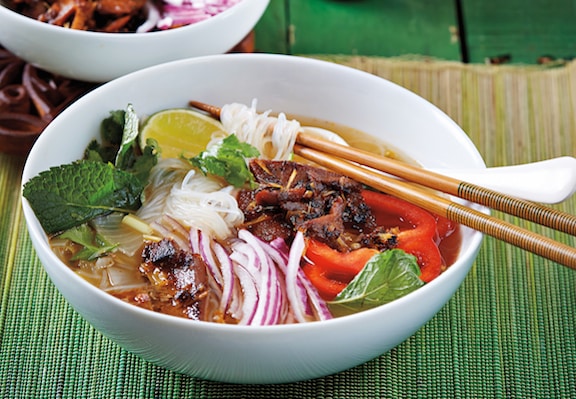 This dish is bursting with crave-worthy Vietnamese flavors: lemongrass, lime, mint, ginger. I like to use homemade broth and infuse it with aromatics, but you can use bouillon, if you like. Just try not to make the base too strong; you want all the flavors to shine through. Mock duck is really just seitan, but if you're familiar with those little cans of "mock duck" at the Asian grocery, feel free to use those! Recipe and photo from Vegan With a Vengeance: 10th Anniversary Edition* by Isa Chandra Moskowitz, ©2015. Published by Perseus Books, reprinted with permission. more→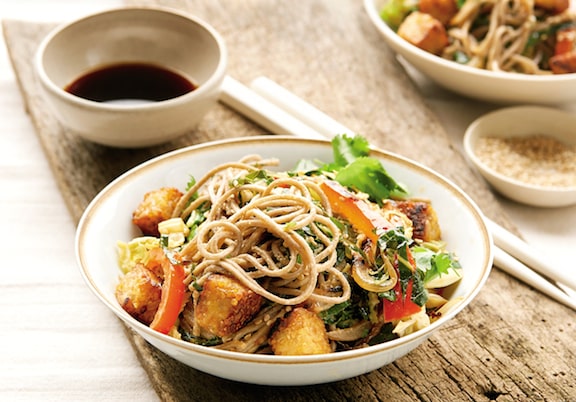 I'm a complete noodle fanatic, but a bowl of pasta with tomato sauce doesn't quite do the trick for me. For me, an ideal noodle dish is one in which veggies have at least equal billing. This Asian-flavored dish of soba noodles and calcium-rich collard greens is flavored with a triple dose of sesame (another great source of calcium): tahini, seeds, and oil. Another bonus — soba noodles made purely of buckwheat are gluten free. If that's not of concern to you, other long noodles — udon or even whole wheat spaghetti — can be substituted. Recipe by Nava Atlas, from Living the Farm Sanctuary Life* by Gene Baur with Gene Stone, © 2015 by Gene Baur. Photographs © 2015 by Rodale Inc. Reprinted by Permission of Rodale Books.

Sesame Soba Noodles with Collard Greens and Tempeh Croutons
Recipe type:
Asian noodles
Prep time:
Cook time:
Total time:
This Asian-flavored dish of soba noodles and calcium-rich collard greens is flavored with a triple dose of sesame (another great source of calcium): tahini, seeds, and oil.
Ingredients
Sauce
⅓ cup tahini
¼ cup lime juice
2 tablespoons reduced-sodium natural soy sauce or tamari, or more if needed
2 tablespoons natural granulated sugar (cane, coconut, or date) or agave nectar
Tempeh croutons
2 teaspoons dark sesame oil
1 tablespoon reduced-sodium natural soy sauce or tamari
1 package (8 ounces) tempeh, any variety, cut into ½" dice
Noodles
1 package (8 ounces) soba (buckwheat) noodles
10 to 12 collard green leaves
1 tablespoon dark sesame oil
1 large red or yellow onion, cut in half and thinly sliced
¼ small head green cabbage, cut into long, narrow shreds
1 medium red bell pepper, cut into long, narrow strips
½ cup chopped fresh cilantro, basil, or Thai basil leaves, or more as desired
1 tablespoon black or tan sesame seeds Red-pepper flakes or Sriracha sauce
Instructions
To make the sauce: In a small bowl, combine the tahini, lime juice, soy sauce or tamari, and sugar or agave nectar.
To make the croutons: In a large or wide-bottomed skillet, heat the oil and soy sauce or tamari over medium heat. Add the tempeh and stir to coat. Increase the heat to medium-high and cook the tempeh until most sides are golden brown. Remove the tempeh croutons to a plate.
To make the noodles: Cook the noodles according to package directions. When they're al dente, remove from the heat and drain.
Meanwhile, cut the stems from the collard leaves with kitchen shears or a sharp knife. Stack 6 or so halves of leaves at a time. Roll the leaves up tightly from one of the narrow ends, almost like a cigar shape, then thinly slice them. Let them unroll to create ribbons of collard greens. Give them a good rinse in a colander.
In the same skillet used to make the croutons, heat the oil. Add the onion and cook over medium heat until softened and golden. Add the collard ribbons, cover, and cook for 7 to 8 minutes, or until they wilt down a bit. Add the cabbage and bell pepper. Increase the heat and cook for 3 minutes, or just until the veggies are on the other side of raw. Remove the skillet from the heat.
Add the cooked noodles to the pan and use a large fork to mix the noodles thoroughly with the veggies. Pour the sauce over the mixture. Add the cilantro or basil and sesame seeds. Scatter the croutons on top. Season with the pepper flakes or Sriracha to taste. This can be served warm or at room temperature.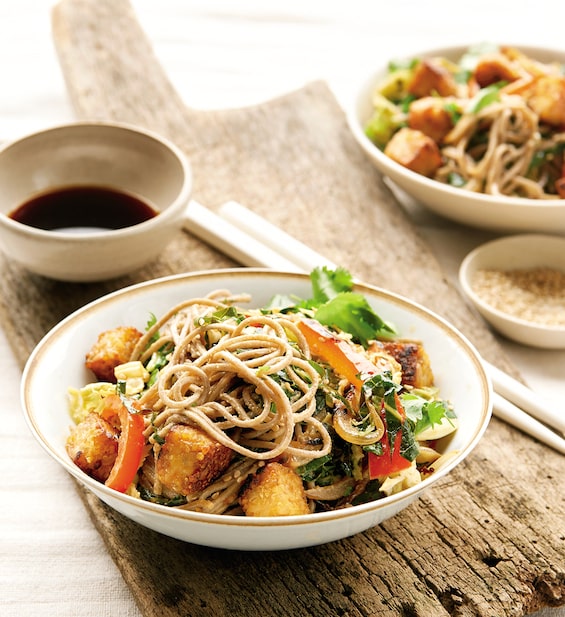 *This post contains affiliate links. If the product is purchased by linking through this review, VegKitchen receives a modest commission, which helps maintain our site and helps it to continue growing!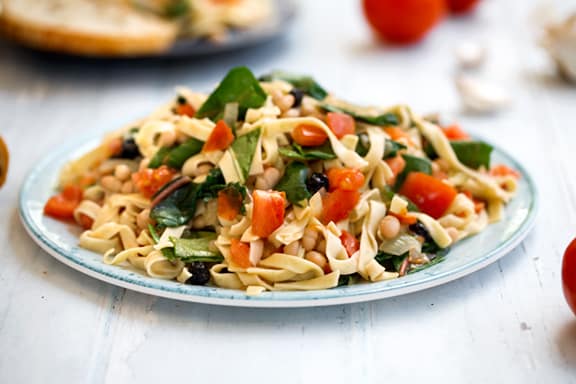 Chard is a beloved kitchen-garden vegetable in Italian cuisine. Combined with white beans and tomatoes, this stick-to-your-ribs pasta dish will satisfy the heartiest of appetites. This is nice with ribbon noodles, but you can use any short shape you'd like. Photos by Hannah Kaminsky.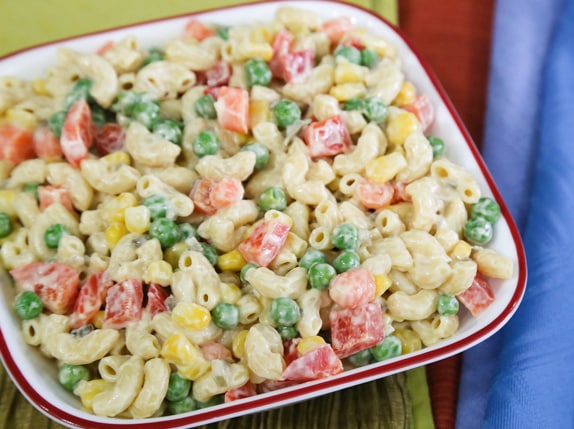 This mild and creamy vegan macaroni salad is reminiscent of the kind sold at deli counters, but with more going for it — namely, lots of veggies. Kid- and picky eater-friendly, it's a nice change-of-pace from sandwiches to pack for school or office portable lunches. For this recipe, we used Tolerant gluten-free organic green lentil pasta, just one of several such high-protein, legume-based pastas.  Adapted from The Vegetarian Family Cookbook. Photos by Evan Atlas. more→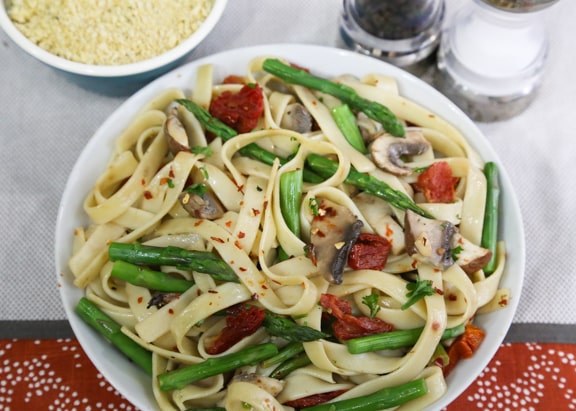 This quick Italian-style vegan pasta dish features fresh asparagus, which gives it a springtime touch, and portabella mushrooms, which makes it substantial. Try a flavored variety of linguine or fettuccine to further jazz up this dish. Photos by Evan Atlas. more→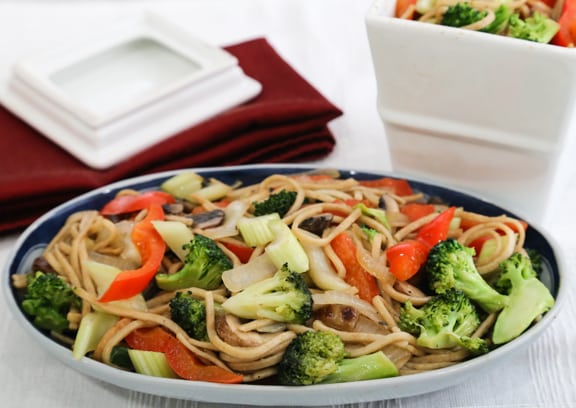 All kinds of Asian noodles have become widely available, both in natural foods stores and well-stocked supermarkets. Combined with lots of veggies and other tasty ingredients, they're the basis of quick, healthy meals. In Vegetable Chow Mein, the noodles are stir-fried along with the veggies. The amount and varieties of vegetables can be varied. Why call for take out when it's so easy (and less greasy) to make this at home? more→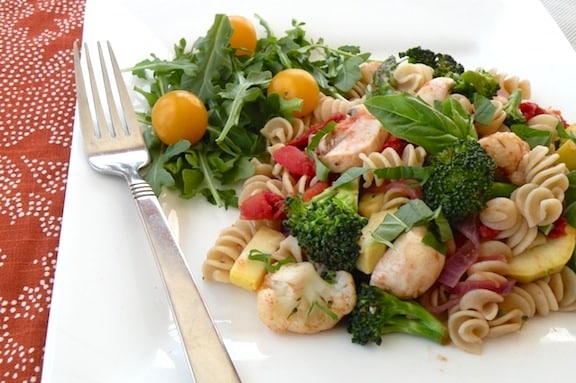 Though this plant-based Pasta Primavera uses only a half-pound of pasta, it's so chockfull of vegetables that it makes quite a heaping helping. You can serve it any time of year, but it's an especially nice way to welcome spring, as its name implies. It's also a pleasing main dish at spring holiday or special occasion meals, such as Easter or Mother's Day. Serve with a simple salad of fresh greens.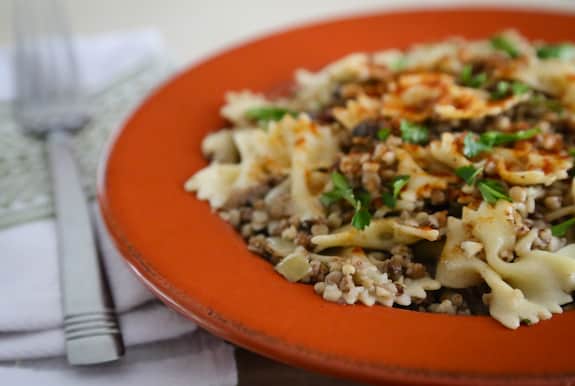 Kasha Varnitchkes is a classic Jewish dish of buckwheat groats combined with pasta. I'm not sure that bow tie pasta (farfalle) has always been the traditional choice, but it's the contemporary favorite. If you're a kasha fan, you'll enjoy this simple dish; it doesn't set of any flavor fireworks, but it's easy and comforting, like many an Eastern European specialty. Photos by Evan Atlas.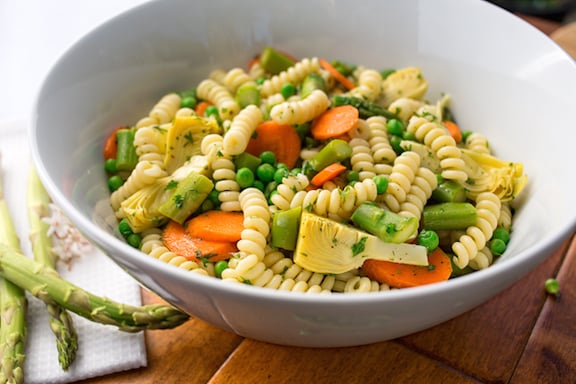 I especially like this sprightly pasta salad made with orecchiette ("little ears"), a small, delicate pasta, but you can use any short pasta shape you'd like. Use very slender asparagus and you won't need to scrape the stalks. Photos by Hannah Kaminsky. more→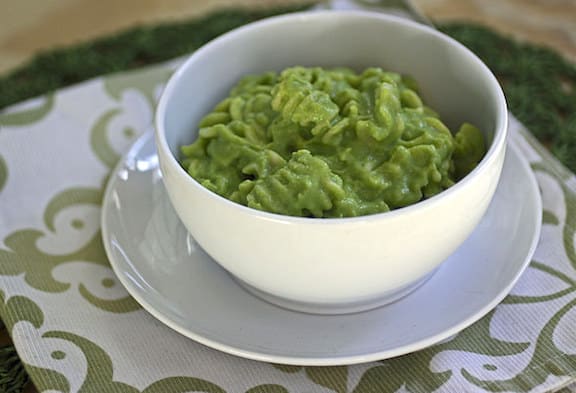 This easy pasta dish with a very green sauce (made of pureed green peas and broccoli) is great for kids who don't mind a bit of green on their plate. Simple and tasty, you don't have to be a kid to enjoy it! Photos by Lori Maffei. more→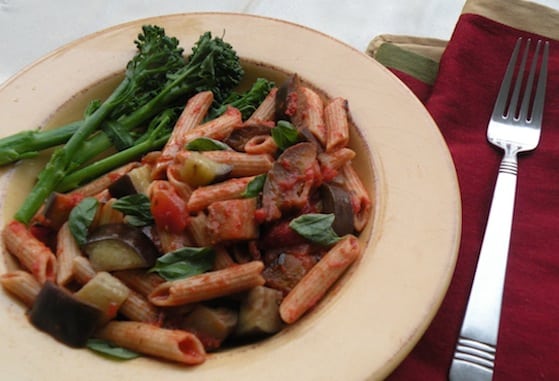 Pasta alla Norma is one of those great classic Italian recipes that's simple and healthy. Its basic embellishments are eggplant, onion, garlic, and basil. It's quick, too — in the time it takes to boil the water and cook the pasta, the sauce is started and finished. Be generous with the red pepper flakes if you like a little spice to your pasta dishes— they really give the flavor a boost. Serve with a colorful salad to which chickpeas are added for extra protein. more→